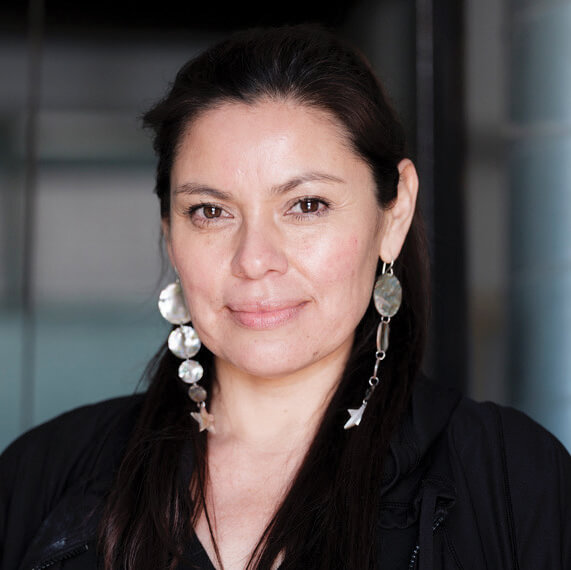 11 Jul

Celebrating a Centennial: Sculptor Kathleen Wall
Booth PLZ 29A
From her studio on New Mexico's Jemez Pueblo, Kathleen Wall contemplates her more than 30-year career creating and constructing her vision of Pueblo pottery. Wall's work — a perennial favorite at the Santa Fe Indian Market — typically depicts a single smiling Pueblo figure, often adorned in traditional attire and holding pots, stars, feathers, and sometimes even small children, much like the original storyteller figures from which they are born.
"The matriarchs in my family, they taught me not just how to make pottery but how to gather and mix the clay and also, maybe more importantly, how to sell them," says Wall. "Some of my earliest memories of pottery involve being dragged along everywhere with my mother and her sisters and going from shop to shop selling their work, and that stuck with me. It let me know that this is what we do."
And it wasn't always a positive experience. But those moments, for Wall, have helped even more. "A lot of times I saw them not selling anything, going into different shops and getting rejected, but what I learned from that is not to take it personally; to stay focused on my own self and just to keep going, keep creating, and keep improving the work. And that's exactly what I have done."
Wall's contemporary work comes from the traditional storytellers made famous by Jemez Pueblo artists from generations before. Many were made by her family members, including her mother, Fannie Loretto Lucero, her aunt Lupe Lucero, and her grandmother, Cari Loretto.
However, early in her career, when Wall was still a teenager, her storyteller figures lost their numerous children and literally stood up, shaking away the past to take on a life of their own. They became joyful sculptures, solitary but seemingly not alone, relishing the moment and pridefully adorned in their Pueblo regalia.
"All of my work is influenced by Native culture in general, not just my culture, as I have so many friends from all different Pueblos and nations," says Wall. "Now is a really great time to embrace and create through those different cultures, so my work is inspired by all the different Native people around me, not just from where I'm from, but from those I meet [while] being involved in things outside my Pueblo as well. I see myself as a tourist at different Pueblos and [while visiting] different tribes. All the cultures I see are inspiring to me."
Being from Jemez, Wall favors the clay found on the south side of the Pueblo, near a wash, because it's porous, light, and easy to manage with her own hands. And this is where her art begins — with Wall yielding a pickaxe and breaking the clay from the ground. Using the traditional process, Wall then mixes, soaks, wets, and sifts the clay to make it pliable and easy to shape. She then molds the clay into various forms that soon begin to take life.
"My work is more sculptural," says Wall. "I thoroughly love the process of the clay and the ceramic tradition, but I feel my work has a more sculptural feel to it. This is what I love. When I start, I have an idea of where I want to go, but oftentimes, the clay steps in and goes where it wants to go."