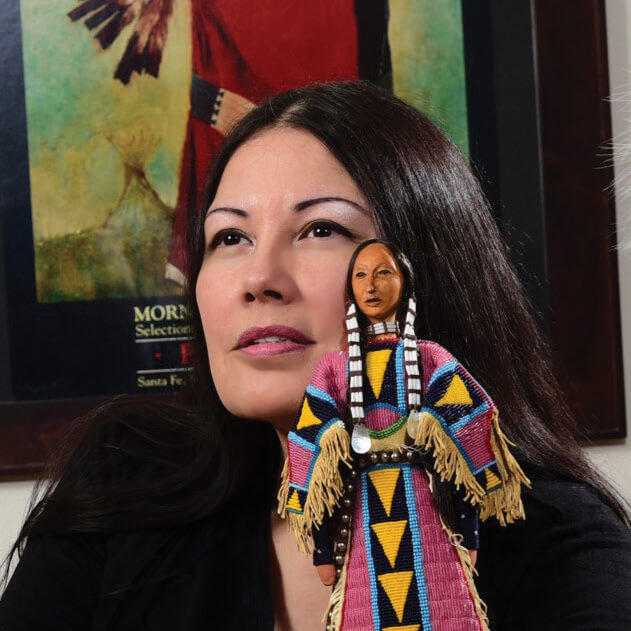 11 Jul

Celebrating a Centennial: Sculptor Rhonda Holy Bear
Booth FR S 324
When Rhonda Holy Bear sits back and looks at her mixed-media piece, Lakota Honor-Sees the Horses Woman (SuWakan Ayutan Win), she doesn't just see the Best of Show award it earned from the Southwestern Association for Indian Arts (SWAIA) during the 2021 Santa Fe Indian Market. Instead, she sees 10 years of hard work and a long list of different skills utilized in its creation.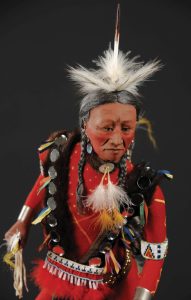 "I sat down and counted once," says Holy Bear, "and at least 32 different art forms went into the making of this piece. For me, I learned how to bead first, then how to quill, and then I learned how to carve. And after those three, you have everything else — painting, drawing, metalwork, sewing, lapidary, silversmith, fringe cutting, quill wrapping, horsehair, wig making… it just goes on and on."
Holy Bear is Cheyenne River Lakota, and her award-winning piece is a kind of multi-dimensional doll the Lakota people have made since the 1830s. Her work began more than a decade ago when she started collecting thousands upon thousands of antique micro seed beads in various colors. The creation of such an elaborate work is a process of layering, with each part adding to the greater whole.
"I see her as the most beautiful figure in the whole world," says Holy Bear. "Her beauty is truly unsurpassed. She's 23 inches tall, and all hand carved out of balsa and bass wood. That is how I was able to make her a lovely feminine figure."
Once Holy Bear carves the figure, she designs and cuts the fabric for her clothing. Then, she creates the images and patterns on the fabric and beads those directly onto naturally tanned deer skin. She refers to these pieces as hyperrealism because she puts thought and skill into realizing every detail. For this piece, the dress, leggings, and moccasins — even the bottoms of the moccasins — are beaded with tiny, colorful beads.
The fact that Lakota Honor-Sees the Horses was awarded Best of Show last year further validates Holy Bear's standing as a premier artist. However, the real validation for her hard work and dedication comes from the fact that the doll honors her family. "She was made as a tribute to my grandmother's story," says Holy Bear. "She was there at Little Bighorn. She was 4 years old, but she was there. I had a family member who was on the battlefield. So, this piece was made to honor all the battles that took place the whole life on the Plains. This is what men did, and the women honored them. The men stay humble, and the women sing their praises. In this piece, she is wearing her loved one's warbonnet, holding his pipe. And that was to honor his memory."
Another way that Holy Bear is honoring her people and family is by bringing back the proper name of the stitchwork she does. The Lakota term is paha; however, at some point white settlers began calling it the lazy stitch. "That term is just as offensive when used to describe our long-venerated beadwork technique," says Holy Bear. "This designation implies that our Lakota grandmothers were 'lazy' women, whose artwork was unworthy of respect."
As anyone can see, a decade-long project resulting in beautiful imagery and storytelling that honors an important family legacy and the Lakota culture is far from that indeed.