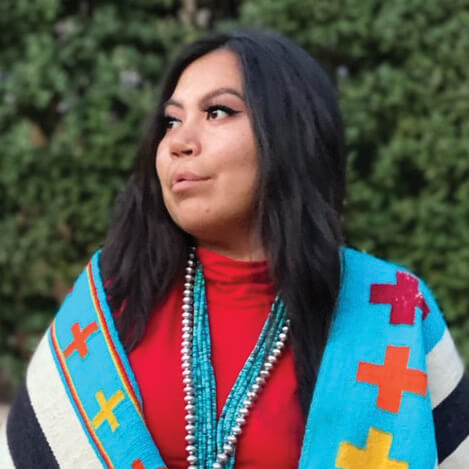 11 Jul

Celebrating a Centennial: Weavers Naiomi and Tyler Glasses
Booth PLZ 32
For many Navajo weavers, the actual weaving process is a solitary profession that requires hours upon hours of intense concentration to ensure the warp and weft come out correctly. However, emerging textile artist Naiomi Glasses (Diné) is fortunate to work alongside not only her older brother and fellow weaver Tyler Glasses, but also the memory of her grandmother, Nellie, who taught her how to weave in the first place.
"Usually, weaving is something taught generationally, so someone who did it before you will teach you, and for us, that was our grandmother, so we got to spend a lot of time with our grandmother," says Tyler. "She really encouraged us to do what we love. When she passed, we were really sad and could not weave for some time, but now when we weave, it feels like our grandmother is still alive. That tap tap tap we hear is her heartbeat, basically."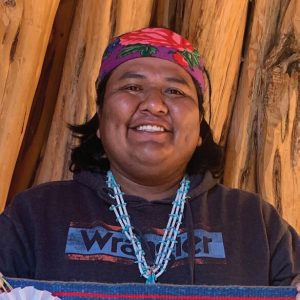 Naiomi and Tyler have started exhibiting their work at the Santa Fe Indian Market. Their first market was in 2020 and was held virtually. Since then, they have participated in the 2021 market and the Heard Museum Guild Indian Fair & Market in March of this year.
"We will each be bringing new work out this year," says Naiomi. "Last year in Santa Fe, which was our first in-person market, we sold out on the first day. It was a wonderful experience, and it's so different being an artist in the market rather than a spectator."
Naiomi also won first place in the utilitarian category during the 2019 Gallup Intertribal Ceremonial, and Tyler won Best of Class, Best of Division, and a first-place ribbon for personal attire at the Navajo Nation Fair in 2018. He also won Best of Division at the Heard Museum's Indian Market earlier this year for his piece Poncho for Days.
Naiomi weaves rugs and bags, and both have been a hit with market crowds in Arizona and New Mexico. However, what has made her most famous — at least on social media, where she boasts followers well into the six figures — is her skateboarding. Naiomi has been skateboarding since she was 5; so in 2020 when people were doing the "Doggface Challenge," featuring skateboarding, cranberry juice, and the classic song "Dreams" by Fleetwood Mac, Naiomi promptly got on her skateboard wearing a traditional Navajo skirt, blouse, and classic black Vans and went for a ride near her home. Her street, however, was a red sandstone incline in front of a Mesa she discovered while looking for her grandmother's sheep near her home in Rock Point, Arizona, smack dab in the middle of the Navajo Reservation.
The video went viral and was picked up by CBS national news, Teen Vogue, as well as several other national outlets, vaulting Naiomi into internet fame.
Instead of relishing the glory of the moment, Naiomi used this publicity to help others in her community. When she was asked to collaborate on blanket designs with Sackcloth and Ashes, she made sure that 100 percent of the profits from the first 2,000 blankets were donated to Chizh for Cheii, which translates to firewood for grandpa. Sackcloth and Ashes also donates a blanket to a homeless shelter for each one purchased.
"No cold elders on Navajo land is the goal," says Naiomi. "That is an especially important thing out here, and there are many Navajo elders who don't have grandchildren or children to take care of them and make sure they have the essentials. My grandmother was instrumental in my learning the weaving process, and while she has passed on, I thought it was important to honor her and all grandmothers by helping them. So many grandmothers are in situations where they are unable to even do the simplest things, like get firewood. They also provide mutual aid and do things like yard clean-up and small home repairs to winterize for the cold season."