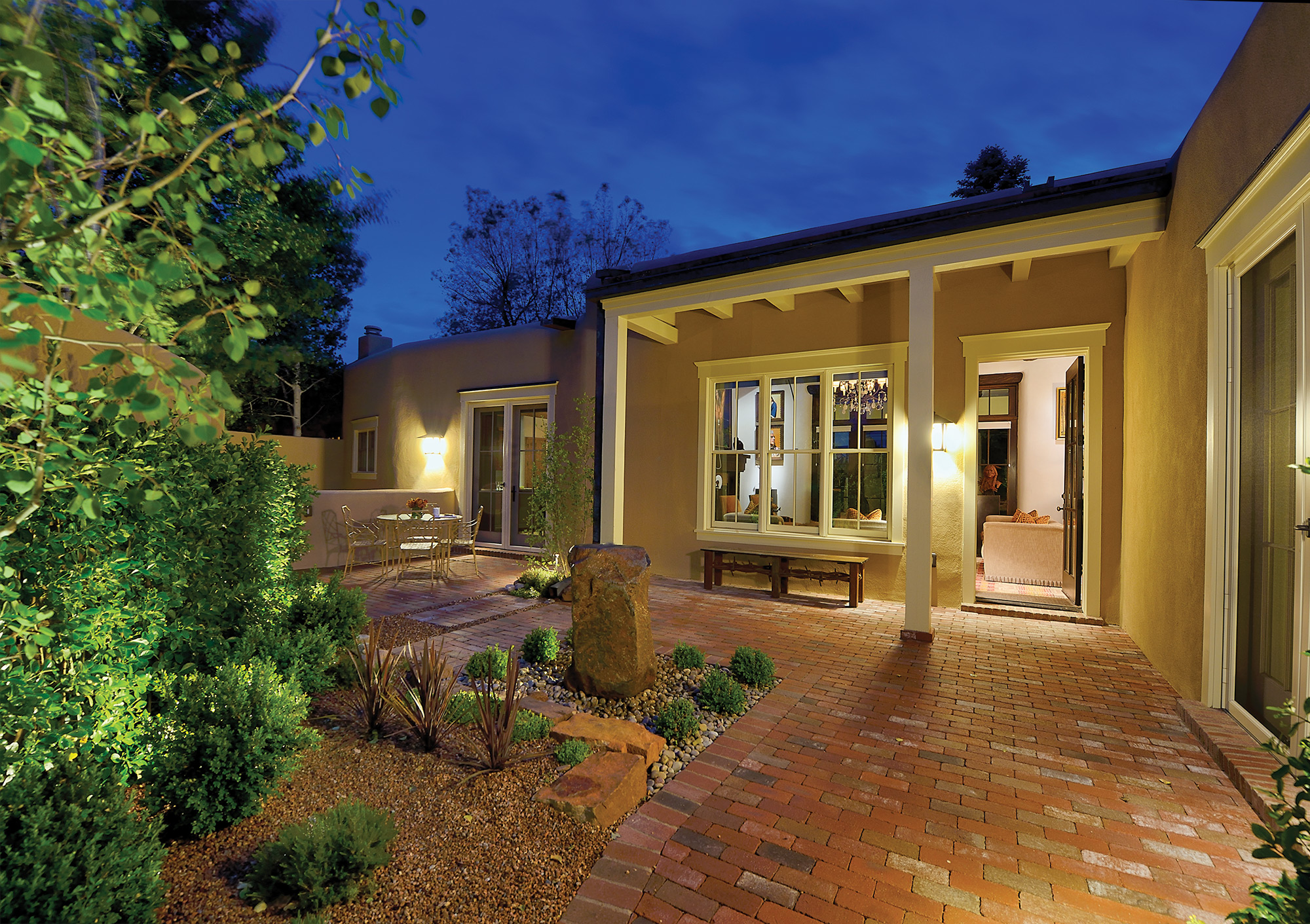 The front entry is a walled courtyard, which provides privacy. Its generous size and welcoming boulder fountain makes it the perfect place for entertaining guests on a fall evening. Inset: Indigenous Southwest accents are visable from room to room.
04 Aug

Curated, Santa Fe Style

FOR 10 YEARS, JEFFREY GRACIANO AND TERRENCE MCELLIGOTT frequently traveled from their home in Pittsburg, Pennsylvania, to the great Southwest. Along the way, they fell in love with "a wonderful little town" that felt "like a little European village." It had so many things to love — from fine art and great restaurants, to delightful little shops and friendly people. And, admittedly, the sunshine enticed them, too, as did the clear air and starry night skies.

This captivating place is Santa Fe, New Mexico, the oldest capital city in North America. It sits at 7,000 feet with a population of 70,000. Claimed for the King of Spain in 1540, three cultures converged here — Native American, Mexican and Spanish — influencing one another to create a mix of architecture and design that is specific to the region.

"Santa Fe is one of the best-kept secrets," Graciano says.

In 2006, the couple moved into a house that reflects their love of Northern New Mexico. Fully embracing Santa Fe culture, Graciano and McElligott designed their new residence to showcase their appreciation of the artistry and design of the Southwest.


Appearing on nightstands, pedestals and mantels is the couple's collection of kachina dolls. Carved from the roots of cottonwood trees, each figure represents a different aspect of cultural mythology, traditionally from the Hopi. Also found throughout the home are works by renowned contemporary Western artists, including Roseta Santiago, J.D. Challenger, Greg Overton, Fatima Ronquillo and Nocona Burgess, to name a few.

"The thing that makes this home stand out is that all the artwork is from living artists," says artist Roseta Santiago. "Jeffrey likes the sharpness and the energy of what's happening now."

The adobe home is located in a downtown historic district, and the couple can walk to almost anywhere they want to go. It feels private, yet simultaneously there's a glorious view of the mountains. Rugs woven with traditional Southwestern geometry and colors were handmade by Southwest Looms and brighten the dark, walnut-stained floors. Crisp, white plaster walls feel cheery, while interior courtyards, vigas and kiva fireplaces keep the home in line with traditional Santa Fe style.

French doors add charm and a twist. And the closets and arched doors between rooms are also French inspired, with some incorporating mirrors instead of glass to reflect light and expand the feel of each room. All in all, a gracious touch.


"The house is totally us. We got things done the way we wanted but never anticipated," says Graciano, who is an interior designer by trade. While the homeowners wanted a "Santa Fe feel" to the 2,800-square-foot home, Graciano refused to follow a theme, which he believes anyone can go to the store and buy.

They stuck to this concept when redesigning their home soon after it was purchased. The beautiful adobe was accidentally flooded by a broken sprinkler while a roofer was making a repair. The walls were saturated, and the floors began to lift. "So we gutted it," Graciano says. "We redid all the diamond plaster, making it white to create a nice backdrop for art. We enlarged windows where we could. And the historical society was very cooperative, contrary to what we had been told by others."

The couple added another window in the living room and heightened the front door to make the room appear taller. The living room sits between a front and back "portal," or exterior courtyard, and is flooded with light in the morning and afternoon. "Our lights in the daytime are strictly ornamental," Graciano says, laughing. The couple added new pavers and boulders to each courtyard, and they also installed a fountain and repurposed their old front door into a courtyard gate.

The rear portal was supported by three columns that stood in the way of a clear mountain view. Architect Lorn Tryk smiles when he relays the challenge of removing the columns while maintaining support for the roof. "The columns really were cluttering up the view, so we engineered a huge beam that wouldn't require them," he says. "It was a real challenge to get it in. We had to have a crane lift the beam all the way over the house, but now there is an unobstructed view of the mountains from the living room."

The combination of old and new might be unexpected in a Santa Fe adobe, but to Graciano, every aspect is true to the Southwest, including the antiques. "When people first moved here and built their adobe houses, their furnishings were brought over from Europe or they had pieces shipped from the East," he says. Graciano combines the past with the present, delighting in finding a few special antiques and choosing Dennis & Leen, a company based in Los Angeles, California, to replicate others. These are combined with pieces he designed. One custom bench, for example, has 12 legs made of cowboy boots, all carved from maple.

The palette throughout the three-bedroom home favors amber tones, creams, taupes and a color Graciano calls "Santa Fe silver gray." Soft silk and viscose velvet is paired with tooled leather and cowhide. Plush animal throws are tossed on beds and sofas for Enzo, their puppy.

Once it all came together, Graciano and McElligott loved the spaces inside and outside their home as much as they love living in Santa Fe.

"It feels like a perfect fit," says Graciano.