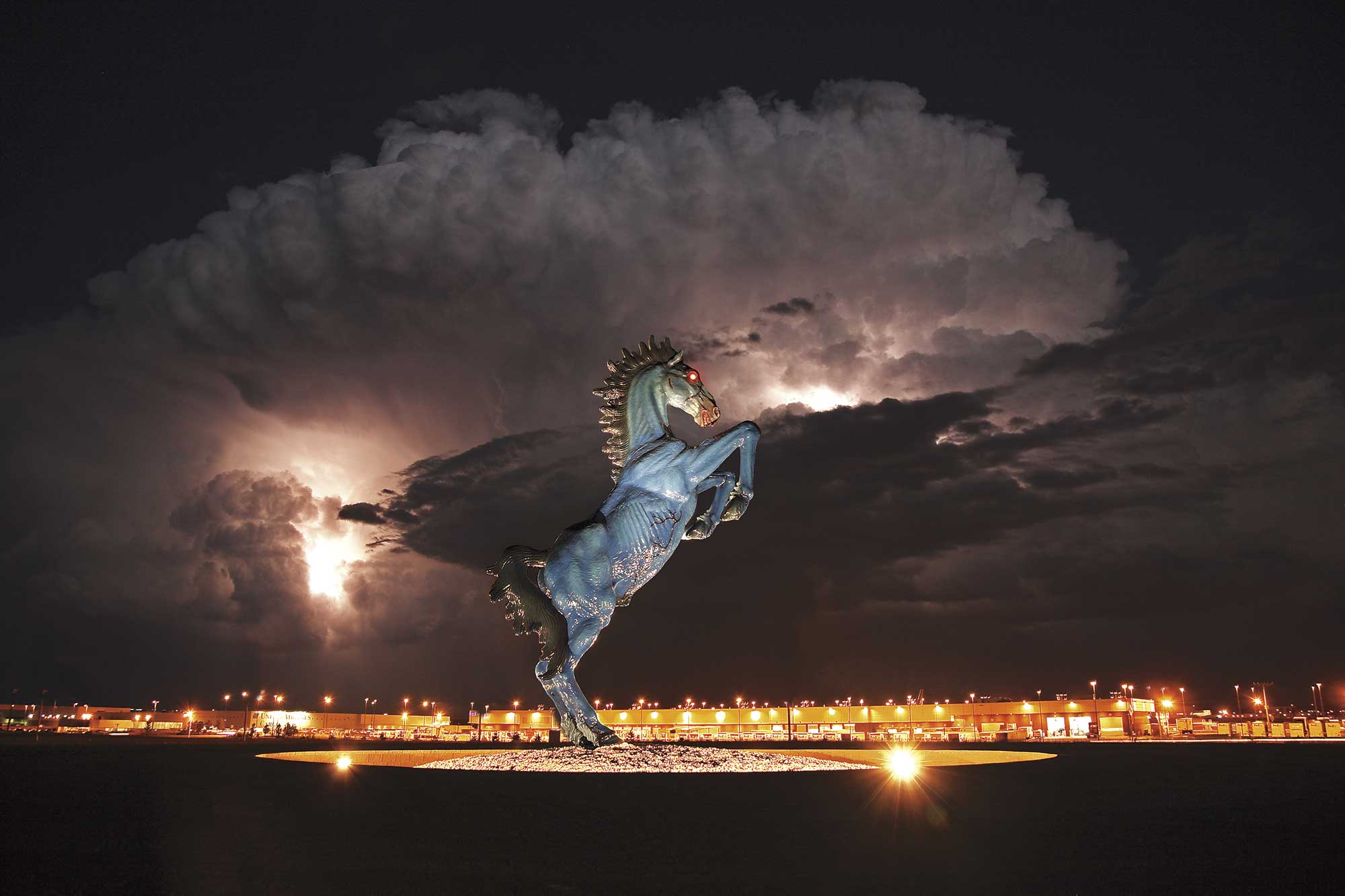 Photo courtesy of Denver International Airport.  Artwork © 2009 Estate of Luis A. Jimenez, Jr. / Artists Rights Society (ARS), New York
01 Sep

Denver's Wild Blue Mustang

LUIS JIMENEZ'S MUSTANG— A MUSCULAR AND WELL-ENDOWED BRIGHT-BLUE FIBERGLASS HORSE rearing up 32 feet into the air — is hard to miss for anyone approaching Denver International Airport. And that's become a problem for some.

It stands imposingly along the main road to the terminal, a surreal and veritable Mile High equine for the Mile High City. Its presence is especially commanding at night, when red LED beams shoot out from its eyes.

Since its installation and dedication in 2008, the sculpture has attracted controversy and even fear rivaling its size. On one side — a side fed by the Internet — are those who find it unattractively imposing and even scary. It has been called Demon Mustang, Meth Horse, Bluecifer and Satan's Stallion.

Leading that charge has been Rachel Hultin, a Denver real estate agent who created a Facebook site — www.byebyebluemustang.com — to give voice to those who find it scary and would like it moved to a less prominent location. "Things with glowing eyes are culturally associated with the dead," Hultin says. "It's not a positive image."

But it also has its proponents, none greater than Kendall Peterson, Denver's public art administrator. She has set up a Facebook page for supporters: Mustang/Mesteno (its official name). In time, she thinks, Mustang might be accepted by Denverites the way Parisians now take to the Eiffel Tower — which also caused an initial uproar when it was built in 1889.

"It's certainly possible," Peterson says. "I definitely think it's an icon for the city."

To be sure people get that chance, the city has told opponents Mustang will sit — or, rather, rear up — from its present site for at least five years from its installation date. "That buffers against knee-jerk reactions," she explains.

Mustang had been bedeviled by delays before its dedication. Denver originally commissioned it for the then-planned new airport in 1992. There were numerous delays and lawsuits before it finally was installed last year — 12 years late and, at $650,000, some $350,000 over the original budget.

Alas, Jimenez wasn't there to see the conclusion, or to discuss and defend his last and largest artwork. In 2006, while working on it at his Hondo, New Mexico, studio, a piece of the torso fell, killing the artist. His two sons, working with others, finished it.

That tragic mishap ended, at age 65, the career of the accomplished, sometimes-controversial sculptor who melded boldly colored pop-art cheekiness with Western and Hispanic subject matter. His work is in many public art and museum collections; his awards included New Mexico's Governor's Award for artistic excellence. Born and raised in El Paso, where working at his father's commercial sign shop was an early and life-long influence, Jimenez developed his art career despite being blind in one eye.

This writer, while art critic for The Denver Post, visited Jimenez at his studio — an old adobe schoolhouse — in 1994 as he was beginning work on Mustang. "I like to work with images that are hackneyed and stereotyped that I believe to be icons of the West — and, for that matter, of the United States," Jimenez said then. "The mustang already has entered the realm of myth."

His new Mustang, too, is entering that same realm of larger-than-life Western myth. No doubt Jiminez would be proud.
---
Steven Rosen worked as The Denver Post's art critic and covered the planning of public art for Denver International Airport, before moving to Los Angeles and Cincinnati. He previously wrote about Clyfford Still for this magazine, and has also written art stories for Modernism and art ltd.