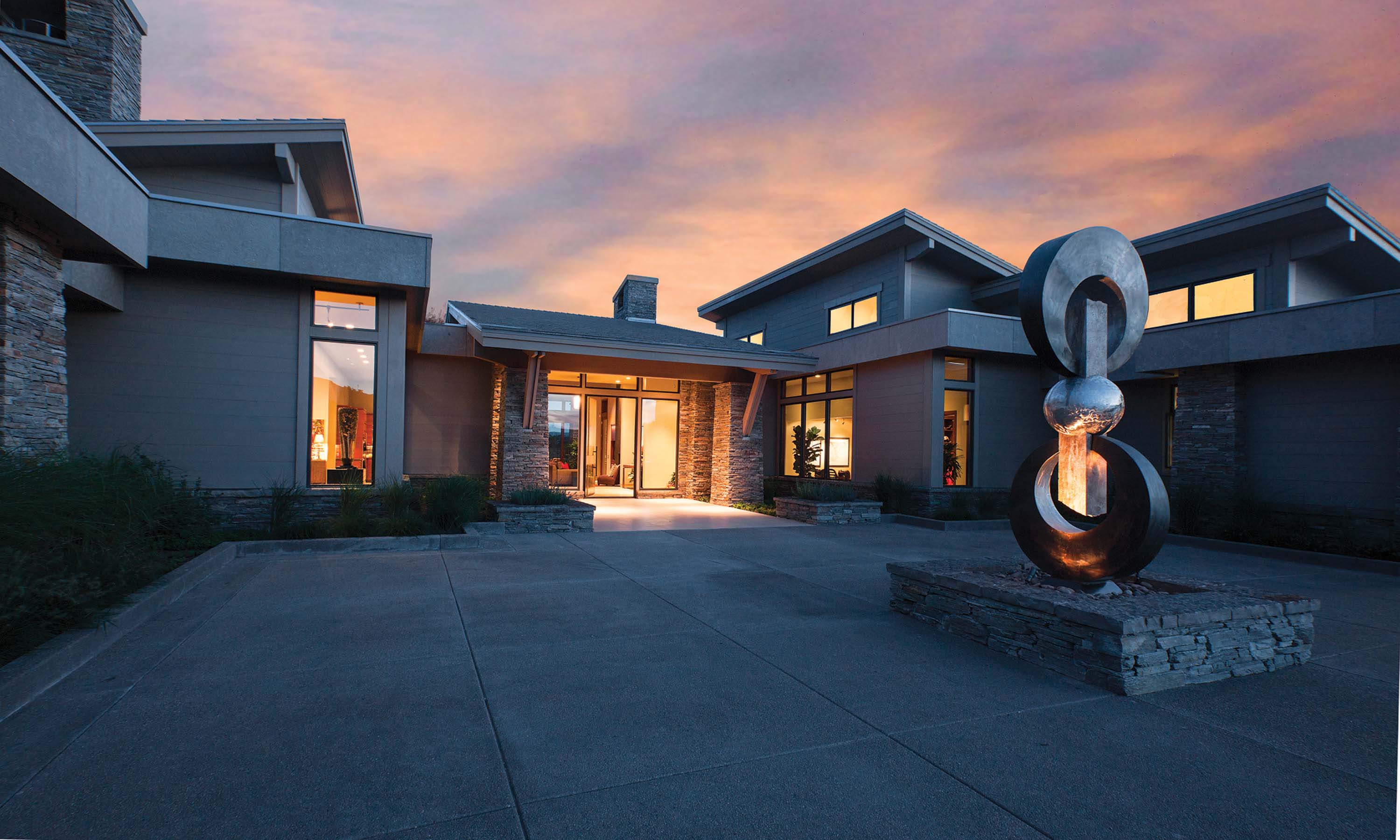 Creamsicle sunset arcs over the home's angular skyline. A circular-drive courtyard, guarded by Mark Statz's elegant contemporary sculpture, delivers visitors to a warm, inviting entrance.
19 Oct

Elegance and Artistry Meld in Park City Contemporary

THIS HOME IS IRRESISTIBLE — it draws you in. The elegant, contemporary masterpiece in Tuhaye, a planned luxury golf community minutes from Park City, Utah, is brilliantly sited to capture vistas in every direction.

The owners, relocating after retirement, wanted to recreate the clean exterior and open interior environment of their 1980s vintage contemporary home in Tucson, Arizona. "We wanted a contemporary, single-level home that was open, with expansive views and areas to display art," explains the owner. "That's what was so important to me, that open, outdoor-indoor feeling."

Their style preference created a challenge for veteran architect Mark Walker of Otto/Walker Architects in Park City. "Contemporary styling was a marked departure from guidelines set by Tuhaye's architectural review committee," says Walker. "Our initial plan met with real resistance and we had to educate the committee about what we were trying to do. We had to change some building materials but eventually got the design approved." Walker sited the home brilliantly to capture stunning views in every direction.

A towering rock-and-steel sculpture created by renowned sculptor Mark Stasz dominates the courtyard. Muted, dry-stack exterior walls are wrapped in a wide, stone band of similar shade. A shed roof with flat, rock-covered expanses creates an appealing skyline.

Monochromatic colors accentuate the home's clean lines and spacious feel. Inside, floor-to-ceiling glass doors and clerestories wash the space in an abundance of light. Muted gray walls, recessed molding, vaulted ceilings and smooth, sea-grass limestone flooring enhance and soothe. Clean, understated furnishings further the sense of openness. The monochromatic theme extends through every room, with the sole exception of a cheery, colorful powder room.

Every window tells a story in spectacular fashion. Sliding doors open wide to tiered stone patios, sitting areas and fire pits surrounding the home, inviting guests to step outside at the slightest provocation.

The only exceptions to the single-floor living space mandate are a "kid-friendly" basement and a second-story office, where the owners conduct business, read and relax.

There were practical reasons for choosing stone on the main floor and concrete in the spartan basement. "We've always had dogs and always will, so we needed the home to be animal friendly. We'd had issues in the past with wood flooring and carpeting. Now, all our floors are hard-surfaced and easy to clean," the owners say.

When builder Robbie Sletta suggested building a basement to house heating, cooling and electrical equipment, the owners saw another opportunity. "We have four young grandsons," she says. "We made the basement into a playroom for them, with a track for them to race cars and ride bikes. When they come to visit, that's where they go."

As was true of the architect, the project presented unique challenges for the builder as well. "We did all kinds of unusual things there. The stone band on the exterior was very heavy, so we had to build in a lot of structure behind it to support it," says Sletta. "When you're doing something that has to be as clean as that, you have to be very careful."

Salt Lake City-based designer Robyn Seldin was selected by the owners to do the interiors. She shared their vision of clean lines and uncluttered interiors. "I don't like interiors that are too contrived and 'done.' To me, the biggest reward is an interior that reflects the people who live there and not me."

The owners brought with them an extensive art collection from their Tucson home. Seldin suggested grouping the collection thematically, so there is a sort of gallery-stroll feel to the home.

"This project took almost four years," Seldin says. "I think it's a very pleasing home that's not necessarily trendy and will look as good in 20 years as it does now. Also, it's a great party house!"

The owners point with pride to a massive bronze relief over the stone mantle in the living room. Titled Evolution, the numbered triptych by acclaimed Swedish-born wildlife sculptor Kent Ullberg depicts a bird emerging from the wall in three panels. The entire wall was planned around the piece.

"We've lived here over a year now and we haven't found one thing that we would change," agree the owners. High praise for their top-tier design and build team.