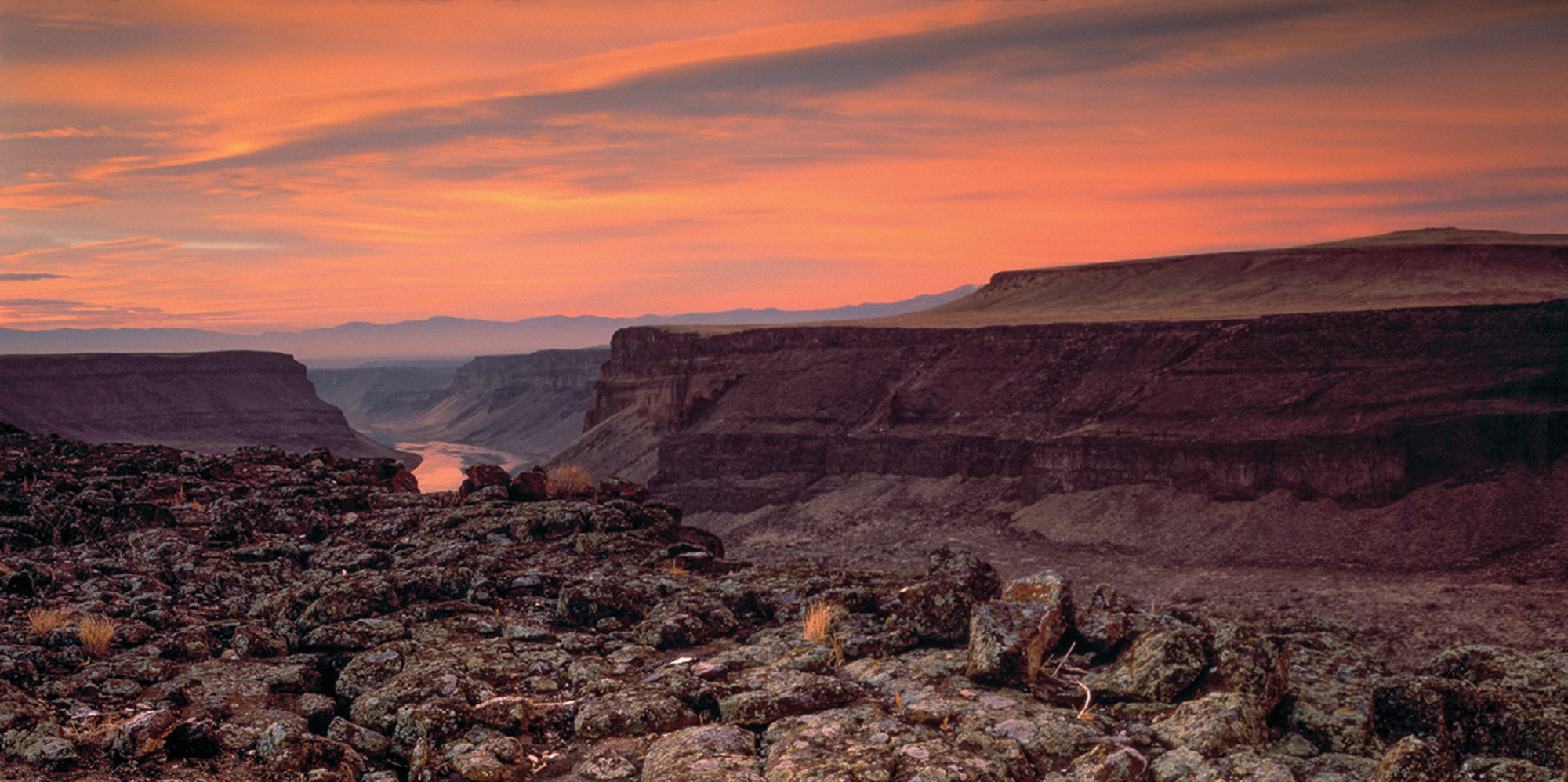 Mark Lisk, "Snake River Birds"
11 Mar

For the Love of Land, Mark and Jerri Lisk

COMPARISONS TO ALFRED STIEGLITZ AND GEORGIA O'KEEFFE are not lost on Mark and Jerri Lisk. The couple, a photographer and painter respectively, share a dedication to creativity that's central to their art, gallery ownership and marriage of 20 years.

"I do love [O'Keeffe's] passion," says Jerri, noting that Mark's photography is more akin to that of Ansel Adams than Stieglitz.

Similar to the origin of the famous Modernist couple, the Lisks were brought together by photography. Jerri moved to Boise, Idaho, in 1992, after studying faux finishes at Leonard Pardon School of Design in London and spending time painting in Santa Barbara, California. The couple met when a client, also Mark's sister-in-law, recommended that he photograph Jerri's paintings of emotionally charged landscapes.

"I appreciated the graphic, illustrative quality of her work," says Mark, who had lived in his hometown of Boise since graduating from the Brooks Institute.

Since that fortuitous meeting, the Lisks have roamed deserts, mountains and river canyons, seeking out landscapes to capture or recreate. The couple may backpack for several weeks at a time through remote locales that can be physically challenging, yet full of inspiring scenery. New Mexico's White Sands National Park, Utah's Dixie National Forest, Arizona's Grand Canyon and areas near their home, overlooking the Snake River on the Oregon-Idaho border, are only a handful of far-flung places they've visited for the sake of art.


Mark's creative pursuits began with graphic design, but he realized he loved photography in the 1980s and has been taking photos ever since. He's built a client list that includes National Geographic Traveler, Smithsonian, Sports Illustrated Kids, Big Sky Journal, the Idaho Conservation League, Chrysler Jeep and Hewlett-Packard.

Along with working for clients and regionally exhibiting his work, he's produced six large-format photography books. His latest, Sawtooth White Cloud, was released this spring and explores the newly designated Boulder-White Clouds wilderness area in central Idaho. This unique region marks the origin of four major rivers. It's where critters roam and rare plants grow amid 10,000 foot peaks. It's also known for the highest elevation salmon run in North America. This type of landscape is exemplary of places that strike the couple's creativity.

The Lisks' work can sometimes be similar in content and composition. They both seek to find unique forms, light, contrast, rhythms and colors in nature; the trees that stretch endlessly skyward, the rivers that pull one's eye along a twisted path, an unusual blue shadow amid aspen trees or the brilliant green of lichen.

Despite these similarities, their processes are as distinct as their mediums. Mark finds locations that resonate with him, then he waits for the right light, capturing images in sharp focus. He allows the sun to highlight the colors and contours of the landscape, even when shooting in black and white.


Jerri, meanwhile, eschews the literal to create landscapes that are characterized by bold edges, saturated color and playfulness. When a scene catches her attention she'll break out her notebook, drawing and taking notes to use in the studio, where she recreates nature's beauty by painting with acrylic on sanded aluminum. Even her exploration of figurative work was inspired by rock formations.

Along with their artistic practice, the Lisks have operated a gallery in Boise for more than a decade. In 2014, the Lisk Gallery changed its name, relocated to its current spot and grew to incorporate an additional 20 artists. Gallery Five18, as it's now called, is in the former automotive shop that was once Mark's photography studio — equal parts white box gallery and hip industrial space.

The community in Boise delights in discovering unique art venues, says Jerri, noting that the city of more than 200,000 citizens is unusual in its lack of an arts district. "We want to see other artists flourish," Mark says.

The Lisks move fluidly between their identities as artists and gallery owners. Patricia Rovzar discovered Jerri's paintings in 2003, shortly after the couple opened their first gallery. She has exhibited both artists' work. "It is not often that an artist has the capacity to not only create wonderful work but also have enough business sense to operate a retail location at the same time," says Rovzar, whose namesake gallery in Seattle will host an exhibition of Jerri's work in July. Similar to Mark, the painter has also built a steady following, including Microsoft, University of Washington Medical Center, Seattle's Cancer Care Alliance and the City of Boise.

"I think the space that they created is no less significant than their art practice," says Rick Johnson, executive director of the Idaho Conservation League. Johnson has known the Lisks for several decades and says they're a catalyst for creating community with artists and, by nature of their subject matter, outdoor enthusiasts.

With a shared passion and their respective mediums, this artistic couple skillfully conveys the raw vibrancy of nature. For the Lisks, creativity is best expressed by looking to the land and to one another.