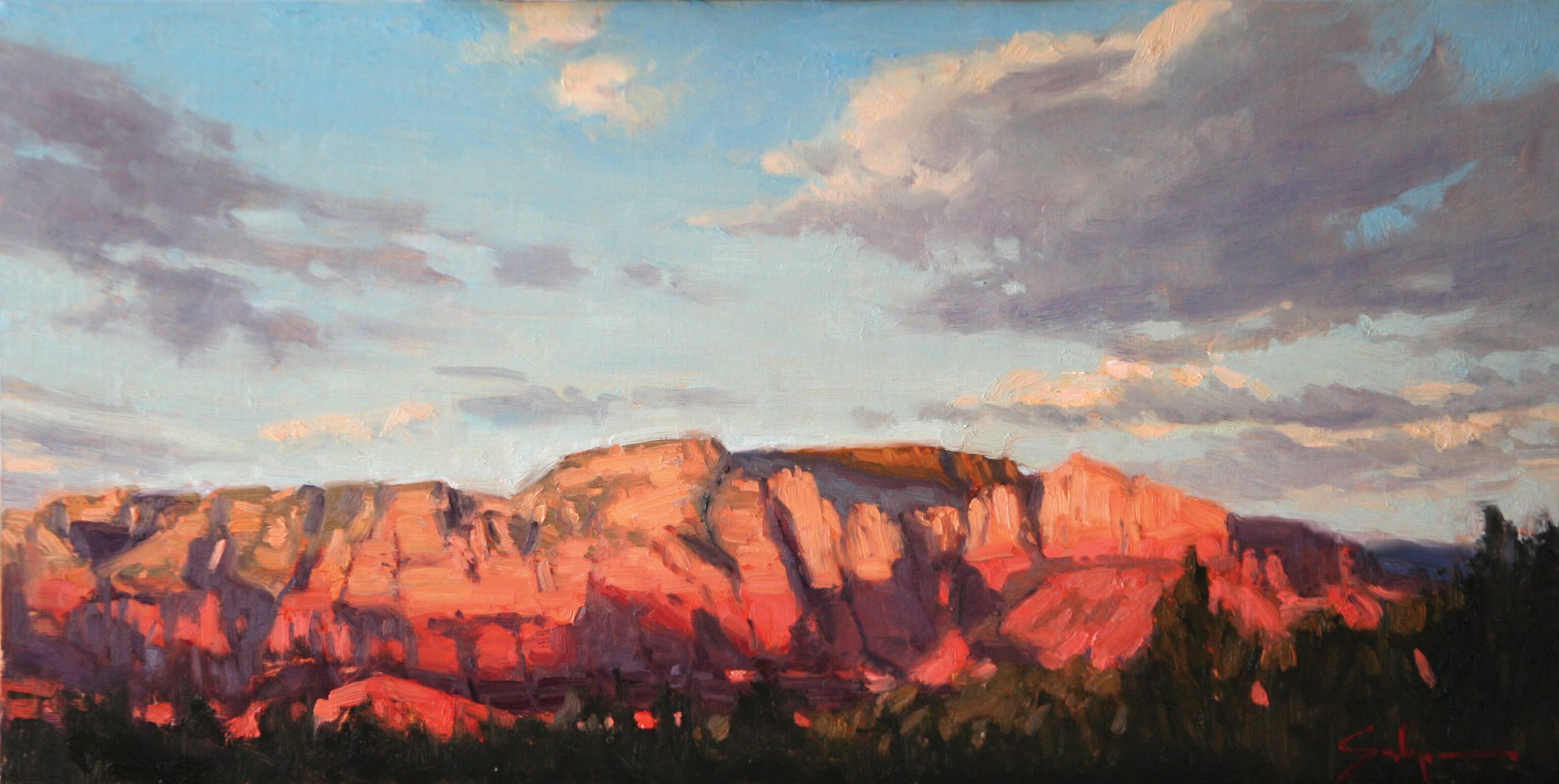 Sunlit Mesas | Oil on Linen | 12 x 24 inches | 2018
10 Mar

Freedom of Expression

In the eighth grade, like many students, Susie Hyer took an aptitude test to indicate possible career paths. "My results came back saying that I was suited to be a cowboy or a park ranger," she says. "But I knew at 4 or 5 years old that I wanted to be an artist. I didn't give up on that. I didn't think I could give up on that."

Known as "Susiehyer" — a name that stuck after distinguishing her in an art class with three Susies — she has worked as a professional artist since 1976, growing into the widely collected and well-represented painter she is today. Perhaps what most distinguishes Susiehyer's talent is her versatility. She paints not only en plein air and in the studio, but she also works in both a representational style and pure abstraction. Her subject matter includes seasonal landscapes, ranging from mountains, creeks, and canyons of the American Southwest, to seascapes, beaches, and tropical flowers from Tahiti and Hawaii. She paints cityscapes and street scenes, but also interiors and still lifes. She works mostly on linen canvas, but also on Masonite or wood panels.

Though she grew up on the East Coast, Susiehyer is a confirmed Westerner, having made her home in Evergreen, Colorado for the past 37 years. Akin to a cowboy or park ranger, she leads an outdoor lifestyle: skiing, hiking, and painting the changing light. "I spend a lot of time in nature," she says. "I'm observing with my whole body, not just my eyes. I'm picking up sounds — birds chirping or cars driving by — the vibe and energy from the forest, the earth, the city."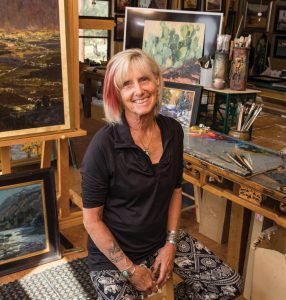 Her inspiration, however, doesn't depend upon particulars. "The environment itself is not the thing. Any environment has plenty of material for painting exploration," she says. "What excites me about painting, more than anything, is the foundation of the painting, the bones of the painting. Putting that design together is what gets me excited. It doesn't matter if it's abstract or representational. It's the approach to starting the painting that reinforces the concept, which makes a more dynamic painting."
Wherever and whatever she's painting, Susiehyer prefers oils because they are forgiving and easily manipulated. "I can put a stroke down intuitively in that space and know I can scrape it down and remix it. There's a freedom in that, and the term 'freedom' is really important to me personally: the freedom of outdoors and also the freedom of being able to throw paint around and know it's not permanent," she says. "A different medium is a different mindset. Acrylics dry so fast. And they do look plastic because it is plastic. There's a very subtle difference, like the difference between real turquoise and resin."
Susiehyer's art practice focuses on recognizing subtleties, whether with light, color, or composition. "A lot of artists talk about the light, but it's not necessarily the color of light or light itself, but the shape of light and which pieces are receiving light, whether a part of a tree or a piece of ground is getting a shaft of light," she says. "Light, for me, is a particular shape that has to function in the composition in terms of size, proportion, and value. I'm technical when I'm looking at what I want to paint because of how everything operates in the composition."
As for color, Susiehyer leans into neutrals. "I feel it's my job to gray my work down," she says. "I'm not someone who gravitates toward color. I'm not attracted to overall bright, crazy colors all within the same composition. Too much color is agitating and gives me anxiety. It makes me feel almost traumatized. When there's so much bright color all over, it's hard to focus on one area. I don't know where to look, and my brain wants to explode."
Instead, her paintings tend to present an inviting calm. "I love it when people say my painting gets muddy if I work it too hard. I like mud. Mud is a good color to me," she says. "I like colors to be harmonious within a painting. I like a palette more muted, more sophisticated. I think painting with a really toned-down palette is much more challenging than lots of color. It takes more skill."
Julie Williams, director of Mountain Trails Gallery in Sedona, Arizona, has represented Susiehyer for more than seven years. Williams says the gallery is particularly interested in the artist's local landscapes of the red rocks and Grand Canyon.
"She has beautiful brushwork and a beautiful palette that's not overplayed. Sometimes artists oversaturate color, but she is accurate. She gives you the mood in the moment," says Williams. "I really, really appreciate her ability to do so in a small 6-by-6 inch plein air study and transfer that to a gigantic 30 by 48 inches and give the same reactions."
For Susiehyer, painting requires technical skills, yet more so a pure intuition and mysterious inspiration. "Sometimes, the painting takes on a life of its own and starts leading you in a direction you had not intended," the artist says. "I enjoy following where it's taking me instead of trying to wrangle it into what I wanted it to be. Letting the painting lead you where it wants to take you is so much of the fun."
Jim and Traycee Pinkard have collected 11 Susiehyer's paintings over the past 11 years. "We have one of her paintings over the fireplace at our house on Lake Granby. It was the first one that caught my eye," Jim says. "We have a lot of art; not all of the paintings have worn well. When you wake up and look at this painting you've had for a long time and enjoy it and appreciate it — to me, that says a lot.
"I know other artists who go on painting trips with Susiehyer and say she is the last one painting at night and the first one up and painting in the morning," Pinkard adds. "She's very driven. She takes her painting seriously."
Susiehyer's alma mater, Moravian University in Bethlehem, Pennsylvania, recently recently bestowed upon her a lifetime achievement award. "It's gratifying," Susiehyer says. "I like to be an ambassador for painting."
In addition to Mountain Trails Gallery, Susiehyer is represented in Colorado by Mary Williams Fine Arts in Boulder; Oh Be Joyful Gallery in Crested Butte; Broadmoor Galleries in Colorado Springs; Turquoise Door Gallery in Telluride; and Mystic Trinity Fine Art Gallery in Evergreen. Her upcoming shows include exhibitions in Wyoming during Cheyenne Frontier Days, July 22 through 31, at the Cheyenne Frontier Days Old West Museum, and in Colorado at the Art Center of Western Colorado in Grand Junction through April 9 during The Monuments and Canyons Exhibition of Art.