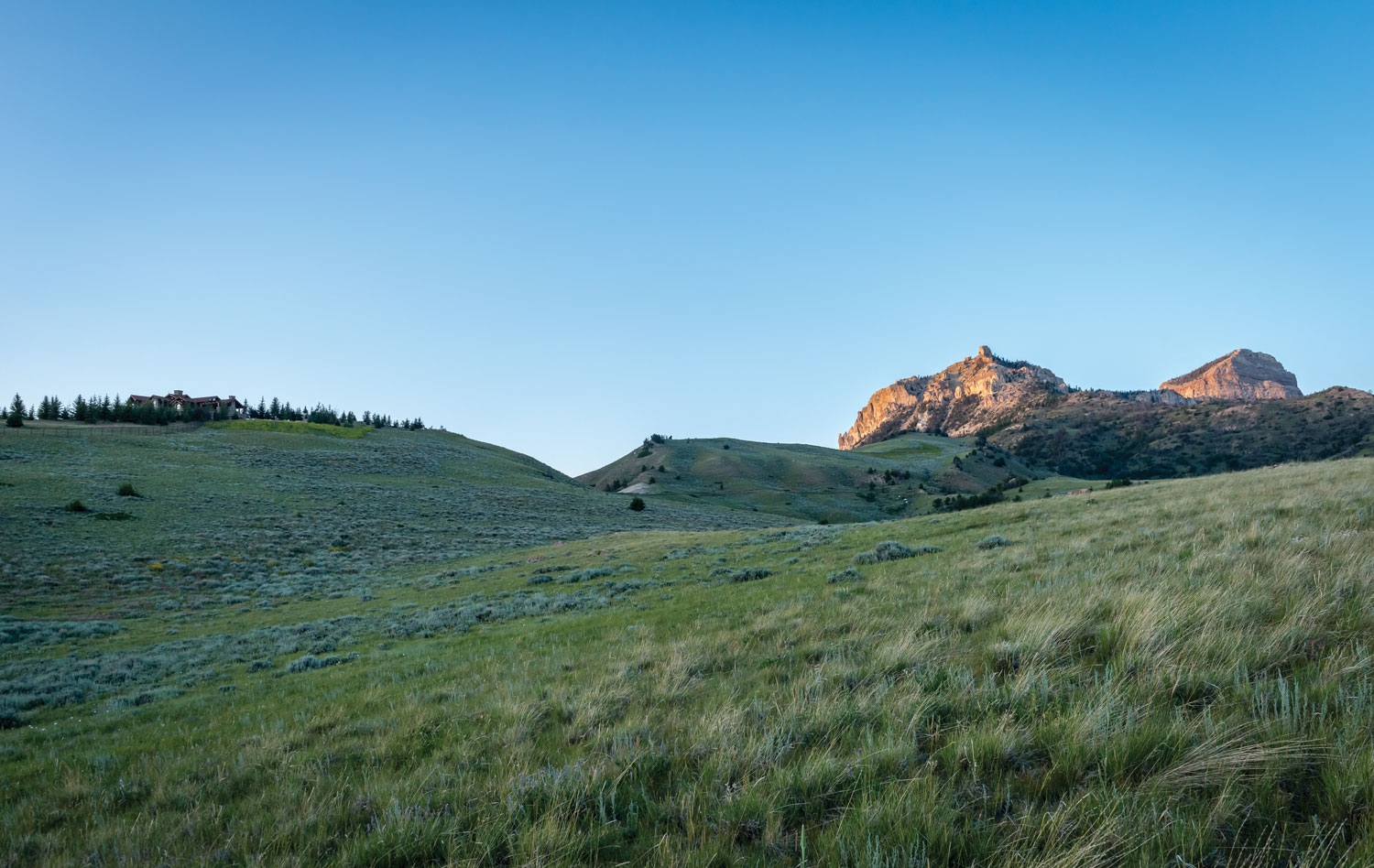 10 May

Heart Mountain Aerie

IT WAS 1980 WHEN JIM DAGER FIRST saw Heart Mountain while traveling through Cody, Wyoming, on his way to Billings, Montana. Driving past Cody's most distinctive landmark, he was so taken with the beauty and ruggedness of the mountain that he actually stopped by the side of the road to admire it. Gazing up at the peak and imagining the views from the mountain's steep slopes, Dager remembers thinking that someday he hoped to live somewhere just like this. 

Twenty-five years later, his dream became reality. It started in 2002, when Dager and his wife, Ginger, first attended Rendezvous Royale, Cody's fall arts week, and began collecting art by Cody-area and other Western artists. By 2005, they had located a unique parcel of land on the west slope of Heart Mountain, the same place Jim had first admired in 1980. 

The property has open sagebrush terrain down by the state highway and extends upward to encompass rolling hills, steep limestone cliffs, and rugged treed areas, topping out at the 8,100-foot peak. The 2,700 acres offers natural springs and is thick with wildlife: deer, mountain lions, black bears, grizzlies, wolves, coyotes, grouse, and elk by the hundreds.

Although eager to start building, the Dagers were intentional about the process. They retained an architectural designer, Jeff Robertson of Homesite Designers in Billings, to help them plan the progression of steps: building the infrastructure, siting the home, and considering layout, scale, and concepts. They tackled roads and utilities while constructing a two-story log barn with guest quarters. By the end of 2008, the couple had retired and moved to Cody to live on site. Then they started on the house, choosing a location high on the mountain, half a mile from primary elk routes.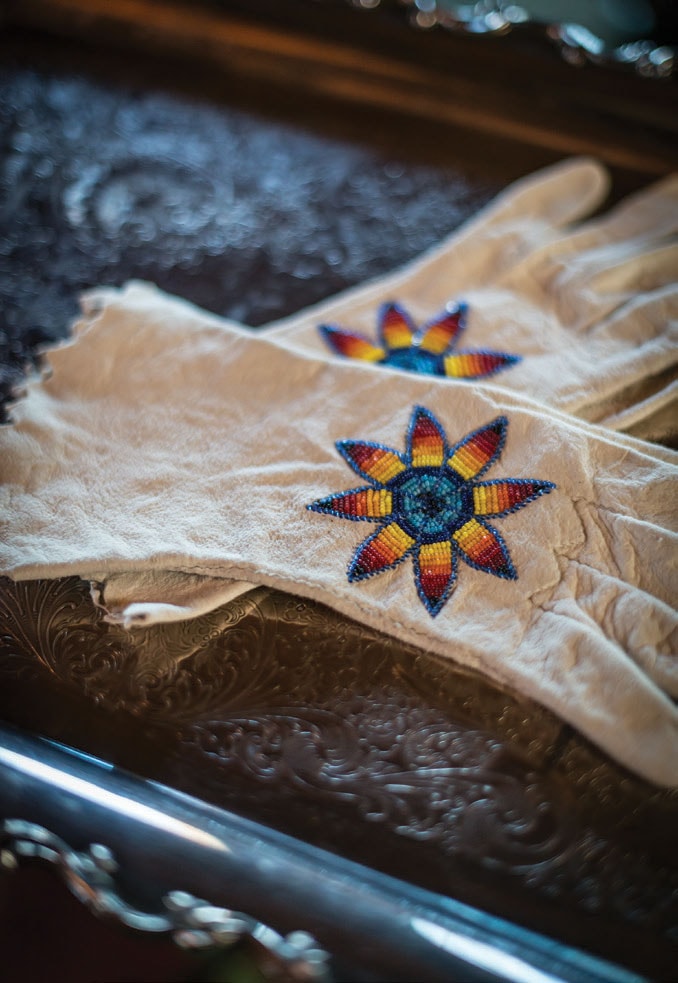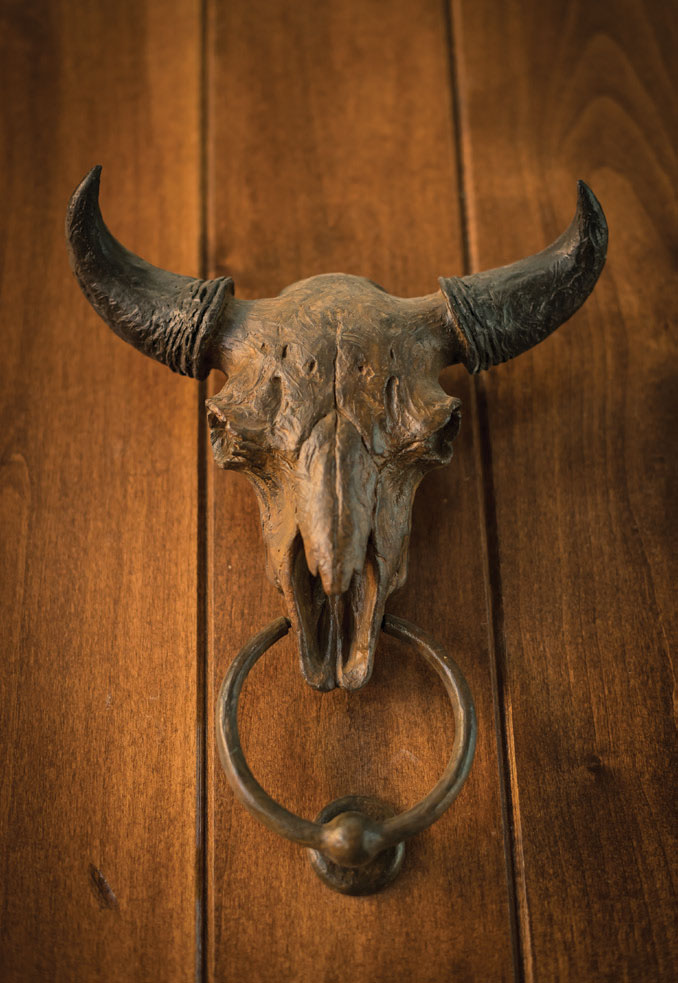 The structure is large but nestles into the mountainside on a relatively level section. It's surrounded by naturalistic landscaping, with a water feature cascading to a pond farther down the slope. The design of the expansive timber and stone structure, formed in somewhat of a V shape and with heavy sheltering roofs of Cor-Ten steel, makes the most of the extraordinary views while minimizing visibility from town. "We didn't want the house to stand out," says Ginger. "With the Cor-Ten steel, stone, timbers, and landscaping, it really blends into the mountain." 
Inside, the house is anchored by four full-length trees, flared at their bases, that extend through the two-and-a-half floors of the home. Visible roots ground the lower level and are set within the red brick wall outside of the wine cellar; the trees rise through the living areas and terminate as supports for the steel beams that define the mezzanine. Throughout the home, beams and log timbers interact with structural steel in a dynamic architectural experience, providing a counterweight to the expansive views. 
When it was time to decide on form, the house was partially designed around its centerpiece: the saloon. "I've always wanted an old Brunswick bar, from an old saloon," explains Jim. "I wanted to find one and design the house around it." When he articulated this vision to their designer in Billings, it turned out he knew of one for sale just half a block away. The circa 1890s mahogany bar had been shipped up the Missouri River and installed in Lewistown, Montana, before ending up in Billings. The Dagers bought the bar and proceeded to design the house around the graciously scaled period piece. In addition to the 24-foot-long bar, the room includes a large stone fireplace, a curtained stage, a billiard table, reproduction chandeliers and tables, vintage artworks, antique casino games, wildlife mounts, a pressed tin ceiling, and vibrant red velvet damask wallpaper. It's a space built for entertaining and experiencing the West as it was.
On the main level, the open floor plan is broken up into smaller volumes with multiple islands in the kitchen. In the living room, a giant four-sided fireplace with separate seating arrangements provides commanding 180-degree views over Cody and toward Yellowstone National Park and the Absaroka Mountains. The spaces, though large, are infused with warmth and intimacy through natural materials — such as stone, wood, leather, and natural fibers — and a palette of strong colors set against cedar walls.
Partway through the process, Jim took over as lead designer. With a background in structural steel and previous experience designing and building two homes, the process came naturally to him, explains Jeremiah Young, whose design firm Kibler & Kirch was retained as a sounding board to help execute the interiors. Working with senior interior designer Rosina Kastelitz, and builder Tom Quick of T.L. Quick Construction, Young says the project was designed as they went. "This was a truly collaborative effort and was done almost as a design-build project," he says. The house has many original creative touches, including a barrel-vaulted brick wine cellar; a literal cave made from boulders with hide-covered areas for seating, a fireplace, and a glass wall looking toward an outdoor waterfall; and a powder room lit by a sheep-horn sconce, with a vanity made from a tree stump and topped by a stone sink. 
But it's art that defines the interiors: paintings both old and recent, sculpture, Native American artifacts, and one-of-a-kind craftsman-made furnishings and lighting pieces. An 1874 painting of a bison herd by Henry H. Cross occupies pride of place in the great room, and a Dave McGary bronze of a Native American anchors the end of the hallway leading to the master bedroom. Numerous works by contemporary Western artists, many of whom have become personal friends of the Dagers, are intermixed with paintings by Jim himself. 
The move to Cody, Jim explains, prompted the realization of another longtime aspiration. "One of my goals when I retired, was to get into art. I always wanted to learn to paint, and this is the perfect place to do it." Primarily a landscape painter, Jim has tackled other subjects as well, including a portrait of local legend Buffalo Bill, and, for the saloon, a nude, because, he notes, "Every saloon needs a nude."
There is one wall which has not been filled up with art, says Young, who's also a gallerist at Stapleton Gallery in Billings and an art aficionado. Since moving to Cody, Jim paints all the time, says Young. "He's learning, progressing, and becoming a really good painter. That bedroom wall will one day be filled with his artwork. For now, they're in no rush," he says.
The success of the Dagers' home, given its location and size, demonstrates the importance of being intentional in the building process and respectful of the site. "This was a labor of love for Jim and Ginger," Young says. "It was very ambitious to have built up there, but they did it as well as it could possibly have been done and as sensitively to the land as they could. They did a magnificent job of letting it rest on the mountain in an elegant way. This house is a reflection of their collection, and they'll continue to acquire more pieces from the artists who live and work in this part of the world."
And when Jim Dager sits in his art-filled, aerie-like studio, dabbing paint on canvas and watching wildlife or contemplating the mountain views, he marvels at the coming-full-circle nature of his journey. "It's like one of those stories about fate," he says. "It's just unbelievable."