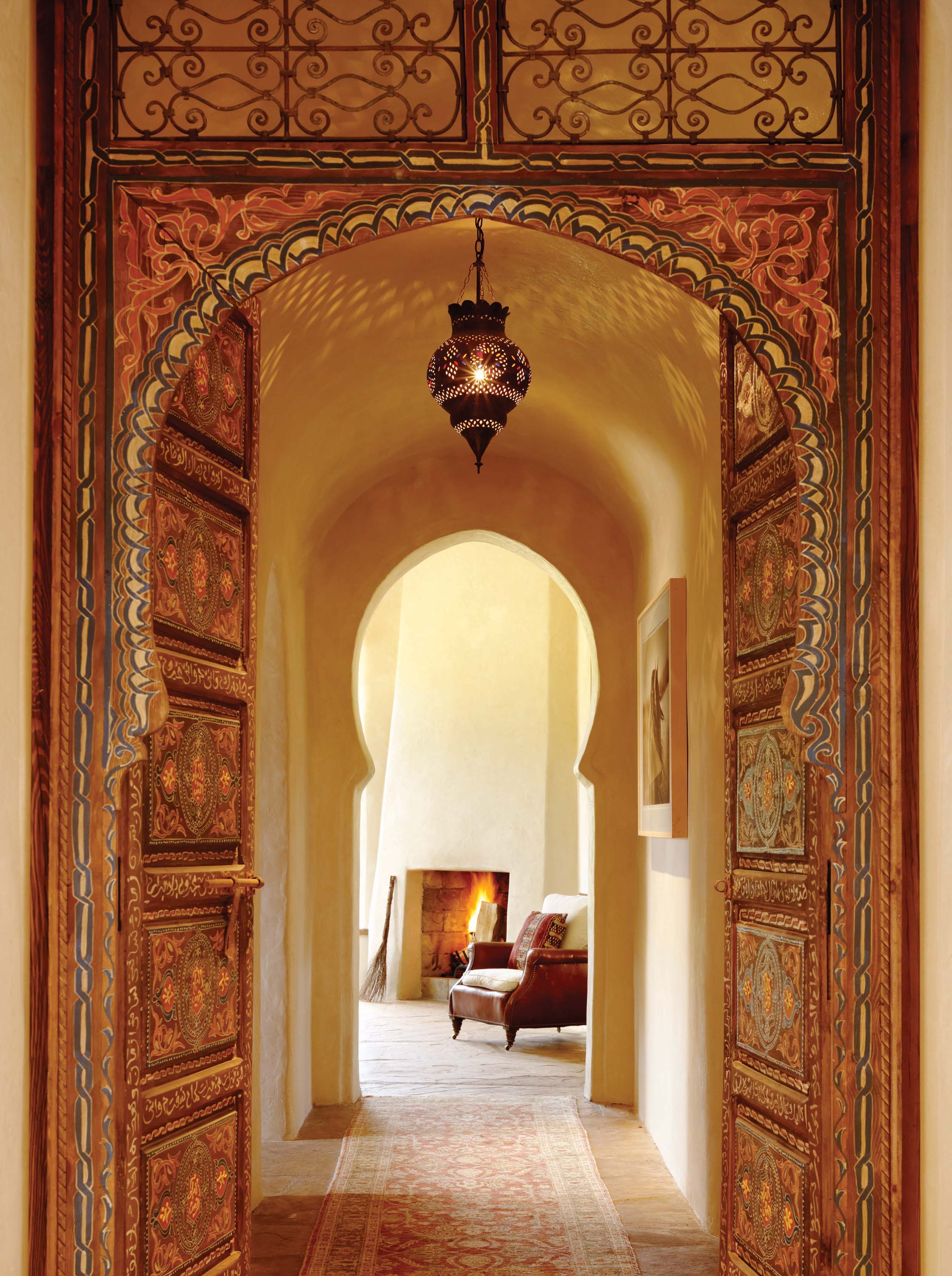 Recalling the owner's travels abroad, a hand painted door from Morocco leads to the library.
01 Feb

High Country Haven

FOR JOY SMITH, building a house in La Veta, Colorado, was more than putting up four walls. It was a matter of creating a base that would ground her between adventures abroad. Hence the name, North Star Ranch — this place where she pastures her horses and displays her keepsakes acquired over a lifetime — is a polaris that guides her back home, back to herself.

"I really wanted this house to be just for me," explains Smith, "a reflection of my global travels and of my personal life as well."

Smith journeys extensively to Africa, Europe and India. She waxes about riding in Kenya or standing in the cool relief of ancient structures in Morocco. She has admired the Marwari horses of India. She loves the history and culture of Santa Fe along with the vastness of the American West. And she asked architect Candace Miller to fold the essence of these encounters into the bones of her Colorado abode.

"Joy didn't want a traditional Southwestern home and she didn't want to build another log house," said Miller, principal of Miller Architects in Livingston, Montana. "She wanted an adobe house, influenced by Moorish style with a dash of Tuscan."

That would be a tall order for any architect, but Miller had previously worked with Smith, designing a reclaimed log home for her in Montana, which led to their friendship.

Miller walked the rural Colorado property, and Smith shared snapshots of travels and of spaces she liked. They discussed the views, the river and surrounding geological features. Ultimately, the palette of building materials set the tone of this 5,000-square-foot private retreat: reclaimed hewn timbers; practical flagstone floors; exterior stucco and interior plasterwork.

Stretching from her signature palette of recycled log and timber, Miller and project manager Joe Roodell found Rastra block, a concrete product made from 85 percent recycled materials that forms adobe-like, super-insulated walls. "It has this texture that is moldable and imperfect and natural," Miller says.

North Star Ranch has a simple floor plan and a low profile to complement the landscape. Miller allowed the organic properties of the hewn wood, clay roof and stucco to stand relatively unadorned. She selected oversize windows from Dynamic and contracted Yellowstone Traditions to craft custom cabinetry, doors and millwork. The end result is unassuming from the outside, a clay-tile-roofed home tucked into a quiet mountain valley.

"We wanted the house to have the weight and feel that would enhance the property, something that seemed to have been here for 100 years," says Smith.

Only up close is there any intimation of the exotic atmosphere concealed behind the hand-painted front door. A keyhole arch is entrée to a warm-hued interior that instantly speaks of a traveler's exploits.

To visit Smith is to experience parts of the places she has seen and loved. "I am very much a nester and I need to find a space where I am nurtured," she reflects. "At the same time I am a nomad, so I love being able to put different pieces of the world on the wall and in my furniture."

Like a blank canvas, Smith says, the house will always be an evolving base that she can enhance depending on where she travels. It's comforting to know that North Star Ranch will be there when she returns from each journey.