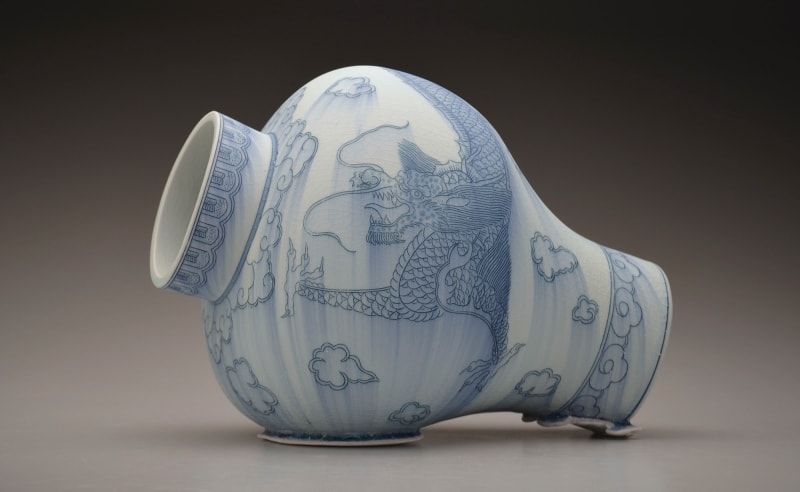 "B Jar with Dragon" | Porcelain, Glaze, Cobalt Inlay | 2015
17 Dec

Illuminations: Highlighting the work of ceramic artist Steven Young Lee

Steven Young Lee's ceramic work speaks to beauty, culture and identity. Using the delicate skin of porcelain, an innately translucent material that shouts its own fragility, he breaks years of tradition by deconstructing vessels in order to defy the human struggle for perfection.

Porcelain, discovered in China more than a 1,000 years ago, found its way around the world via trade routes such as the Silk Road. It became a commodity and an important part of China's economic growth. Coveted worldwide, there was a race for other cultures to figure out how to produce it.

"For me, porcelain has a lot of practical applications that factor into my work, including its cultural significance," Lee says. "The historical ties are important. My work is referencing a lot of history, and I look to different cultures for forms, motifs and patterns and then remix those into the work I make."

In his series, Fragments, Lee meticulously constructs vessels with iconic Asian imagery as well as European motifs and styles. As the ceramic works pass from country to country, they adapted to their environment and culture; in this way, the objects tie people together. Lee looks at these historical pieces for inspiration and then pulls the elements apart to create new pieces while keeping the integrity of the form and profile.

"Just the decoration on a piece I was recently working on took me 20 hours," he says. "Once the piece is finished, I will create a break in the surface."

There are multiple things he's questioning. First, he looks at how failure can affect the way we value an object. What is our perception of flaws? In contrast, he also questions the idea of perfection.

"It starts to overlap with intention, what is the intent behind the piece and what was my intent as an artist," Lee says. "Intent becomes one of the most important parts of what people are trying to understand. I've seen pieces that exploded in kilns, and immediately thought it's a failure. But if you remove the failing element, beauty can still exist. Sometimes we don't allow ourselves to see beauty because we're focused on other things."

The brokenness of Lee's pieces exhibit a sublime anguish, a wrenching in their denial of the ideal.

"If you're always striving for perfection, you're unable to access things you can't imagine," Lee says. "Perfection is trying to achieve a vision in your head, but the work itself can start to reveal things that you never thought about. I'm just looking at what's in front in me, but I couldn't get to that point if I was striving for a perfectly constructed vase."

Lee is in his 11th year as the resident art director of the Archie Bray Foundation in Helena, Montana, and has lectured extensively in North America and Asia. In March, 2013, he participated on the panel "Americans in the Porcelain City" at the Metropolitan Museum of Art in New York, and was one of several artists invited to participate in New Blue and White, an exhibition at the Museum of Fine Arts in Boston that featured contemporary artists working in the blue-and-white tradition of ceramic production. In 2016, his work was featured as part of the Renwick Invitational at the Smithsonian Museum in Washington, D.C.

Lee's work is represented by the Duane Reed Gallery in St. Louis, Missouri; Ferrin Contemporary in North Adams, Massachusetts; and The Archie Bray Foundation Gallery in Helena, Montana.