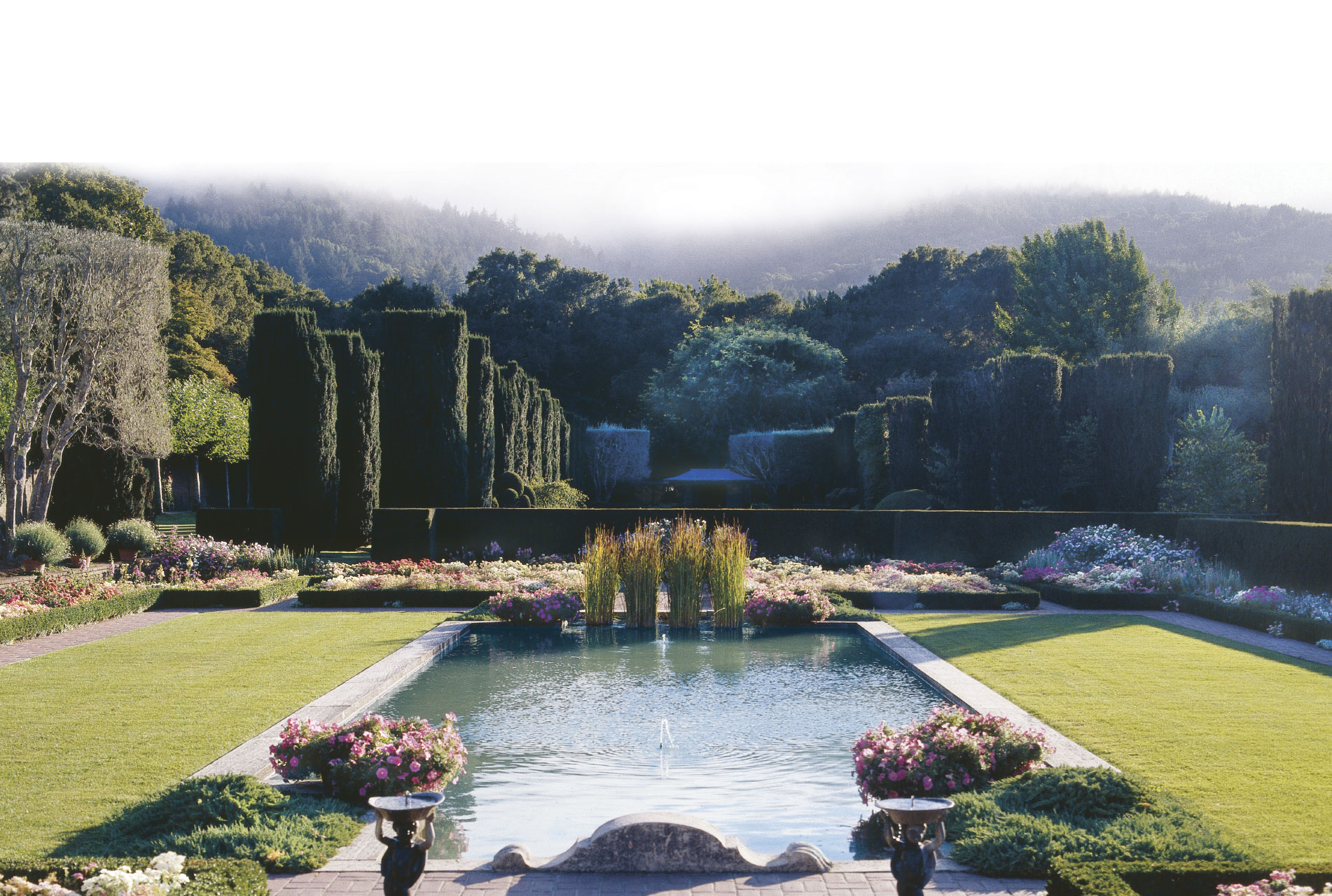 This sunken garden boasts picturesque views of the Santa Cruz Mountains.
29 Dec

In Full Bloom

LIKE A SPINNER PLYING YARN FROM SHEEP'S WOOL, a garden organically draws out the best from mankind: tenderness, inspiration, compassion, love. It is said that prisoners exposed to gardening rediscover peace and purpose while caring for the life essence found in seedlings and bulbs.

Every year, approximately 100,000 visitors find such tranquility at Filoli Center, a pristine 654-acre English garden and country estate situated 30 miles south of San Francisco in the exclusive enclave of Woodside, home to Silicon Valley's wealthiest entrepreneurs.

Splintering off a two-lane road that is popular with bicyclists, Filoli is literally a hidden treasure. The historic 1917 mansion cannot be seen from the street; there are no blaring billboards. A small green sign posted across the road with an arrow simply reads "Filoli Center."

This year Filoli quietly celebrates its 35th anniversary as a gift to the National Trust for Historic Preservation from the Roth family, its previous owners. A staff of 65 and some 1,400 volunteers lovingly tend the grounds, the two-story manor, visitors' center, café and gift shop. Says Cynthia Foster, visitor services manager, "We commonly hear people say, 'The moment I pull through the gate I feel better.' We can see people physically change after they walk through the gardens. They are more relaxed. They smile."

It is not surprising. Once you drive up the long path leading to the visitors' center, time reverts to 1917 when the original owners, gold mine tycoon William Bourn II and his wife, Agnes, purchased and built the garden estate. The backdrop of the Santa Cruz Mountains, with a view of then Crystal Springs Lake, reminded them of the landscape surrounding their daughter's home, dubbed Muckross, in Ireland. Bourn named the estate Filoli, borrowing from the first two letters of each word in his life motto: "Fight for a just cause, Love your fellow man, Live a good life." It was their vision to create a secluded respite that would take advantage of the spectacular pastoral scenery from all vantage points.

After the Bourns passed away, in 1937 the owners of Matson Navigation Company, William Roth and his wife, Lurline, purchased Filoli and lived there with their children, preserving the turn-of-the-century estate and gardens until 1975.

Today you can go on a self-guided or docent-led tour inside the Georgian-style mansion furnished with 18th- and 19th-century European antiques. It is a place where the ballroom walls echo with the mirth of soirees such as the 18th-birthday celebration honoring the Roth twins, Lurline and Berenice. In the reception room, Mrs. Bourn entertained her garden club with afternoon teas. You can practically hear the cooks buzzing about in the voluminous kitchen, shoving pans of bread dough in the proofing oven.

Outside, visitors can meander along brick paths and pass through gates of iron, hewn by blacksmiths of yesteryear. Towering Irish yew trees, canopies of four different species of wisteria and manicured boxwoods pay homage to the English Renaissance garden heritage. The property features a signature clock tower with a golden rooster finial weathervane overlooking the garden shop, a fountain reflection pool and myriad arched gateways that separate the garden rooms bordered by hedges and walls. These spaces include a fruit garden, knot garden, rose garden, cutting garden and more. Marble benches are placed strategically for romantic conversation or solitary contemplation.

With terraced steps, carpets of lawn and acres of blooms, the spot has become a familiar shooting location for movies such as The Joy Luck Club and The Wedding Planner. When winter sheds its coat, the approximately 20 gardens at this historic estate burst forth in a cavalcade of color and blossom fragrances. In February, Filoli will host its annual Daffodil Daydreams weekend where the public can see the flowers at their peak. The daffodil meadow, awash in a million bulbs, creates a yellow swath so enchanting that visitors anxiously return year after year to walk through the winding path. New this year is the opening of a second meadow behind the house that will bloom with approximately 65,000 golden yellow daffodils. It is nicknamed "Linda's Field" after a volunteer who passed away and left a generous donation used to purchase the bulbs.

Each year, in late March or early April, some 16,000 tulips in beds and another 30,000 in pots pop up in a different color every year so no two seasons are alike. "People call here starting in January and ask when the flowers will start blooming," says Jim Salyards, greenhouse manager, who has spent 18 years working at Filoli. "It's fun to watch the progression of things, week by week and month by month. I love seeing the repeat visitors."

Says Salyards, "I always wanted to work in a public garden, and when I first came to Filoli on a field trip as a horticulture student, I thought it was fantastic. It was pouring rain, and it was spring. Things were blooming, and I just thought it was glorious."

Also on site is the Gentleman's Orchard, a 6.8-acre plot of heirloom fruit trees. In the early 1900s, estates such as Filoli established these orchards for the enjoyment of the owners, not for commercial pursuits. Mr. Bourn planted 1,000 trees in 1918. And nearly a century later, the orchard holds a collection of more than 670 trees, with unique and historic species of apples, pears, grapes and stone fruit rarely seen today.

Throughout the year, Filoli provides classes on flower arranging, botanical drawing, birding, photography and other courses that reflect its mission to preserve, interpret and steward the traditions of the estate for public education and enjoyment. Schoolchildren come for field trips to learn more about California history. The cherished property is renowned for its Mother's Day flower show, jazz concerts, Holiday Traditions galas and Autumn Festival where folks can sample the rare fruit from its heirloom orchard. In the summer, docents lead twilight hikes through the seven miles of private back trails in the Filoli Nature Preserve.

As of this writing, the three Roth children, Bill and twin sisters Lurline and Berenice, now in their 80s, actively support activities at Filoli. Thanks to their generous contribution, this jewel of the San Francisco Bay Area will bring delight and a glimpse of glamorous early 20th-century living for many generations to come.