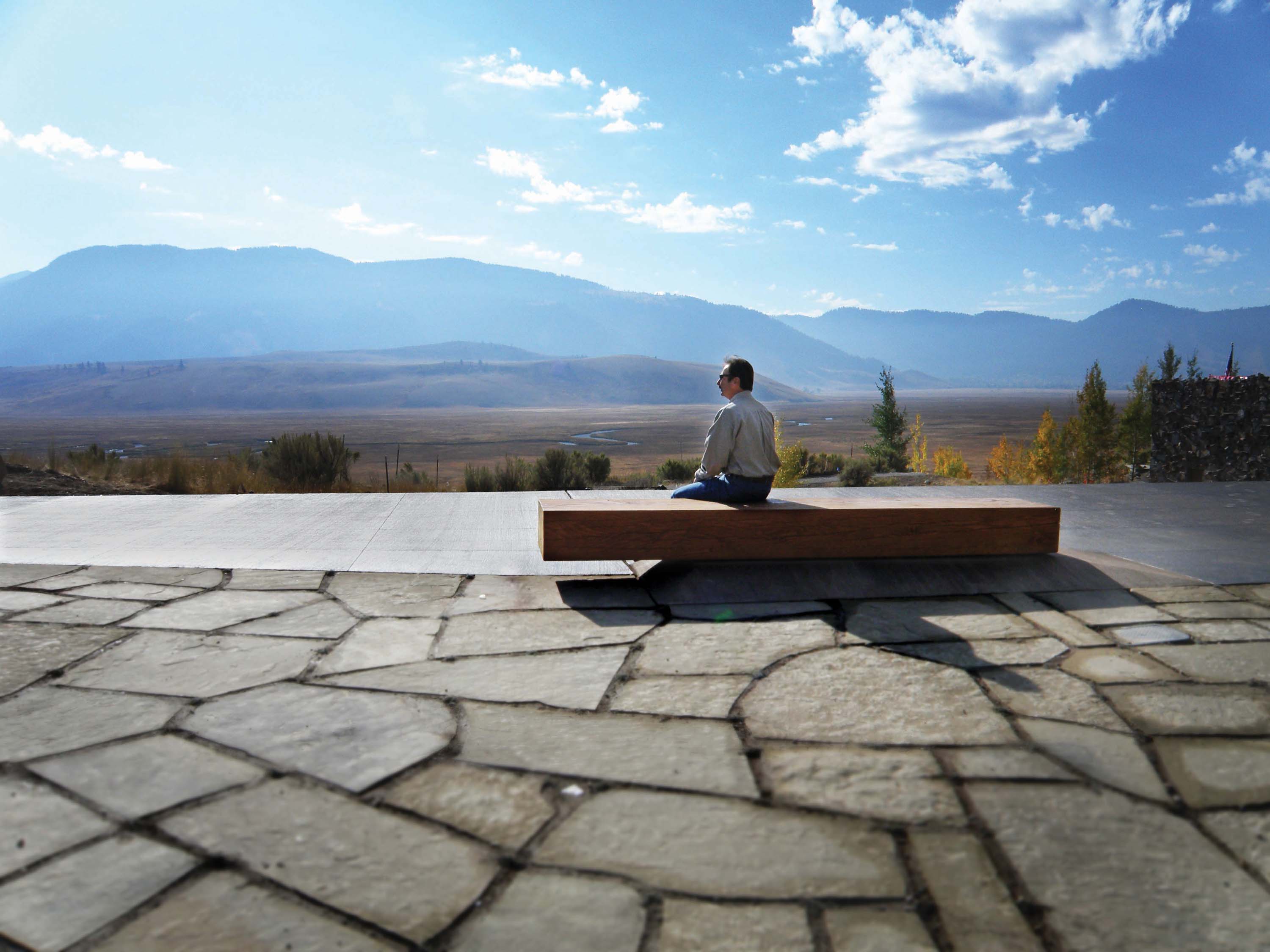 When not in use for events, the amphitheater benches provide an ideal setting for taking in views of the valley.
04 Aug

Into the Wild

"IT'D BE AWFUL."" That's what landscape architect Walter Hood had to say to Jackson Hole's National Museum of Wildlife Art when he heard its ideas for a new sculpture trail. Even though he was at the museum to throw his hat into the ring for the job of designing the project, Hood didn't mince words. "You really don't want a trail running along the parking lot." That was kind of what the museum had been envisioning.

Hood, whose design firm is based in Oakland, California, was eventually hired to design the three-quarter-mile trail, which opened at the NMWA late this spring.

"We had our ideas of what we thought would be good," said Adam Harris, the NMWA's Curator of Art and a fixture at the museum for more than a decade. "This was a project the museum had been thinking and talking about even before I came to work here. When Walter came in he had his own ideas. They were in many, many ways different from what we had conceived of and in many, many ways much better."

Not only does the trail, which will eventually have upwards of 30 sculptures along its length, not parallel a parking lot, but also it caused the museum's existing parking lots to be moved and entrance traffic to be rerouted. "He came up with things that were far beyond our realm of thinking," Harris said. "They were also strokes of genius."

A 2010 Fast Company article naming Hood a "Master of Design" called the 54-year-old a "community whisperer, creating spaces that have the elements the residents want before they even know it."

Hood grew up in Charlotte, North Carolina, and has spent the last 20 years living and working in downtown Oakland. It was just early this spring that he separated his living and working spaces, renovating a building a couple of miles from Hood Design Studio into his home. A professor at the University of California, Berkeley's Landscape Architecture & Environmental Design and Urban Design Department, which he chaired from 1998 – 2002, Hood won the 2009 – 2010 Cooper-Hewitt National Design Award and a Rome Prize. Showing his wider relevance was the cable channel USA Network naming him a 2011 "Character Approved" honoree for "changing the face of American culture."

The Museum's sculpture trail is Hood's first project in the northern Rockies. "I've never worked in such a vacuous scale or changing landscape," Hood said.

"When we asked Walter if he would have time for this project, he told us he'd make the time because the landscape and space are so interesting," said Jane Lavino, the museum's project manager for the trail.

"Every time I came here, I saw something different," Hood said. "Design isn't a universal thing, but space is. To be in a space and to feel a space, there is something universal about that. People know when something is too small or too big. I liked working with this kind of space."

A more typical space for Hood is 1) urban and 2) often-neglected. Hood transforms such areas into parks and places that are meaningful to their communities. He transformed a deserted traffic island under Oakland's I-580 freeway into Splash Pad Park. Every Saturday there's a wildly popular farmers' market and concert series there.

"In America, our public realm is sad," Hood told a half-full Cook Auditorium at the NMWA when he spoke there during a site visit last summer. He was explaining one of his key beliefs. "We have to be told how to act. Railings and berms and borders show us where we should sit and look, where we shouldn't walk and where we should. It's crazy."

Visiting one of Hood's other recent museum projects, the gardens and landscape of the de Young Museum in San Francisco, I saw people napping and picnicking on the grass. No one — not even a sign — told them to get off. "I'd rather design for a place that gets used and worn and messy than try to keep something in a pristine state that doesn't seem lived in," he said. "It's not about moving people, but engaging them. It's about how open we can make things."

The sculpture trail is similar. "I'm not wild about wildlife sculpture, but what I am wild about is seeing that bear in context and giving it power rather than it just being an object for people to fawn over. Give it a space where they might see something else." The trail starts from an open-air amphitheater at the museum's entrance. "We already know that it's going to be an important space for us and the community, but we're not sure how it's going to end up being used. I think part of the fun will be seeing how its use develops," Harris said.

Dotting the trail are Douglas fir benches and intimate spots inviting people to stop and, well, do whatever. Hood's designs are always intended to be used but exactly how that use happens is never planned. "I could plan, but that wouldn't be as interesting as seeing what people do on their own," he said.

The trail itself takes full advantage of the museum's stunning hillside location, looping around the butte. "The trick isn't to always be building new things," Hood said. "You can work with what you've got — repurpose it, use it differently, do whatever to get it to function in a new way. The museum has this great location on a hillside. That's what I used."

There were some new things built though. Most notably, the trail connects via metal stairs down to a bicycle and pedestrian underpass that in turn connects to a paved pathway stretching between downtown Jackson and the southern entrance to Grand Teton National Park. "Can you imagine a better half-day for a family than riding their bikes the two miles from Jackson to the museum? They can visit the sculpture trail for free or go into the museum," said Brian Schilling, Town of Jackson/Teton County Pathways Coordinator.

While the sculpture trail will eventually have dozens of pieces, Hood designed it as one thing. "From the beginning I've looked at this project as one piece of sculpture. It's not lots of things on a ribbon that stretches three-quarters of a mile, but one big piece that you and the sculptures can occupy." This summer four sculptures, including a 10-foot-tall ibis by British artist Simon Gudgeon and a 64-foot-long grouping of seven bison by Richard Loffler, will be installed. "As far as the rest goes, we're going to wait and see," Harris said.