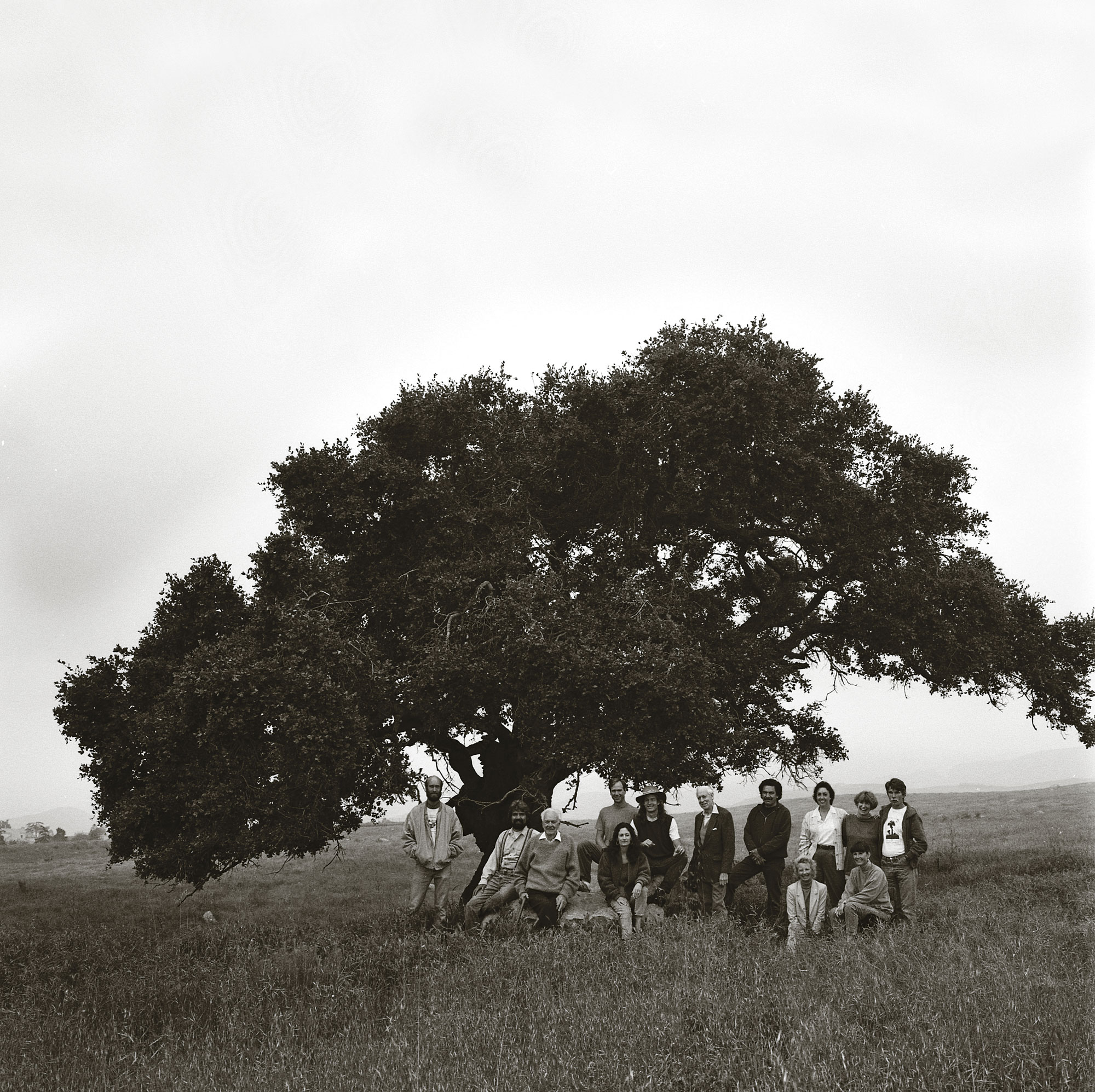 In this early portrait, members of the Oak group seem more tranquil than political. Yet, their exhibitions over 25 years have helped preserve scores of awe inspiring vistas.
30 May

Making a Difference

THERE IS A STRETCH OF BEACH IN CARPINTERIA, CALIFORNIA, where a sheer cliff comes to a distinctive point, like the bow of a ship, and rises to a grassy bluff top. Known as Loon Point, artists have been capturing its dramatic features for decades.

But in 1986, public access to Loon Point was jeopardized. A landscape painter named John Wilshire arrived at the path leading to the point one day to find a sign, affixed to a chain-link fence, announcing plans for houses and a brick wall. He sounded the alarm to colleagues and a few days later, more than a dozen painters joined him there for a "paint-out," a painting party of sorts. A group of artists on the beach working quietly at their easels doesn't immediately bring to mind nascent political movements, but that's exactly what the gathering was.

The Oak Group, a cozy, clublike alliance of Santa Barbara landscape painters, had only just formed around the legendary landscape artist and teacher Ray Strong when the call came to save Loon Point. Its seven initial members, including co-founders Arturo Tello, Erika Edwards, John Iwerks and Skip Smith, intended only to formalize the mutually supportive community they already shared with Strong, one that included regular sojourns to remote, unspoiled vistas which they proceeded to paint and fall in love with. But when the group descended on the beach that day (along with as many of their painting friends as they could convince to join them) they realized the alliance had another purpose: to fight to preserve as much of the land they loved to paint as possible.

Tello said landscape artists in Santa Barbara were well aware of the threats to their favorite spaces, but weren't keyed into doing anything about it until they were all assembled on the beach that day. That was when they realized they had to act and they started with a weekend show at The Santa Barbara Museum of Natural History. The exhibit, in May 1986, featured paintings of coastal areas that had development plans attached. Sales from Endangered Landscapes amounted to $4,000, 25 percent of which went to the museum.

With the other Loon Point painters now official Oak Group members, the organization had doubled in size. By August, a second show, Vanishing Views, was in the works. Held at The Cabrillo Arts Center, Tello recalls it was a milestone because it brought the group together with community activists like Lois Seidenberg, from the Carpinteria Valley Association (CVA), which was a nonprofit involved in saving the Carpinteria bluffs, 52 acres coveted by developers. She asked The Oak Group to hold a second reception to benefit the CVA. It did, ultimately giving the organization 50 percent of sales.

John Iwerks, an original Oak Group member, said some people found the Endangered Landscapes shows depressing; that such beauty was headed for the bulldozers was too disheartening. That feedback, along with prodding from Ray's wife, Betty, led to the group's tradition of alternating between Endangered Landscapes shows and exhibits featuring paintings of places that had already been protected. So for years, Oak Group exhibits — which were usually weekend or weeklong shows — alternated between Endangered Landscapes and Nature Preserved.

In 1987, when the Oak Group collaborated with a handful of other landscape painters to help pass a bond measure on the ballot for the purchase and preservation of 77 acres of unspoiled bluff top known as the Wilcox property, the group again grew in size, with almost all of the Wilcox "friends" becoming members. The measure failed, but nine years later Wilcox was purchased through intensive fundraising on the part of a half-dozen community organizations, all of them aided by Oak Group exhibits.

In 22 years, The Oak Group has raised roughly $1 million for campaigns to save open spaces and maintain areas already secured, such as Montano de Oro State Park, a Ray Strong favorite. In 1996, Marin County activists invited the Oak Group to hang a show for The Marin Agricultural Land Trust. It's now an enormously successful annual event that features many artists from around Northern California as well as Oak painters. Other Oak Group shows have benefited the Big Sur Land Trust and The Eastern Sierra Land Trust. And similar alliances, such as Tennessee's Chestnut Group, have been inspired.

The Oak Group hasn't ever saved a piece of land single-handedly, Tello said. "It's interesting, if you go back [and look], OK, the Carpinteria bluffs, still there, beautiful. The Wilcox property, still there, beautiful. I mean if you knew the history … that they were sometimes a vote away from being [lost] and now they're here in perpetuity … wow."

The old adage that as the farmer gathers food for the body the artist gathers food for the soul seems particularly true in the case of the landscape painter. As nature's advocate, the artist takes his audience by the hand and shows them beauty that is right under their noses; the way the pink Bougainvillea stands out against the soft beige sand, the blue tint of the shadow over the valley at sunset; the stark drama of the cliff at Loon Point. Their sense of awe is conveyed, maybe even a measure of gratitude for creation elicited. Soul food, for sure.
---
Artists for Conservation
In 1997, Canadian artist Jeff Whiting founded the organization Worldwide Nature Artists Group. His idea was to gather together artists specializing in natural scenes and subjects so they could pool their talent and energy to actually save some of the vanishing habitats and species that inspired them. Ten years later, the group has a different name, Artists for Conservation (AFC), more than 450 members from around the globe and an array of initiatives that are raising substantial sums of money for environmental and wildlife conservation projects.
AFC's mission is to not only raise money for conservation but to educate the public about the importance of environmental preservation and shine a light on fragile species. Its unique Flag Expeditions program sends artists to remote spots to do artistic renderings of endangered species and habitats. Some of the places AFC members have recently visited include the Boreal forest in Nunavik, Canada, the Lebialem Highlands in Cameroon and Hwange National Park, Tanzania.
In AFC's Art for Conservation program, members offer a portion of the funds generated from sales of their work to a conservation group of their choice. The potential total that stands to be raised from this initiative is in the $10 million range.
Information on AFC's programs and artists can be accessed through its website: www.natureartists.com.
---
Isabelle T. Walker is a freelance writer in Santa Barbara and a California Endowment Health Journalism Fellow.