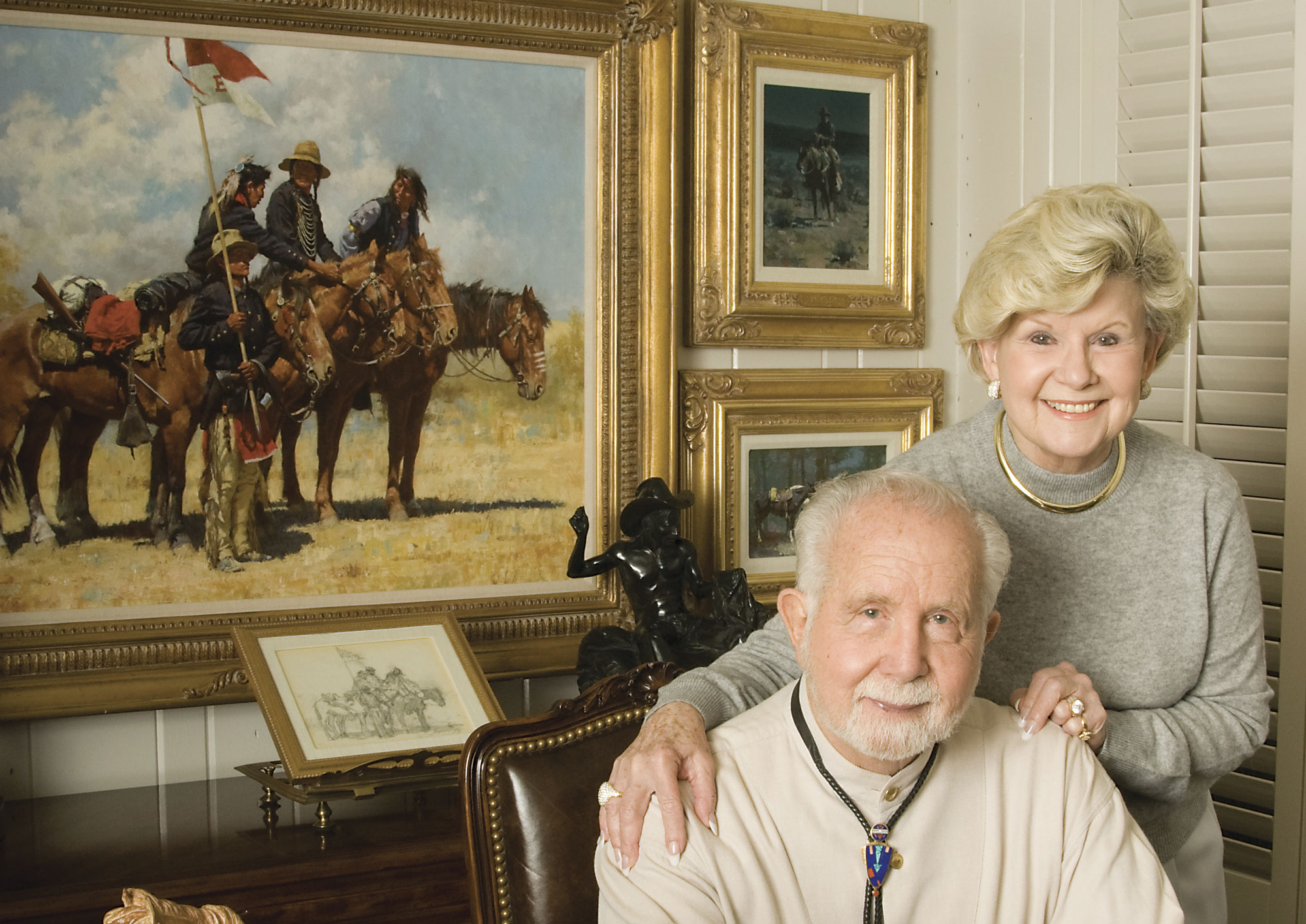 30 May

Master of the Masters

IN 1998, WHEN THE TRUSTEES OF THE AUTRY NATIONAL CENTER decided to establish an award "to recognize an individual for his or her advancement of contemporary Western art," there was only one obvious candidate for the first year's award.

John Geraghty, a retired executive in southern California, had already shown an extraordinary commitment to Western artists, to Western art museums and to creating new venues for bringing artists and patrons together. For eight years a board member of the Cowboy Artists of America Museum in Kerrville, Texas, he helped found and run the organization's annual art show. Asked to help take the National Cowboy Hall of Fame's (now the National Cowboy and Western Heritage Museum) annual art show to a higher level of quality and sales, he devoted himself tirelessly to that end for more than a decade while still running a large, complex company in the automotive industry.

Upon his retirement from business, Geraghty took on his next big project: to transform the fledgling Western art show at the Autry Museum — at that time generating revenues of about $65,000 among a group of mostly local artists — into the show it is today, one that showcases Western masters like Howard Terpning, William Acheff, Ken Carlson and Mian Situ, while growing the next generation of masters. Geraghty is proud of the show, and grateful to certain well-established artists (including Don Crowley, James Reynolds, Clyde Aspevig and Cyrus Asfary) for taking a leap of faith with him 11 years ago; together they created a world-class art event, with sales this year topping $4.7 million.

"There were certain things I wanted to accomplish for the artists," Geraghty recalls. "And I had the freedom to do a lot of things." First, he had to guarantee an appreciative audience. "I called Southwest Art and other leading magazines and found that their biggest subscription base was southern California, which surprised me. I thought it would be Texas or Arizona."

To draw those patrons, Geraghty felt the show had to be top-drawer from the outset. "I said, 'We need to make this an invitational show, and invite other artists. The artists would have to bring their very best work.' I think this is the one show in the country where the artists are committed totally to the show. They do bring their best work — they reach down deep inside themselves — and that's what makes the Masters so special."

One of his innovations was to solicit participation by galleries, and to encourage patrons to get to know the artists. Rather than jealously guarding information about how to buy directly from a particular artist, Geraghty actually encouraged a relationship. "If patrons got excited, they could find out where to get more information and to see more work. It's been absolutely wonderful because they stay excited, and next year they all come back."

This strategy goes hand-in-hand with the goal of building a patron base on the West Coast for the good of the artists. In this he has clearly been extraordinarily successful. "I was trying to cultivate new collectors, and build a market for the artists on the West Coast. Now 15,000 to 20,000 people see the Masters exhibit in 30 days. When someone sees the work of an artist they like, they can get on mailing lists, see the progression over time and the level they've achieved, and make a sound decision. Whether they buy at the gallery or at the Autry is immaterial; it's [that] they get involved. But 25 percent of purchases at the Masters have been by first-time buyers. And that's very exciting."

The gross sales from the Masters show contributes to the museum's overall $17,000,000 annual budget and has made a major expansion possible; a new building will be added to the Autry's campus to house the Southwest Museum of the American Indian collection and to double the space for the Masters exhibit in the future. Construction for this new building will begin this summer.

"John and [his wife] SaraLynn are key leaders and one of our most important benefactors for the Autry," says John Gray, Autry National Center CEO. "They have made the Masters into one of the most significant exhibitions and sales of contemporary Western art. But even more, they are leading the Autry to become a true national center, a Western place to tell all of our stories."

Geraghty has long been interested in art, but it was his wife, SaraLynn, who made their first significant purchase happen in 1971. And it was all on a lark. "A friend of ours was on a flight from the East Coast to California and the onboard magazine had a six-page article on Frank McCarthy and mentioned a show coming up in Arizona. We thought it would be fun to jump in my plane and go to Sedona to see this show. When we got to the show there was a line of people a block long. I said, 'I'm not going to stand in that line!' But we got out of the car and SaraLynn went to talk to some people at the front of the line. All of a sudden the doors opened and we were sucked in.

"In those days paintings were purchased by tearing off a little tag, so you can imagine the stampede. My wife ended up with one of those tags in her hand. It was more than I had ever spent on a painting, and afterwards we went across the street to a café. A little old lady with a southern accent tried to buy it from me. I was ready to do it, but I took one look at my wife … "

A team effort from the beginning, he says, their passion for collecting "didn't happen immediately. I was always interested in the West, but until then wasn't interested in studying history. But then I started reading and really became interested in the history of the country, the expansion of the people moving west, trying to find better lives for themselves. I became really enthused."

The Geraghtys' home — a gracious, single-story southern California classic — is a monument to this enthusiasm. It is filled with art: masterworks by most of the CAA artists, such as Joe Beeler and Bill Own, contemporary sculptures by Veryl Goodnight, Tim Shinabarger and Richard Greeves, and numerous paintings by the Geraghtys' close friends, Mian Situ and Howard Terpning. Hallways are lined with the Geraghtys' collection of 100 illustrated letters from artist friends, a collection that's still growing. "Yesterday in the mail I received one from Ken Carlson," says Geraghty. "A beautiful drawing of a goat up on a knoll. He wrote the kindest note thanking us for our hospitality. It's just so special. I can hardly wait to go out and frame it!"

The collection is wide in scope. "The diversity of our collection includes impressionism, deceased artists, figurative, wildlife, Western," explains Geraghty. "Recently we took a count and found we had work by 131 artists — and we know all of them, except of course ones that died years and years ago. Everything is intermixed. We have a wide appreciation for art — not a narrow perspective."

As their collection has overflowed their home and into the homes of their three children, managing the collection has become more of a challenge. "You become more selective and you continue to upgrade. You reach a point where each piece of art has a special meaning, or you relate to an experience [you had] at a certain time," Geraghty says.

In the early days of his involvement, he recalls, managing art shows, collecting art and advising artists on their careers "was a release for me from a 24-hour, seven-day-a-week complex business I was running." Now it seems, it's a full-time job, but one Geraghty clearly relishes. "It's been a wonderful, wonderful adventure, and a great experience," he says.

Geraghty shows no signs of slowing, of sitting back in a soft leather chair and admiring the beautiful artworks adorning his walls. He is already planning the next show, and strategizing about what he can do with the museum's increased space as it embarks on an ambitious expansion plan. "It's going to be a great ride," he says. "I'm so excited with the museum. I'm going to have 20,000 square feet to hang the Masters in, and it's going to get better and better. I can hardly wait!"

As for the award given to an individual for his or her advancement of contemporary Western art, Geraghty will be honored in perpetuity. Because back in 1998, when the Trustees of the Autry gave it to Geraghty, they named it the John J. Geraghty Award.
---
Senior Contributing Editor Chase Reynolds Ewald writes from her home in northern California. The author of five previous books, her latest effort, New West Cuisine: Fresh Recipes from the Rocky Mountains (with Amy Jo Shepard and Audrey Hall; Gibbs Smith, Publisher), is due out in May, 2008.
From her base camp in Idaho's Rockies, award-winning photographer Ilona travels the world. Her book, Fleurish (Sasquatch, 2005), won a 2006 Lucie International Award; and her upcoming book, Chasing Honey, will be published by Timber Press/Workman Books.