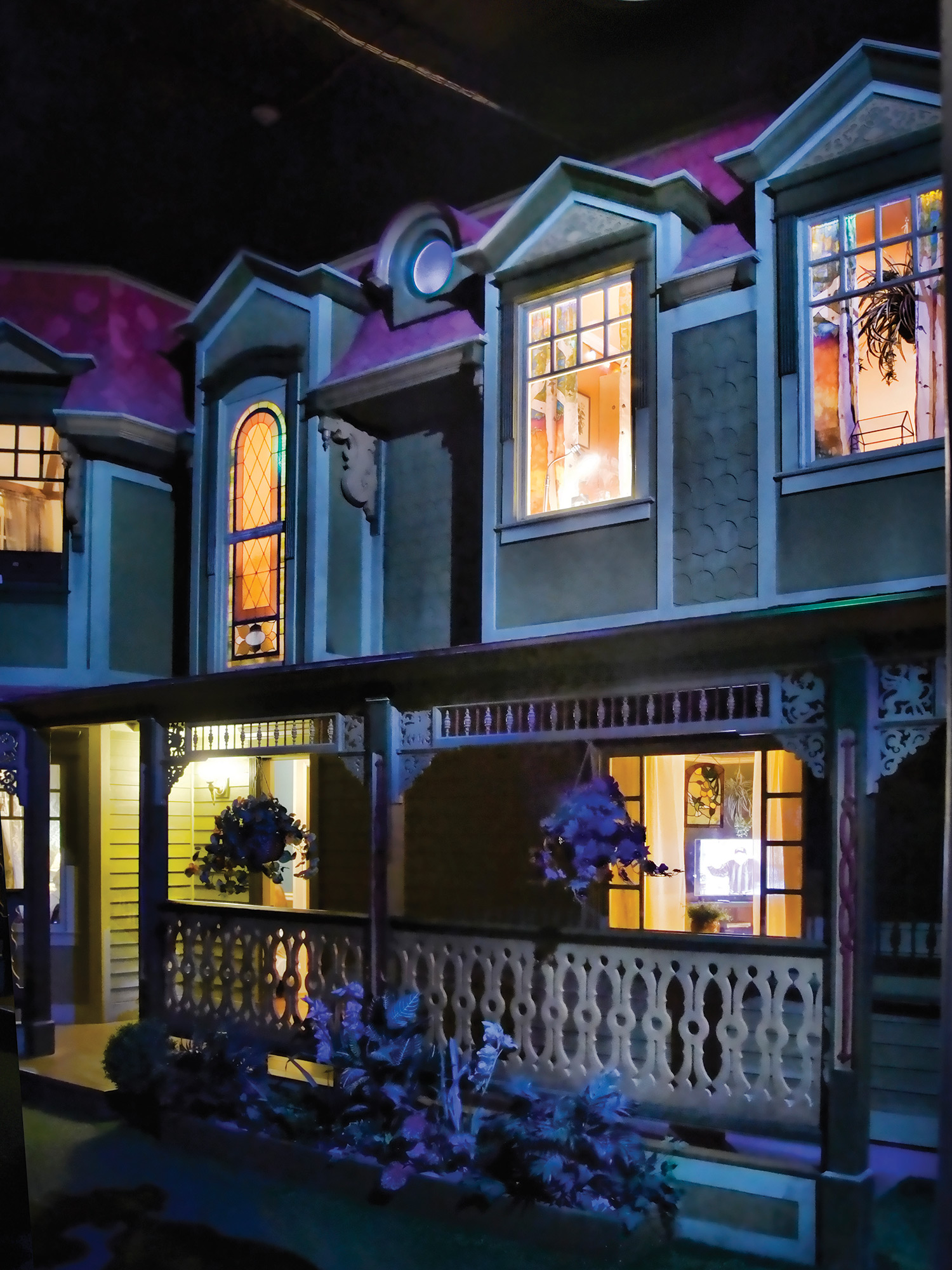 The 20,000-square-foot exhibition begins at the front door of a to-scale Victorian house.
12 Sep

Meow Wolf's The House of Eternal Return

IT'S NO SECRET that Santa Fe, New Mexico, embraces art. The Plaza is a regular venue for art markets; museums filled with Native American and Hispanic fine art abound; Site Santa Fe, an 18,000-square-foot contemporary art space, buzzes; and, of course, there's Canyon Road, with more than 80 galleries, along with the Railyard and Downtown arts districts.

Artists of all types have flocked to Santa Fe for more than a century, including the notable group of 20-somethings known as Los Cinco Pintores (The Five Painters) who migrated here in the 1920s and eventually built significant art careers. Sometimes referred to as "the five nuts in the adobe mud huts," this group of Modernist artists lived on the fringe, shacking up in compounds near Canyon Road and hosting group exhibitions.

One of the artists, Will Shuster, designed the first Zozobra figure, a large Pagan puppet that has been recreated and burned every year for the last 92 at a public ceremony and celebration.

This group, and Shuster in particular, was one of the biggest influences on Santa Fe's newest colony of fringe artists known as Meow Wolf. "So much of Santa Fe's identification — the adobe architecture standards and the traditions we practice, like Zozobra and the Pet Parade — were introduced by these young fringe artists in the early 1900s," says Vince Kadlubek, a Meow Wolf founder. "They were bringing forth new ideas, and we're the next evolution of that."

Meow Wolf began eight years ago when a small group of 20-something artist friends joined resources to rent a venue for art and music shows. They chose the group's name at the first meeting by pulling words from two different hats. "It was the name of the venue. Then, when we left that space, it became the name of the group," Kadlubek explains. "It's interchangeable; now, it's the name of a space and a company."

The group's first installation was The Due Return in 2011. Through a combination of visual arts, live performance, music and technology, the story was told of an interdimensional ship that landed on alien turf. As guests walked through rooms, each created by different artists, there were hints about the passengers and history.


"With The Due Return, we started to see it wasn't just about expression, we were touching the lives of people who didn't previously feel welcomed to the art process and creativity," Kadlubek says. "Demographics that don't normally show up at museums came and loved it. We saw an opening there and wanted to celebrate that."

In 2014, Santa Fe-based author George R.R. Martin, creator of the popular "Game of Thrones" series, bought and remodeled a 20,000-square-foot defunct bowling alley and leased it to Meow Wolf. The site opened in March 2016, as an arts complex that includes space for music shows and art workshops, along with the permanent, multimedia installation called the House of Eternal Return.

The exhibit has been hugely successful, garnering attention globally. Centered around a full-scale Victorian house, the story is told of a family that vanished from the home. As you voyeuristically walk through each room, you discover family photos and undisturbed artifacts; computer screens are still aglow and books about the metaphysical lay about, offering clues that lean towards the fact that they've traveled to some other dimension, world, vortex, dream, what have you — perhaps a nod to Santa Fe's spiritual, New-Agey reputation.

In the living room, you can crawl into the fireplace to end up in a cavelike setting with glowing crystals. Open the fridge and walk right in, entering a long white hallway that leads to a space-themed room. Closets lead to other phantasmagorical rooms, such as one that appears to be under the sea and another with glowing dinosaur bones that, when banged with sticks, make music. And those rooms lead to other rooms, with each one feeling like you've just walked into someone's dream, until — bam — a hallway leads you back into the home, back to reality.

If this sounds odd, psychedelic even, well it is. There's no map, it's just down-and-dirty exploration, and you can touch or climb on anything. With visitors of all ages, from kids to grandparents, walking around in awe, it serves as a glaring illustration of the importance of creativity and whimsy in a world where the arts are last on the list in most public school curriculums.


"What we see in the world right now is that most everyday people have a lot of powerful experiences with video games, music, literature and cinema, but the visual arts have been somewhat left behind," says Corvas Brinkerhoff, a Meow Wolf founder and technology director. "It's just the culture of the visual arts; it can be a little alienating to most people." After all, many visual arts are the do-not-touch kind, hanging in quiet galleries and museums with expensive price tags.

"The visual arts world is for the 10 percent of our society, and that happens to be the ones who can afford it," Kadlubek adds. "We saw an opportunity to put that model on its head."

A group of 15 core members conceived of the basic concept of the House of Eternal Return and a rough floorplan, which was taken to an architect for development. Then a request for proposals was sent out to find the artists. "A lot of rooms were driven by the vision of one artist, and then a team helped them put it together," Brinkerhoff explains.

It took two years and 150 artists and volunteers to pull the exhibit together. "The skill set across the group was immense," says Megan Roniger, an artist and Meow Wolf administrator. "There were writers, musicians, welders, everything in this grab bag of talent with every medium represented in some way."

The artistic buzz and passion for the project was especially noticeable during the last few weeks before opening. "It was crazy, especially that last month of installation. It was like a beehive," Roniger says. And the city of Santa Fe, along with those who visit from afar, have certainly embraced it. There were 250,000 visits in the first four months, compared to another valued contemporary art museum, SITE Santa Fe, which sees approximately 25,000 visitors a year.

With a working model in place that now employs 80, the Meow Wolf team sees a future in opening exhibits in other cities. "There's a lot of interest," Brinkerhoff explains. "We're excited about working in cities that are overlooked, less well known, with a large population of people who want to have that experience and might not have similar things." They would ask local artists to participate, so these future exhibitions would reflect that specific arts community.

In a Los Cinco Pintores-like fashion, Meow Wolf has created a new movement and sparked another cultural flare in a city known for artistic expression. They've found a way to make art accessible and interactive, so visitors feel a connection to the experience instead of observing it from a distance in behind-the-velvet-rope fashion.

"Here, we are the next in a long lineage of fringe artists," Kadlubek says.