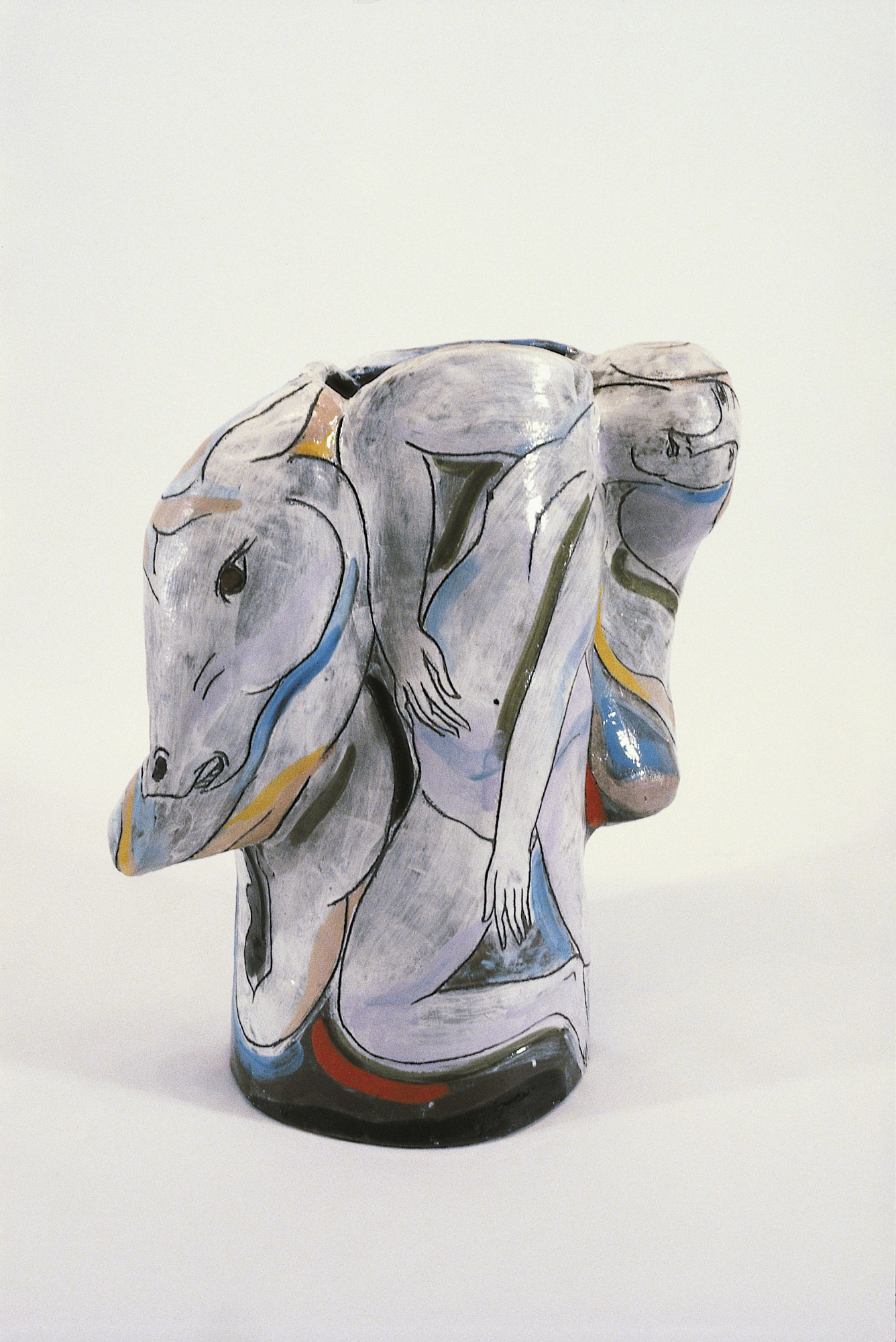 "Silver City Vessel" by Rudy Autio, 1985, ceramic, 32 x 26 x 17 inches, museum purchase funded by Miriam Sample.
29 Dec

Montana's Muse

THE WISE MUSEUM PATRON DOES NOT TELL THE STAFF WHAT TO BUY. She suggests pieces, perhaps, but allows the professionals to make the ultimate artistic decision. That trait — offering possibilities rather than delivering edicts — makes Miriam Sample the ideal benefactor.

Through her keen eye and understated taste, the Yellowstone Art Museum developed its impressive Montana Collection, part of the museum's Permanent Collection. It is remarkable for its depth and breadth, particularly in such a small city and sparsely populated state. While other mid-sized museums languish or fail to augment their collections, the Billings museum's holdings have consistently grown. The Montana Collection stands as a who's who in contemporary art, with works by nationally recognized artists: Deborah Butterfield, Theodore Waddell, John Buck, Rudy Autio, Bill Stockton, Freeman Butts, Peter Voulkos, Jessie Wilber, Robert and Gennie DeWeese, Robert Rohyl, Christopher Warner and many others.

The eclectic Montana Collection has Sample, and a handful of other generous patrons, to thank for its existence.

The YAM's Permanent Collection includes a wide-ranging offering of European, Latin and domestic donations and acquisitions, ones the museum has catalogued and maintained for nearly a half-century. The Montana Collection, shaped by Sample's discerning eye and financial largesse, contains an exclusive and prestigious array of more recent work by well-known artists of the region, often reflecting their impressions of Montana. The historic photographs of L.A. Huffman, and paintings, writings and memorabilia of cowboy artist Will James are also included in this unique testimony to the state's artistic legacy.

As the muse and checkbook behind the collection, Sample has been enhancing the museum's permanent offerings for 22 years. Born in Baltimore and reared in Richmond, Virginia, she moved to Chicago where she cut her artistic teeth on the paintings and sculpture at the famed Chicago Art Institute. During her tenure as a reporter for the Chicago Sun Times she began to study collections — private and public — and explore what made them great.

Donna Forbes, Sample's collaborator during her tenure as director at the YAM, says of Sample, "Miriam understands that a work of art is something that steps outside of our own time frame, to challenge and endure."

Forbes directed the YAM from 1974 to 1998, engineering a $6 million expansion that transformed the grassroots art center into a first-class museum and, not by accident, made room for showing off the Montana Collection. The new, airy space gives forum for rotating Montana pieces, which can also be viewed in the hall space. The pieces are also integrated into specific shows as they enhance a theme or idea.

As Sample was financing museum acquisitions, she also acquired a distinguished personal collection. When she suggested a piece and the museum declined, she usually purchased it for herself. Her noteworthy private collection is currently being bestowed on eight museums and six fortunate grandchildren.

Sample's contributions have done much to enhance the Billings museum's reputation. "I've always enjoyed the process of acquiring a new piece, and I am proud to call so many artists my friends," she says. A sprightly 87, Sample is still doling out art and funding to artists from a downtown Billings office.

Ever curious about what motivates people, Sample was a friend of socialites, actors and heiresses during her Chicago years. She and her husband, Joe, married and came to Montana in 1965. For 20 years, she dabbled in collecting before moving her mission into high gear in 1985.

When Joe sold the television stations he owned for years, as Miriam puts it, "He was very generous with me." Taking her gift from his profits, Sample acquired her first piece for the YAM, an Autio work, Silver City Vessel, a 32 x 26 x 17- inch stoneware form that caught her eye and received enthusiastic endorsement from Forbes and then-curator Gordon McConnell. The piece is still her favorite.

Simultaneously, she added to her personal collection an exquisite little mud horse by Butterfield, three small wooden figures by Buck and two delicate aluminum boxes by Clarice Dryer.

Sample's museum purchases also included a major painting by Jaune Quick-to-See Smith, a Buck bronze, two Waddell canvases and ceramic sculptures by Akio Takamori, Beth Lo and famed Missoula artist Autio. "I bought pieces that caught my eye for my personal collection," Sample says. "But when it came to the museum pieces, I wanted to buy work the experts considered to be of museum quality."

Collaborating with Forbes, who retired after the expansion was christened, and McConnell, now creating museum catalogues, Sample traveled the state, visiting artists' studios and perusing their work.

The collecting was motivated by two 1980s Montana Cultural Trust and Coal Tax grants which the YAM designated for the purchase of works by 20 of Montana's leading artists. Sample, then a museum trustee, offered to up the ante and match those grants. Thus began her collecting mission and her friendship with many of the state's finest artists.

Her excitement about their work resulted in her funding an acclaimed series of 60-second public service announcements that ran on Montana's TV Stations. These Montana Portraits were filmed by a production crew that went on location to the artists' studios. Sample always came along, listening carefully, asking questions, offering aid.

"Artists are always having financial problems," Sample muses. "So many of them are always broke. So those spots and the exposure helped them out, while we were creating a wonderful collection."

Acquisition guidelines stressed contemporary regional art, regional art of historic, artistic distinction and recent art of international significance. Sample professes "an attraction to bright, bold colors and styles," but says her taste expanded to the acquisition of "many subtle pieces, and pastels, too." Of the pieces she purchased for the YAM, she says, "there are only a couple I'm not thrilled with. Most are exciting to me."

Sample traveled to Grass Range to inspect and later purchase for the YAM the life work of eccentric sheep rancher, writer and painter Bill Stockton. The Collection also includes the paintings of Absarokee artist Isabelle Johnson, and the woodcuts of Billings artist Edith Freeman. All three highly regarded Montana artists are now deceased.

"My mission was to keep this wonderful work in the region," says Sample, noting that for many years work by Montana and other artists of the region left the state, snapped up by museums and collectors from around the United States and abroad. "Many of the best pieces were leaving the region," she laments. "I was determined to change that." Emphasizing her point, Sample adds, "It is essential that major contemporary work stay in Montana as a legacy for the state and the region."

Sample's generosity extends to other area museums. She has placed work in the Custer County Art Center in Miles City, in Hockaday Center for the Arts in Kalispell, and in museums in Helena, Missoula, Great Falls, and Cody, Wyoming. She estimates that her contributions to the region's museums include more than 500 works from 75 regionally and nationally known, contemporary artists.

Current YAM director Robyn G. Peterson says Sample's generosity has resulted in 250 pieces in 20 years for the Montana Collection, under the Permanent Collection's 4,000-piece umbrella. "Without her contributions in support of contemporary art and artists, all of us would be the poorer," says Peterson. "Her extraordinary role as an art patron is without parallel and a model to others."

Since 1985, Sample says she has given "just over $1 million to the Yellowstone, and about $700,000 to other area museums."

Her generosity has earned her two honorary doctorates and a host of grateful friends. In turn, it has kept many artists going, creating a forum for their work and appreciation from fellow Westerners. Both Montana art lovers and visitors to the region benefit in the legacy they inherit via Sample's gifts. They feel a communal pride in sharing them, Forbes says.

"I believe Miriam's vision and insistence on letting the staff make the final selections have created an extraordinary collection for posterity," says Forbes.

The museum's challenge, she adds, "has always been to frame a truthful picture of the West, one that acknowledges the importance of both the great myths and the hard realities of life here." Sample's funding of the growing collection of regional contemporary art has provided an "exciting and important context for our vision of the region," says Forbes.

As leading patron of the YAM's Montana Collection, Sample will be honored in July of 2008 with a major exhibition, Gifts to Montana: The Legacy of Miriam Sample. It will hang until October, showcasing what many consider the region's most comprehensive and colorful collection and paying homage to its benefactor. Viewers will see what caught Sample's eye and why. Says Forbes, "She can look with great interest at a new work, expecting to be challenged by the exploration."

Thanks to Sample's discerning eye and deep pockets, future generations will experience that same artful exploration.