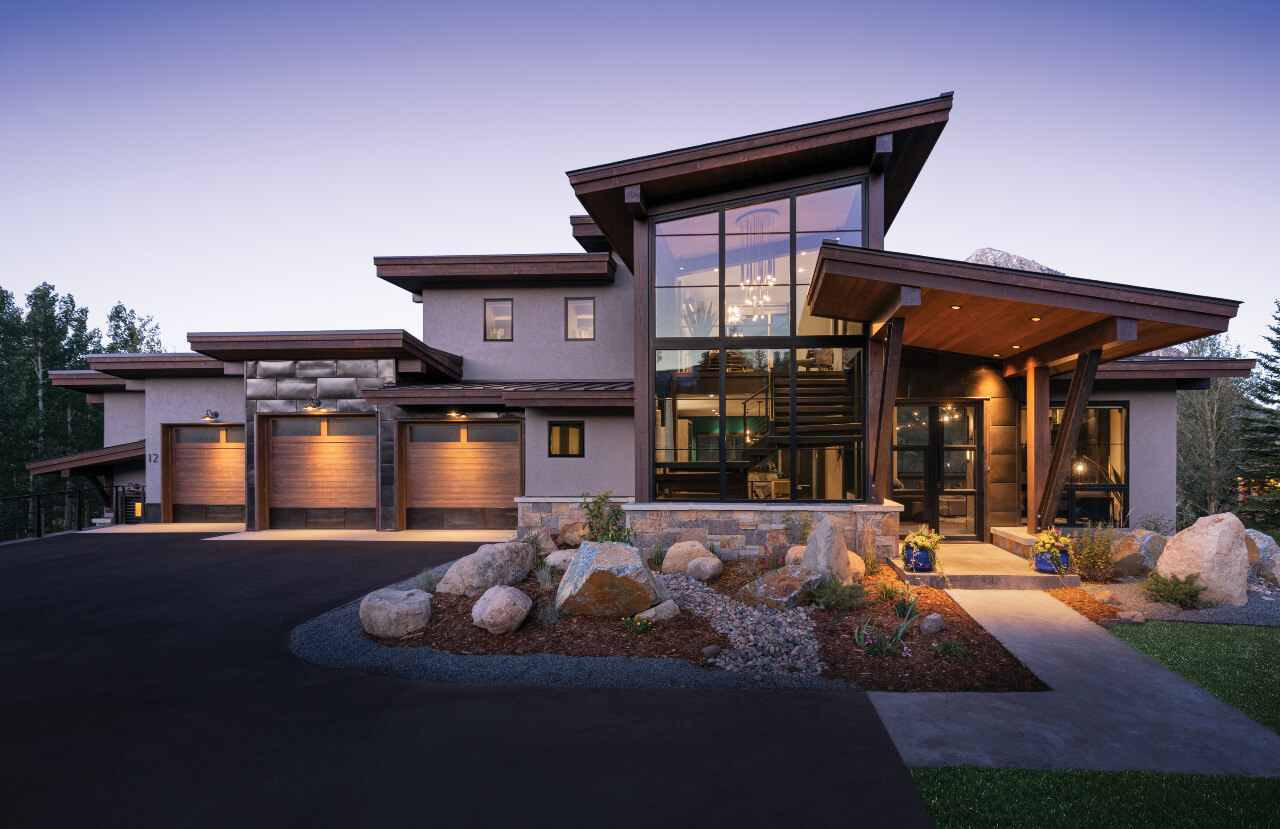 Cantilevered timber beams and columns provide structural mass, while extensive glazing offers panoramic views from every room.
10 May

Mountain Chic

Lisa Gidday and Amy Lehman were searching for a new dining room table when they met interior designer Gina D'Amore in her Denver Design District showroom in 2013. "Actually," recalls Gidday, "we first met Gina's husband, Eric Bauerle, a woodworker whose line of tables we saw on the showroom floor. As we started talking about doing more than just purchasing a table, he realized that her expertise was needed." At the time, Gidday, an internal medicine doctor, and Lehman, a physical therapist, were remodeling their home in Littleton, Colorado. "We learned quickly how gifted Gina was," says Gidday, while describing D'Amore's vision for transforming their main living spaces.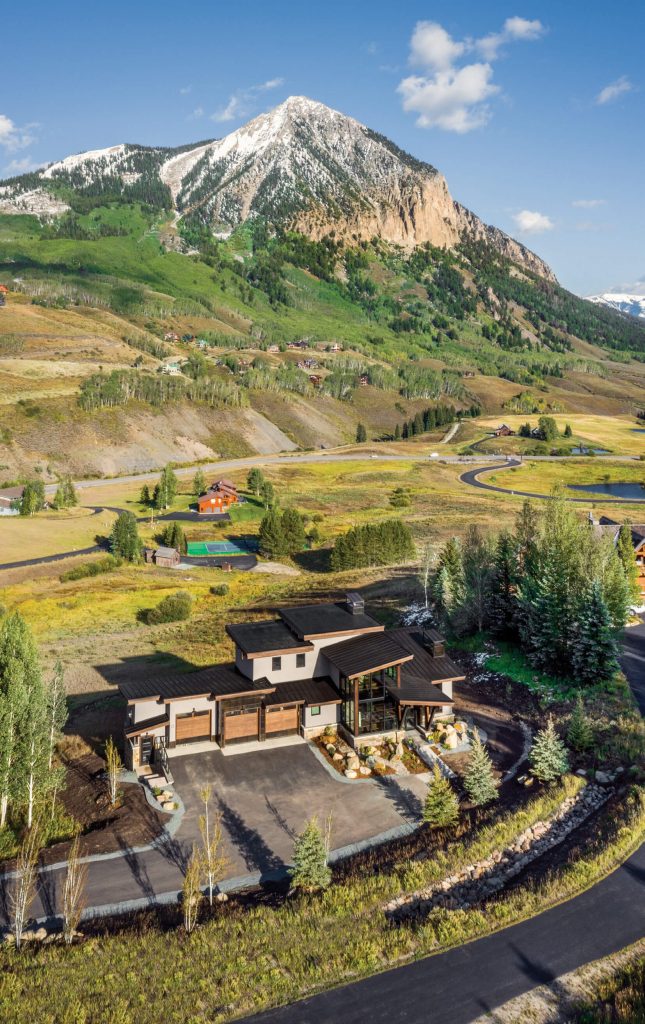 Fast-forward to 2016, and D'Amore was hard at work with the couple on their next project, a modest contemporary mountain home perched on a sloping expanse of land overlooking the 12,000-foot Mount Crested Butte. As she describes the friendship that blossomed, D'Amore credits the couple for trusting her instincts. "My dream client is someone who is open to new ideas and trusts me to implement them. I don't do it for the sake of being weird and artsy," she says. "I understand that design is a very personal experience."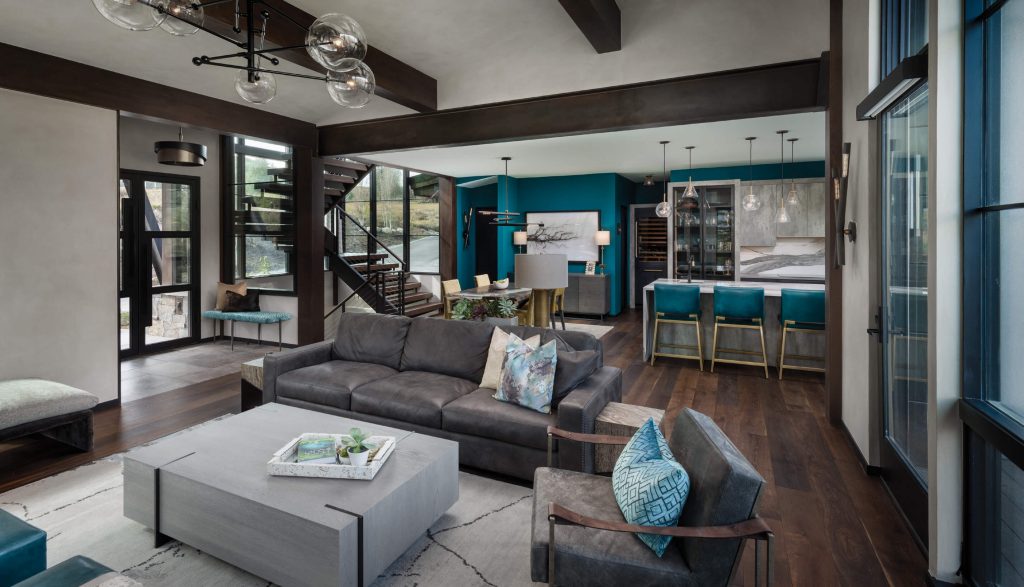 Gidday and Lehman envisioned a contemporary mountain home with enough space to accommodate their love of cooking and entertaining. The site they chose to build on — located on an exposed knoll between the historic town of Crested Butte and its namesake ski resort — was extremely steep, a condition that architect Dan Murphy of Daniel J. Murphy Architect says worked in their favor, allowing him to design a home with a linear and fairly shallow footprint. As a result, every room in the three-story abode captures a picture-perfect view of the prominent west-facing slopes of Mount Crested Butte. "They wanted transparency," adds Murphy, "and they got it. You can see through the house from one side to the other."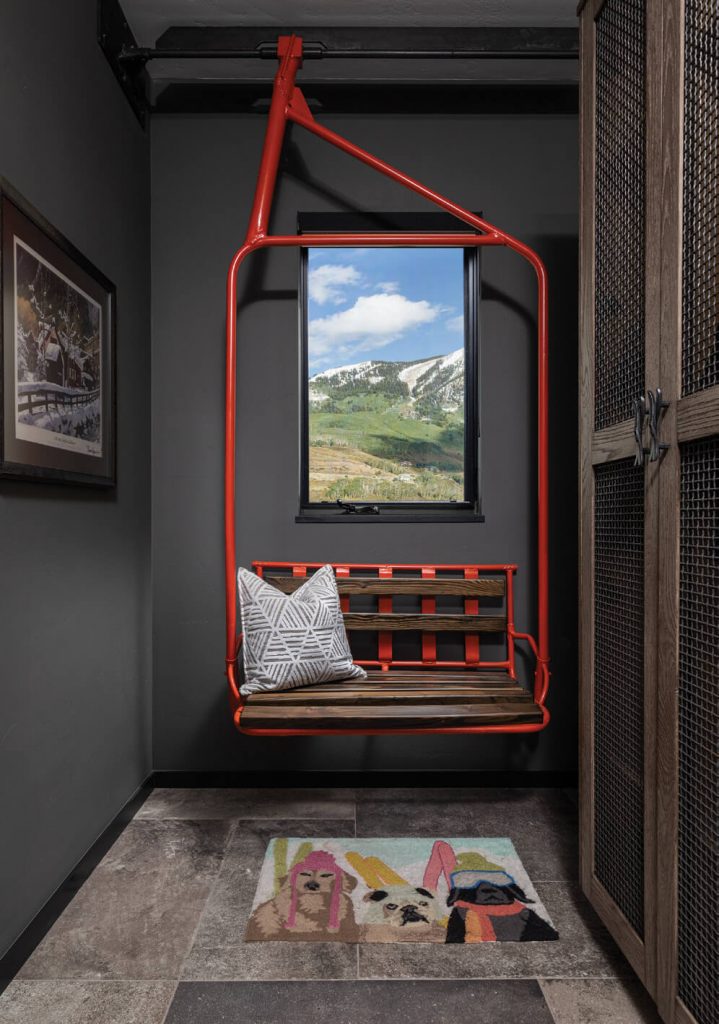 One step inside the foyer, and it's clear that the interior design concept was carefully orchestrated around the surrounding mountain landscape. Furnishings — such as an Eleanor Rigby leather sofa in muted gray and a pair of steel frame chairs set in front of paned floor-to-ceiling windows — maintain a low, almost transparent profile so as not to obscure views. Exposed timber introduces an element of refined rusticity, and provides a sturdy framework for the vaulted ceiling and a stark contrast to the asymmetrical contemporary details of the concrete hearth. On the fireplace, horizontal panels of black metal — the same material found on the home's exterior — contrast with an inlay of white concrete tiles by Ann Sacks, accentuated with black grout. "The home feels more architecturally substantial," D'Amore says, "when some of the exterior elements also appear on the interior."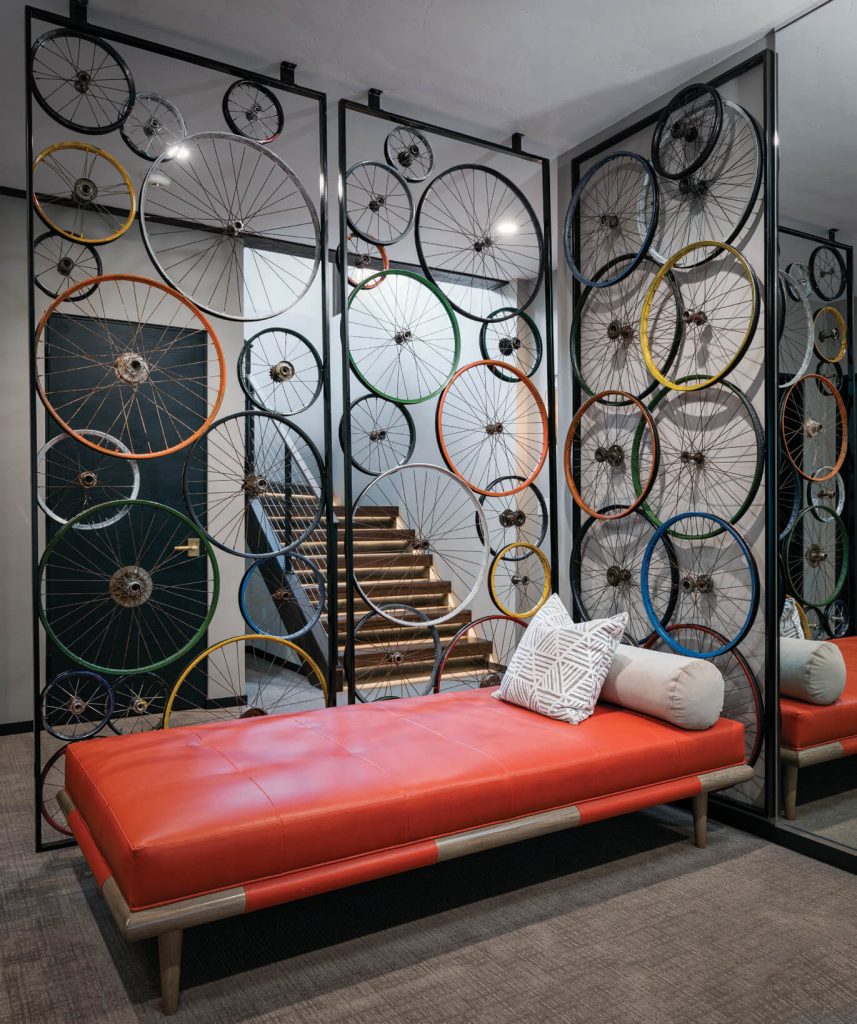 A self-described "rug activist," D'Amore believes that the design of any large, open room should begin with a rug because it's the common element from which furnishings, colors, and accessories coordinate. Too often, she explains, interiors are eclectic and mismatched when wall color is used as the basis for building a design concept.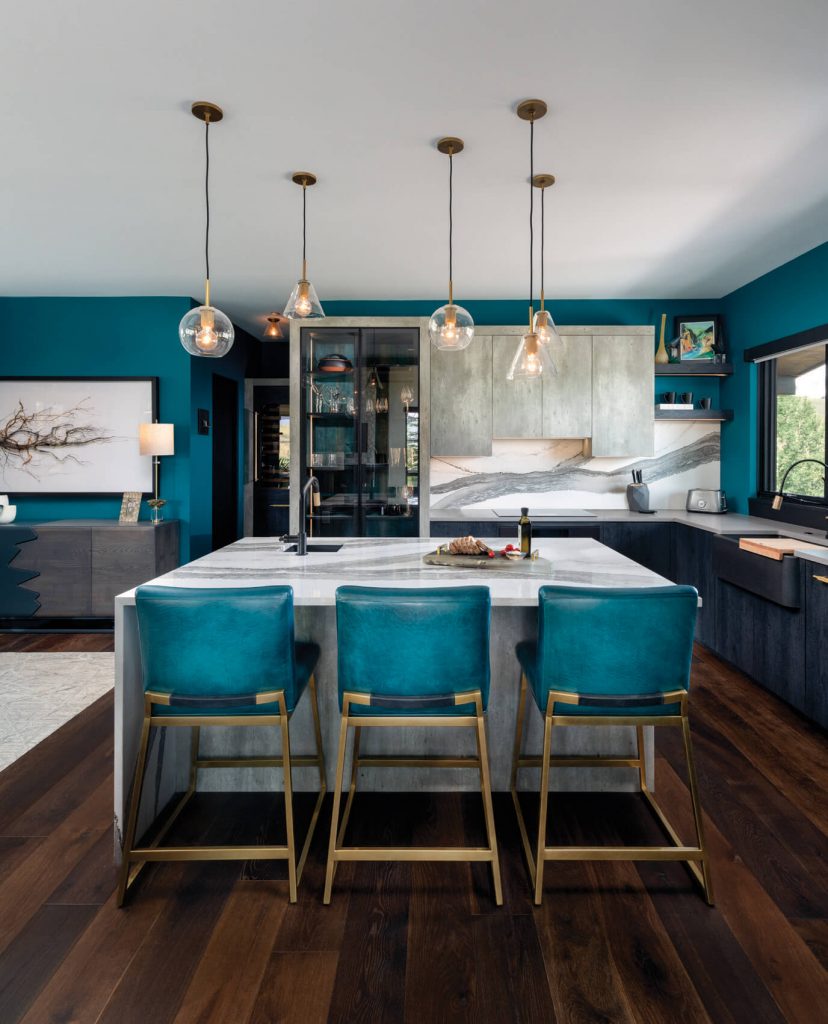 For this home, D'Amore designed a large area rug, its textural wool and viscose fibers a reflection of the light and shadow found in the painterly vignettes that unfold in the mountain landscape. Free-form lines intersect with bold swaths of teal in a neutral field of off-white; these contemporary patterns and colors contrast with the soft undertones of walls that are textured in American clay and the rich hardwood floors. Accessories, including movable cubes that provide extra seating, draw out steely blue pigments from the rug and the ever-changing skyscape beyond.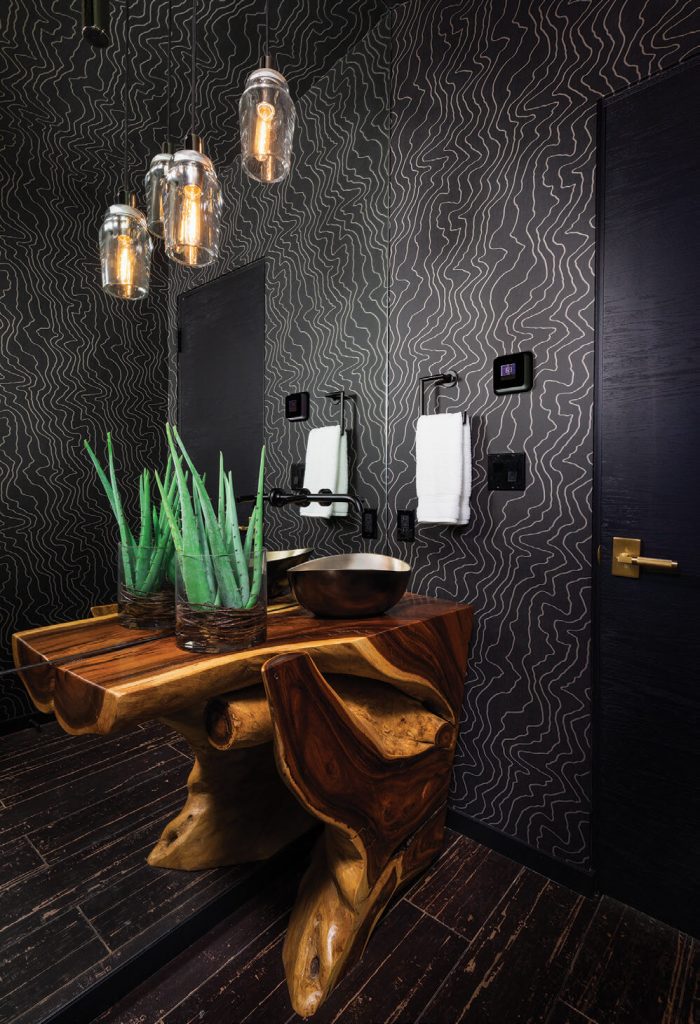 Cabinets and countertops in the kitchen were left purposely neutral, emphasizing the bold color in the walls and barstools. The strokes of the deeply veined quartz on the kitchen island draw the eye to the center of the space, while Mount Crested Butte — named by a 19th-century explorer because of its resemblance to the crest of a helmet — fills the view in the window over the sink. At night, ambient light emanates from a custom-designed glass cabinet finished in teal-colored wood, imbuing the space with a sparkly glow.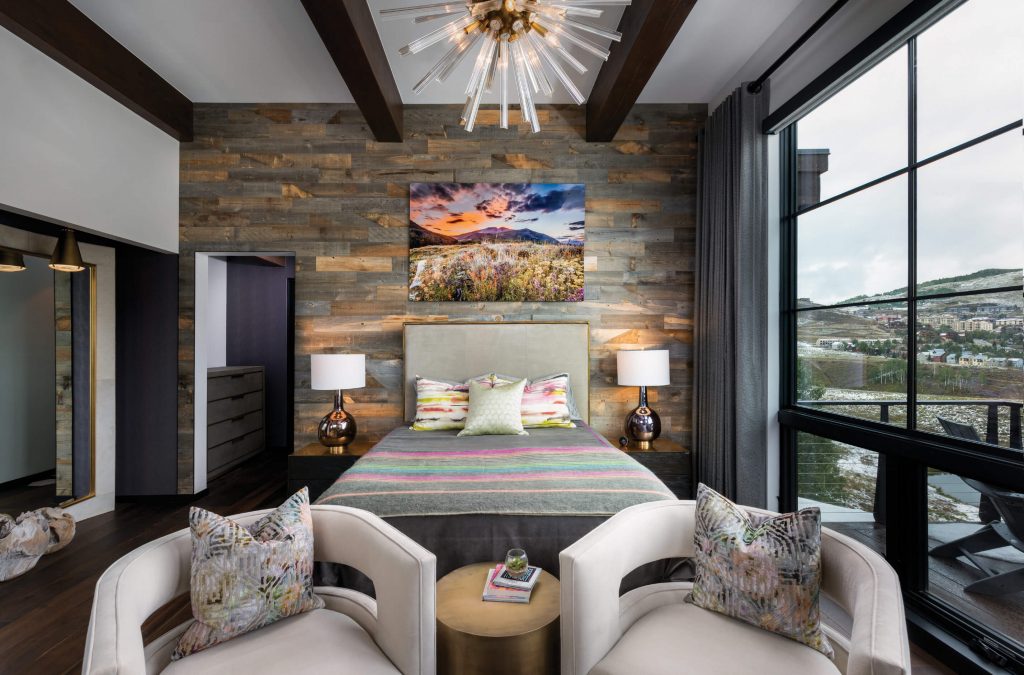 A transparent two-story tower serves as the home's organizing element, connecting the main floor with the upper level via a floating staircase that opens into the couple's private quarters. Walls of windows on both sides of the home combine with the rich textures and finishes of the sitting room and master suite to create a dramatic play of light and shadow at all hours of the day. At one end of the room, a wall of three-dimensional metallic tile unveils a cozy rectangular gas fireplace. The opposite wall is clad in Stikwood, a peel-and-stick veneer resembling a deep, rich barn wood. A feminine palette of purple, pink, and chartreuse draws inspiration from a photograph above the bed of Crested Butte's iconic wildflower meadows.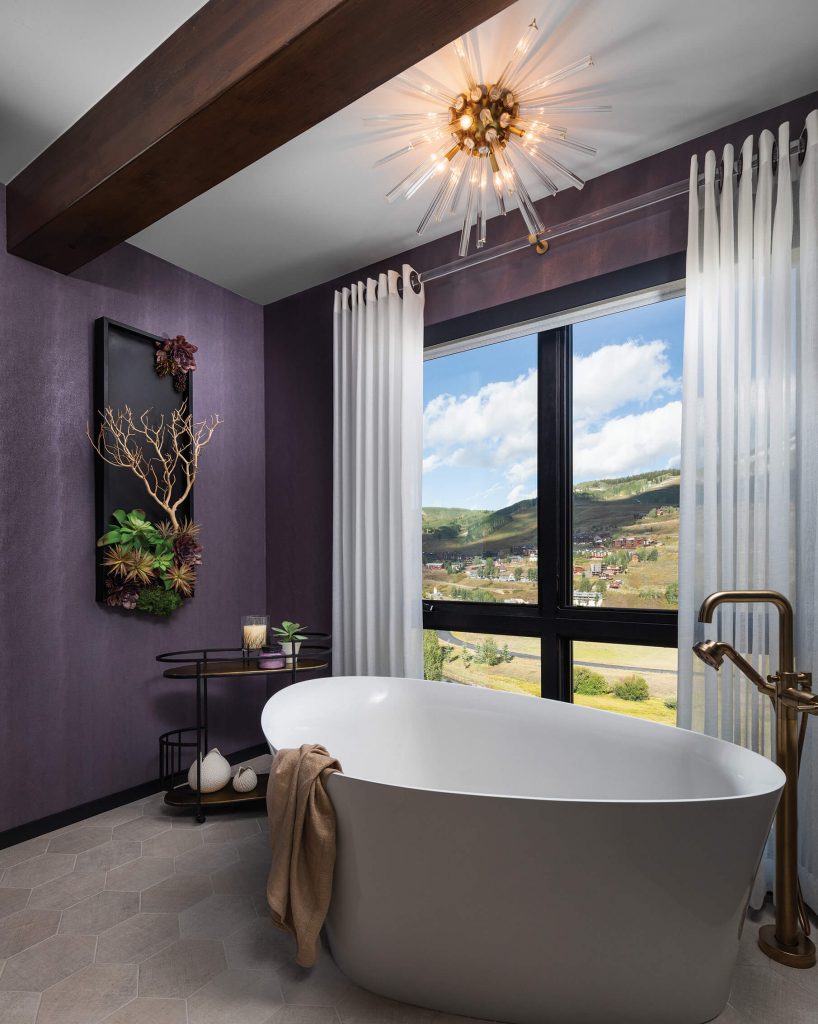 On the lower level, bold color accents — lime green on the walls of the laundry room and bathroom, and a red bench set at the base of a transparent wall of bicycle rims in the exercise room — speak to Lehman and Gidday's adventurous sense of design. "Many times, people question the idea of color as a trendy afterthought," says D'Amore. "The only thing that should matter when you're working on a special design is that it feels like the people who live there. If they don't feel like their home is a complete reflection of who they are in the end, then I didn't do my job. Each client is different, and that's what makes my job so rewarding and fun. I never do the same thing twice."