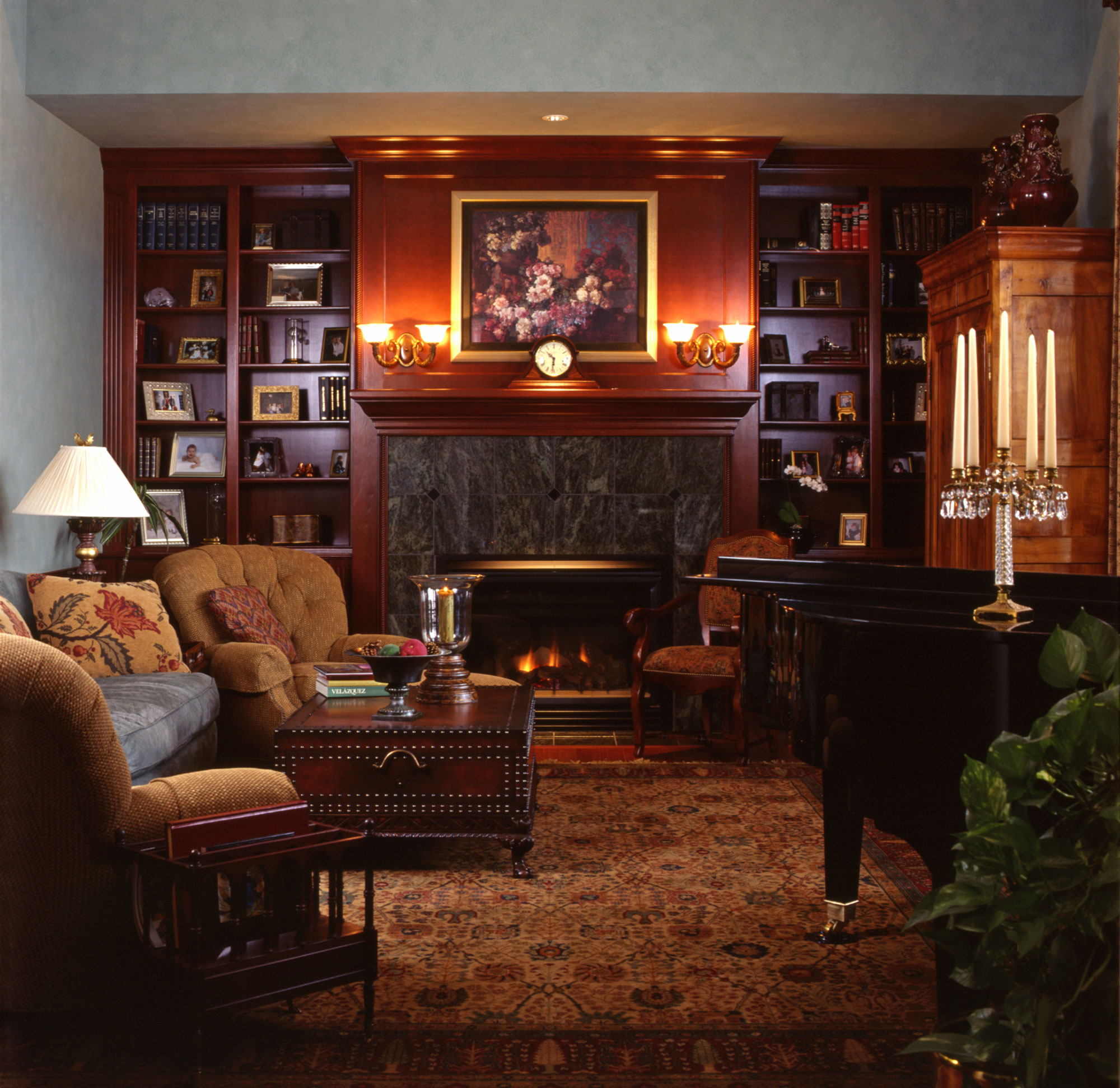 Custom built-in cherry cabinetry creates warmth and provides abundant storage in this highly functional study, which the family uses for reading and relaxing. The fireplace is surrounded by a double row of granite tile, and a television is hidden in the antique armoire; a crystal candelabra rests atop a grand piano.
29 Dec

New Classic Style

LIKE A BLACK CASHMERE SWEATER OR A STRAND OF PERFECTLY MATCHED PEARLS, the traditional style of interior design withstands transient trends and passing fads. The simple lines and historic origins of the style create enduring environments that invite gracious living, with harmonious colors and furnishings that are both refined and comfortable. Unlike rooms that are decorated with the cutting-edge accoutrements du jour (sculpted carpet and avocado green appliances come to mind), interiors designed with quality materials and well-crafted furniture don't have to be redone every few years. Denver interior designer Kari Mugavero has made a career of helping her clients create homes that are traditional and timeless, yet original and highly personal.

Drawn to the arts from an early age and influenced by the diverse architecture of her native San Francisco, Mugavero graduated with an architectural degree from St. Mary's College and was hired by Palace Construction Company. It was here that she began doing external architectural renderings for construction projects. Mugavero credits her colleagues with guiding her toward her ultimate career. "They're my mentors," she says. "When they started asking for my ideas about color and design for some of their commercial projects, I discovered I loved that part of the business."

Mugavero and her husband of 46 years moved to Denver in 1982. Intending to 'fix and flip' the house they bought in the city's historic Country Club area, the couple instead fell in love with the neighborhood and never left. Meanwhile, Mugavero began consulting with people who needed help with their homes. While she's never been listed in the phone book, her clients find her — usually as a result of referrals from other satisfied homeowners.

A slow and careful approach is one of the keys to Mugavero's success. "I'm not a quick study," she says. "I like to understand what my clients like. Many times people who want beautiful homes have a good sense of their taste, but they need direction. I never come in and tell them what to do. Instead, I encourage them to show me photos from magazines and books of rooms they like. We look at the light in the room and talk about their goals for the room and how the space might be used. I ask if they have favorite furnishings they want to keep, and we'll discuss whether they want to reupholster existing furniture or buy new things. I ask if they have a specific color scheme in mind, or if they want to look at color options. They talk, and I ask a lot of questions."

"Kari listens, and helps you figure out what you really want," says Lou Jahde, founder and CEO of Palace Construction, who hired Mugavero to help design a custom home in Cherry Creek. "She created a rendering of our home so we could decide how it would look before we built it, and collaborated brilliantly with our architect. We love the open feeling and the colors she chose for the home, and Kari is very good with details; in our home, she specified everything from lighting to ceiling insets to the fireplaces and cabinetry."

Indeed, architectural enhancements are one of Mugavero's trademarks, from handsome built-in cabinets to crown molding and carved mantles. "I'll do a rendering of how I envision the space, because people need that visual impact," the designer says. "I go back to my art background, and drawing on that creativity is part of what I love. Once the client and I agree on the design, the wonderful craftsmen I work with can make virtually anything I envision."

"I favor interiors that have a timeless quality yet are a bit eclectic," she says. "I love to use different fabrics and colors in jeweled tones, although I don't necessarily recommend bright colors in every room. I like soft colors on the walls, and I'm especially fond of paint that has a 'sueded' look that changes with the light. I like good woods, rich surfaces like marble and classic Oriental rugs. I also think interiors should flow and be flexible so you can move things around."

Mugavero says it's the personal aspect of her work that she finds most deeply gratifying. "In today's world, people are staying home more and enjoying their own surrounding with their families," she says. "I love helping my clients create spaces where they feel comfortable with their friends and family. That's what it's all about."
Artful Living
Designer Kari Mugavero shares her insights about displaying and enjoying art in the home.
Placement: The same principles that apply to overall design need to be considered when selecting and placing art in a room: shape, color, contrast and texture. The light and dark elements of contrast have to be considered, and size and scale are also important; what works best will vary depending on whether a piece is going in a small, cozy room or a larger space.
Color: Color is one of the first design elements my clients and I talk about. We explore what colors they are drawn to and look at their existing art. Some people like muted, monochromatic hues, while others want to be surrounded by vivid colors. In addition to wall color, we consider their countertops, flooring and other surfaces because we want those colors to blend with the art.
Display: If a client has an important collection, I might design built-in cabinetry or glass shelves to showcase it; it's satisfying to have a dedicated place where everything fits and is displayed to its advantage. Some homes have recessed niches in the walls for art, and it's important to keep scale in mind so that you find the right shape and form to fill the space.
Lighting: Art should be 'washed' properly with the right light, and I generally prefer to use indirect lighting. Natural light bulbs are best for truer color, and I always put dimmers on the lights. Wall sconces can do a great job of complementing artwork, and I also like to use smaller gallery-style recessed lights to illuminate the space. Sometimes I'll create soffits or decorative ceiling treatments to hide or draw attention away from the spotlights around the perimeter of a room.
Bottom Line: Art is very personal. Many of my clients are serious art collectors, and when they have a piece of art they love for a particular space, I'll build on that. Couples sometimes have different tastes in art, and the challenge in combining their collections is to thoughtfully blend the other elements in the space so that everything works together.