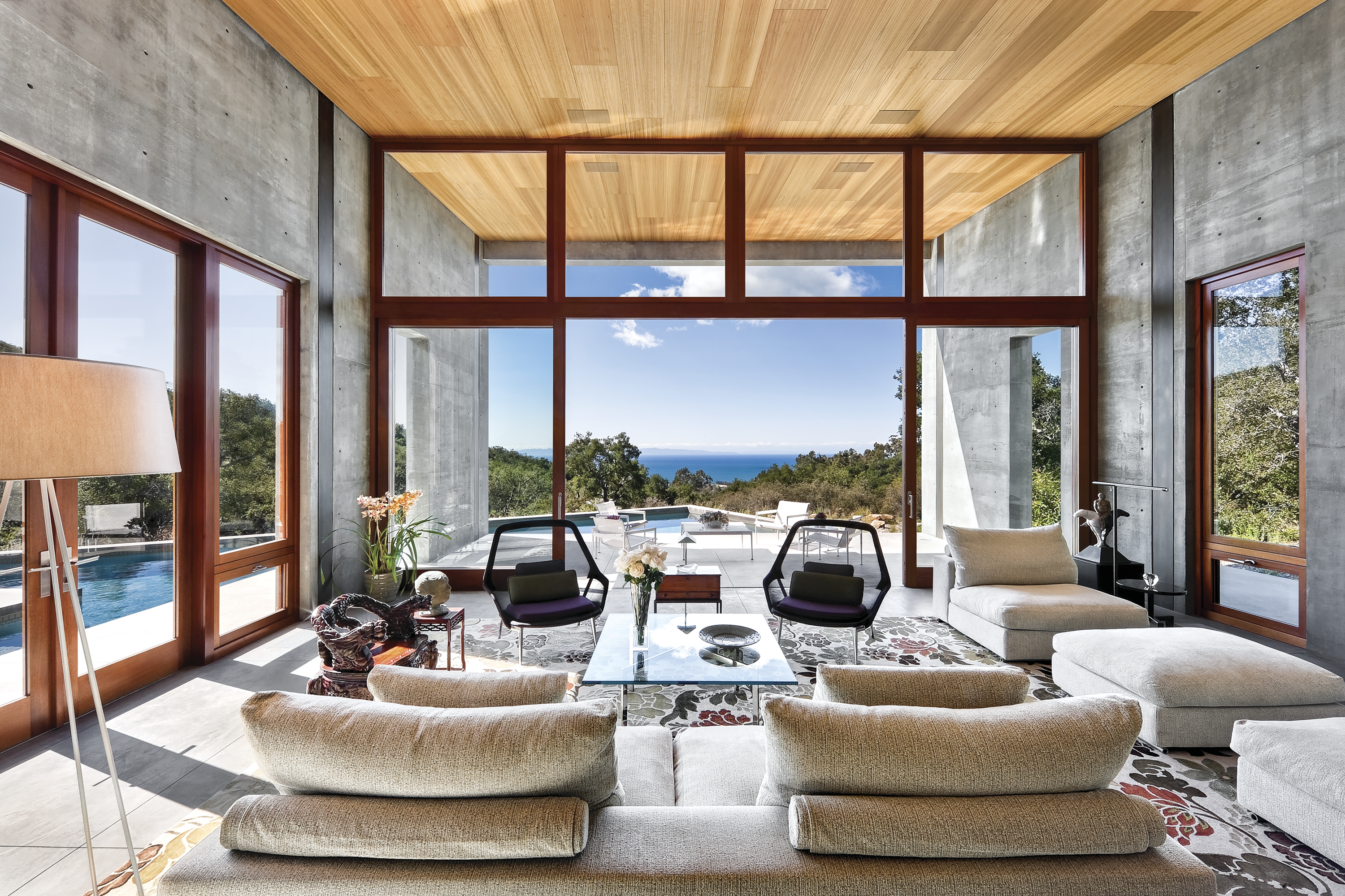 Seventeen-foot windows and trimmed doors that open on three sides allow the living room to open up entirely to the pool area and the ocean beyond.
01 Apr

Of Substance and Light

SOMETIMES, PEOPLE AND PLACES COME TOGETHER IN JUST THE RIGHT WAY. Twelve years ago, when John Mike and Marsha Cohen asked a Santa Barbara hotel concierge to connect them with a real estate agent so they could explore buildable lots, a happy confluence of events was set in motion. The couple was soon standing in a grove of eucalyptus trees, high up in a rural canyon in Santa Barbara County. Initially, it was the trees that lured them in. Today, they love the spot for its nestled-in quality.

John Mike, an architect with Cohen Hilberry Architects in St. Louis, Missouri, knew immediately the house he would build there for Marsha and himself would be comprised almost exclusively of concrete, mahogany and glass. That it would be oriented to the phenomenal ocean view was a no brainer.

Fast-forward 11-and-a-half years — seven for permitting and planning, two-and-a-half for construction — the couple's 7,000-square-foot home has a boldly open design that celebrates a luscious setting. With its distinct volumes and lines, soaring windows and weighty materials, there's nothing ambivalent about this residence. Elegant and edgy, sophisticated and simple, with an eclectic blend of furnishings and Modern art, it achieves that invigorating balance of yin and yang.

John Mike, whose St. Louis firm helped revitalize that city's historic and hip Central West End, spent a year on the design, the basic shape of which came from the home's orientation. "We really wanted something that would open up, and that sort of established the entry condition … and the windows are all very high, which I really like to do 'cause it lets a lot of sky in."

Indeed, it's an effect acheived with 17-foot windows at the living room's far end, which faces the ocean, and glass and mahogany-trimmed doors that open on three sides. "When the weather's nice the whole house is open. It's almost like you're living in the Caribbean," said Marsha, a marriage and family therapist.

The entryway is pure glass. Doors on either side open and stack; the glass ceiling — replete with laminated glass beams — brings more of that blue sky in.

Traveling between Santa Barbara and Telluride — where they had considered building a home — the couple needed a local architect to shepherd the project through planning boards and produce the all-important construction documents. The Cohens tapped Shubin + Donaldson Architects because its aesthetic was so akin to their own.

Greg Griffin, a firm associate, worked hand-in-hand with John Mike. The concrete element, and the sequence of events, was exciting, he says. "You're always looking down the road." Like the day the concrete was poured into the form for a staircase, including an embedded railing; he remembers eyeing it one last time, thinking … there's no reworking this idea later.

The 12-inch walls — which run north-south — contained 2 inches of insulation, all the electrical wiring and a special texture that would pour like pudding. All of them retain a pattern of shallow holes and feathery marks from the plywood — details the Cohens enjoy.

You'd imagine a house with concrete walls and floors to feel sort of industrial. But that's hardly the case. Wood veneers on kitchen cupboards, walls, even ceilings — all derived from a single eucalyptus tree grown in the nearby Santa Ynez Valley and milled at GL Veneer in Los Angeles — provide ample warmth. The master bedroom is accessed through ivory-colored drapery panels, as is the master bathroom. An egg-shaped Agape tub overlooks the rocky, wooded Santa Barbara landscape.

"The concrete was almost day one, and the shapes too," said John Mike. "'The Three Whales' is what we called it in the office when we were first designing it, because (of) the three roof structures, all the same dimension."

All the floors have a covering: A tapestry of old antique rugs, cut into squares and sewn together, covers the floor in Marsha's study; a dark shag is used in a downstairs bedroom. Only the kitchen has a wood floor.

"I said I wouldn't live in this house if I didn't have a wood floor in the kitchen because I cook a lot, and there was no way in hell I was going to stand on a concrete floor."

Married over 40 years, with two grown girls, one grandchild and another on the way, John Mike and Marsha have a language of kidding and listening to one another that's comfortable and rich.

"I do think I was the easiest client he ever had," said Marsha describing the process of building their house. "But that's because I gave in a lot," she said smiling. "I mean this is his baby."
---
Isabelle T. Walker is an award-winning reporter and freelance writer based in Santa Barbara. She also writes about the environment, health and the healthcare system. Her blog, homelessinsb.org, publishes the poetry and essays of her homeless neighbors.