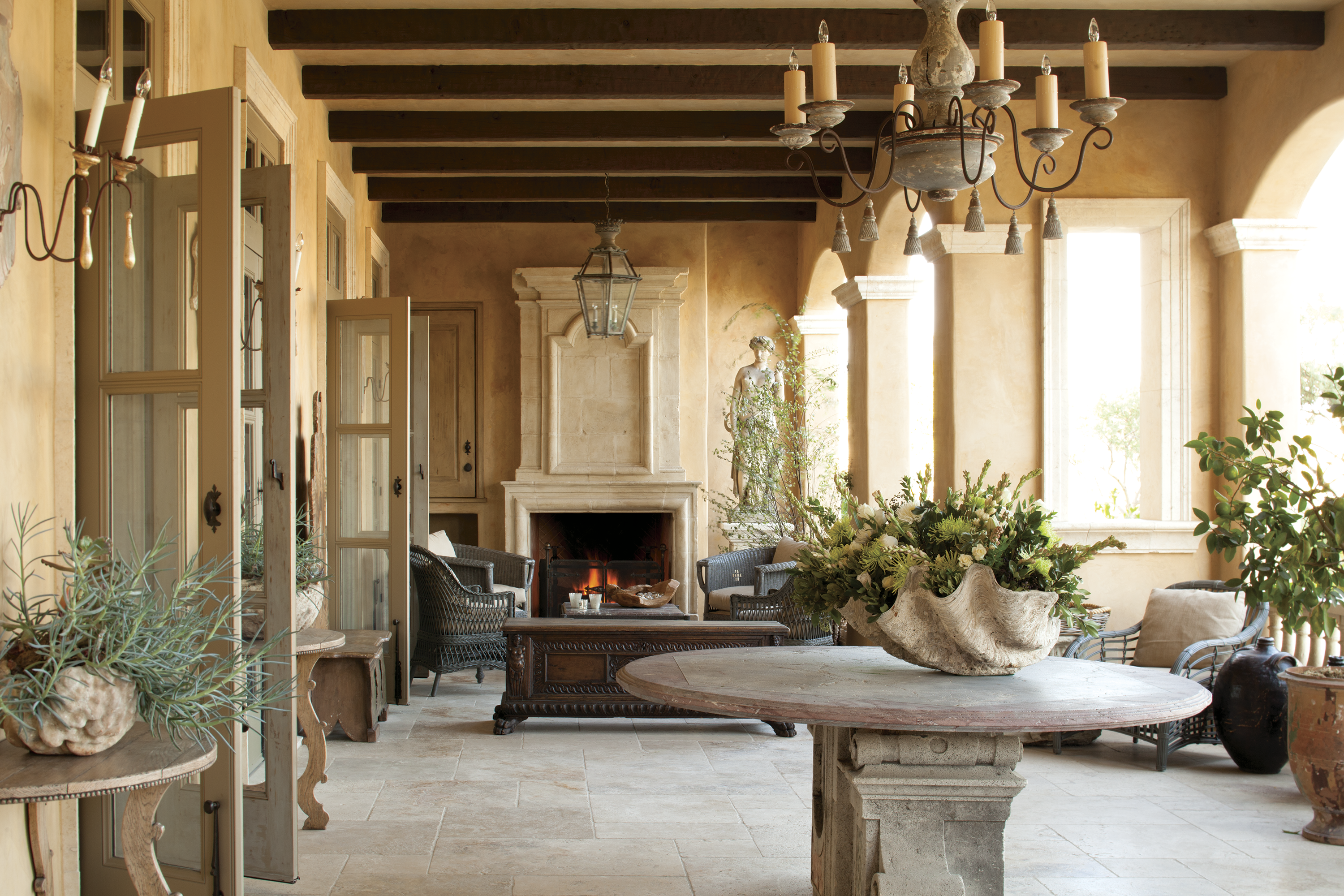 01 Dec

Old World Romance

THIRTEEN MILES INLAND from the California coast at Oceanside and 40 miles north of San Diego, Cal-a-Vie is a 200-acre campus of undulating hills; sometimes sere and golden, sometimes covered in wildflowers, but always bathed in light, the quality of which is so extraordinary it can stop you in your tracks a dozen times a day.

Terri and John Havens bought the health spa in 2000, but not before spending a couple of years trying to entice the original owners into parting with it. It's understandable; once you've watched the hills soften and turn lavender at sunset, you're hooked. The land has such a strong resemblance to Provence — particularly now that they've planted 13 acres of vineyards (all they need are fields of lavender). It was a natural fit for the couple, who came by their love of all things French while living in New Orleans.

Hurricane Katrina put an end to the Havens' New Orleans life and they moved to Houston, where they bought a formal chateau-style home designed by John F. Staub, a Houston architect active from the 1920s to the 1960s.

Their Cal-a-Vie home occupies a hilltop set just apart from the spa proper, high enough to provide glimpses of the sea. But their first mission, before the house, was to completely remodel the spa, which they decorated with French and Italian antiques acquired on trips to France. They still ship carton after carton of French and Italian antiques home.

"We shop at the marchés aux puces in Paris — where my favorites are the Marché Paul Bert and Serpette — and the antique markets in Lyon," says Terri Havens. "And we have a scout who has her ear to the ground. That's how we get things like 18th-century cobblestones for our driveway, or a 400-year-old chapel."

Indeed the chapel and the slightly later 17th-century orangerie beside it were taken apart at the convent in Provence where they'd stood for centuries, each piece of limestone numbered, then shipped abroad and reconstructed on another hilltop on the Havens' grounds. In fact, there's a large field near the bottom of the Havens' driveway that's filled with stones just waiting to reclaim their former shapes.

At first the Havens' home seems bizarrely out of place and out of time. It was designed by New Orleans architect Michael Carbine — an expansive Italian-inspired villa furnished almost entirely in 18th- and 19th-century European antiques or pieces composed of antique elements. But one element is completely, timelessly Californian: the outdoor living space. Guests gravitate to the travertine deck by the pool where the view includes the lush green golf course.

The Havens' favorite spot is by the fireplace at one end of the veranda that runs the length of the house. John Havens sometimes slides out a TV screen so he can watch sports. "We're from Texas, [where] you can't sit outside at night because of the humidity and bugs!" Terri Havens says.

On one side of the pool terrace there's an outdoor kitchen with a massive counter made from an antique French balcony — a big relief for Terri Havens, who remembers dinner parties using the interior kitchen had involved the staff rolling trolleys over marble floors and using handmade embroidered linen napkins as dish towels.

Behind the outdoor kitchen is a tented area for outdoor sleeping that the Havens' three children use frequently. And across the pool from the kitchen is a game room and spa treatment rooms, all decorated with antiques, big panels of antique Delft tiles and inset arches encrusted with shells.

Of all the home's features, Terri Havens is most satisfied with the spa rooms and the kitchen. "Not too often do you get 18th-century fireplaces in your massage room. And the kitchen has no cabinets. We put plates on shelves and the refrigerator and freezer are disguised as pieces of furniture, so it looks like a true 18th-century Italian villa."

Most visitors' favorite room is the children's guest room upstairs, where bunk beds have Pullman-car-style curtains and each bunk has its own TV screen with earphones.

"The house is never going to be finished," says Terri Havens. "As soon as we thought it was finished, we added the massage rooms and the kids' playroom. Then we added the outdoor kitchen. …"

Fortunately, they have endless acres to grow in.
---