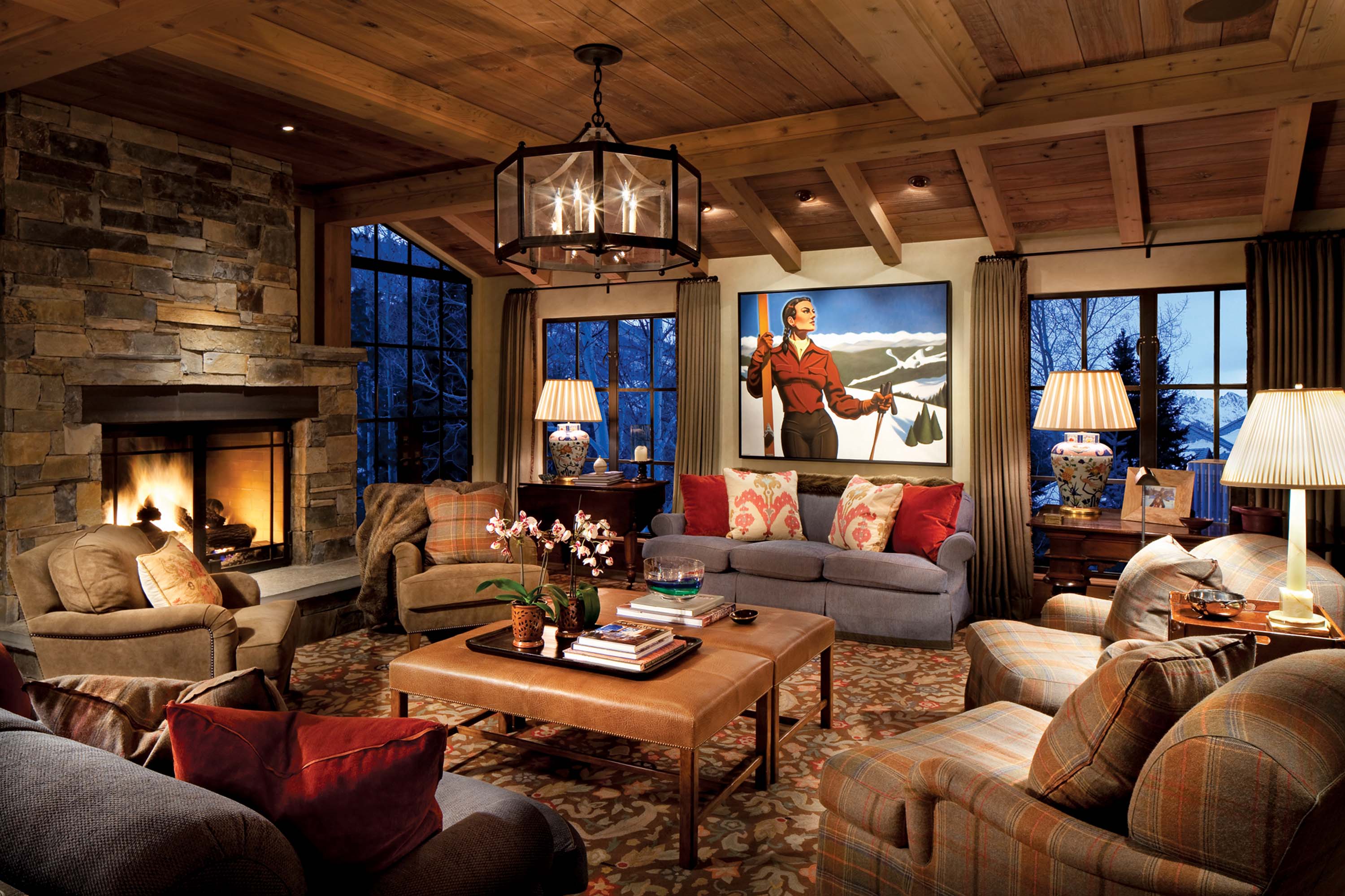 An avid art collector, owner Kevin Sharer puts his art collection and the woodwork on display for guests to enjoy.
01 Dec

Open Door to a Happy Ending

"IT'S A SAD STORY WITH A HAPPY ENDING," says Avon, Colorado, architect Doug DeChant, of the three-story home he designed almost a decade ago in the Vail Valley for client Kevin Sharer. "I had done a home for Kevin and his then-wife, Carol, in 1998. Then they went through a sad divorce. When he left behind their first Vail home, he wanted one for himself — a single man's home where he could bring business guests and personal friends."

Having spent years skiing in Europe, the client pursued a new home design reflecting a European aesthetic in a traditional vertical chalet form, which Vail is known for, but with a modern awareness in forms, space and scale.

"The client chose to build considerably less home than zoning allows," says DeChant. "He told us he would rather build a sensitive, smaller home of very high quality and craftsmanship, a 'jewel box,'" the architect recalls.

Positioned on a restrictively sized, sloping lot adjacent to the Vail Golf Course, and bound on three sides by roads, the home site was not exceptionally private. But what the site lacked in solitude, the 5,300-square-foot home more than makes up for with views.

"When I sat down to sketch, I wanted to first capture the stunning views of the Gore Mountain Range," says DeChant, who is owner and principal at Shepherd Resources in Avon. "The home centered on that axis."

Inside, DeChant focused on flow. He deliberately stacked the 375-square-foot guest bedrooms on three levels and located them in a separate wing. Each guest has his or her own space and never contends with the other's privacy. Sharer's generous master suite occupies a private location on the east side of the upper level, enjoying morning sunlight and views of the Gore Range.

"The bedroom suites don't encourage you to stick around," laughs DeChant. He and Sharer wanted to coax guests into the main public spaces to convene, in the kitchen and dining areas for example, as well as in a comfortable soft seating area adjacent to the kitchen.

"Kevin is a former CEO and has a lot of friends in that same category," he continues. "They can't disconnect when they come to the mountains. I envisioned Kevin's friends on their laptops checking on business while another was at the island making coffee, preparing to golf or ski for the day."

Another priority was craftsmanship, particularly the wood. DeChant acknowledges how woodworking is an imperative part of the architectural design and, in order to execute the vision, he needed Rudi Neumayr of Aren Design. DeChant has known the master woodcraftsman for nearly 30 years, and once worked as a draftsman in the Aren Design studio before sitting for his architectural exams.

A native of Austria, Neumayr's European approach fit naturally into the vernacular of Sharer's home. "One always brings something with them, out of the past," says Neumayr. "You reach back into your treasure box of knowledge of your trade. This project had a lot of traditional looks, so I had to dig deep into the older layers of the treasure box."

Neumayr chose reclaimed walnut and cedar from Europe to use in interior paneling, beam work, trusses and moldings. Outside, the team used imported, reclaimed spruce and larch, also from Europe, as well as treated, local, beetle-kill pine.

Having spent years skiing in Europe, the client pursued a new home design reflecting a European aesthetic in a traditional vertical chalet form, which Vail is known for, but with a modern awareness in forms, space and scale.

Sharer revered the craftsman's work. "I could already recognize the houses Rudi had done," he says. "The art in the house is important to me, but the wood is the most artistic feature. He is the Michelangelo of woodworking."

The humble Neumayr returned the compliment, calling Sharer "the best client in the world."

"Kevin is unique because he is one of those clients one can only dream about," says Neumayr. "He allows the freedom to create. He wants the best. He also wants the signature of the craftsman to be visible. He wants you to be the man of your craft. That is the El Dorado for a woodworker."

DeChant echoes his colleague's thoughts on creative freedom. "Vail Valley has historically been controlled by design covenants that mandated certain styles," he says. That is loosening now, and we can be more creative. People are appreciating architecture more, too. They have become more sophisticated and are talking about architecture like they talk about wine."

And for the story that starts off with a sad beginning?

"The happy part is, they got remarried two years ago," says DeChant.

Even in this tony mountain town known for unexpected happenings, it is an exceptional story, and one that resulted in an extraordinary home.