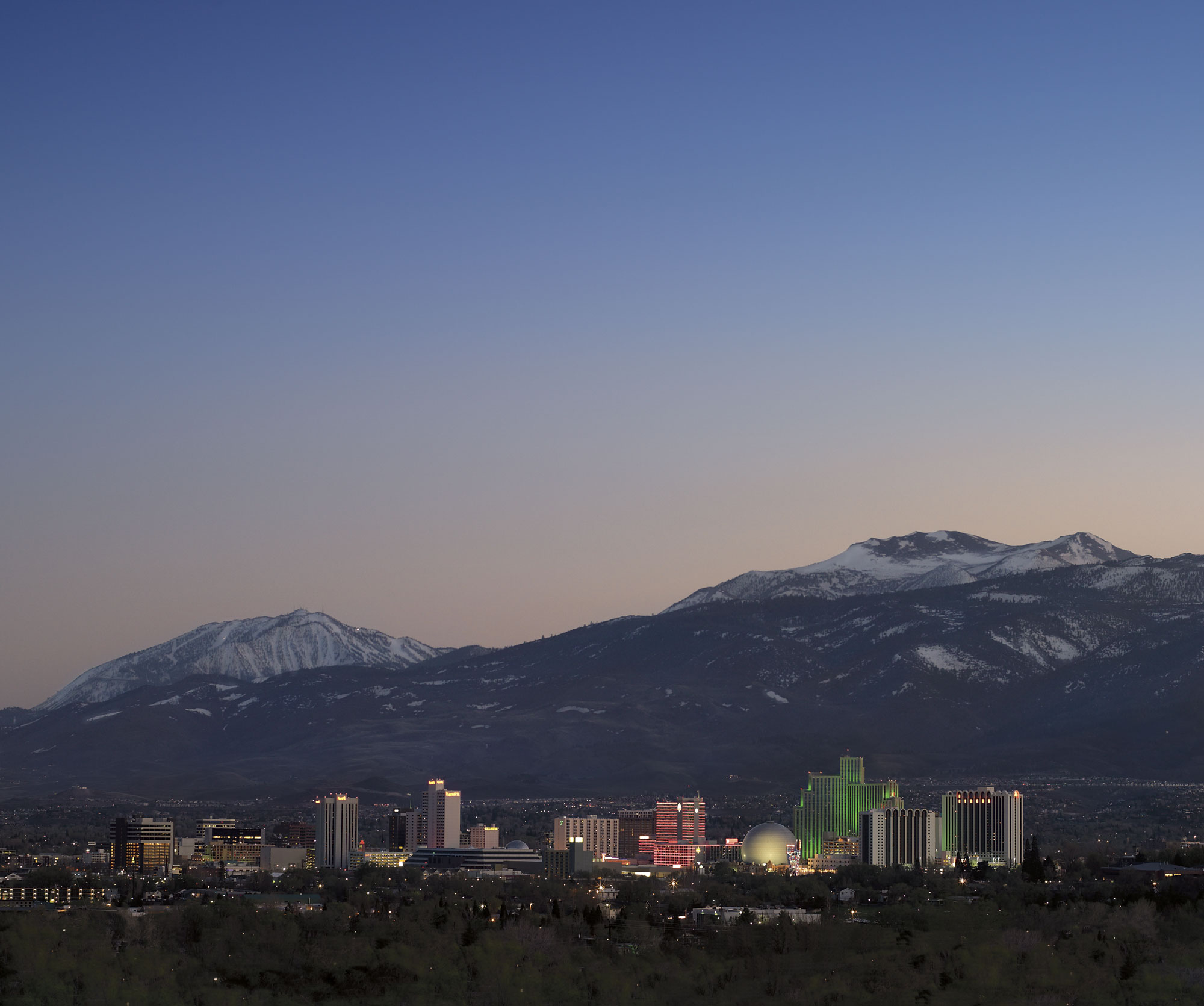 Reno skyline: The Biggest Little City watches the sun set over Mt. Rose and the Sierra Nevada foothills
24 Jul

Pacesetters

THE COEUR D'ALENE ART AUCTION IS LIKE NO OTHER EVENT. The morning starts out innocently enough, with meetings and greetings over pastry and coffee. The assembled crowd of 900 includes easy-going Western art collectors, talented and famous artists, confident bidders and nonchalant gallery owners, all of whom stroll the room looking appreciatively at million-dollar paintings.

But by 11:05 a.m. the place is truly abuzz. The room is filled with the rise and fall of bidding paddles and the sound of the auctioneer's gavel. Spotters yell "Hep!" as they point to their prospect with one hand and raise the other to signal a bid. Friends and rivals compete eye-to-eye while mystery bidders duke it out on cell phones. A man on horseback calls in on a satellite phone from a mountaintop in Colorado to bid $2 million on an oil by N.C. Wyeth.

Each July in Reno the untamed West collides with big money for five rowdy hours of non-stop retail action during the largest Western art auction outside of New York City, and the effect is dazzling.

First held in 1985 in Las Vegas in conjunction with the National Finals Rodeo, the National Finals Art Auction took in $200,000 its first year. The event moved to Sun Valley, Idaho, four years later, and then to Coeur d'Alene in 1993, where co-founder Peter Stremmel says, "It really turned a corner and became respectable, with much higher priced pieces and great collections." When too many private jets tried to land at the town's airstrip for the event one year, Stuart Johnson, Stremmel and Bob Drummond knew it was time to move, and the Coeur d'Alene Art Auction headed back to Nevada.

Coeur d'Alene specializes in fine 19th- and 20th-century Western, wildlife and sporting art by established contemporaries and past masters, and is at the forefront of the Western art world. It has become the standard by which all others are judged and the benchmark for this market. "We are by far the biggest in the country in our niche," explains partner Mike Overby. "For Western art, our sale is the event of the year. Our main competitors are Sotheby's and Christie's. We have one event a year and 1,000 people show up; they have four or five sales with 200 to 300 people in attendance."

"Outside the New York auction houses, this sale is the granddaddy of them all," agrees respected dealer and long-time collector Van Kirke Nelson. "It certainly generates the most interest and largest gross. And the integrity of these guys is impeccable."

The event attracts the most sophisticated collectors and venerated dealers in the field. They come to see original work by artists like Charles M. Russell, Frederic Remington, Howard Terpning, Frank Tenney Johnson, Joseph Sharp and Thomas Moran. "We spend all year acquiring the art," says Stremmel. "That's the most challenging part."

In 2007 the team from Coeur d'Alene landed an extraordinary collection from the R.S.H. Trust and attracted clients from France, England, Japan and Canada to bid on paintings by Paul Signac, Mary Cassatt and William Michael Harnett. New precedent or anomaly? Art historian and author Forrest Fenn expects the Impressionist and Post-Impressionist paintings to be an aberration, and the partners generally agree. "We're not going to solicit those kinds of pieces," says Johnson, "but we could accept them if they were part of a group."

"We'll stick with what we're good at," allows Overby. "That said, we'll probably be offered a few now since we've shown we can sell them. We'll be very cautious, though."

Steve Zabel owns Montana Trails Gallery in Bozeman and has been coming to the event since 1991. Asked how the event has evolved over the years, he responds, "The most important dealers and collectors are still here, representing the best clients. But the clients now have more money and are better informed. Being at the auction and seeing other people bid gives them confidence to pay higher prices. If we priced in the gallery what people pay here, we'd be laughed right out of town."

World records are now set every year at the Coeur d'Alene auction. In 2005, the Russell painting Piegans sold for a final price of $5.6 million, exceeding the highest amount ever paid at auction for an original by American artist David Hockney. The final tally for 2006 was $27.4 million on 276 lots, and the 2007 auction topped $35 million, representing 156 artists and setting 17 records in the process.

"If someone is trying to put together a thoughtful and comprehensive collection of American art, they can't ignore the Taos Founders or some of the heroes like Russell and Remington and Frank Tenney Johnson," says Stremmel from his modern office at the Stremmel Gallery in Reno. "I mean, they have to be included in that collection because they are as American as Thomas Eakins."

For contemporary Western artists, an invitation to produce a painting for the Coeur d'Alene Art Auction is the pièce de résistance. "For a living artist to be invited to this show is very prestigious," says artist Gary Lynn Roberts. "It's such an honor." His first year at the sale was 2007, and he spent the greater part of a year working on Lot #263, Home for the Holidays. It sold for $25,000 and he was thrilled to be part of the show. "I'm very happy to be here. I cannot over-emphasize that."

In his 12th year at Coeur d'Alene, painter Luke Frazier concurs wholeheartedly with Roberts, and adds a caveat: "Being able to have a piece here is an honor. But also, it's a risk. You're surrounded by masters and expensive pieces. The strongest critics are here."

Submitting a piece for sale at Coeur d'Alene is not easy. The powerful partners decide which art gets in and which artists are represented. They are looking for influential artists and art that is fresh to the market, in excellent condition, to which they can assign realistic estimates. They reject 10 submissions for every one they accept, and they fill the July catalog by early spring. Each piece is carefully authenticated and restored, and outside experts are consulted whenever necessary. Says Overby: "That's why we're successful. People know the quality is high."

Stremmel attributes their success to an old-fashioned formula of superior customer service and treating people with honesty. Within three weeks of the auction everything is done. All the art is shipped and payments have been finalized. "This isn't just a commodity with us. Every consignor is a story. These are personal relationships."

The professionalism of the staff and caliber of the art are impressive, to be sure, but the Coeur d'Alene auction is remarkably exciting and atypical. Thursday afternoon before the event the teams from Idaho and Arizona have flown into Reno, and everyone is at ease. Calm and organized, smiling and pleasant, one finds none of the usual tension so common before a major event.

Friday morning brings an influx of visitors to the casino venue for the preview, and Friday night is the well-attended cocktail and hors d'oeuvres party. Last year collector Rory Howard flew in from Europe on Friday to look at the Signac. He was supposed to catch a red-eye back to London to party with Keith Richards the next day, but stayed in Reno instead. "He's used to more formal auctions," recalls Overby, "but he loved this."

Saturday is the big show. Very high profile collectors from Texas, New York, Florida, Montana and Arkansas were on hand in 2007, as were top dealers from around the country and The New York Times. The room was grand, and $35 million worth of art lined the tables as the crowd grew louder and more animated. Peter Stremmel announced the first item, an Edward Borein etching, at exactly 11 a.m.

"You can't let the crowd control the tempo," explains Stremmel. "You've got to keep it moving and keep the audience interested." He keeps a nearly perfect pace of one item per minute for almost five hours, with no breaks. He slows down just a bit for higher priced paintings and rare bronzes. "That little Russell painting, Joshing Moon, we had it estimated at $200 to $300 [thousand], but you could just look at it and see the colors were as bright and crisp as the day Russell painted it. It was an absolute gem. Something like that you just know could go through the roof." The piece ended up selling for just under $1.7 million.

Stremmel keeps the audience and staff on their toes with a dry sense of humor injected seamlessly into the proceedings at just the right moments. In the middle of bidding he mentions to the constantly shifting crowd: "Listen, too, the bars are open in the back." In 2004 the smoke alarm went off in the room just before the highly anticipated sale of lot #118, estimated at $2 million to $3 million, Moran's Mists in Yosemite. The alarm was screaming for two full minutes but Stremmel was unflappable and no one left the room. The noise stopped just as he finished lot #117, and Stremmel did not say a thing about it. The painting sold for $4,928,000.

"The wonderful thing about Pete," says Johnson, "is he has the same enthusiasm and gives the same importance to each piece, regardless of value."

The four dynamic Coeur d'Alene spotters help keep the energy level high during the auction, and they are among the reasons people stay until the end, an unusual occurrence in this business. Spotter Troy Black looks forward to Coeur d'Alene every year: "People ask to be in our sections because they know they can trust us. They love to be part of the auction, and they want recognition for their bid from the ring men." Not all bidders want the attention of course, and some get their point across with a mere glance to Black, a result of years of working together.

That sense of trust and camaraderie permeates the entire operation. "In over 20 years we never had an argument about anything or really a meeting," says Johnson. They don't even have titles. These are powerful people in the world of Western art, but they are grounded in art appreciation and treating people with respect. As Mike Overby says, they are a 23-year overnight success story, and they are already working on outdoing themselves next year.
2008 Preview
Visit www.cdaartauction.com for more information and details about the Coeur d'Alene Art Auction. Also, look for these exceptional pieces at this year's event:
Oscar Berninghaus, The Pueblos Await the Dancers | Estimate: $1,000,000 to $2,000,000
E. Martin Hennings, Streamside | Estimate: $800,000 to $1,200,000
Charles M. Russell, Buffalo Hunt No. 12 (1896) | Estimate: $800,000 to $1,200,000
Charles M. Russell, Meat for Wild Men (1924) Bronze; No. 1 Cast | Estimate: $3,000,000 to $5,000,000
Charles M. Russell, Return of the Warriors (1906) | Estimate: $800,000 to $1,200,000
Charles M. Russell, The Hold Up (1899) | Estimate: $4,000,000 to $6,000,000
Walter Ufer, In the Garden | Estimate: $1,000,000 to $2,000,000