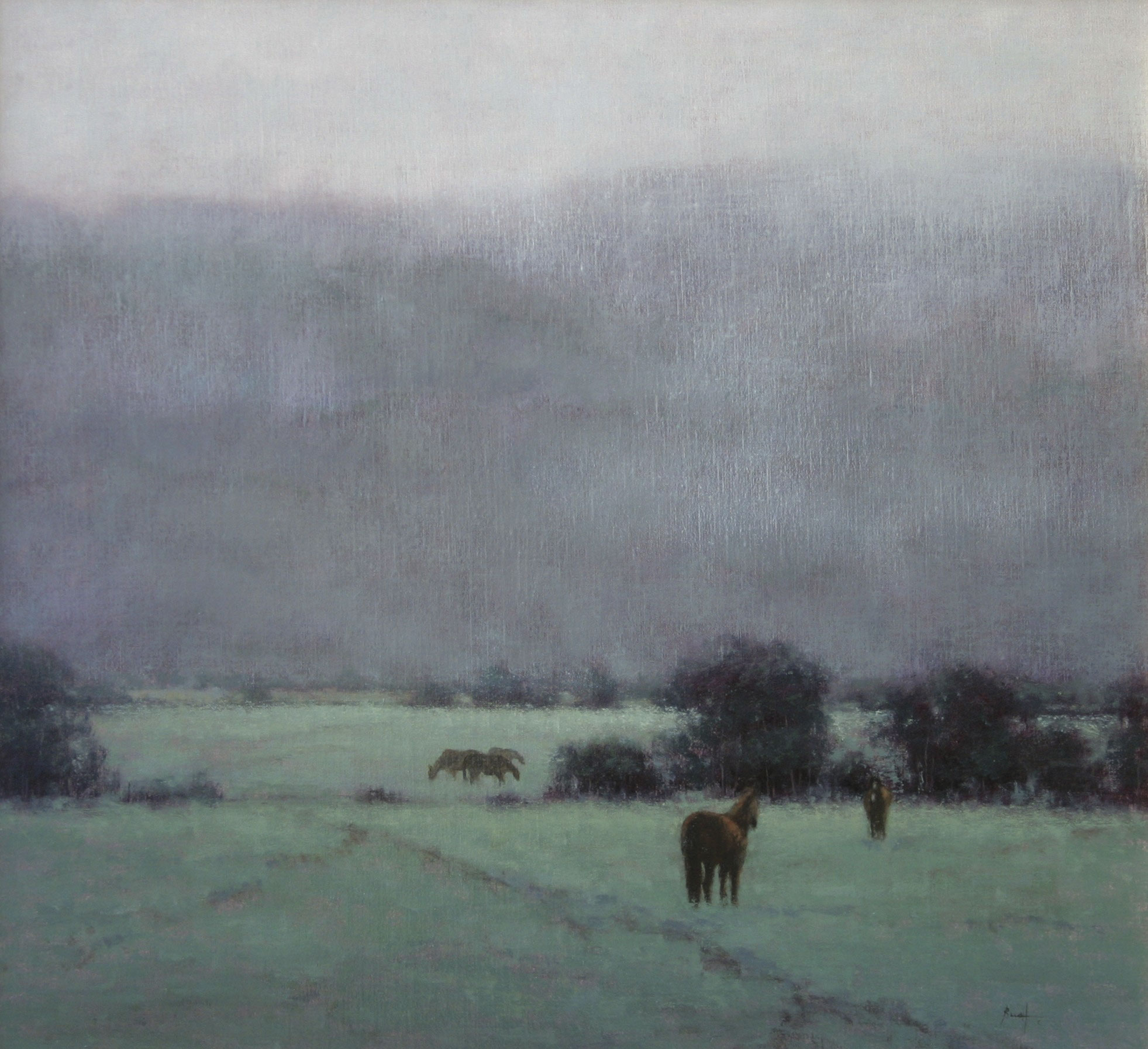 "Expecting Rain" | Oil on Belgium Linen | 22 x 24 inches
24 Jul

Painting the Essence

GREAT ART GROWS FROM A RESPECT … a love of experience. Nancy Bush's passion for nature radiates from her art. She paints the essence of a scene — the ambiguities that capture the mystery of the natural world. Her landscapes are the epitome of English poet Robert Browning's belief that "Less is more."

With a poetic economy of color and detail, Bush, a tonalist, paints low light and close values. When nature lingers in breathless moments, she is there to capture dusk flirting with the last blush of sunset; moon shadows veiling dimension; or mist hushing the earth. Studies, notes and photos from painting plein air around the country remind her of the tones, colors, scents and feelings so she can take the entire experience back to her studio and depict the lyrical … the profound peace and beauty in a lonely, exquisite sense.

"I like to bring some serenity and peace to people's busy lives. There are fleeting moments of quiet beauty in nature that a lot of us don't take time to see," Bush says.

Each painting provides a refuge from crowded days — a visual reprieve from a technical, Mach 2 world. It transports the viewer beyond a landscape to a memory, a longing, a spiritual place.

"Nancy's tonalist landscapes seem to defy any particular time of day or location, therefore enabling her collectors to imprint her images with their own personal perception of time and place," says Joe Sylvan, owner of The Sylvan Gallery in Charleston, South Carolina.

Bush's art — natural, layered and serene — is analogous to her personality. She seems too delicate to endure the rigors of nature. But she does. Off on rolling excursions, she continually chases down moments, engaged wholly in the wonder of nature and her quest to create the ultimate expression of beauty. Bush lugs her easel and supplies around any terrain, preferably free of human touch, from South Carolina to California, the hills of Texas to the high desert of New Mexico, and north along the Rocky Mountains.

Undaunted by chilling 10-degree temperatures, she bundles up, wears North Face gloves with three fingers cut out, and stands on thick Styrofoam for insulation. In those conditions she can stand still and paint for about an hour. She loves to paint in the cold gray rain. "It's a unique feeling if you can capture it," Bush says.

A glimpse of the restless, anxious abstraction of one who needs to create is revealed when asked if art is a choice. Bush replies, "I can't not paint. I live, eat, breathe, sleep painting. It's what I want to do — what I have to do."

Committed to great work, Bush routinely paints six or more hours a day, six to seven days a week. "Brush mileage," she calls it — a term her first mentor, Ray Vanilla of the second wave of Taos artists, coined. "If you're not painting, you're not getting there," she says. She doesn't rush the process — goes back into a painting four to eight times — glazes and layers, to create a deep richness of imagery and luminosity.

G. Harvey, who has put in his 'brush mileage,' says it's exciting to see an artist like Bush with the freedom to paint impressionistic landscapes. "She's come on strong," he says.

Like most artists, Bush has habits she relies upon to heighten the creative process. She eases into standing before a blank canvas with music — everything from classical to rock and disco. And she studies her books. Hurrying over to her beloved library, she pulls some of her favorites, worn and heavily flagged with sticky notes, and pats them affectionately.

George Inness (1825-1894), an American landscape painter who helped define the Tonalist movement, provided an important influence on Nancy's work. His landscapes allude to the spirituality and mysticism of nature. She's also studied masters including Russian landscape painter Isaac Levitan (1860-1900), known for advancing the genre of the 'mood landscape'; Danish artist Emil Carlsen, who painted with low light and layers to achieve a lustrous surface effect; as well as Nicolai Fechin and the Russian Impressionists.

"I hope that I am always evolving," Bush says. She was exposed to art as a child and loved drawing — particularly fashions. She envisioned herself as a fashion designer like Edith Head of Hollywood fame, or a portrait artist after her great-uncle Ralph Rowntree. She attended the Mission Renaissance School in Austin and the Laguna Gloria Museum School, which was pretty avant-garde. She preferred a more classical education and has never stopped studying, independently, the masters and emerging artists whom she admires. Instead of fashion or portraiture, she has been drawn to the mysteries of nature.

Colorado artist Quang Ho says her art, " … reflects who she is personally: thoughtful, introspective and gentle. She and Bill know so many artists and are well loved by them all."

Nancy Bush, a Texas native, moved with her husband, Bill, from Austin to the beautiful hill country of Fredericksburg. It's a small town with a culture of kindness and generosity and a synergy of creativity. Bill and Nancy Bush are a big part of that culture. Nancy's creative spirit is full and rich and contagious, as is Bill's enthusiasm and energy.

Bill is a great advocate and supporter of Nancy's work. A CPA by profession, he takes care of the business end of her art, which has become extensive. He founded the Fredericksburg Artists' School, which brings in professional artists as instructors. Artists flock to the region to participate in the workshops. The Bushes have also helped develop Art Past Dark, in which the whole town engages in a weekend of art-related events, culminating in an auction to benefit arts in the schools.

When the Texas hills heat up, Nancy and Bill head to a second home in the Rociada Valley of New Mexico between Taos and Santa Fe. The Bushes travel extensively, taking advantage of opportunities to visit museums, galleries, art shows and plein air events in which Nancy participates. As they travel, she explores painting possibilities along the way and seizes opportunities to turn the art of nature into fine art.

"The strength of Nancy's paintings is in their simplicity," says Roberta Brashears, director of Nedra Matteucci Fine Art in Santa Fe. "At first you see this beautiful, seemingly uncomplicated piece. As you look closer you begin to discover all the layers, textures and details that come together to make this very quiet, lovely work of art."

Nancy Bush's sensitivity to beauty and instinct for observation allow her to infuse her art with a greater truth. Exploring nature, she discovers the essence of a scene; the truth that haunts the edge of reality.
---
Carleen Milburn is at home in Montana on a small ranch near the Missouri River. She has a propensity for discovering intriguing destinations, interesting people and amazing art.
Amy Archer has photographed people and places from Montana to Mongolia. Her photographs can be found in Art of the West, Montana Living, Big Sky Journal and Latitude. She lives in Billings, Montana, with her husband and two children.