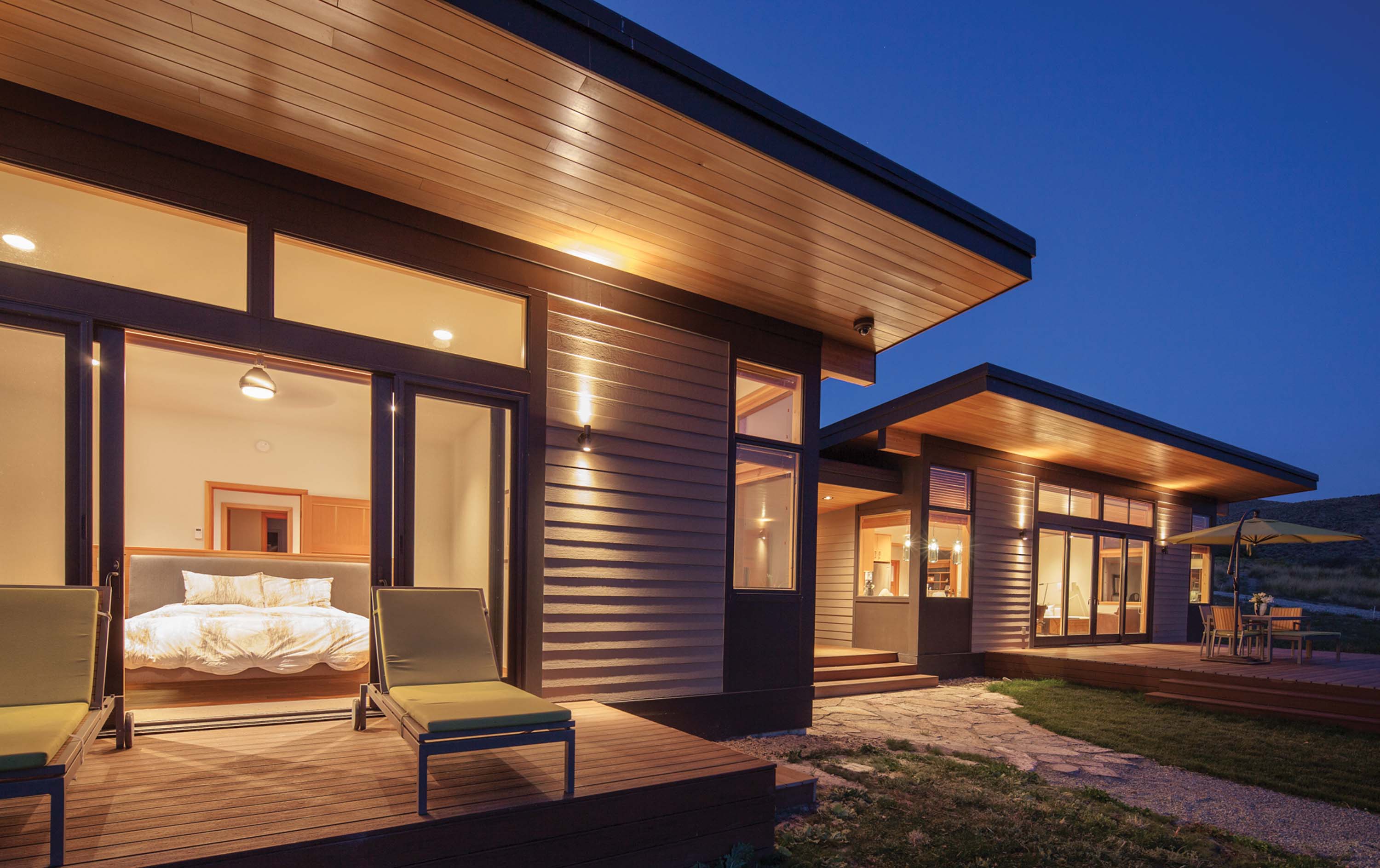 This Method Cabin was designed by Balance Associates Architects and built by Method Homes in their Washington State factory. The design combines a rustic cabin aesthetic with modern lines.
09 Jun

PreFabulous

While the term "prefabricated construction" still conjures up images of boxy doublewides and unappealing modulars, a new breed of designers is transforming the industry and infusing it with style. As the construction practices become even more sophisticated and the structures more energy efficient, the options for everything from floorplans to materials have increased dramatically thanks to companies like Method Homes, Stillwater Dwellings and Lindal Cedar Homes. And these firms will stop at nothing to make their homes beautiful. Over the last decade, with an increasing value placed on the environment and restraints caused by a tough economy, new companies in the West have become major sources for prefab homes and some older companies have developed exciting new offerings.

In 2008 Method Homes built its first prototype cabin in Glacier, Washington, which was quickly acknowledged in home-building media for its attractive design, its efficiency and its environmentally friendly construction. The project was a collaborative effort by Mark Rylant and Brian Abramson, high-school friends and the company's founders. Rylant had been working in construction and had grown tired of hauling drywall up several flights of stairs; he thought there had to be a better way to build a house. Abramson worked in commercial real estate and development and had an interest in building prefab houses that were energy efficient, healthy and durable.

"We were drawn to the efficiencies prefab offers and identified that there was a need for someone that could build and execute projects with a high level of quality," Rylant says.

Together they leased a large facility and, unlike some of the more automated factories, opted to handcraft their houses in much the same way Rylant had built them on site. The difference was that the factory allowed Rylant and Abramson to protect their materials from the elements and finish construction in a quarter of the time it took to build a house on-site.

Since Rylant and Abramson both have young families, they are also concerned about the state of the earth for future generations. Abramson emphasizes his commitment to building energy efficient, environmentally friendly houses by saying that even if a client didn't ask for these aspects in their home, it is part of the DNA of the company. "Even without all of the performance upgrades available, every Method home comes standard with Low VOC paints and finishes, above-code insulation, no UA formaldehyde in anything, quiet, efficient ENERGY STAR-rated vent fans, FSC bamboo hardwood floors, locally harvested lumber (within 500 miles), dual flush toilets, low flow fixtures and prewiring for solar. Ultimately, every Method home qualifies for LEED certification standards without upgrades."

Rylant continues, "We pride ourselves on a high level of customization: being able to build to fit any aesthetic or request, as long as it meets shipping requirements. Several of the architects we have partnered with to create predesigned home models tend to have a clean, modern look and feel. The common thread between all of the homes is the level of craftsmanship and their livability." They have also built several homes that are independent of the utility grid (or off-the-grid.)

Today, thanks to the company vision and the partners' unwavering commitment to those values, Method Homes has expanded from a single house in 2010 to 40 houses and several commercial projects last year in the northwestern United States, Canada and fields requests from across the continent. Known for more than seven decades as the manufacturer of beautiful and natural looking pre-engineered homes, Lindal Cedar Homes has recently developed a new take on its tradition. The Lindal Architects Collaborative offers designs by leading architects such as Carney Logan Burke, David Vandervort, Marmol Radziner and Dowling Studios, which will be wedded with Lindal's well-established pre-engineered methods. According to Michael Harris, a consultant for Lindal Cedar Homes, "We developed the Lindal Architects Collaborative to bring the creative architectural work of some of the finest architects in the country to the tried-and-true system that Lindal has been offering for over 70 years. This will give homeowners access to architects that they might otherwise not be able to afford or have regional access to."

Eric Logan, principal, Carney Logan Burke Architects, says, "Over the last decade, we have made attempts at incorporating prefabricated designs in the Jackson [Wyoming] market with limited success. Our participation in the Lindal Architect's Collaborative now allows CLB Architects a legitimate opportunity to offer a high-quality prefabricated product to an international audience."

The vast army of Lindal dealers in the United States and around the world is required to become certified by the National Association of Home Builders Green Program. This program, like the LEED for Homes program developed by the US Green Building Council, has a variety of requirements in energy and water efficiency, environmentally friendly methods and materials, and so on. So if homeowners want to certify their houses, the dealers are able to simplify that process. (A study by Earth Advantage Institute, a nonprofit in Oregon, found that new homes that were certified green sold for 8 percent more than noncertified homes.)

Due in part to the development of new materials, more energy-efficient heating and cooling systems, and the natural environmental advantages that come with efficient building, prefab construction is a growing trend around this country and the world. In fact, many prefab companies have developed methods for designing houses that are more efficient than required by code. These homes often cost very little to heat and cool and can be more comfortable than traditional houses that require conventional systems. This new brand of prefab home utilizes less energy overall and is built in protected environments, leading to homeowner savings and construction that lasts longer since the building materials aren't initially exposed to damaging natural elements during construction.

There are a variety of prefab construction options, all beginning with techniques that make houses more efficient. Modular companies, such as Method Homes, build a box or module in the factory that is later transported to the site on a flat bed truck, lifted into place with a crane and connected with one or more other modules on site.

Lindal Cedar Homes produce kit homes with many of the components built in the factory and shipped locally, across the country or across the world to be erected at the home site. Other prefab methods include structural insulated panels (SIPs), common in the Northwest, panelized construction, prefabricated insulated concrete panels and a variety of other hybrid methods.

Significant savings in time and money are major advantages in choosing prefab construction. Prefabs can generally be built in half the time it takes for site-built homes, resulting in labor savings and savings in construction loans. Additionally, foundation and site work can be completed while the factory-built components are being constructed.

According to Matthew Stannard, from Stillwater Dwellings, a modular builder, "In my experience, the greatest advantage of modular prefab construction is exceptional quality control. Our process allows the construction of multiple unique custom homes using the same set of design details. We have total control of all design and construction elements resulting in a custom home process where misunderstandings are virtually eliminated, and superior quality assured."

However, "modular" does not mean monotonous. In today's prefab, plans are carefully laid out in advance and costs are scrupulously evaluated and controlled, causing fewer costly change orders or open-ended allowances and ensuring custom details. Whereas most site-built homes have a one- or two-year warranty, many prefab companies offer longer warranties, which can ultimately save the home-owner money on structural issues.

Recycling materials translates into additional savings. Excess wood from a prefab home built in a factory often ends up in other projects as opposed to an on-site dumpster or in a landfill. Other materials such as drywall and metals can be returned to the manufacturer. The homeowner is paying for all of the materials that end up in a dumpster for site-built homes.

In states such as Colorado and Montana, where building seasons can be significantly abbreviated by snowfall and winter conditions, builders often face weather-related delays of several months. Thanks to protected environments in construction factories, there are no seasonal delays for prefab homes. The factories operate year-round. In addition, materials are not exposed to the elements and are thus protected from later developing mold and mildew, which create an unhealthy interior environment.

Overall, prefab offers homeowners real advantages in terms of upfront savings and maintenance costs over time. With energy costs and building codes becoming more stringent, building efficiently is more important than ever. Modular and panelized manufacturers are developing advanced framing techniques that all but eliminate outside air from leaking into the house. Manufacturers of structural insulated panels (SIPS) have developed higher insulating values for their materials and more efficient ways to connect them.

According to Scott Bergford, "Through my 30 years of trying to build really energy efficient homes I have tried various building systems and products. In comparison, I cannot build a super quality and energy efficient home as inexpensively as I can using SIPs; a home may be built cheaper without SIP, but the trade-off is a less efficient, less quality home."

Likewise, Michael Harris who has worked in the pre-fabricated housing industry for 40 years says, "… from my experience, prefab uniquely offers consumers the design flexibility to create personalized homes that respond to their natural surroundings and every homeowner's unique life-style, which, when combined with the efficiency and predictability of a well-defined building system consumes less material and financial resources to build and less energy to operate. No other approach that I am aware of can deliver on that promise."

The West, in recent years has been a hub for energy efficient, creative construction, helping homeowners become savvier about cutting-edge building techniques. And as they educate themselves, they will no doubt choose some of the methods being used by the innovative companies popping up in the West. With so many beautiful design options now available, coupled with the economic and environmental advantages, prefab construction will likely continue to grow in popularity.