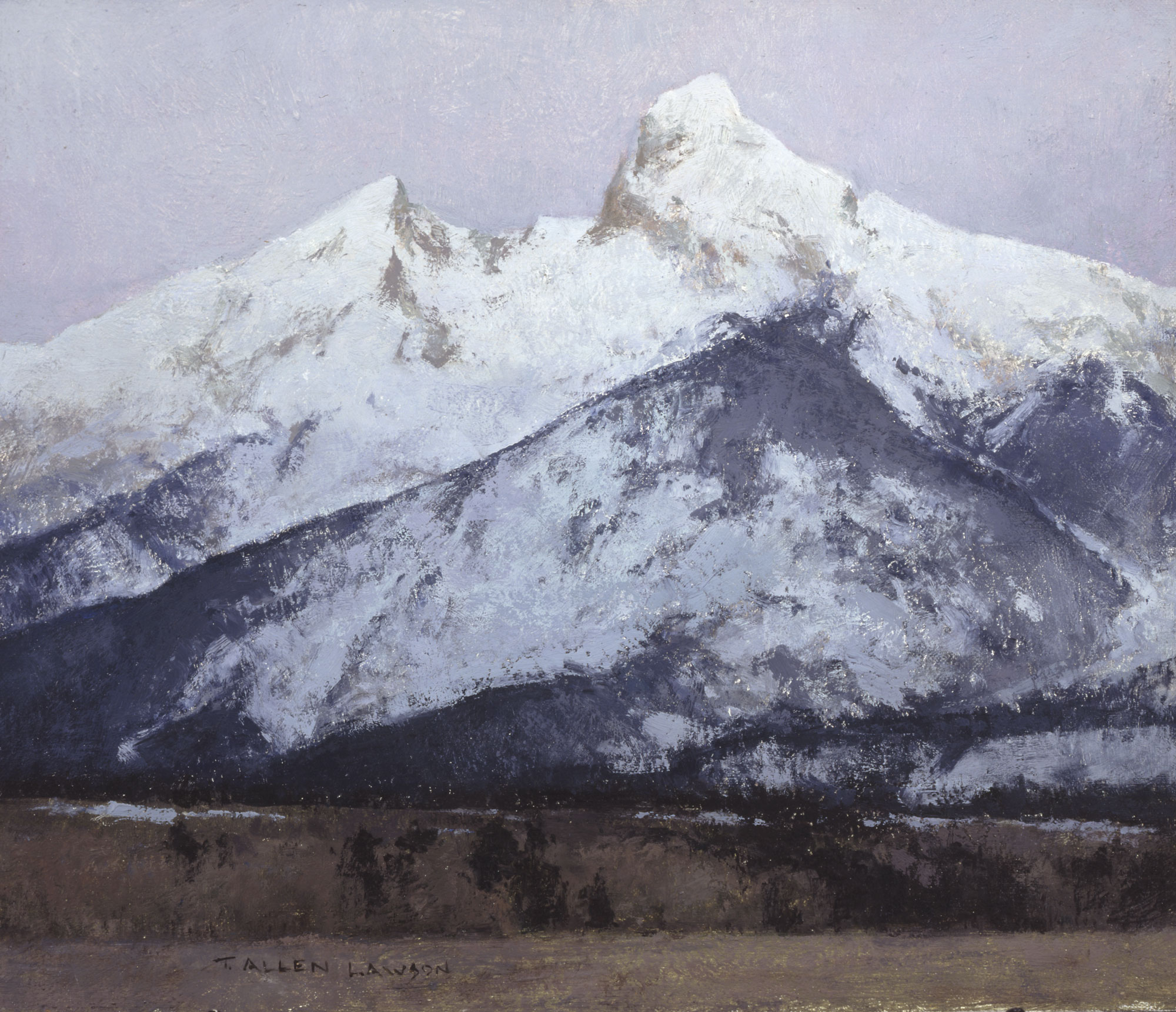 "Chasing Night" | Oil on Linen | 12 x 14 inches
24 Jul

Return to Home Ground

ALMOST A QUARTER-CENTURY AGO, TIM ALLEN LAWSON arrived in Jackson Hole, as many peripatetic young people do, seeking out Western communities with spectacular backdrops to pursue nebulous passions. He was no ski bum, however, nor river rat, nor trustfundafarian, nor refugee from the real world.

For the native of Sheridan, Wyoming, who grew up in the shadow of the Big Horns, there was an accompanying cocksure conviction that the landscape itself would lead him to the future.

Among those who remember Lawson as a raw if not altogether idealistic plein air painter is Susan Simpson Gallagher, today owner of a namesake art gallery in Cody.

Back then, Simpson Gallagher, the first curator at the National Museum of Wildlife Art and the daughter of U.S. Senator Alan K. Simpson, knew that Lawson was destined for heroic things, provided he not tragically choose the easy path.

When the exhibition, T. Allen Lawson: On Home Ground, opens this fall at the Simpson Gallagher Gallery (during the same week as the Buffalo Bill Art Show & Sale, it marks Lawson's first solo event in more than a decade featuring exclusively Western landscapes and architecture scenes.

While Lawson lives today in Rockport, Maine, with wife, Dorie, a writer, and their four children, the much-anticipated assemblage is considered a long-awaited homecoming for the Cowboy State expatriate.

"He is a picture maker who is well beyond the ordinary," says Peter Hassrick, art historian and director of the Institute of Western American Art at the Denver Art Museum. "Lawson is such a designer. Some have compared him to W. Herbert Dunton [1878-1936] during the Art Deco period. Lawson can distill the freshness of a scene and yet find the designs that are compelling. That combination is what makes his work special."

Hassrick regards Lawson as one of the most important American painters of his generation.

Born in 1963, Lawson had an upbringing that foretold little of the road he would travel between then and now. He paints realistically and representationally, though his transformation is no less dramatic than that of another Wyoming native, abstract expressionist Jackson Pollock, born in Cody in 1912.

Simpson Gallagher remembers Lawson in 1985, shortly after he arrived in Jackson Hole at the dawn of his creative genesis. He didn't need a lit class at Harvard to fuel his natural appetite for the classics. "He was reading Homer's Iliad and Odyssey simultaneously with a dictionary ready next to him," she says. "He was determined not to miss anything, to understand precisely what he was reading so he could absorb the intended impact of the words in the process."

Crucial in Lawson's awakening has been a series of older mentors, not all of them painters. Among the first real instructors to recognize his perceptive powers was Ned Jacob, the nationally acclaimed figurative artist who encouraged him to take no shortcuts where classical training was concerned and to feast his eyes on as much good art as possible, starting with museum visits on this continent and in Europe.

On Jacob's recommendation, Lawson attended the Lyme Academy of Fine Arts in Old Lyme, Connecticut, the American Academy of Art in Chicago and the College of Santa Fe. Both his early work and his work ethic generated something of a buzz at a time in the 1980s when plein air painting in the interior West was part of a burgeoning regional movement and the careers of Lawson's elder friends, who had taken him under their wing, were on the rise. Besides Jacob, those who adopted Lawson were Bob Barlow, Skip Whitcomb, Mark Daily and Clyde Aspevig.

Lawson went searching for personal truth in nature. He would set up his portable paint kit in any weather, the more inclement the better, rendering studies nearly every day of the year. He could be seen huddled beneath garbage bags in torrential spring rain storms; rising before dusk on 30-below winter days and attempting to lay down strokes before his bare fingertips turned frostbitten and oil squeezed from the tube wouldn't budge.

To his mentors, Lawson is still known as "the kid" — the youngster who corroborated the promise that was laid at his feet. In any profession, however, there is no burden more daunting to overcome than having to live up to lofty expectations or being tagged with prodigy status early in one's career.

Twenty years ago, Lawson burst on the scene and almost instantly became a darling to collectors in the East. When Senator Simpson was serving as Republican Whip on Capitol Hill, his wife, Ann, hosted a number of shows for Lawson in Washington, D.C. His work was — and is — avidly collected by politicians (from both political parties), prominent business people and art socialites.

Meanwhile, back in the northern Rockies, Lawson landscapes became must-haves for newcomers and art-loving old-timers alike.

Good fortune had made him a celebrity, though the irrepressibly shy artist, whose creativity flows from his own solitude, felt increasingly pressured.

Lawson says he needed space to breathe, to gain perspective on what was transpiring in his life and stay true to his art. When Dorie suggested the couple check out Maine, not far from her own New England roots, he embraced leaving Wyoming. The artist had familiarity with the North Woods due to visits to Jacob's studio in Skowhegan.

On a circular route to bring his kids to school, Lawson drives through the wending seaside streets of Camden and Rockport, passing gentrified old-money estates and a mosaic of verdant pastureland and forest.

Soon, we stop on what he and Dorie call "Decision Bridge" in quaint downtown Rockport where the couple pondered the fateful move nearly a dozen years ago.

Compared to his native West, the cultural aesthetic of Maine seemed appealingly ancient and genteelly archetypal. As well, the North Woods closed in Lawson's visual range, enabling him to better focus on what was immediately in front of him rather than having his thoughts waft out toward distant horizon lines.

Living down the road was a giant whose approach to realism has shaken Lawson's identity as a plein air artist — Andrew Wyeth, now in his 90s.

Leaning against the wall of Lawson's studio on a bureau is a handwritten note signed "Andy Wyeth," who has seen Lawson's work at the home of Wyeth's son, Jamie, the acclaimed painter. Jamie and his wife, Phyllis, have embraced Tim and Dorie during their time in Maine.

Once upon a time, Tim Lawson would invoke John Singer Sargent [1856-1925], Anders Zorn [1860-1920] and Joaquin Sorolla y Bastida [1863-1923] as mystical references. Today, the magnetic pull points toward the Wyeths and extends into the intense psychological terrain of a distinct group of Impressionists.

"When you see a landscape by Lawson, especially the latter ones, you stare into it, and listen to it and wait. All of a sudden the damned thing becomes something entirely different, an emotional experience, I would say, instead of a visual one," says John Ames, co-owner with his wife, Sarah, of Ten High Street Fine Art and Antiques in Camden.

"It's taking the natural world and filtering it back through the artist in such a way that it becomes this ephemeral, exquisite door leading into a whole different reference point for reality," Ames adds.

"I've got a sign in my study that says, 'Art is not a noun.' I love that phrase. With Lawson, his art is not a noun. It's a meditation."

David McCullough, the two-time Pulitzer Prize-winning author of historic nonfiction, once told me that over the years he has become a better writer by trying to be a truer landscape painter. Despite all the talk about words and pigments possessing their own language, it is Mr. McCullough's belief that one can learn a lot about articulating beauty by being more receptive to the invisible, elemental intimacies that move the human soul.

McCullough considers himself a serious Sunday painter who has done it his whole life. He credits Lawson — his son-in-law — with helping him decipher the timeless narratives inherent in great oil painting. In turn, Lawson says McCullough has opened his eyes to the impact of metaphor and allegory.

In Fording the Stream, a piece in the Simpson Gallagher exhibition, Granite Creek in the Gros Ventres Mountains plunges down a glacial course cut by soft water that overcame the resistance of granite. In Lawson's vision, the girding forest is like soldiers marching upon a field of battle called time immemorial. Sensually, it is a study of warm colors deepened and harmonized by a strip of cold blue. Highlight is established paradoxically by what lies in repose.

With another painting, Verdant Rhapsody, Lawson delivers a riveting pastoral that suggests the scene is all about green, yet few of the hues are actually verde.

Lawson does not disagree that New England has altered his perception of light as a primeval force. In the past, one of his favorite subjects, the high plains cottonwood, tended to be portrayed warmly but of softer tone. A newer interpretation, of a grove of cottonwoods set at the foot of his ancestral Big Horns, is topped by an abstract canopy and countered by a dark, alluring understory.

"The cottonwood is the king tree in the Rocky Mountain West," he says.

More than an arboreal totem, however, it speaks the code of a regional aesthetic. The presence or absence of branches reveals a presence or absence of wildlife and livestock; the girth of trunks speaks to the availability of water and thus influences the floral tones of palette; the appearance of lone trees or clusters connotes a welcoming, sheltering mood or one of isolation and humility.

In 2004, the works of Lawson and Geoff Parker were showcased in a nationally acclaimed traveling exhibition, Capturing the Missouri: Lewis and Clark Revisited, that featured dozens of modern landscape paintings created while the pair traced the historic route of the Corps of Discovery from St. Louis to the Pacific Ocean.

Ames says Lawson's voracious curiosity and willingness to challenge himself artistically are present in Lawson's library of 1,300 volumes of books that encompass art history. The melding of "art" and "history" makes for lively conversation, Dorie says, whenever the Lawsons get together with the McCulloughs. Of note, David McCullough years ago did all the extensive interviews for a documentary about Andrew Wyeth's legendary father, the painter N.C. Wyeth.

The level of affinity between the clans is hardly trite. To strive to be honest with one's self, as opposed to producing words or imagery in order to win popular approval from the art and literary establishments, is regarded as anathema by McCullough, the Wyeths and Lawson.

Amid the research for her book, Posterity: Letters of Great Americans to Their Children, Dorie McCullough Lawson turned up this written warning from N.C. Wyeth to Andrew: "There's a real task on our hands, Andy. Modern art critics and their supine followers like the flat and the shallow."

If reference material provides any indication of what's going on in the deepest pools of Lawson's mind, then the weighty visual biographies of Gustav Klimt [1862-1918], John Henry Twachtman [1853-1902], Egon Schiele [1890-1918], Richard Diebenkorn, Jr. [1922-1993] and Willem de Kooning [1904-1997] provide a clue.

Lawson does not dwell in false romanticism; he paints beleaguered barns, farmhouses and harbor structures because of their interesting shapes, their sagging weathered shifts out of geographic symmetry and their context for place. "I used to think how great it would be to have lived at the time of Sargent and Zorn," he says. "But I've come to realize and appreciate that an artist has to paint his own sense of time."

When the Lawsons were traveling across Wyoming last summer, he abruptly stopped the car and his children poured into a sea of roadside sagebrush, the sun mottled in cumulous cloud and the blue void pierced by a dissolving jet contrail.

The time was high noon, which most plein air painters forsake because of the intensity of light and harsh near-vertical shadow. Earlier in his life, Lawson, too, would have retreated, too daunted, and opting for easy light, but now he was intrigued and sought to read the information, offering notes to himself in a thumbnail spare of detail and visual commentary. Back in the studio, that foray has become the largest landscape he has ever painted.

"What is it about Tim that makes me think and tell people his work will stand the test of time?" Simpson Gallagher asks. "There is a sensitivity in his response to nature, in his response to his surroundings and to the people in his life that carries over into his work. He is attuned to the subtleties and to the magic in everyday things."

Few contemporaries admire the place Lawson is in better than painter John Felsing. The two met when their work was featured in a show at the Gerald Peters Gallery a few years ago. "There is a profound difference between merely reproducing what's visible in front of you and working as an easel painter in making perceptible what otherwise doesn't seem to be," Felsing says.

The plight of plein air painters is that they are always chasing the arc of the sun and the imprint of its shifting effects as illumination dances across objects, Felsing says.

"It's a constant scramble. Tim is shifting to a different mental place where he doesn't feel like he's on the clock. He's searching for what resides in his soul. He finds inspiration in others who opened up their chest and exposed us to their heartbeat. It's a difficult territory and few artists ever want to go there because it involves breaking the old rules. But in doing it, Tim is speaking with his own voice."

Stubbornly, Lawson only approaches the easel when there is natural light falling through the steepled cathedral windows that rise above the crude floor planks. He is encircled this day by nearly a dozen works in progress, landscapes and architecture pieces that have been evolving over many months, some of them bound for the Simpson Gallagher show in Cody. "I come into the studio in the morning and it's a mystery where I'm going to go," he says.

Renowned landscape painter Skip Whitcomb has watched the advent of mid-life evolve Lawson into a mature painter who has abandoned exuberant portrayals of recognizable points on a map.

"Tim has for years now been very intrigued with the intellectual side of painting. He's gone beyond technique and that is the healthiest place to be," Whitcomb says. "Once you master your materials, then the next necessary step, if the courage exists inside of you, is to pause and ask yourself, 'Isn't there more meaning to painting than this?' "

"The more I paint," Lawson says, "the older I get. If I shut myself in this space I could paint for 10 years the images that have gathered in my head." Some have described Lawson as taking a "traditional" approach to "Realism" but he turns irreverent over the use of such terms.

"I'm not interested in painting exactly what I see in front of me, which is how some people would define Realism," he says. He believes the art world's conventional insistence upon applying labels illustrates the limitations of the English language to articulate a broader spectrum of what Realism is, and can be.

For too long, the mavens of detail have dominated Realism in the camera age. "Wyeth's brilliance comes in the illusions he creates," Lawson says. "When he paints a house, he conveys the appearance of every clapboard without actually portraying the line of a single board."

Lawson gravitates toward a quote from British painter Lucian Freud: "The longer you look at an object, the more abstract it becomes, and ironically, the more real." Such a philosophy is a departure from Lawson's foundational moorings as a plein air painter.

At night, once the kids are tucked into bed, Lawson will venture out to the studio and clean brushes, have a cocktail and sit in an easy chair and gaze critically at the works drying on the easel. He'll relentlessly scrutinize the way they read and flow, and if he is bothered, will scrape and sand and insinuate focal elements that might disappear altogether upon the next examination.

"Oscar Wilde said he was working on the proof of one of his poems all morning and took out a comma only to put it back in again in the afternoon," Lawson says. "There are times when I'm alone and I've been struggling with a small piece of the work for weeks or months, and I ask myself, "Was that change really worth it?' "

"What I like to tell people is when they first look at a Lawson painting, they may perceive a landscape or building, but if you step closer you find a balance that nature probably never could have achieved," Ames said. "His paintings are balanced on the head of a pin."

The irony of the title of Lawson's show, On Home Ground, is that he's trekking through a new topography of visual orientation. "When you are there every day in the West you can start to take it for granted," Lawson says. "Not until you are removed do you appreciate its essence."

Whitcomb says that his geographical separation has compelled Lawson to move away from churning out mere pretty pictures. "Great artists continue to push themselves to grow," Whitcomb adds. "They are always expanding into new avenues until they are planted in the ground, or they wither on the vine when they are 35 years old and walk around dead for the rest of their lives."

By choice, Lawson has ventured far since cracking open Homer. "It's scary to shirk what is comfortable and easy in order to embrace the bigger journey because, when you do, you feel like you're on an island alone by yourself," Whitcomb says. "It's not like your loved ones can support you as you wrestle with larger questions in your mind. Because of what is happening inside of him, I believe Tim is destined for greater things."

Todd Wilkinson has been writing about people and places in the American West for the last three decades, though assignments have taken him around the world. The Bozeman, Montana-based author is currently at work on a book about media mogul, bison rancher and environmental humanitarian Ted Turner.
---
EDITOR'S NOTE: T. Allen Lawson is represented by Simpson Gallagher Gallery in Cody, Wyo., Ten High Street Fine Art and Antiques in Camden, Maine, Gerald Peters Galleries in Santa Fe and New York City, and The Easton Gallery in Santa Barbara, Calif. In addition to the Lawson exhibition at the Simpson Gallagher Gallery, a selection of Lawson's work, along with pieces by Geoff Parker, Toby Birr and Mimi Litschauer is on display this fall at the Ucross Foundation near Buffalo, Wyo., and at the Maynard Dixon Country 2008 show in Mt. Carmel, Utah.