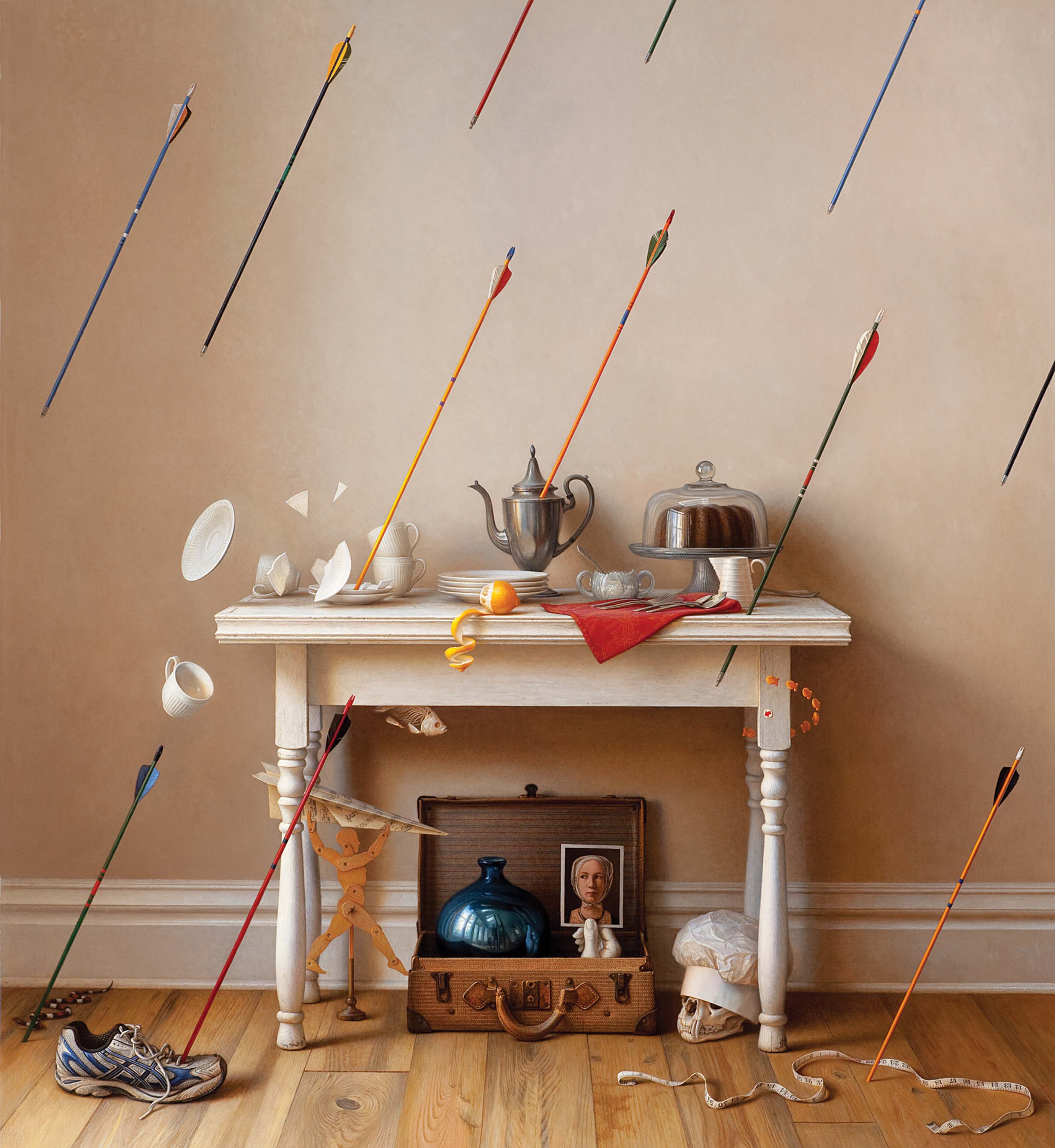 "Reign" | Oil on Canvas | 82 x 76 inches | 2012
01 Dec

Still Life as Story

HEATED DEBATES NEVER END ABOUT what's "in" in the art world and what isn't. One year the buzz is that Realism is coming back or fading away, that Abstraction is where the action is, or Pop art or color fields or drips and cubes, on and on. Yet over centuries it has proven to be excellence, inspiration and extraordinary passion that make art memorable, regardless of artificial categories. All important aspects being equal — craftsmanship, design, color theory — what is truly fresh and lasting is the innovation that accompanies the skills. In today's expanding galaxy of New Realism, few American painters light up the sky as does still-life master Scott Fraser.

Fraser's paintings veer from classical vanitas, still lifes focused on life as ephemeral. Instead of darkness and gloom or incipient decay, his subjects portray an American playfulness, pure and unencumbered by cynicism, yet with further depths to be explored. Fraser groups together items of personal significance and history to create scenes that are visually compelling, modern and which take on new meanings through their association. Drawing is the springboard upon which his ideas are developed, while humor and mystery are signature components of his elegantly executed paintings.

Recently the artist explained his approach: "I suppose you could say it's a form of journaling. A lot of my more interesting imagery develops out of the inspiration I draw from my wife and two kids. There is an element of universality when I include references to family, nature and humor. A lightbulb goes off in my head in the middle of the night — ideas buzz around in my brain, nagging me, and one idea often leads to another. My studio walls are covered with Post-it notes and sketches. I rarely jot down just one. I love what I do, so I'm always working."

Quang Ho, co-curator of Denver's prestigious Gallery 1261, believes Fraser is "at the pinnacle of American Realism in the modern era." At first, Ho says, "It is his subject matter and playful presentations that pull the viewer in, but then his paintings' purely visual beauty hold the viewer's gaze and compel him to look more deeply. His work is timeless and he is one of the most exceptionally skilled artists today." Like a finely tuned engine, Fraser's imagination fires on all cylinders. Everything he sees instantly morphs into possible artistic scenarios: "My wife says my 'art brain' never shuts off," he says. "Even when I'm sleeping, I'm thining about art." Incongruities and inventive juxtapositions abound, first mentally and then on a sketchpad or a scrap of paper, evolving into initial studies or, for larger works, intricately detailed grids that underlie the finished painting. Shells, bones, birds' nests, eggs, iridescent spirals of orange peel, fruit, Goldfish crackers, toys, beetles, butterflies, sheet music and cracker moons march across canvases filled with cultural commentary and symbolic meanings.

It's not just how something looks. Compositions are inspired by those people and relationships Fraser holds dear, as well as connections arising from his deep understanding of art history and philosophy. Each object is individually recognizable, yet as a whole they offer us a new perspective. We puzzle over what these items mean to the artist and what they symbolize. Our own imaginations are fired; we sense there's more to the story.

Fraser is a hard-working artist, often in his airy Colorado studio six days a week. On average, he produces 30 to 40 pieces a year, varying in size from tiny to large. For the past seven years he has been working on his Icon series in which each of 12 paintings — all the same size and identically framed — pays tribute to a particular artist he admires. It's his hall of heroes. Each artwork features a plaster cast of his own hand in a central position holding an iconic reference to that artist's work and provides a strong unifying link between paintings. The first two paintings in this series were Francis B., a tribute to Francis Bacon, and Heaven and Earth, honoring Hans Holbein. Magritte Framed came next, followed by The Thief, which includes the face of the younger gypsy woman in Georges de La Tour's The Fortune Teller. More recent additions honor Georgia O'Keeffe, Edwin Dickinson, Alberto Giacometti and Louise Bourgeois.

At the 2014 Coors National Western Art Show, the artist added to his growing list of accolades, picking up both Best of Show and Artists' Choice awards, and he has been invited back for the upcoming 2015 show to be held January 10 to 25. Rose Fredrick, the show's curator, was thrilled to add Fraser to the show's prestigious and diverse list of exhibitors. "I couldn't have been more pleased when Christoph Heinrich and Joan Troccoli selected Scott's painting, Animal Farm, as the Best of Show. With humor and grace, that painting confronts the notion of what Western art is today. Scott is not traditionally thought of as 'Western.' But if you know the Coors Show, then you know we are all about breaking down preconceived notions. Scott's work does that every day, with wit and imagination and amazing technical skill."

Fraser's paintings have been acquired by more than two-dozen museums from the Pacific to the Atlantic and are prized in numerous private collections. He is represented by several important galleries and is featured in a newly published book, Behind the Easel: The Unique Voices of 20 Contemporary Representational Painters, by Robert C. Jackson with Pamela Sienna. As a companion to the volume, Delaware Art Museum will mount an exhibition in 2016.

Scott Fraser is deeply grounded in his family, his community and his work. His paintings combine art history, memories and dreamtime images that connect us with a universal cultural dialogue. He groups solid, functional objects together in distinctive ways that evoke stories and become a discussion about relationships, not simply a display. As poet and art critic Mark Doty says, "A still life is more like a poem than it is like a portrait."

Perhaps the paintings of Scott Fraser are the poetry of a life.