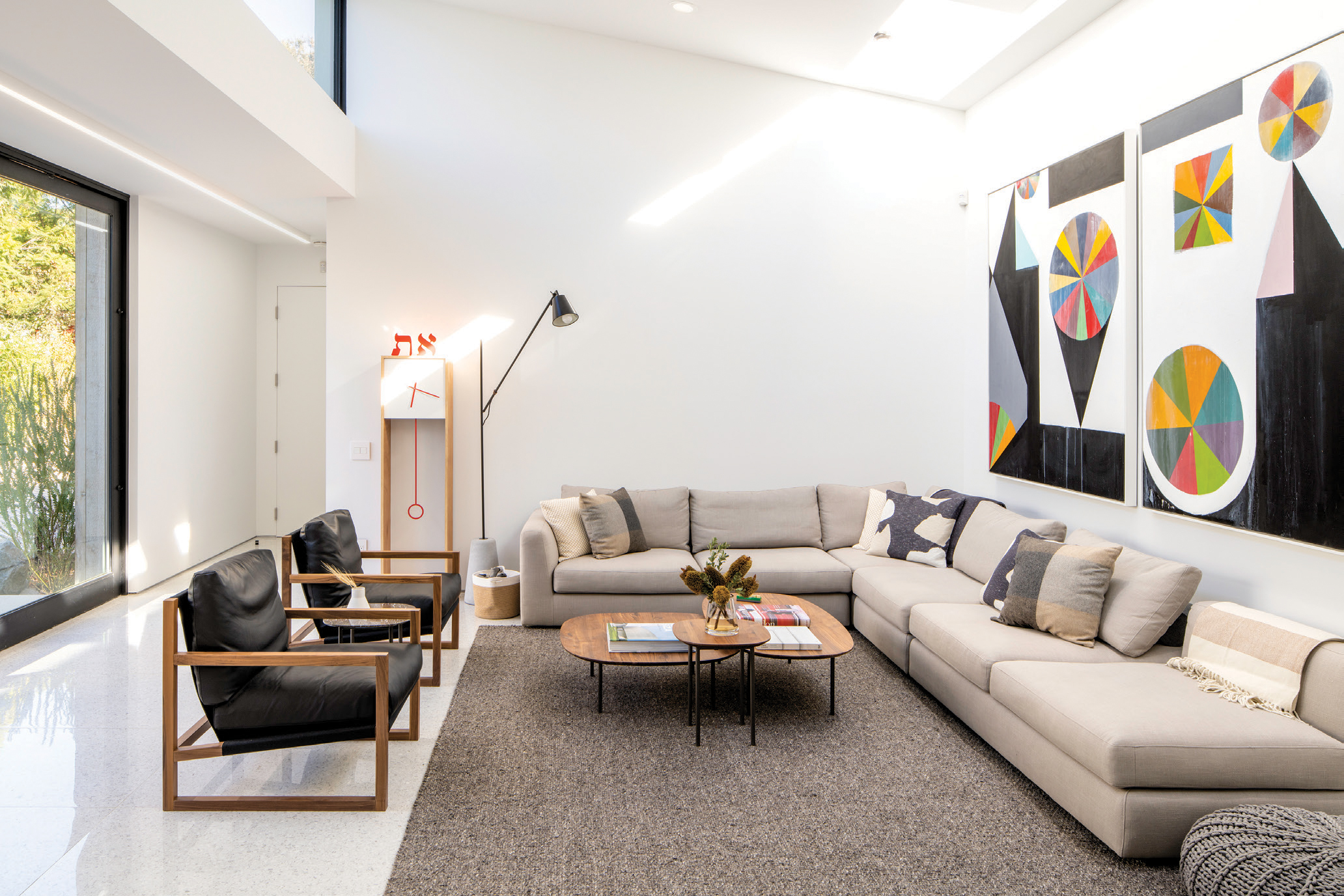 A triptych by artist Tasya van Ree, titled Mother Nature and the Sound of Her Feminine Dream, is one of a changing series of artworks tied to events held in the house, including the art fair Frieze Los Angeles.
11 Jan

The Bridge House

When I first met and interviewed Dan Brunn, founder of Dan Brunn Architecture in Los Angeles, for an article I was writing in 2016, he was happily ensconced in his house, No. 9 Dream. The project was an ingenious remodel of a nondescript mid-century structure that he'd managed — without extending the footprint or altering the street-facing exterior — to turn into a light-filled modern home that felt twice its size. After our conversation, we walked across the street to the site where he was planning his new home, a deep rectangular lot crossed with a brook running through the middle — a complete anomaly in arid Los Angeles — and the reason the compact neighborhood is called Brookside. He was planning, he said, to build the house across the brook, and more importantly, it would be net-zero.
An infinity pool reflects the home's drama. The house stretches across the brook and its arroyo, emphasizing the building's relationship to nature. The landscaping is by Segal Shuart Landscape Architects.
A pathway to the brook provides a perfect view of the bridge and the open terrace at its midsection.
When he finally moved into the Bridge House in October 2019, Brunn suffered some sleepless nights, his nerves on edge. After two years of planning and three years of challenging construction that included a series of exclamations such as, "Oh no, we can't do that," or, "I can't warranty that," he wasn't completely sure the project was a success. That anxiety proved baseless when Bridge House won a 2020 design award from AIA Los Angeles.
If No. 9 Dream was an ingenious use of an existing structure, Bridge House is an iconoclastic use of a 60-by-210-foot lot in a neighborhood where most of the brook-side houses are traditional designs averaging 35 feet tall and facing the street. Most also have generously landscaped rear gardens, marked by picturesque bridges that are favorites on garden tours.
The home's largest windows face north to reduce solar heat gain, which would otherwise necessitate artificial cooling. The wood paneling is by Real Cedar, and the windows are by Western Window Systems. The solar panels are by SunPower
An aerial view of the neighborhood illustrates the innovative nature of the house's long, narrow footprint, which is nearly invisible from the street. Architect Dan Brunn created it to demonstrate that a property doesn't need to be gargantuan to provide constant engagement and pleasure for its occupants.
"This house is the bridge," Brunn says. But it's not just a house that crosses an expanse; it's a 4,500-square-foot house that's a mere 20 feet wide and runs the length of the site, leaving two-thirds of the property open to nature. Furthermore, it's barely visible from the street, or as Brunn puts it, "It's silent."
Bridging the brook was no small challenge. It's a 20-foot drop in elevation from the street, and the span across is 65 feet, requiring two massive steel beams that Brunn describes, somewhat puckishly, as strong enough to support a highway. "I don't think any of us anticipated how difficult the logistics of this would be," he says. "Building the two foundations was a nightmare. When you excavate by water, you hit water. We had to start from back to front, and build a temporary bridge for the equipment. Those 65-foot beams? How do you get a truck big enough for that onto a residential lot? How do you get a bobcat in here? The contractor and I worked our asses off."
The open terrace and firepit over the brook allow Brunn to relax with the sounds of nature. The steel and thermal insulation are by BONE Structure.
Floor-to-ceiling windows allow a flood of light and union with the treetops, providing the illusion of a treehouse. The lighting is by Stickbulb.
The downstairs western end of the house provides casual living space and a future office area for the firm.
And how does a still-young architect afford such an ambitious house? Brunn had pretty much planned the design when he was approached by the Canadian company BONE Structure, a manufacturer of steel building systems and insulation geared toward achieving net-zero. They were looking for an opportunity to demonstrate the efficiency and environmental friendliness of their product. "I'd been contacted by competitors over the years," Brunn says, "but BONE Structure talked a lot about sustainability, and their product is almost 90 percent recycled steel. With their insulation, this place is sealed as tight as a submarine."
A living wall by Habitat Horticulture frames a cabinet that opens to the kitchen. Throughout the house, the furniture is by EQ3, a Canadian firm specializing in sustainable, stylish, and affordable designs.
For Brunn, the kitchen is the heart of the house. Wood cabinetry warms the space, and a substantial quartz-topped island is a gathering spot. The countertops are by Caesarstone, the cabinetry by Cantoni, and the appliances are by Bosch.
Clerestory windows balance light in the music room. Brunn, who's played in bands, finds inspiration for his designs in the rhythm and movement of music. The guitars are from his private collection.
Once he'd partnered with BONE Structure, he began seeking out other sponsors, likening the effort to producing a movie. "It wasn't as if I was looking for something free," he explains. "It had to be part of the story and part of the ecological friendliness. On top of that, I had to make sure there were no conflicts of interest; so if one company supplies something, you can't have a competitor in there as well. Like Panasonic versus Sony. I had to find resources I'd worked with in the past that would meld seamlessly into the home and be something I totally believe in for the future."
Brunn calls his work "empathetic design," providing peacefulness in every room, as well as whimsy amid the elegant, clean structure.
By night, it's clear how the narrow footprint is an innovative solution for engaging a city lot with nature.
Brunn has always had close friends who are artists, so he already owns a healthy art collection. But early in the life of Bridge House, he hosted a series of events, including the Frieze Los Angeles art fair, offering the participating galleries space for displaying artwork. That has evolved into displaying a rotating art collection.
All the furniture in Bridge House comes from the Canadian firm EQ3, which specializes in well-made but moderately priced modern furniture. Bosch Home Appliances, Western Window Systems, Caesarstone, and others partnered in the house.
In the end, the house is a showcase for Brunn's most closely held beliefs. Hosting the events gave him an opportunity to win people over to simplicity and efficient use of space.
"There's a proliferation of so-called modern homes in L.A. that are built absolutely crappy," he says. "They ignore nature, and they don't realize an investment in structure will yield better results. For example, I'm trying to erase the notion of square footage. Size does not equate to quality," he says, sighing with the knowledge that in Los Angeles real estate, size is all that matters.
"I want to show people that net-zero and forward-thinking houses don't have to be oppressive," he adds. "They can be very comfortable. It's nice when people come to the house to look at the art, and then take away knowledge of another way of living."