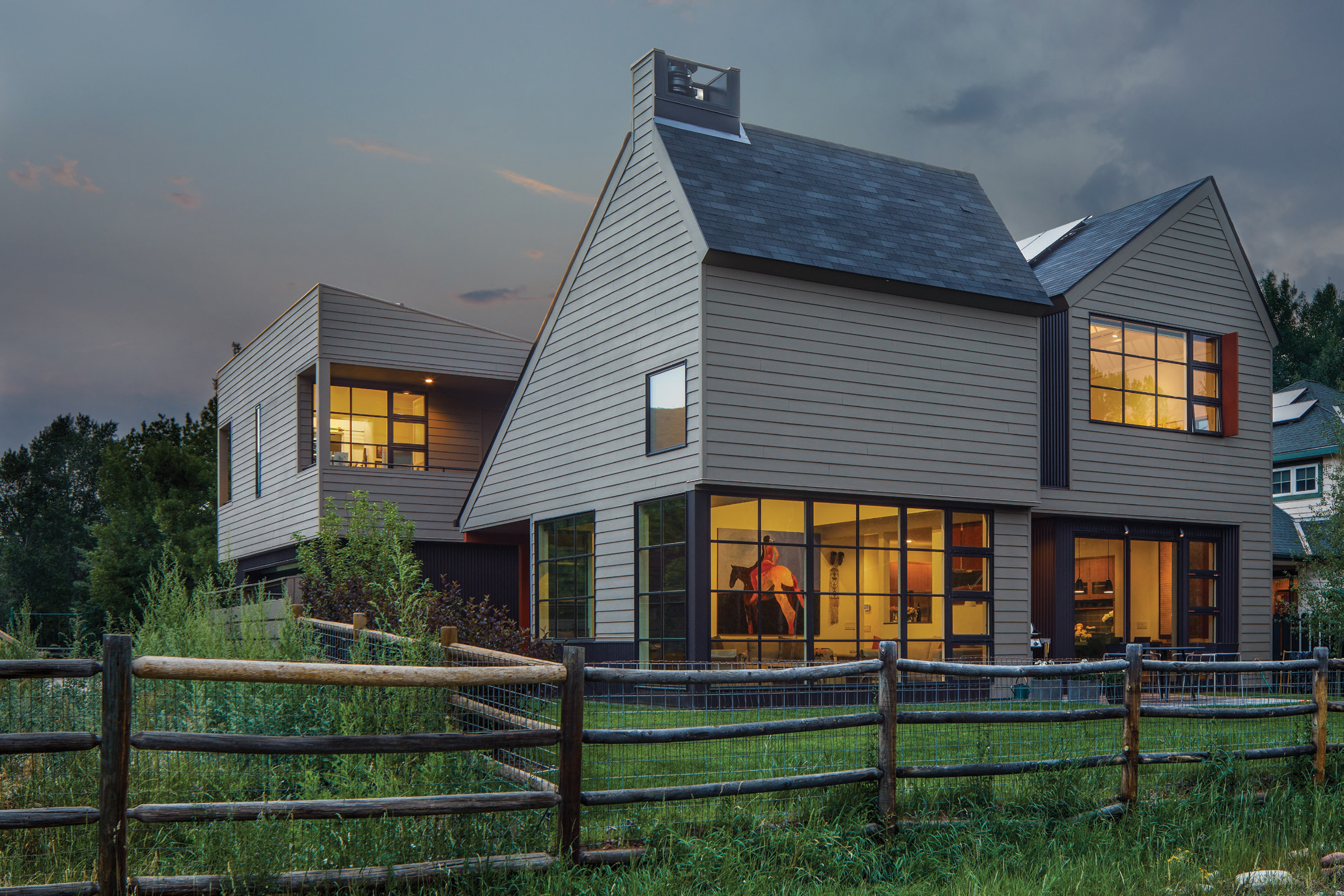 The Yaws' 2,250-square-foot home is a contemporary two-story structure in a family neighborhood in Basalt, Colorado. Looking significantly larger than it is, the home reflects Yaw's ability to translate traditional and contemporary forms of the American West into a design that's sophisticated and functional, yet entirely at home in its environment.
07 Jan

The Character of Home

"Getting lost so you can find your way back" has been a theme, both professionally and personally, for architect Larry Yaw. And his adult children like to remind him of this regularly, he says, recalling the many adventures the family took in the backcountry around Aspen, Colorado, his kids trailing him as he led them up "just one more ridge." The adventurer and lifelong outdoorsman's almost 50-year career echoes his approach to life. "You have to be fearless," he says. "Just glancing at something and saying 'that looks great' doesn't cut it. Discovery is all about going the extra distance."

As a founding partner of Cottle Carr Yaw (CCY) Architects, Yaw (who has been counted as one of Architectural Digest's top 100 architects and is a fellow of the American Institute of Architects) has had the opportunity to design innovative homes for clients around the world for more than four decades. Given the architect's gregarious and charismatic personality, his clients generally become lifelong friends with whom he travels, recreates, and, more often than not, continues to design additional homes for. One couple for whom he's designed multiple homes calls him "the dream weaver."

"He's an innovative designer who thinks out of the box," says the client.

That his clients-turned-friends continue to engage him for his creativity is a delight for Yaw. The very act of composing a singular and unique environment for each family is akin to telling their story through design, he explains. "Why shouldn't design reflect the essence of a lifestyle? A home should reflect in the best way possible those things that are most important to its inhabitants."
For Yaw, composing art and architecture is not unlike adventure and discovery; both fortify and enhance one another in a quest for the best outcome. "Having a sense of uncertainty when you begin something is good," he explains, "because it's a path that ultimately leads to original and innovative solutions."

It should come as no surprise, then, that Yaw's most recent adventure is the completion of a home — his fourth — for himself and his wife Phyllis. Their first two homes, designed and built in the 1970s and '80s for an active family of six, were located close to Yaw's office in downtown Aspen and to world-class skiing, an activity three generations of extended family continue to enjoy together. With their kids starting families of their own, the Yaws moved "down valley" to Basalt. They pared down over five decades of collected belongings to the bare essentials — their collection of art and artifacts, books, art supplies, and just enough amenities to be comfortable — and settled in a dense neighborhood on a 6,700-square-foot lot abutting permanently preserved agricultural land.

While not large by the standards of a career defined by significant and award-winning residential and commercial projects throughout the West, Yaw's latest creation was perhaps the most challenging. At 2,250 square feet, it represents a major shift in his thinking about the value of downsizing and the need to employ what he refers to as "shipwright" skills to design a living environment that optimizes innovative and gracious living spaces in a minimalist solution.

Yaw's new home marries his signature contemporary flair and quality with a carefully conceived and creative use of space. The result is a highly functional floor plan with a near net-zero impact. A front door, set under a protective overhang and clad in a welcoming russet red, opens into a foyer edged on one side by floor-to-ceiling windows that open to a courtyard and outdoor dining area. The space, surrounded on three sides by the home, echoes with the delightful trickle of a fountain, while patterns of light and shadow bounce between indoors and out.

Beyond the foyer, a hallway leads past a cozy den — a favorite hangout for the grandkids and dogs — into an open kitchen and two-story living room. Upstairs, two bedrooms — the Yaws', which faces due east toward the protected pastureland, and a guest room that faces due west — anchor one wing of the home; and the architect's painting studio makes up the other wing.

Regardless of size or scale, Yaw's design process is rigorous, thoughtful, and flexible. "I make a series of sketches — just like I do in painting — and one or two of them will tell me something," he says. Next, he calculates the area needed to live in each room of the home comfortably. In the case of his new home, he admits his calculations were a bit overzealous, rendering the house larger than what neighborhood standards allow. Back at the drawing board, Yaw sketched alternatives, discovering he could simply move a wall and create a deck adjacent to his studio. Serendipitous design changes like this, he explains, result in special personal spaces that add significantly to the character of any home.

In a neighborhood defined by traditional front porches, pitched roofs, and street-facing garages, Yaw's modernist inclinations stand out. Sustainable siding is punctuated with color; horizontal window fins add a splash of red to the second floor; roof angles, in true Yaw fashion, are asymmetrical in an architectural statement that's both artistic and functional. For example, the south-facing roof and its array of solar collectors are pitched at exactly 52 degrees to capture the maximum sun exposure at this latitude. Windows — some wrap-around with panes and others crisp punctuations along a facade — also emphasize an indoor-outdoor relationship that highlights Yaw's ability to pare his design to just the essentials needed for living. "I like to think we are the exclamation point at the end of the street," he laughs.

For Phyllis Yaw, downsizing was indeed a cleansing experience. "We have designed and lived in four houses in the Roaring Fork Valley. This one is my favorite because it's cozy, comfortable, and peaceful," she says, adding that every day brings a new adventure as they continue to discover how to make their new house a home.

Inside, the Yaws' art collection is prominently featured, creating the backbone of an interior design concept that's personal. Works by friends, like the late Montana landscape painter Russell Chatham, hang side by side with Yaw's own abstract paintings and landscape sketches made while traveling through Europe, South America, and the American West. It's a collection that tells a story of love for people and the places they inhabit, and the finished home represents the opportunities to continually engage art and architecture in a meaningful and innovative manner.