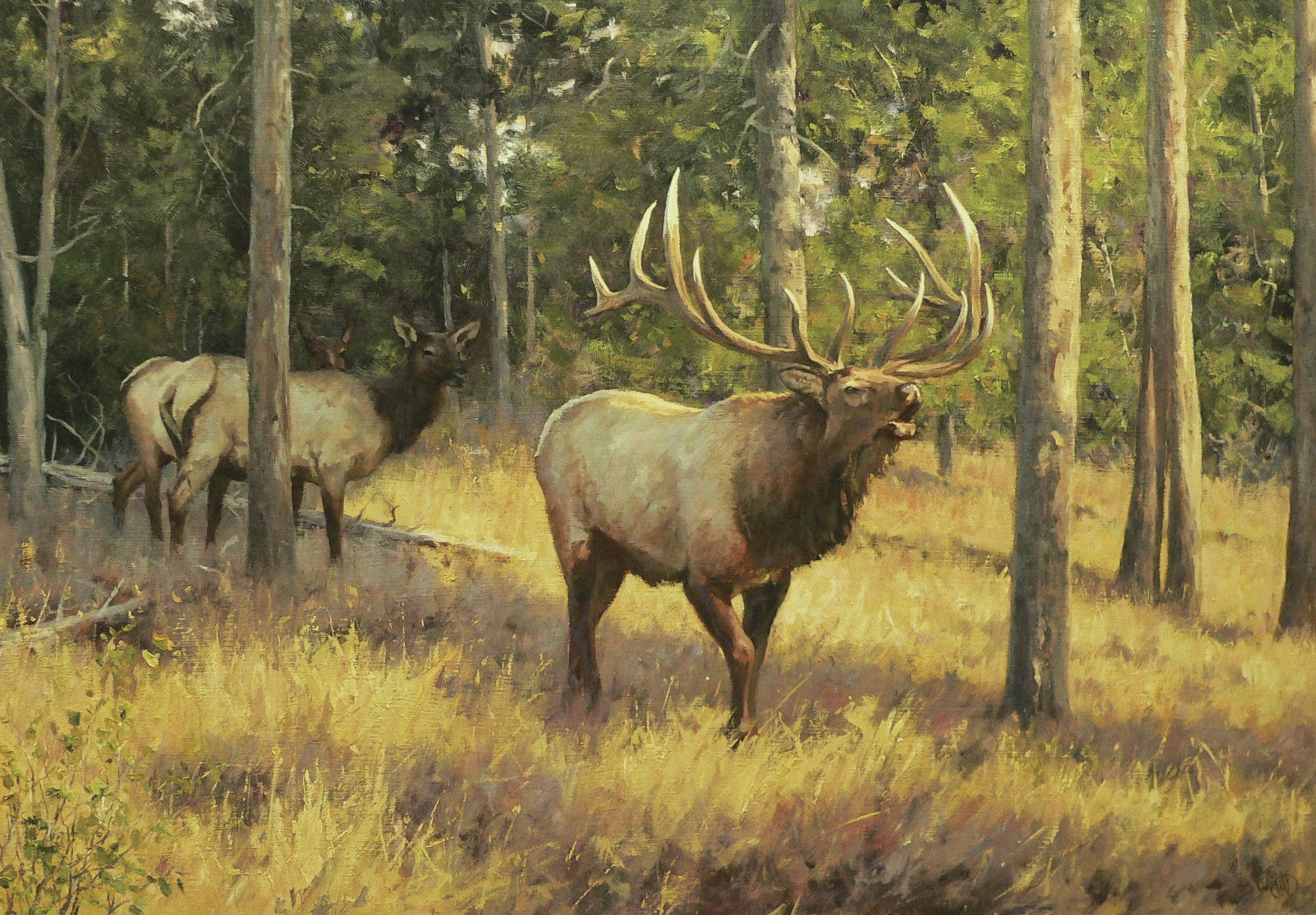 Brian Grimm, "Response to a Call" | Oil on Board | 28 x 40 inches | 2010
29 Dec

The New Wild Bunch

At the crossroads where representational art meets the almost abstract stand the rising stars of wildlife and sporting art. Across an array of differences in age, style and temperament, these artists share the sense, at once restful and exhilarating, that they are poised to come into their own — and the art world is watching.
---
Brian Grimm
Brian Grimm heard that voice loud and clear in 1999, when he cast away his career as a graphic designer to give full rein to the wildlife artist within. Six years later, he was being represented by such exclusive outlets as Legacy Gallery in Jackson, Wyoming, a sign of the success that he declines to take for granted.
A Texan by birth and by ethos, Grimm does not believe in fairy tales. "It doesn't happen with luck … fortune smiles and I get a reputation; you achieve that through work," he says.
Grimm produces countless on-site oil studies rather than relying on photographs of such creatures as lions, longhorns and bears so that in his studio he can more readily relive that mountain scene, that quality of air, that trick of the light.
"I'm at a turning point with my work where I know what I want in my pieces: the fundamentals like design and good drawing, but also that painterly quality that suggests grass without painting each blade," he says.
Grimm gives prominence to a grizzly bear in Mountain Color, where a foreground of forbs is flecked with color and the backdrop of pines and rocky ridges is suggested rather than stated.
Scott Jones, Legacy's general manager, said Grimm's paintings are the objects of desire. "We're getting as many compliments about the landscapes as the wildlife," says Jones.
---
Luke Frazier
In a studio that overlooks the sage-steeped mountains of northern Utah, the fearless hand of wildlife artist Luke Frazier is at work, as it has been a for more than two decades.
At a time when Frazier's paintings of iconic western wildlife and sporting scenes have brought him the critical acclaim and commercial success prized by every artist, Frazier is literally still at the drawing board.
The 40-year-old artist, whose work this year will be showcased at such prestigious exhibits and sales as Masters of the American West at the Autry National Center and the Coeur d'Alene Art Auction, is only abiding by the advice of his mentor, master of wildlife art, Bob Kuhn.
The late Kuhn urged Frazier, whose work he admired, "to draw, draw, draw," says Frazier, adding, "And he would tell me when I thought I was done that I should draw some more. What I understood from that is that I am still learning how to draw and that I always will be."
Even as the wildlife and sporting art worlds shift and realign with the deaths of giants such as Kuhn, the evolving works of painters like Frazier represent a renewal of traditions past and a revitalization of techniques to come.
Frazier is indeed one to watch. His work in November was featured in the Great American West exhibit, an annual high-end event at Settlers West Gallery in Tucson, Arizona. Stuart Johnson, gallery owner, said Frazier paintings of today compare to those of yesterday for acquaintance with anatomy and mastery of mood. "Luke is getting into that realm where he can adjust things to fit the scene he wants to portray," says Johnson.
Whether the subject is a moose that rises from a river bottom like mist from the chill waters in Cool Water of the Yellowstone, or the alert English pointer of Quail Thicket, Frazier is at one with his subjects.
Pointing to an artistic heritage that called forth the awe of animals and the lands they inhabit and evoking the names of painters whose fame has outlasted the measure of many lives — Winslow Homer, Wilhelm Kuhnert, Carl Rungius — Frazier offers a truism as simple as it is daunting to achieve: "Every artist has to find his own voice."
Jan Martin McGuire
In a career that has sent her from the mountains of Montana to the plains of East Africa, Jan Martin McGuire has gained a following that revels in the signature realism of her wildlife paintings. But McGuire, named the 2010 artist of the year by the Houston Safari Club, and the force behind a solo show in 2008 at the Forbes Magazine gallery in New York, refuses to be typecast.
"I'm against recipe art, producing only a certain style, a certain animal, using a certain palette and cranking out the same painting again and again," she says. "That's not art; that's baking a cake."
Irvin Barnhart, who is heavily involved in both Houston Safari Club and Safari Club International, is a longtime collector of McGuire's work. An animal expert himself, Barnhart admires McGuire's detail and accuracy. "I like to see animals well displayed on the canvas and I like to see paintings that are more about the animal than the landscape — and Jan is an artist who understands that," he says.
The 2008 conservation artist of the year for Safari Club International has lately experienced an epiphany with color, introducing such shades as violets and blues for an overall effect that one of McGuire's collectors described to her as "Jan with a sizzle." McGuire applies a cautious hand to color in Behemoths, with both outsized elephant and outsized tree tinged with blue.
For McGuire, whose paintings have been on exhibit everywhere from the Smithsonian to the Natural History Museum in London, the period has been transformative. "Right now, I'm like a kid in a candy store; I'm really having fun," she says.
---
Charles Timothy Prutzer
Honesty is the aim and integrity the method for Charles Timothy Prutzer, who applies himself so wholly to each wildlife painting that his production is intentionally low. Prutzer's drive for authenticity has launched journeys to Africa, India and Spain for firsthand views of the animals he depicts.
The Colorado-based artist underwent a rigorous school of one under the tutelage of famed bird artist Donald Malick at the Denver Museum of Natural History. Prutzer was 12 when Malick took an interest in the adolescent's fascination with animals paired with promise as an artist. Among the lessons imparted to the pupil was that inspiration alone is insufficient.
"Society sometimes looks at artists as though we have a magic wand and we wave this at the canvas," says Prutzer. "The truth is, there is always a price to be paid, but as wildlife artists we love the animals and the natural world so deeply that we want others to share in the wonder."
Wonder is the operative term for Standing in the Shadows, Prutzer's elk in acrylic using the technique of pointillism. The elk, its head half-turned as though listening to the harmony Prutzer creates with color, stands amid the golden tones of late afternoon in a painting of remarkable delicacy.
Prutzer is among artists represented by Michael Paderewski of The Sportsman's Gallery, LTD., and Paderewski Fine Art, as well as John Marzolf, owner of Hayden Hays Gallery in Colorado Springs, Colorado. "Tim is a perfectionist's perfectionist," says Marzolf. "He builds an image from the inside out with an eye to detail, everything down to bone structure. His animals almost run off the canvas."
Amy Ringholz
September marked the third year that animal artist Amy Ringholz was invited to participate in the National Museum of Wildlife Art's signal show and sale, Western Visions. At 32, Ringholz is among the youngest of the exhibitors, but youth has little to do with a style and a vision that is singularly her own.
Frequently pigeon-holed as whimsical, Ringholz is conducting serious business in her studio in Jackson, Wyoming. Her paintings are considered contemporary, replete with graphical edges and bursts of color that act as a chorus underscoring the composition's central points.
And where wildlife art does not always tap a responsive chord, Ringholz paintings nearly always do, says James Bollmeyer, sales director of Austin Galleries, one of six that represent Ringholz. "Amy's gone out of the box on colors and things," Bollmeyer says. "Every time we have a show, there's the 'wow' factor for everybody who walks in the door."
Like Ringholz herself, the artist's animals have an upbeat quality, with everything from bunnies to tigers exuding an enlivening combination of confidence and optimism. Her first trip to Africa has given shape to storytelling in her paintings.
"I had been having a breakthrough in ideas and now, finally, it's translating to the work," she said. "I've been waiting for it for eight years. It's almost like you give birth to a whole new place in your art."
That place is framed by symbolism in Consulting the King, the artist's stern portrayal of a male lion whose waves of mane wash against the spiral of a spider and its web.
The act of glorifying each animal does not rest with Ringholz alone. As the artists who make up the new wild bunch pass beneath the arch that separates the good from the superior, they strive for the standards of the masters who have gone before.
"If you are born to create and to be creative, you will naturally move through phases — and your work will naturally evolve," says Ringholz.