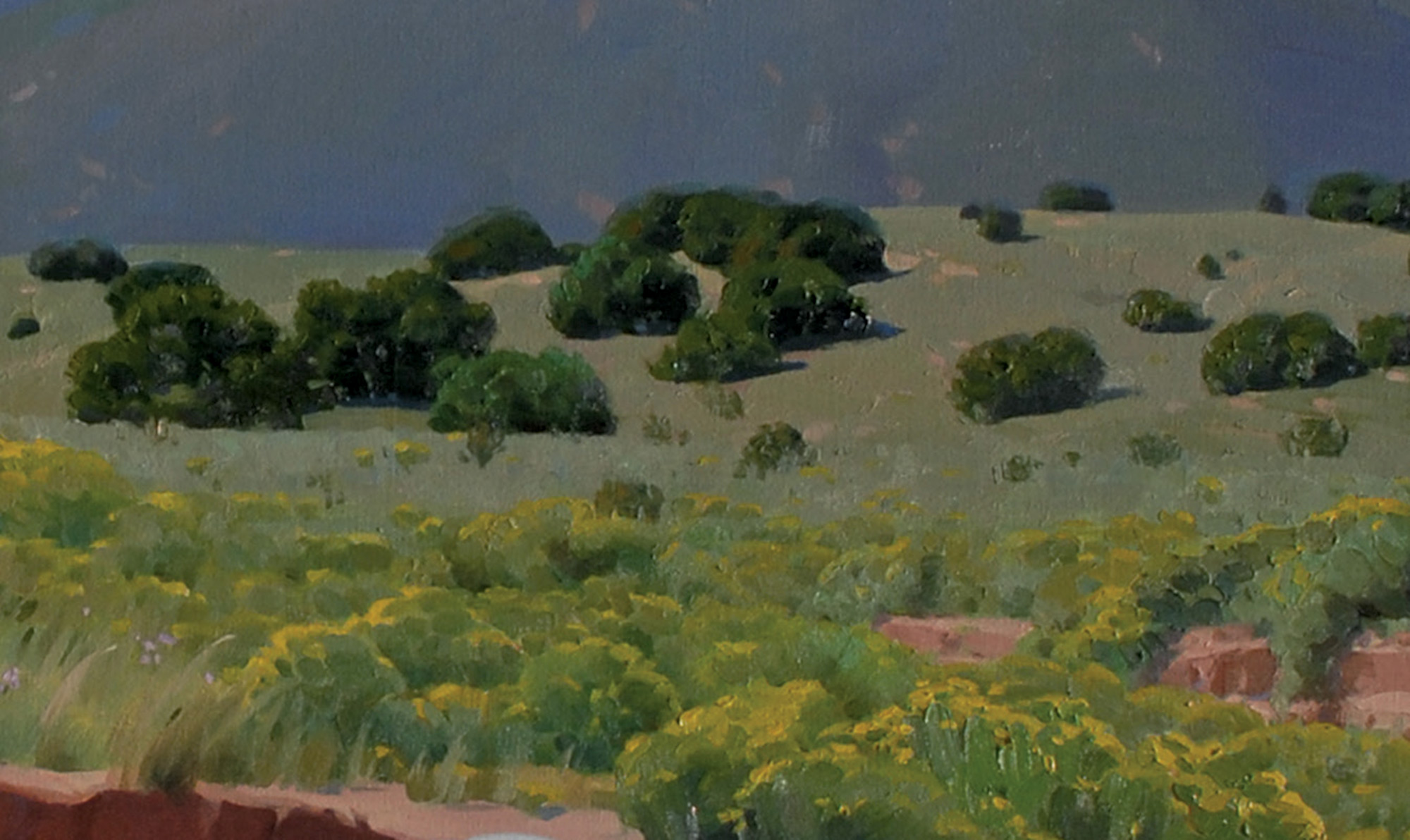 Detail from painting by Kang Cho, "Summer Breeze"
14 May

The Prix de West Creating New Traditions

IF THERE IS ONE COMMONALITY among Prix de West artists, it is that each of their sculptures and paintings tells a story that deepens and enriches the tradition of Western art. Some of these are historical in nature, others record vignettes of daily life, while many of the most touching are simply told by capturing the beauty of the natural world. It is the promise of seeing these stories brought to life through the eyes of more than 100 of the country's most talented artists that draws art enthusiasts from across the nation to the National Cowboy & Western Heritage Museum in Oklahoma City during the first weekend of June.

As with any living entity, the Prix de West has changed and matured throughout the past 45 years. It began under the auspices of the National Academy of Western Art (NAWA), an organization with a two-fold purpose: to preserve the tradition of high-quality Western art, and to support promising artists by introducing their work to the public. Guided by this mission, the 23 original members of NAWA, which included legendary painters such as Robert Lougheed, Tom Lovell, Donald Teague, Wilson Hurley and Bettina Steinke, launched their inaugural juried exhibition in June 1973.

Christened the "National Academy of Western Art Annual Exhibition," the show's unique format featured workshops and prizes for the best works in the categories of oils, watercolor, drawing and sculpture. The most coveted of these was the Purchase Award. Chosen during the exhibition weekend, the winning piece was purchased by the museum, known then as The Cowboy Hall of Fame and Western Heritage Center, for addition to its permanent collection.

From these simple beginnings, the Prix de West has built a reputation among artists and collectors alike as the nation's premier Western invitational exhibition. Last year's opening weekend saw some 700 visitors and achieved more than $2.6 million in sales, according to the museum.

Once designated a Prix de West artist, participation in the exhibition became a career tradition for renowned artists such as sculptor Richard Greeves and landscapist Walt Gonske, who have shown work in 41 out of the 45 exhibitions since 1973. Following at a close second is sculptor Kent Ullberg, with participation spanning 39 years.

Looking back on some of the changes that have taken place over the years, Gonske reflects, "In the beginning, shows often included fewer than 40 artists; I believe the number is over 100 this year. Also, you had to belong to NAWA in order to exhibit your work, and it was NAWA members who chose the work to be exhibited." Additional changes occurred when the National Academy of Western Art was reorganized in the early 1990s, with the most significant of changes happening in 1995 when the exhibition was officially renamed the Prix de West.

Exhibition Curator Susan Patterson emphasizes that the decision as to which artists will be invited rests not with a single individual but rather with a selection committee comprised of knowledgeable collectors who in turn consult with museum curators and other artists. "Immediately after the closing of the June weekend, the museum staff and I will begin preparation for next year's exhibition," Patterson says. The dedicated staffers evaluate opening weekend events and begin to estimate available wall space to determine the number of artists to invite in 2018.

"We look for painters and sculptors with solid reputations whose work represents the best of the best in Western art," Patterson says. "Although the subject matter and mediums are as diverse as the participating artists, one of the primary criteria is that works must depict subject matter west of the Mississippi River. This includes the 17 western states, Hawaii, Alaska, southern Canada and northern Mexico."

While the majority of artists who receive invitations are repeats, a small number of new names may be added to the roster each year. In 2017, four artists will be showing work for the first time, including Prix de West artist Mian Situ and guest artists Kang Cho, Bonnie Marris and Poteet Victory. Patterson explains the difference in designations: "Those who have the status of 'Prix de West artists' will typically be invited back in ensuing years if they wish to show their work. Those listed as guests may also be invited to return but the invitation is not automatic."

Most work accepted for the show exudes a more traditional interpretation of the West, however, colorful imagery such as that created by Howard Post and Logan Maxwell Hagege is also gaining favor with younger collectors. Guest artist Poteet Victory, the show's first abstract invitee, takes this trend to an even higher level. While he is best known for abstract compositions and his highly popular Abbreviated Portraits, Victory says the two paintings he has created for the Prix de West are landscapes, and each is painted on a 4-by-4-foot canvas. "In one, a huge red sky will be dominant — red is a real show stopper — while the other will have a lot of yellow," he says. "Whether I am painting abstracts or landscapes, my imagery is all about color and composition. Even though these canvases are a bit abstract in nature, they remain within the comfort zone of most viewers because we are all familiar with landscapes."

When asked if he feels that the definition of Western art is expanding, Victory replied, "Yes, I do. All art has a natural progression to it, and I think the museum invited me to show my work this year as a way to take the exhibition to another level. My paintings will be breaking new territory, and I am honored to be the one chosen to do it. There is a huge market out there for the more colorful interpretation of the West, in addition to traditional realism."

New Mexico artist, David A. Leffel, who first showed his work at the Prix de West in 1980, is another artist who believes that pushing the envelope has contributed to keeping the exhibition relevant year after year. Leffel is best known for masterful portraits and still-life compositions that echo the past, especially those of the 17th-century Dutch masters. Four years ago, however, the artist added to his already extensive oeuvre by painting the Taos American Indians who reside near his home in El Prado, New Mexico. This expansion in subject matter garnered him the 2016 Prix de West Purchase Award for Jonathan Warm Day Coming, which depicted an elder and storyteller from the nearby pueblo.

The idea for the award-winning oil germinated when a crew came to film a documentary on Leffel's life, and they wanted to show the artist working at his easel.

"I had always wanted to do a painting of my friend, Jonathan, so I asked him to pose for me. Agreeing to do so, he wrapped a hand-woven blanket around his shoulders, a gesture which suddenly turned him into a very regal and imposing figure," Leffel says. "It was becoming a Prix de West artist that really launched my career and represented a turning point in my life as an artist; winning the 2016 Prix de West Purchase Award serves as a bookend in my life story."

Like Leffel, guest artist Bonnie Marris feels that exhibiting paintings in the Prix de West will be a career-changing experience. "There is nothing more gratifying and humbling than to be invited, because it means you are showing your work with the best of the best."

As a lifetime observer of wildlife, Marris has built a reputation for depicting animals that literally step off her canvas to greet the viewer. "Each animal I paint has a personality of its own, and that is what I want to capture," she says. The two pieces Marris has entered in the show — The Takeaway, a close-up of two large grizzlies fighting over a fish, and The Edge of Twilight, a reclining wolf who at dawn's twilight has found shelter from the day's heat — are indicative of the artist's masterful use of color and light.

As one of fewer than a dozen female artists exhibiting work in the 2017 Prix de West, the invitation has been doubly meaningful to Marris. "While I would like to see more women invited to the show, the first consideration is that the work must be very strong and speak for itself."

The freshness and longevity of the Prix de West can also be explained by the organization's willingness to accept evolution in its own format. Differing a bit from the past, the gala preview reception and awards dinner are now held on Friday night, while Saturday evening features cocktails and hors d'oeuvres in the gallery, followed by the fixed-price sale and live auction. The museum also announced that daytime lectures and seminars on Friday and Saturday will be free to the public with paid admission to the museum.

The opportunity to meet artists up close and personal, combined with the ability to view and purchase their favorites from among some 300 works of art, makes the 45th Prix de West an anticipated weekend experience. And, as an additional perk, visitors are certain to come away with the feeling that they have played a significant role in creating tomorrow's traditions.
---
Editor's Note: The 45th annual Prix de West Invitational Art Exhibition & Sale takes place June 9 and 10 at the National Cowboy & Western Heritage Museum in Oklahoma City, Oklahoma. Works will remain on display through August 6, 2017.