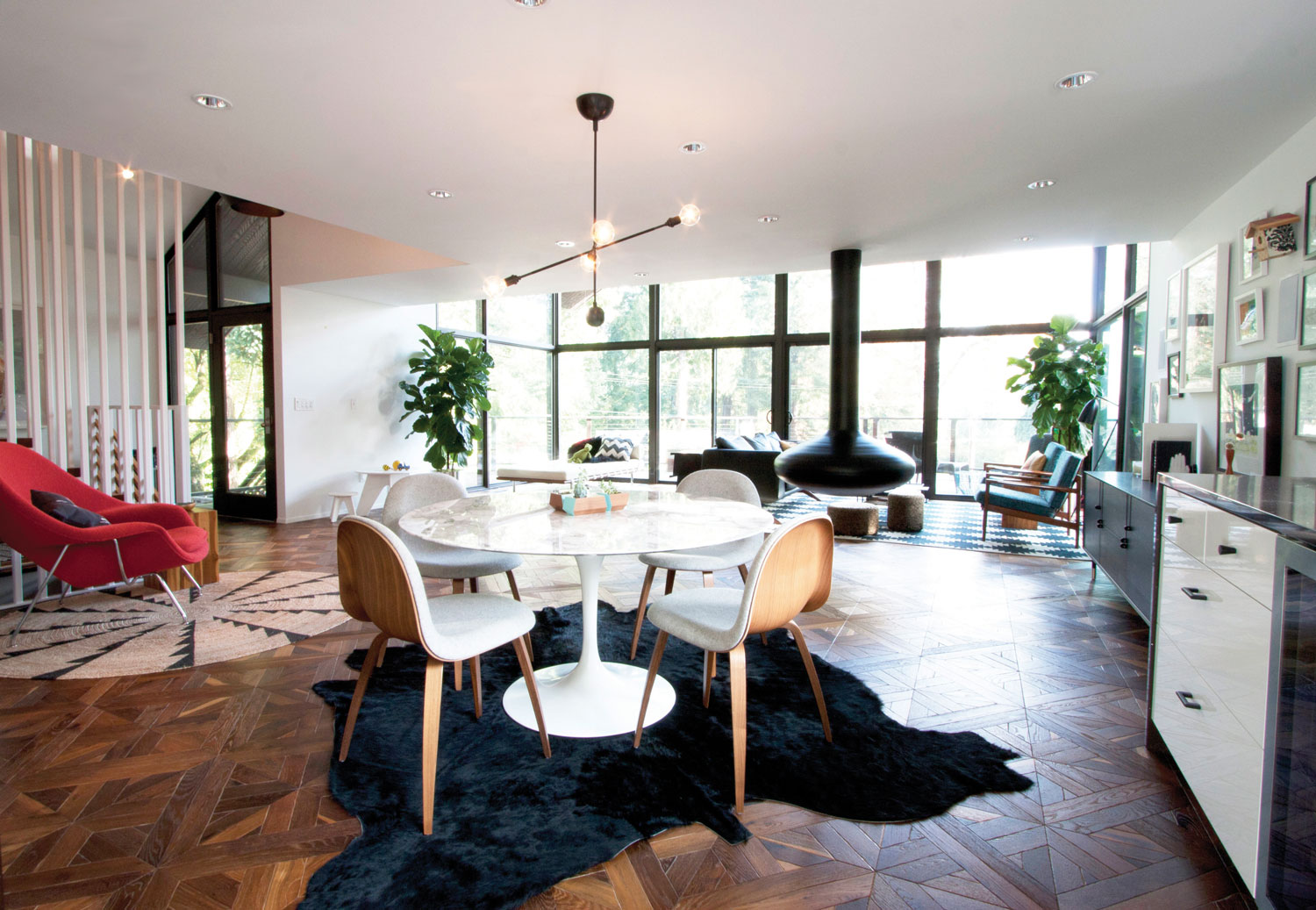 An Apparatus fixture illuminates an open living space; the Eero Saarinen table is surrounded by Gubi chairs.
15 Jan

Designing the West: Fresh Perspective

When designers Leela Brightenburg and Alissa Pulcrano first met in Portland, Oregon, they realized they had something unique in common. "We were working for another local design firm, and we both kept trying to break all the rules," says Brightenburg, laughing. "Alissa and I developed a real camaraderie and a shared vision for what we thought was interesting."

When the economy tanked in 2008 and both designers were laid off, they decided to join forces. "There just weren't many jobs at that time," says Brightenburg. "We didn't want to sit around and do nothing, so we started our company in Alissa's basement, and grew it little by little. In the beginning, we didn't even know what form it would take." 

The partners had a long brainstorming session to come up with the company name, Bright Designlab. "We wanted it be fresh and timeless, not tied to either of us," says Brightenburg. "We both felt like the word 'bright' represents fresh, new, interesting, and creative, and 'Designlab' came from the idea of trying new things and thinking about design in a different way."

Both designers grew up in creative households. "My mom's an artist, and she painted the ceiling plaid when I was a baby," Pulcrano says. "We definitely had a colorful home. I initially followed the architecture path, and that morphed into wanting to do more adaptive reuse work rather than building new structures." 

Brightenburg's father was a building designer, and she often accompanied him to job sites. "My dad and I built things in his shop," she says. "I was artistic and creative as a kid, and I loved making things. When I grew up, I wanted a career that was both artistic and creative that also had some business structure, so I chose interior design."

The firm's work is about 80 percent residential, with a few select commercial projects each year, such as boutiques or restaurants. The company headquarters in Portland's Pearl District is in a 1910 brick building with big windows. "We wanted to be in a design-forward area," Pulcrano says. "During the recession, we got a good deal on the building. Along with the design studio, we have a little art space called the Bright Box Gallery."

The company has four employees in addition to the two principals. "We've intentionally built the firm so it's not about us as individuals," Brightenburg says. "We encourage everyone to bring their ideas to the table, and we work as a team, supporting each person's creativity."

Unlike some designers, the Bright Designlab team doesn't immediately go to a client's house to start the process. "We begin at our offices and explain how we work," says Brightenburg. "We want to help our clients have perspective on all of the steps and our process for the whole project. Setting expectations in the beginning is an important key to their contentedness." 

The next step is a site visit. "We try to really listen to what the house is saying to us and pay respect to what it's calling out for," says Pulcrano. "We take a lot of cues from the actual space and what's around it. We start collecting imagery to inspire us and the clients. We pay attention to details and how things connect and intersect."

Brightenburg says the team strives for the space to reflect personality in the context of the design and also of the people who will live there. "We approach each project very individually," she says. "Details are very key to what we do. When you get the design details right, you don't notice. When they're wrong, it's very obvious." 

Steve Heard and his wife, Kristyn Falkenstern, worked with the team to reimagine their 1950s, mid-century ranch house in Portland. "We relocated here from Europe, so we didn't have a lot of stuff," Heard says. "We did a good job of decorating but didn't really make a home for ourselves. Our friends said, 'It looks like you live in a museum.' After five years here, we decided to make a change. 

"At first, we were just planning to buy a new rug and couch," he continues. "Then we thought maybe we should hire someone to help us. After a conversation with Leela, she came over and asked a lot of in-depth questions about how we interacted with our home, the spaces, and each other; we didn't just get a design, we got therapy! We ended up doing a full remodel of the living room, bedroom, and dining room. Their team stayed true to our aesthetic, and now the house is clean, comfortable, and homey."

Pulcrano says most of the firm's work is remodels. "If we do a home from the ground up, it's usually with an architectural team," she says. "We're conscious of the materials we use, and try to source responsibly and not waste." 

"Timelessness and durability are always underlying principles in how we approach sustainability," Brightenburg adds. "We don't want to use materials that our clients will want to replace in five or 10 years. We want our designs to defy trends." 

Odds are, the team will also break a few rules in the process.