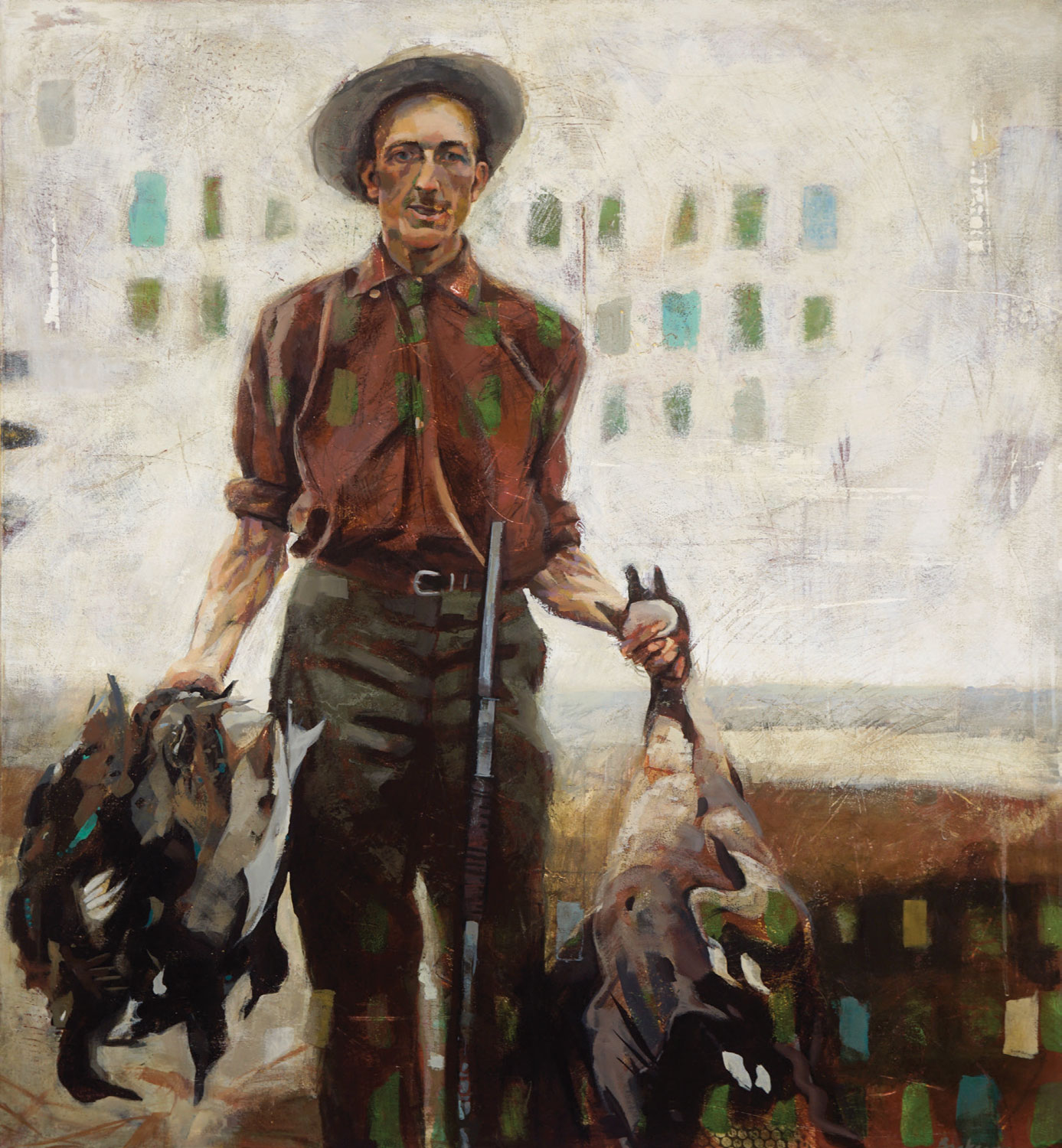 "Game Load" | Mixed Media on Canvas | 48 x 44 inches
11 Jan

Illuminations: Amy Brakeman Livezey

Mixed-media artist Amy Brakeman Livezey combines found objects with contemporary abstracted landscapes. Livezey picks up bits of detritus from the past, incorporating them like mementos into her paintings; places where traces of time tie an historical past with a present sense of things lost and things discovered.

"I've just started using mixed media in the last couple of years," she says. "In 2017, I was able to focus on my art entirely. I left my job and decided to take the plunge and see what I could make of things. That was a big leap of faith. It was around that time that I started working in acrylics and mixed media."

The ability of acrylic paint to dry quickly enables Livezey to keep going hour after hour and day after day. It also lends itself to collage. She glues items such as old ticket stubs onto her pieces, which in turn introduces new patterns.

"Those kinds of variations help to surprise me along the way," she says. "I do love surprising myself, which brings the contemporary point of view into the image. It also gives me new things to respond to, which may mean digging down into the paint, or into my collection of antique sheet music, responding and honing in on what the elements bring to the painting."

Livezey's pieces dance between working abstractly and bringing a historical figure into the
composition. Part of her process is researching old photographs at the Montana Historical Society, the Buffalo Bill Center of the West, and the University of Wyoming.

"I have several images I know I want to work into my paintings," she says. "I pair the images with an abstract background to start. Then I go back and forth, responding to things, how the figure fits into the composition. I just love those figures; they're historical and inspirational. Normally, I paint them into the piece, but sometimes I'll use an image transfer and include them that way."

Another aspect of her work is the texture. She uses pieces of paper that are marbled or aged, and layers paint and other found bits over those to produce something that speaks of the past through a strata of time.

"I have a collection of tidbits I pick up at estate sales like train schedules, ration tickets, odds and ends I can plug in; it's almost like adding artifacts to the conversation," she says. "By working with these materials, I get to let my intuition guide me. I love the freedom of communicating in that way. We learn from history, and the abstract part of my painting honors the complexity of that process."

By lingering with historical figures, especially women, Livezey explores their past through a modern lens. Her use of paint, with bold colors and reductive landscapes, speaks to the present, so in the end, her work weaves the warp and weft of our collective lineage.

"The women are interesting because their lives seem to be more secret," she says. "I'm more curious about their day-to-day lives, and I want to learn from them — not that I'm totally focused on the past. I do care about the present and the future."

Livezey's work is represented by Art Spirit Gallery in Coeur d'Alene, Idaho, and Radius Gallery in Missoula, Montana.