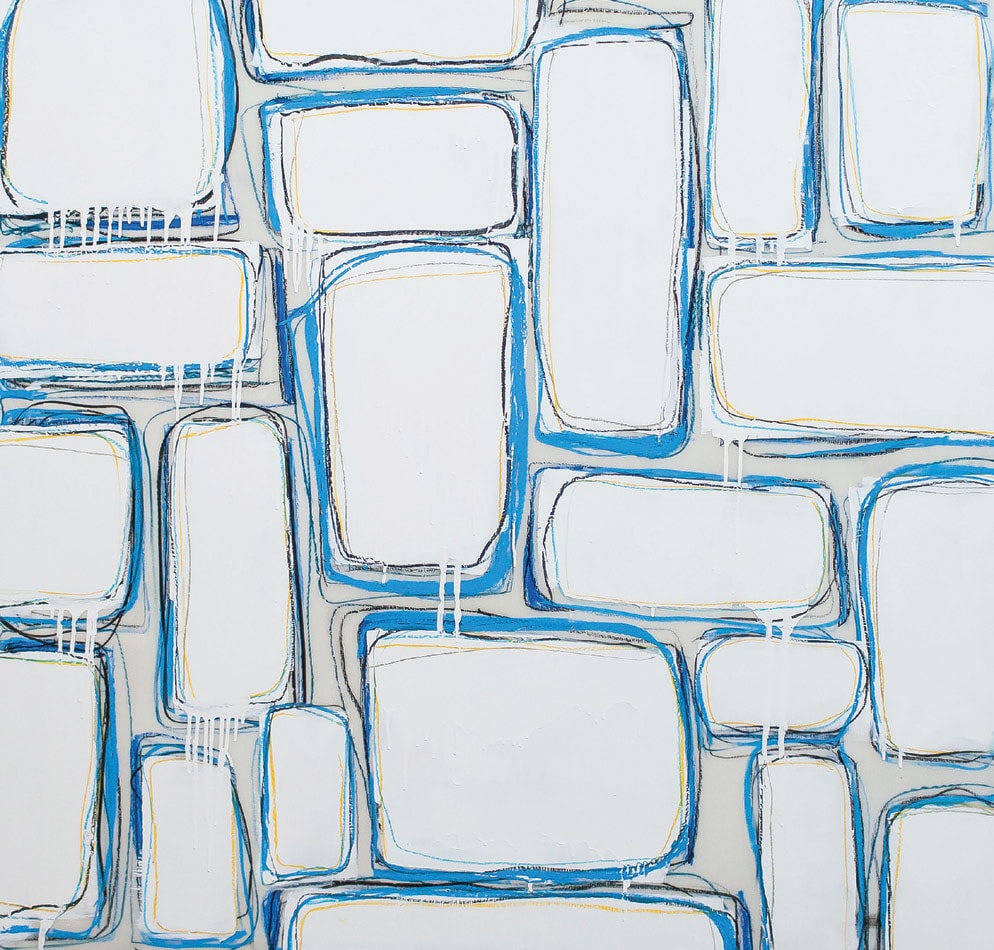 Azul Acrylic, Plaster, and Resin | 48 x 48 inches Courtesy of The Passdoor, Sonoma, California
11 Jan

Illuminations: Tricia Rissmann

Full of unexpected resonance, depth, and a sense of harmony, Tricia Rissmann employs color and texture to extoll the power of abstract form and composition. 

"I don't usually have anything mapped out," she says. "I just get in there and start creating and working for a balance on the canvas with color; I'm kind of free falling in a way." For Rissmann, the thrill of a piece comes from an intuitive process where her paints and brushes, putty, chalk, and whatever other media she's using stand available to her so she can then let loose. Over the course of a few days, she allows the forms and colors to develop.

"I feel like I'm being directed as to where I need to go," she says. "Once things start to appear, I can evaluate where it's going. It's like planting a garden, knowing what goes where, maybe a little more here or a little less there. I then stand back from the canvas to get a feeling for it. That keeps it exciting for me." 

Prior to painting full time, Rissmann's career was in interior design. This way of looking at a space enables her to visualize, not only her work on the canvas, but also how the finished piece might live in an architectural environment.

"I've always been drawn to architecture," she says. "And I love spaces. I'm an artist who can visualize my piece in a space. That's why my art sells to designers who are collectors, because when I look at a painting, I'm thinking about it on a wall." 

But it's not just the space that inspires her, it's a whole emotional state of being. It may come out in a series or it may be a single thematic piece. "It's just going in and feeling my work and being personal with it. I don't hold back; I take everything I'm feeling at that moment and apply it on the canvas." She feels that her process can be compared with a musician who writes a song. "They go through something, and that's what they write about. A lot of my friends are musicians, so it's not a surprise. I just get inspired to do certain things."

Rissmann finds herself inspired by the color of all sorts of objects: rusted metal from a barn, an old truck, a maple tree that's losing its leaves, or the unusual shade of chocolate tulips. Once the piece is done, she applies a resin base, which is then adhered to the painting using a blowtorch. The resin softens and then hardens, creating a glossy, marble-like finish, giving the painting a sculptural quality.

Rissmann is represented by the Hohmann Gallery in Palm Desert, California, and The Passdoor in Sonoma, California.