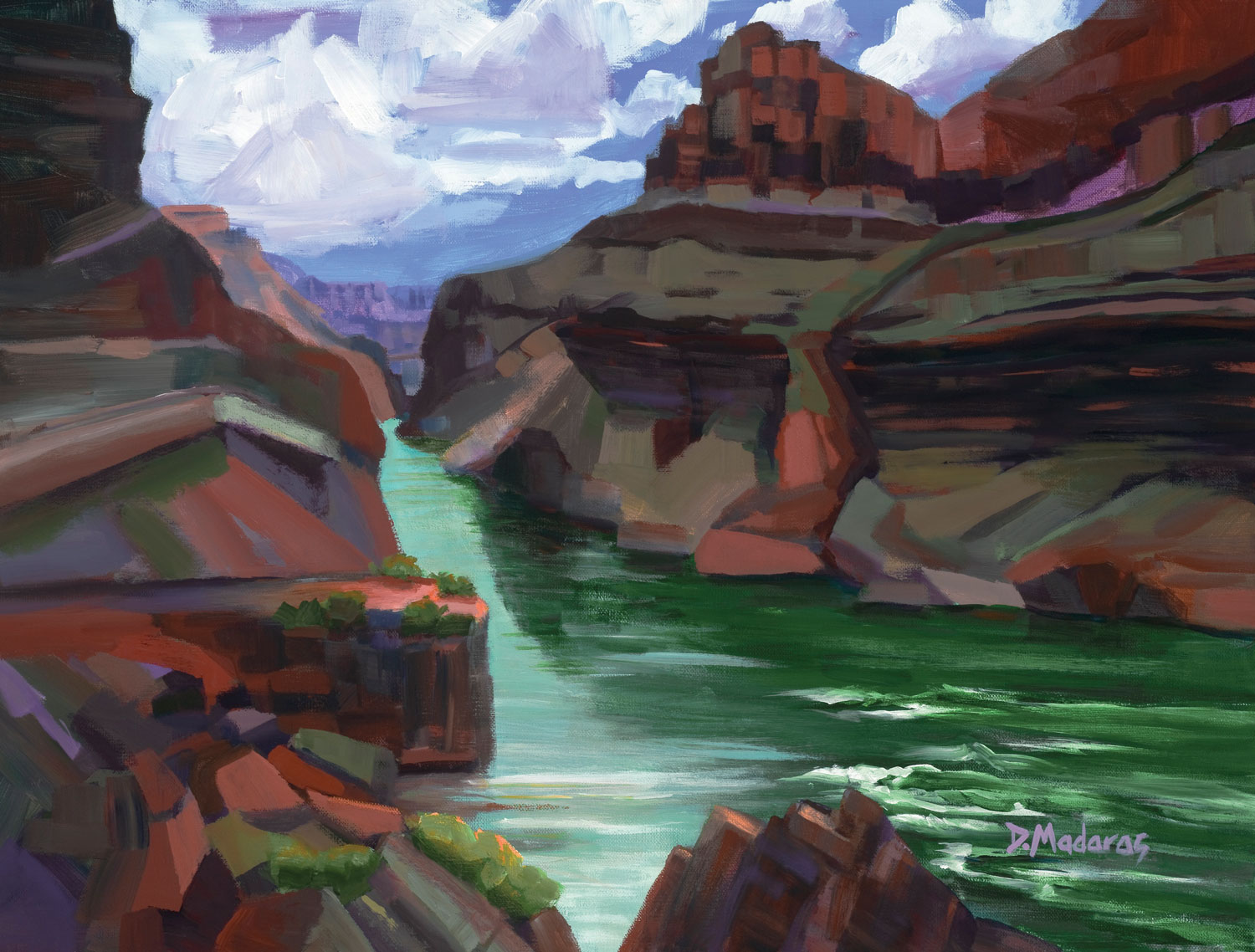 "Trip Down the Grand Canyon" | Acrylic | 18 x 24 inches | 2017
14 Jan

Painting Arizona: Diana Madaras

ARTIST DIANA MADARAS IS PURSUING TWO OF HER LIFE PASSIONS: philanthropy and painting. As a philanthropist, she has donated more than $500,000 in artworks to  more than 100 charities. She has also raised more than $200,000 through the Art for Animals Foundation, a charity she founded in 1999 to help abused and orphaned animals. In fact, Madaras Gallery, her gallery in Tucson, Arizona, which is celebrating its 20th anniversary in 2019, was founded on the ideal of philanthropy. 

As an artist, Madras paints in acrylic and watercolor. She is recognized for her soulful depictions of desert animals and colorful scenes of the Sonoran Desert. At her easel in the foothills of the Santa Catalina Mountains, Madaras occasionally steps back to assess her work. During these moments, her attention is often drawn to the outdoors. "I might see a bobcat in my yard, or a coyote or a roadrunner," she says. From her north-facing window, with the full range of the Santa Catalinas in view, the mountains often become a muse for her work. 

To the delight of many, she has painted her subjects with passion and vividness of color and character. She juxtaposes one color alongside another, increasing or decreasing vibrancy to create intensity. She is known as a colorist and emphasizes that she has been one from the beginning of her artistic career.

"While my art has evolved, I remain a colorist. In fact, 'color and joy' is our mantra at the gallery. It is written on the outside wall of the gallery with a painting on aluminum below it," she says.

Always an innovator, the paintings and giclées on aluminum are Madaras' answer to requests for outdoor works that will stand up to the strong desert sunlight. "I discovered a coating that protects them, so we can guarantee them for up to three years," she says. "The secret is the same coating that is used on stop signs — it works so well."

Madaras and her gallery have big plans to celebrate 20 years in business. She will unveil two series in 2019. The first, The Spirit Animals, includes 20 watercolor paintings inspired by the powerful work of artist John Nieto, on display through March; a portion of the proceeds from this event will benefit Art for Animals. The second series will be unveiled during the All Artists Show, and includes her paintings of saguaros, each rendered in the style of a famous artist, as if they'd visited the Sonoran Desert. Taking place on March 10, from 11 a.m. to 2 p.m., the unveiling will include Madaras' Saguaro Van Gogh.

Perhaps one of the most innovative ways Madaras is celebrating is through the creation of a multi-media presentation of her work, set to an original score written by Tucson songwriter Amber Norgaard, and produced with the help of filmmaker Sandra Levine, Madaras' sister. The January 2019 release is sure to delight the many admirers of Madaras' work.