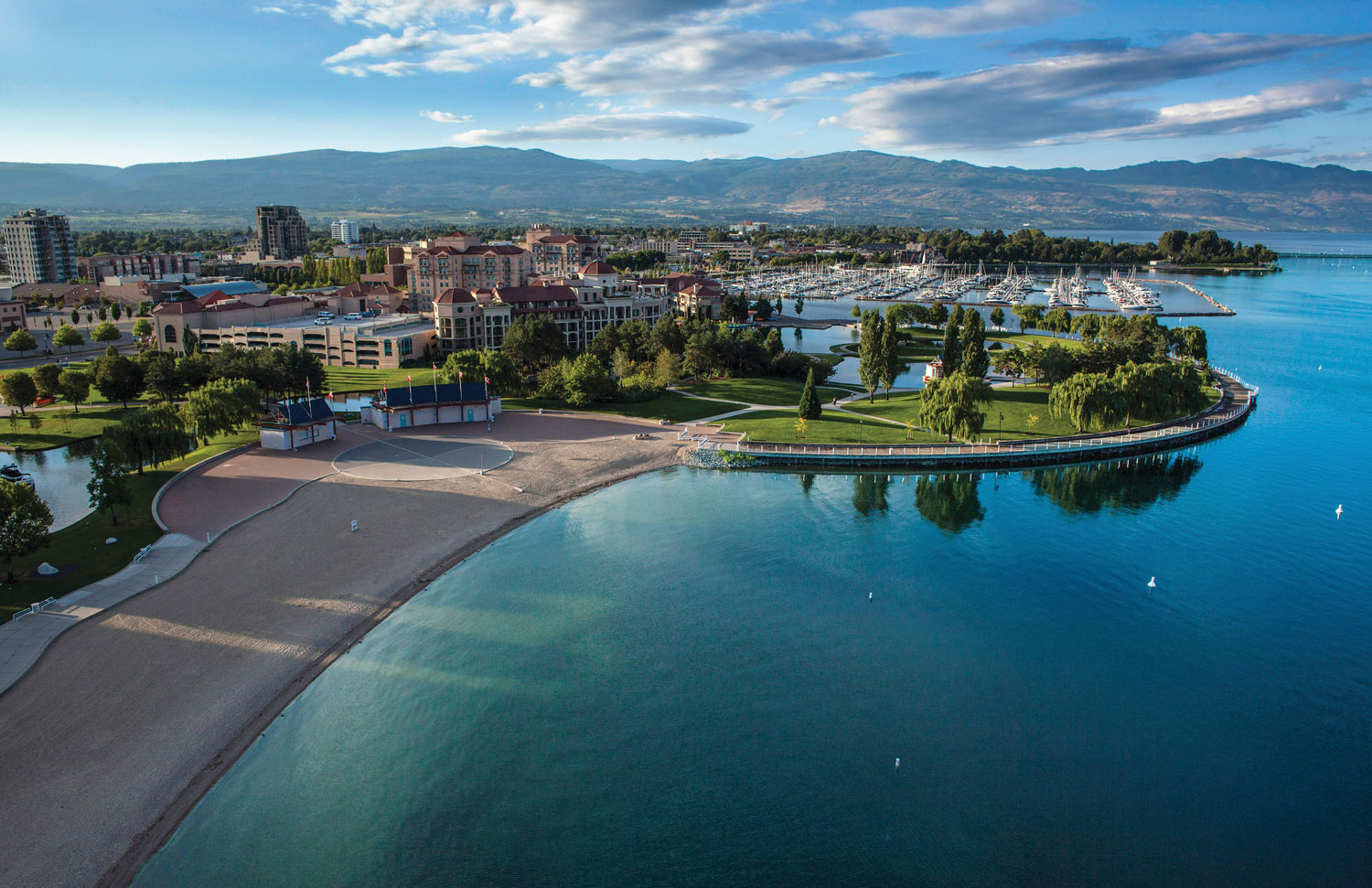 Kelowna sits on the shore of the deep, glacier-carved, 84-mile-long Okanagan Lake in central British Columbia.
15 Jan

Wanderings: Kelowna, British Columbia

MY FRIENDS WHO WERE HOSTING MY VISIT HAD TO SHOW ME THE DOLPHINS, of course. We'd just taken a lovely stroll along the downtown Kelowna boardwalk and Waterfront Park, feeling the soft breeze off Okanagan Lake and stopping to watch ducks and turtles at Rotary Marsh. We'd crossed a public beach and passed a family of tiny-headed, big-bodied reclining bronze figures by internationally acclaimed Dutch-born sculptor Geert Maas, a longtime Kelowna resident.

We stepped into the bright, open expanse of the park entrance, across the street from Prospera Place arena, where later we'd enjoy a hockey game. And there, beside a sparkling man-made cove, were the dolphins. The monumental, locally iconic, white fiberglass sculpture of dolphins frolicking in a fountain is officially titled Rhapsody. It's one of several in Kelowna by Scottish-born artist Robert Dow Reid, who spent time on North Atlantic whaling vessels in his youth and has made this city his home since 1964.

Maas and Reid are among the many artists and art lovers attracted to this small city, population 122,000, on the eastern shore of central British Columbia's Okanagan Lake. They are drawn by the region's spectacular beauty and temperate climate, an anomaly for its latitude. Mild winters and warm, pleasant summers have made the Okanagan Valley a rich agricultural area known for orchards, vineyards, and farms. Today, that agricultural heritage translates into dozens of wineries, many perched along the foothills overlooking the deep, 84-mile-long lake.

One of the best ways to get a visual overview of Kelowna is to make the short, winding drive up Knox Mountain at the north end of town. From the gazebo on top, look south over the city and lake; or north up the lake, where steep-hilled forests nearly descend to the scalloped shoreline. Later, you can experience this pine-scented natural beauty up close by driving roads that follow the shore around much of the lake, stopping at small towns and regional or provincial parks. 

Ages after glaciers gouged deep into this land, receded, and left Okanagan Lake behind, the valley's earliest inhabitants migrated from the north, some 6,000 years ago. Today the creations of First Nations artists are on view in many Kelowna galleries and at the Kelowna Visitor Centre. Across the lake in West Kelowna, accessible by bridge, the Sncewips Heritage Museum preserves and presents the Okanagan/Sqilxw/Syilx culture. Among Canada's most acclaimed First Nations artists is the late, internationally renowned painter Daphne Odjig, of Odawa, Potawatomi, and English descent. Odjig was a key figure in the influential Indian Group of Seven (officially the Professional Native Indian Artists Incorporation), established in 1973. She spent her later years in Kelowna and continued to make art until shortly before her death in 2016, at age 97.

Odjig's work is represented by Hambleton Galleries, one of the city's oldest galleries. Hambleton owner Joshua Peters notes that local and regional art, along with work by nationally known Canadian creatives, is a central focus of fine art in Kelowna. "We have a huge amount of talent here. Even artists who don't live here like to come paint Okanagan scenes," Peters says. 

Not far from Hambleton Galleries in the Cultural District, Kelowna Art Gallery is the city's largest commercial gallery, housing four distinct exhibition spaces. From there, it's an easy walk to the Rotary Centre for the Arts. With multiple exhibition halls and art studios, some of which are open to visitors, the center also presents year-round performances of music, theater, and dance. 

For more artistic inspiration, head south of downtown a few miles to Pandosy Village, an emerging gallery, dining, and shopping district. Pandosy Village is home to Tutt Street Gallery and Gallery 421, two of the city's other top venues for local and regional art. Also nearby is Sopa Fine Arts, known for exceptional contemporary art. 

Although Kelowna is a relatively young city, incorporated in 1905 when the population was 600, attractive and interesting architectural reminders of its past are visible in such structures as the Laurel Packinghouse. Built in 1917 with bricks fired from Knox Mountain clay, the downtown building recalls the days when Kelowna was filled with fruit warehouses and packinghouses, bustling with farm-related business. A glimpse of that activity, and how it has evolved, is preserved in the Okanagan Wine and Orchard Museum, located in Laurel Packinghouse. A block away is the BNA Brewing Co. & Eatery, named for the building's former incarnation as the British North American Tobacco Company, a short-lived cigar factory that opened in 1913. These days, it's a popular craft brewpub and bowling alley.

A story from further back in Kelowna's history reveals the origin of the city's name. In 1859, Father Charles Pandosy and two other Oblate missionaries established the Okanagan Valley's first European settlement at the site of present-day Kelowna. One day some years later, a group of indigenous men was passing by a soddie shelter built into the ground. Just as they did, a fur-clad, heavily whiskered settler emerged. Startled and amused, the hunters exclaimed in their native language, "Brown bear!" Later, when town planners were looking for a name for their settlement, they chose Kelowna, the Okanagan word for grizzly bear.

That history is commemorated by many grizzly bear sculptures and other bruin-related artworks around the area, most notably Bear, a monumental public sculpture of meshlike blue steel by artist Brower Hatcher. The massive bear, in Stuart Park on the downtown waterfront, stands atop a tall base resembling a boat, in homage to the only form of transportation across the lake before railroads, roads, and bridges. Some of those water travelers may have spotted the Okanagan's own mythical, elusive (but supposedly friendly) lake monster, called Ogopogo or Naitaka, represented in other public sculptures.

At the turn of the 20th century, a section of railway was built through steep-walled Myra Canyon, not far from Kelowna. Today the Myra Canyon Kettle Valley Trail is open to hike or bike. With two tunnels and 18 trestle bridges retrofitted with safety railings and smooth wooden surfaces, the trailway towers breathtakingly over the canyon. Other outdoor activities are aimed at varied interests and levels of physical ability, from leisurely lakeside boardwalk strolls to water sports, yacht tours, golf courses, skiing, and agritourism. And of course, there's the joy of warm, sandy beaches.

If you're in the mood for sipping wine, the choices are almost endless, with more than 40 wineries that are easy to reach by scenic drives on both sides of the lake. Many of these display fine art and also represent some of the area's most striking architecture. Mission Hill Family Estate overlooks the lake in West Kelowna. The award-winning winery is known for its 12-story bell tower, which houses four bronze bells handcrafted in France. The cellar at Summerhill Pyramid Winery sits beneath a four-story-high pyramid, while 50th Parallel Estate Winery offers the opposite experience, with its low-profile, highly contemporary design in concrete, metal, glass, and wood. Along with tasting rooms, many of the wineries include on-site restaurants.

Unsurprisingly, farm to table is a central theme in Kelowna's food scene. Highly recommended restaurants include Waterfront Wines (not quite on the water but very close) and RauDZ Regional Table. 

While dining almost anywhere in Kelowna involves the opportunity to enjoy world-class local wines, many from organic and biodynamically grown fruit, the area is also becoming known for craft beer and cider. At the city's northern edge, a former industrial district has morphed into a haven for craft breweries, cideries, and distilleries. 

So come to Kelowna hungry. Come ready to play, relax, and take in art and natural beauty. Be prepared to experience a side of Canada you may find delightfully surprising.