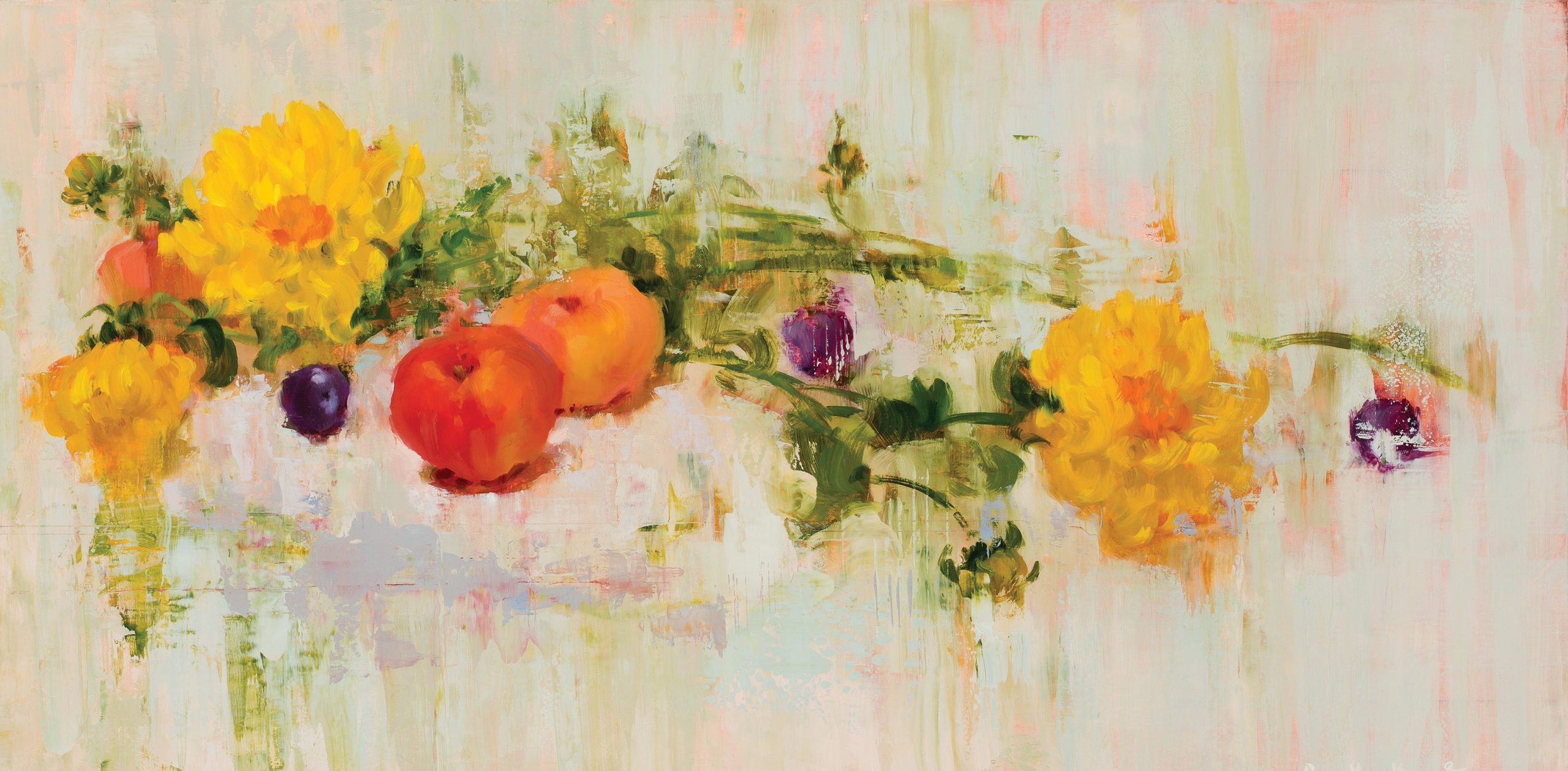 Dahlias and Daydreams | Oil on Panel | 18 x 36 inches | 2021
07 Jan

Artist Spotlight: Leslie Duke

When Leslie Duke was little, she loved her mother's bedtime readings of Burt Dow, Deep-Water Man, a seafaring tale written and illustrated by Robert McCloskey, best known for Make Way for Ducklings and Blueberries for Sal. "Now I read it to my 4-year-old son Anders," she says. "The colors are just so bright, vivid, and fun, with a lot of green, yellow, pink, and a little blue; my favorite combination."

Today, collectors regarding Duke's sophisticated still lifes may easily imagine how formative that experience was. Sure, her paintings — she describes them as "deconstructed realism" — display a combination of representational accuracy, informal composition, and kinetic texture far removed from most children's illustrations. Yet, like that storytelling master, her works possess a bright airiness that opens viewers' eyes to the world's wonders.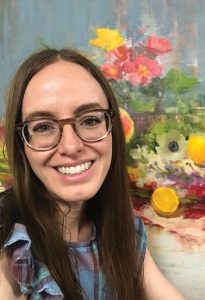 Not that Duke needed any early role models. "I always wanted to draw and was attracted to and understood color," she says, adding that she "loved crayons and pencils, and drew a lot of things from life" around her suburban home outside of Salt Lake City, Utah. Art helped her cope with anxiety and shyness in her teens, and for five years she attended weekly watercolor classes taught by respected Utah painter Harold "Pete" Peterson. "I gained a lot of confidence there and became aware of art's power as a meditative practice," she says. One of her paintings was selected for Utah's annual statewide high school art show.
Duke studied illustration at Brigham Young University, where she "fell in love with the richness I was able to create with oil paint." Pulled in two directions, she both interned with an illustrator in Manhattan — spending spare hours in museums studying painters like John Singer Sargent and Anders Zorn — and apprenticed with renowned Utah realist Bill Whitaker. In spring 2012, while working as an illustrator and three months married to musician Brandon Kitterman, Duke was invited by Whitaker to paint with him for a month in Bruges, Belgium. When she returned, she was well on track to painting full time.
The joy Duke now finds through her art radiates in her latest work. Consider Dahlias and Daydreams, painted last summer. On a shopping trip to Trader Joe's, her son "picked out the dahlias and peaches. I added the plums, a complementary color." Back in her studio, she composed a casual arrangement that looked like "it happened to land that way, a moment of beauty." Then, on a panel she'd first washed in Venetian red for its warm undertones, she blocked in the composition, "establishing a visual rhythm" while coaxing the images into greater, yet still "very loose and organic" detail. Duke also scraped and smeared the paint with a palette knife and squeegee, adding energy while subtly grounding the elements.
Recently, Duke has been bringing that same approach to figurative subjects, which she'll debut in a solo show in Boston this autumn. Right now, however, she's re-celebrating an earlier success as one of 14 alumni featured in a special exhibition alongside the 50th annual Utah All-State High School Art Show.
Duke's work will appear in From Student to Studio through July 20 at the Springville Museum of Art in Springville, Utah. She is represented by Meyer Gallery in Park City, Utah; 15th Street Gallery in Salt Lake City, Utah; InSight Gallery in Fredericksburg, Texas; Peterson Contemporary Art in Bend, Oregon; and Sloane Merrill Gallery in Boston, Massachusetts.