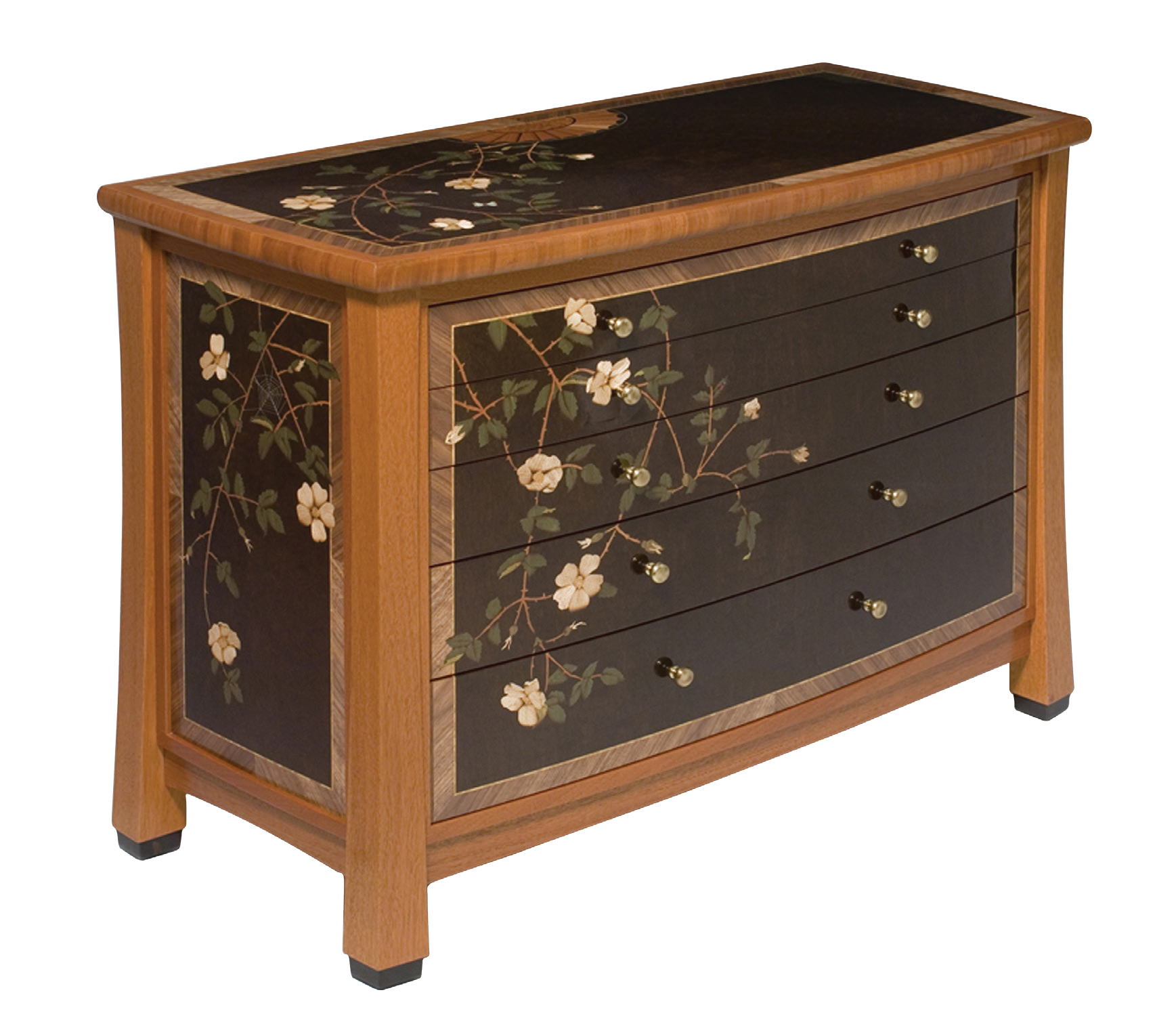 07 Jan

Artist Spotlight: Paul Schürch

Paul Schürch "paints" pictures and creates other artful objects using an unexpected medium: thin wood veneers, designed, hand-cut, and applied to sturdy wooden surfaces in realistic images of miraculously radiant beauty. To achieve such results, he draws on skills gained through a lifetime of diligent training in an impressive range of traditional crafts.

Born in Los Angeles in 1955 and raised in Santa Barbara, he originally dreamed of becoming a concert pianist. When Schürch was 15, however, his parents moved with him and his four siblings to his father's native Switzerland. The teenager, always good with his hands, decided after high school to learn piano building, and a year later transitioned to an apprenticeship as a church organ builder, a complex task involving "12 separate but interrelated trades," he notes. "After five years, I'd barely scratched the surface." Back in California in his mid-20s, he started a furniture-building studio before deciding a year and a half later that "I needed to take my journey."

Over the next several years, he built furniture in New Zealand, turned bowls in Japan, carved wood in Egypt, along with other artisanal stops, including Indonesia, Nepal, Egypt and Gibraltar. "And then," he adds, "I decided I needed to learn boat-building to understand how to fare a curve," a skill he pursued for a year at the International Boatbuilding Training College in Lowestoft, England.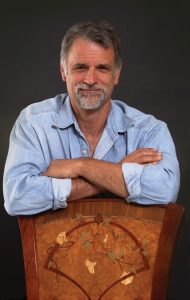 Schürch eventually returned home to Santa Barbara, soon earning a reputation for beautifully designed, impeccably crafted furniture distinguished by artistic marquetry, an art he learned in Italy, which he describes as "the process of making a recognizable image or a pattern out of thin veneers of wood or other natural materials such as shell or stone."
His recent Rose Chest, a custom commission for a mahogany dresser made without metal hardware of any kind, features a floral design of veneers from rare imbuia wood for the background, blossoms of holly, leaves of poplar, elm burl stems, American walnut borders, and — as small surprises to delight discerning eyes — stone inlay accents including a ladybug and a web with spider.
Having now made more than 400 pieces of furniture, in recent years Schürch has been seeking new horizons in veneer art. Working with Wesley Johnson, a former apprentice, he produced a series of dresses made from rare veneers like koa and zebra wood just hundredths of an inch thick, applied to silk or bamboo-rayon backings. The resulting garments miraculously weigh no more than 4.5 pounds and as little as just over 1 pound. In his veneer-art painting Night Palm, pieces of koa and island ash, their edges charred in hot sand to suggest moonlit shadows, form the image on a marine-grade plywood panel bowed slightly for structural stability, framed in mahogany and protected by custom gold-plated hardware to protect the corners. More recently, while completing a move to the Hamakua Coast of Hawaii's Big Island, he's ventured into stylized portraiture in wood veneers, set to debut later this year. "It's time," concludes Schürch, "for me to really explore this idea of using wood in art."
See Paul Schurch's work online at veneer-artist.com.