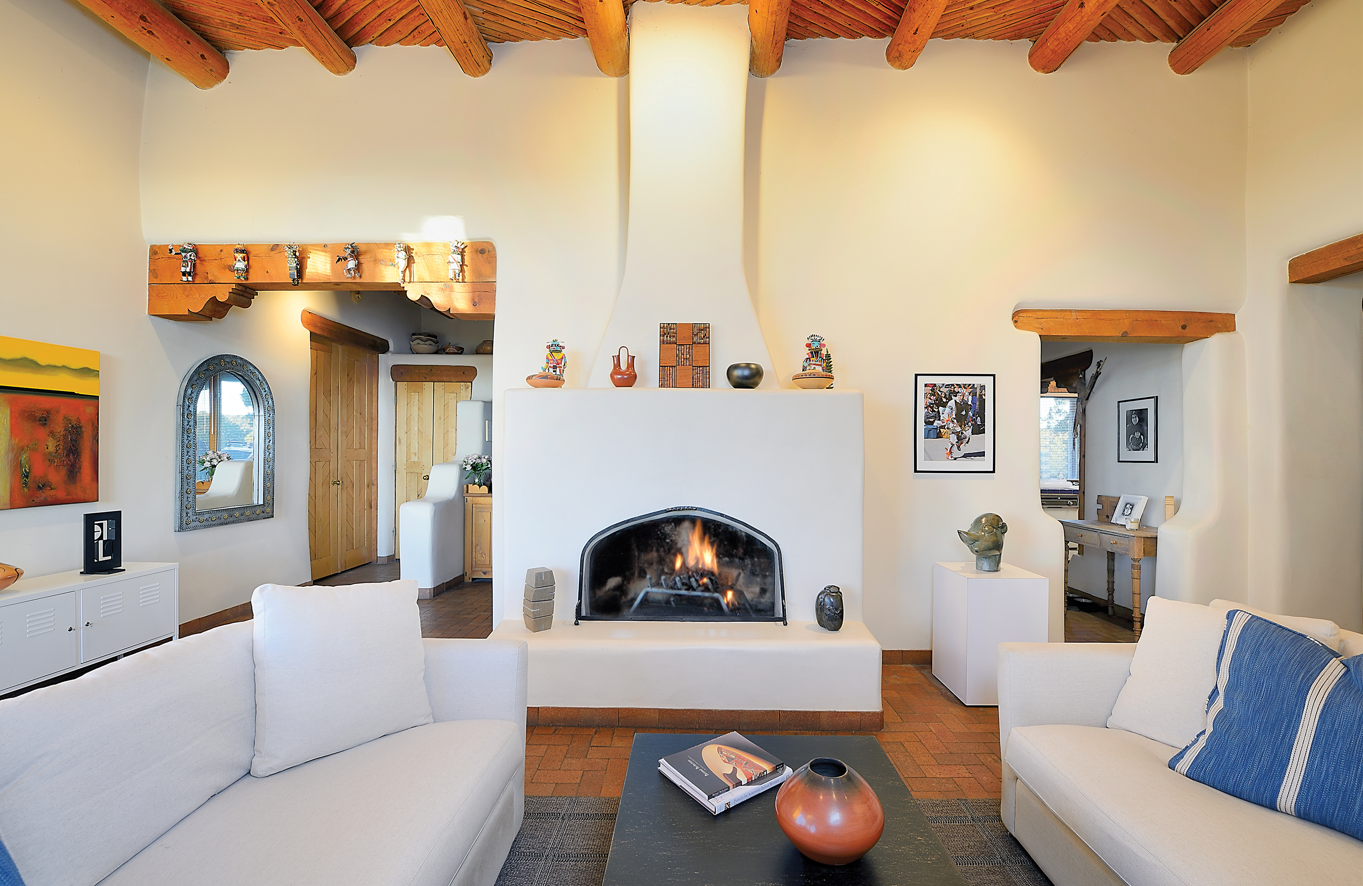 The fireplace in the living room of Frances and Dan Namingha's home in Santa Fe, New Mexico, is perfect for displaying treasures, including Katsinum carvings made by Dan's father and grandfather.
07 Jan

At Home with the Naminghas

Artist Dan Namingha comes from a succession of historically significant artists, and he continues that tradition with his own work. Born and raised in the Hopi village of Polacca, Arizona, located at the base of First Mesa, Dan now lives surrounded by the sky and expansive views in Santa Fe, New Mexico. His mother, Dextra Quotskuyva [1928 – 2019], was a fifth-generation potter and is noted as one of the greatest Hopi potters of the 20th century. Her grandmother, Nampeyo [1857 – 1942] is perhaps the most celebrated Hopi potter; her work was exhibited in Paris as early as 1885 when she was only 28 years old. Almost a century after her debut, Dan followed her lead, showing his paintings at the 1980 Salon d'Automne in Paris' Grand Palais when he was 30. It's from this rich artistic legacy that Dan's creativity was born.

Now, history is witnessing a new generation as Dan's sons carry on the family tradition of artistry, each with his own unique expression. While Dan has gained a worldwide reputation as a celebrated painter and sculptor, Arlo Namingha and Michael Namingha have been busy carving out their own niches. The two sons take additional inspiration from their mother, Frances, from the Ohkay Owingeh Pueblo; and their grandmother, potter Epifania Garcia from the San Juan Pueblo.

The family-owned gallery, Niman Fine Art, is a long-established business in Santa Fe. "We were ready to celebrate our 30th anniversary," says Frances, who is joined in running the gallery by Arlo's wife, Nicole. "But it was at the height of the pandemic, so we'll celebrate another one at the appropriate time."

The word Niman in the Hopi language means "a coming home," an appropriate name as many visitors express reverence when visiting the gallery, and with good reason. "We honor the Earth, living in harmony with it and its inhabitants — from a stalk of corn in the field to the stars in the sky, to your family and your community, and to the world at large," says Dan. This Hopi way of life is instilled in each member of the family's artwork, and prayer feathers hang throughout the museum-like space.

Dan is revered for his preservation of Hopi symbols, brought to life in vibrant color on canvas. His Katsinum paintings represent the spirit messengers between the physical and spiritual worlds. They told stories through song and brought lessons to the Earth.

Throughout his 50-year career, Dan has received accolades for the depth of his talents. Trained as an illustrator at the venerable American Academy of Art in Chicago, his success comes from his assortment of styles. While some love the softness of his impressionistic works, others delight in the crispness of his linear shapes depicting landscapes. Some of the artist's favorites are his purely geometric paintings where shapes balance one another. These pieces speak to how, in the Hopi way, one supports another that supports another so that the whole may survive.

How Dan has mastered so many styles is an enigma to many. "I work in a series. I might be painting landscapes in somewhat of an impressionistic style, and at the same time, have another series of geometric pieces going. It keeps me fresh and allows me to explore from one genre to another," he says.

If he needs help solving an issue while painting in his 1200-square-foot home studio, Dan turns to music. "If I get to a place on a painting that I'm unsure of," he says, "I pick up a guitar, strumming it while looking at the piece. That's usually when I see the answer."

Early in his career, Dan was professionally performing in bands and making art. Both music and art are still vital in his life. "I love jazz," he says. "Wes Montgomery, Thelonious Monk, John Coltrane. But I also love classical music. It's funny because when I grew up on my grandfather's ranch, I was listening to country music: Hank Williams, Lefty Frizzell, Webb Pierce." He hastens to say that he loves rock music, and his artworks have graced the Santa Fe Opera's posters five different years.




Art lovers have been privileged to see Dan's colorful canvases in prestigious museums around the world, from Germany, Austria, and other European countries to Zimbabwe, Congo, Cuba, Chile, Peru, and New Zealand, among others. Likewise, his sons are following in their father's footsteps; both Arlo's and Michael's work have been exhibited in Japan and Monaco, and Michael's work has traveled to Russia. In 2019, the three exhibited work together in The Art of the Naminghas: Dan, Arlo, and Michael at the Reading Public Museum in Reading, Pennsylvania.




Arlo creates distinctive works in a variety of materials and styles, and is perhaps best known for his wall sculptures. "My pieces are about telling stories using the symbols of our culture that relate to the land and to the four directions," he says. One piece he gave to his parents depicts a scene of his father's homeland at First Mesa; he used a variety of wood, some of which he carved thin with uneven edges. He stacked the uneven pieces to create clouds. A square window strikes the horizon, and the Earth is depicted in a solid piece below. "There's a lot of symbolism in our art, including windows and doorways," he says. "You see them in sites such as Chaco Canyon and Mesa Verde."

Growing up, Arlo was exposed not only to his father's art but also to the artists his father associated with, including close family friend and sculptor Allan Houser (Apache) [1914 – 1994]. Arlo also remembers watching his great grandfather, Emerson Namingha, break a large piece of stone. "It's necessary to break down a large piece of stone to be able to work on it," he says. "Watching how my great grandfather did it, I learned to listen to the sound when it came out just the way he intended it. It's called a 'control break.'"
Michael's photography utilizes shape and color in addition to imagery. From left: Chaco and Chaco 4.
Today, wood, stone, and bronze often appear in Arlo's sculptures. He makes his work interactive so that the collector becomes a part of the creation process by arranging the pieces to their delight.
A bronze work titled Maiden was inspired from a time when he watched his wife Nicole in the Butterfly Dance at OhKay Owingeh Pueblo. While it is beautiful, she says, "this dance is long and sometimes difficult. It takes a month's preparation and then days to get everything just right." There are times when both Arlo and Nicole join in the sacred dances.
The youngest son,Michael, was introduced to the joy of photography during high school. After graduation, he attended a summer session at the Santa Fe Art Institute, where he studied with some of the greats of contemporary art, including Fritz Scholder and Manuel Neri. Two other remarkable teachers were Judy Pfaff, an installation artist who encouraged Michael to use collage with his photographs to give them a wider meaning, and John Baldessari, a color theorist who taught Michael a valued lesson. "One assignment I did with him was where I used a red background and overlaid photographs of black and white dalmatians. I thought it looked cool. When he asked me why I used a red background, I didn't really have an answer. That's when he said that 'every color you use must have a reason.' I'll never forget that," Michael says.
This Katsina is made from cottonwood root, a true Hopi tradition. Dan's father and grandfather were both wood carvers
After his time at the Santa Fe Art Institute, Michael went on to study at the Parsons School of Design in New York City. During his four years there, he not only explored different mediums, but also explored New York City's many museums, observing some of the world's greatest art.
Recently, Michael produced a series titled Altered Landscapes, depicting Native American lands and using color overlays to enhance each piece's meaning. He then mounted his chromogenic prints on shaped acrylic. One, titled Chaco Canyon, was inspired when NASA discovered that North America's largest pocket of methane gas was centered on the Four Corners region, an area sacred to Native Americans and one that's been heavily fracked by the oil and gas industry. "Using the Rorschach method," Michael explains, "I mirrored my photograph of Chaco Canyon into a chromogenic print. And because of the bright red color seen from outer space when using satellite technology, I used an overlay of red polygons to accent the piece."
In 2018, his work appeared in The Black Place: Georgia O'Keeffe and Michael Namingha at the Georgia O'Keeffe Museum in Santa Fe. The exhibit reflected his ongoing interest in environmental matters on Native American lands.
From the warmth of their adobe-like home atop a knoll overlooking Santa Fe, where the family once lived all together, Dan and Frances gaze at the high desert landscape. From one window, they see the Jemez Mountains and from another, the majestic Sangre de Cristos, the tail end of the Rocky Mountains. In its courtyard near a kiva fireplace is a mature tree, planted by Michael, once upon a time, on Earth Day. While the views are different from those where Dan grew up at First Mesa, there are similarities, including the wide-open blue sky and the far-reaching horizon.