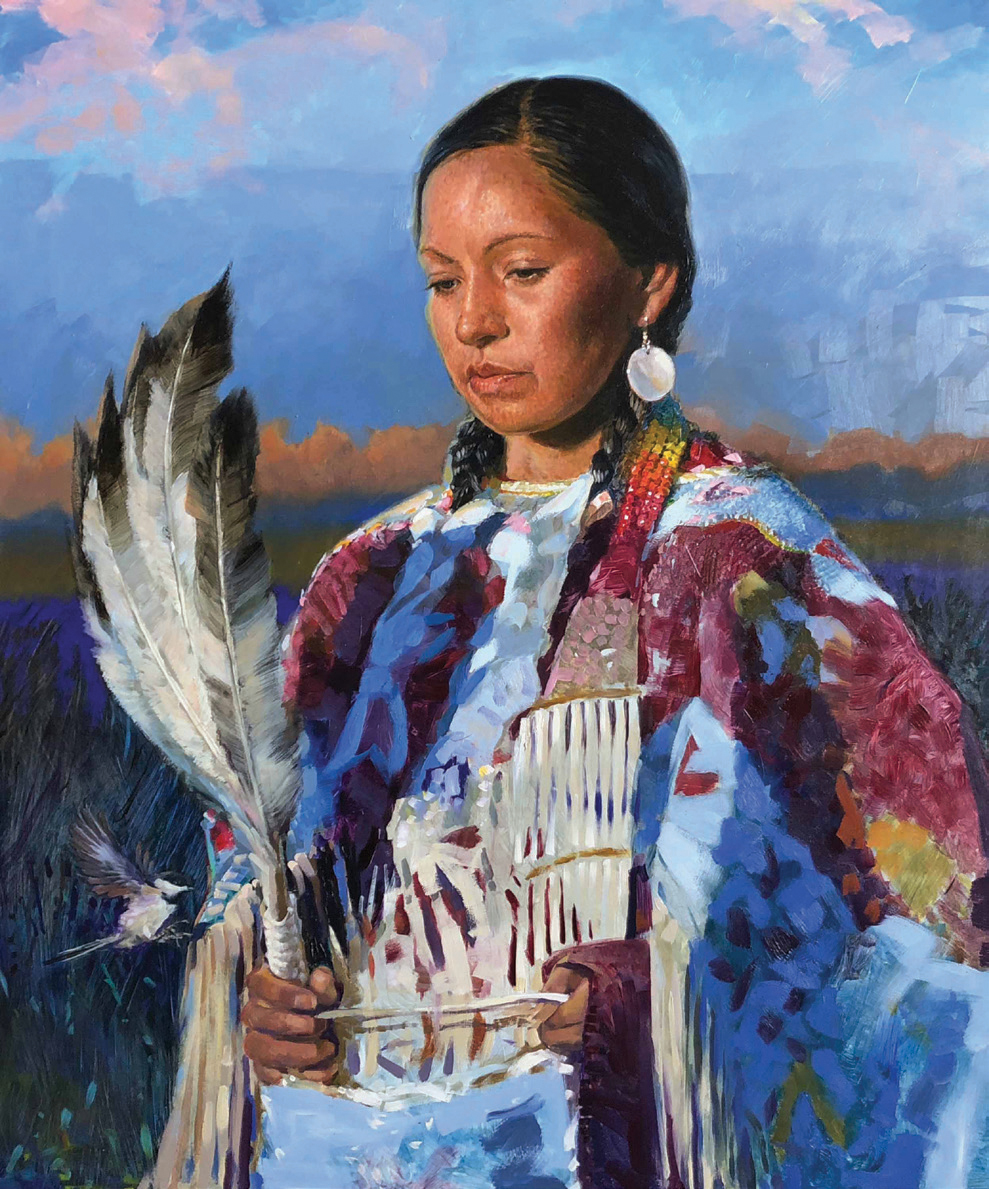 Morning Song | Oil on Panel | 18 x 14 inches
20 Jan

Artist Spotlight: James F. Jackson

Visitors to solo art exhibitions by James F. Jackson have been so enthralled by the varied styles on display that they've asked questions like, "Who are the seven artists in this show?" Possibly even more confounding, some of the paintings may include intricately carved leather, interacting with the imagery in a way not normally seen in realist art.

Jackson laughs warmly regarding such confusion. "My entire life has been an exploration of all kinds of different rendering modes and imagery," he says. "It has never bothered me to go from Cubism to Impressionism to almost Photorealism. That's just the nature of my exploration of life."

Leather was Jackson's first exploratory medium. "I was raised in a saddle shop," he explains of a childhood that began in Denver in 1951 and, a decade later, moved on to Sheridan, Wyoming, when his father was hired by Ernst Saddlery. "In high school, I started working in that shop after school and on weekends, cleaning saddles, making stirrups, and stamping leather belts." Even while pursuing his other passion, fine art, Jackson "stamped belts for four companies" while earning bachelor's and master's degrees in studio arts at the University of Wyoming. During graduate school, he also worked as a curator of exhibitions at that university's art museum.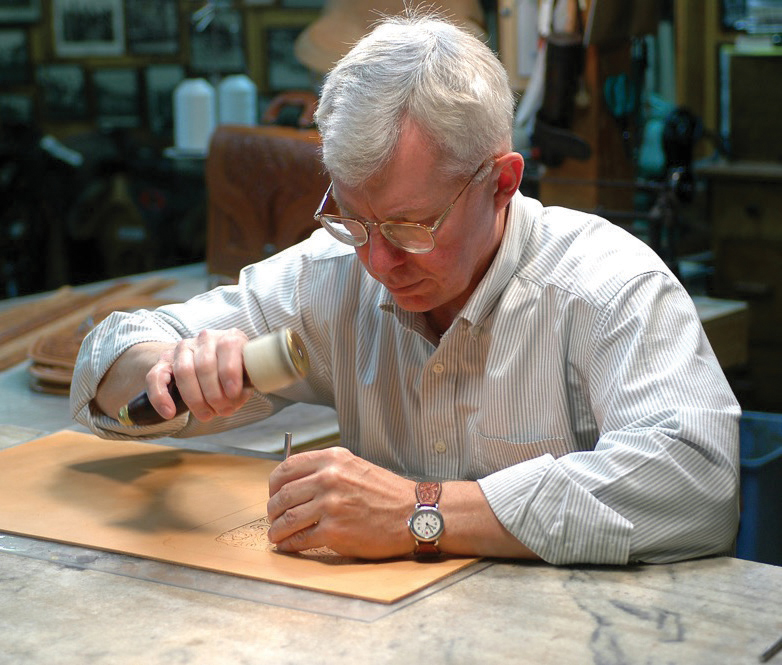 His leatherwork "flowered" at King's Saddlery, renowned for the Sheridan style with its intricate swirls of blossoms, stems, and leaves. Jackson began doing piecework for them in 1973. He eventually joined King's to specialize in custom leatherwork from 1990 to 2017, and his work included commissions for Tommy Lee Jones, Tom Selleck, and former U.S. Presidents Ronald Reagan and Bill Clinton.
All the while, Jackson has also enjoyed a widely respected painting career, focusing mostly on Western and Native American subjects, in a variety of styles that engage his talent. Some subjects have led him to combine his two creative passions. Apprehension, for instance, features a romantic impressionist image of a woman embracing a deer — painted on a leather surface that's been painstakingly sanded and sealed so its oils and acids won't deteriorate the pigments — lyrically complemented by floral scrollwork carved into the leather.
Jackson's masterly leather carving led the Wyoming Arts Council to nominate him for one of nine annual National Endowment for the Arts National Heritage Fellowships, recognizing artistic excellence in traditional and folk arts. He received the award in September 2019 in Washington, D.C., and modestly attributes the achievement to the fact that: "I've worked with some of the finest leatherworkers and saddle makers in the country."
Though he retired from King's Saddlery three years ago, Jackson continues to practice leatherwork in his workshop and art in his studio. Additionally, he offers leatherworking demonstrations, classes, and clinics Fridays through Sundays nine months out of the year at the Brinton Museum, where he also regularly exhibits his work. "I'm not sure what that word 'retirement' means," he muses. "I've just shifted some gears and reorganized my life. I wasn't thinking of slowing down or anything."
Visit with Jackson and watch demonstrations of his craft in a recreated early 20th-century workshop at the Brinton Museum in Big Horn, Wyoming, from March 15 to December 23.