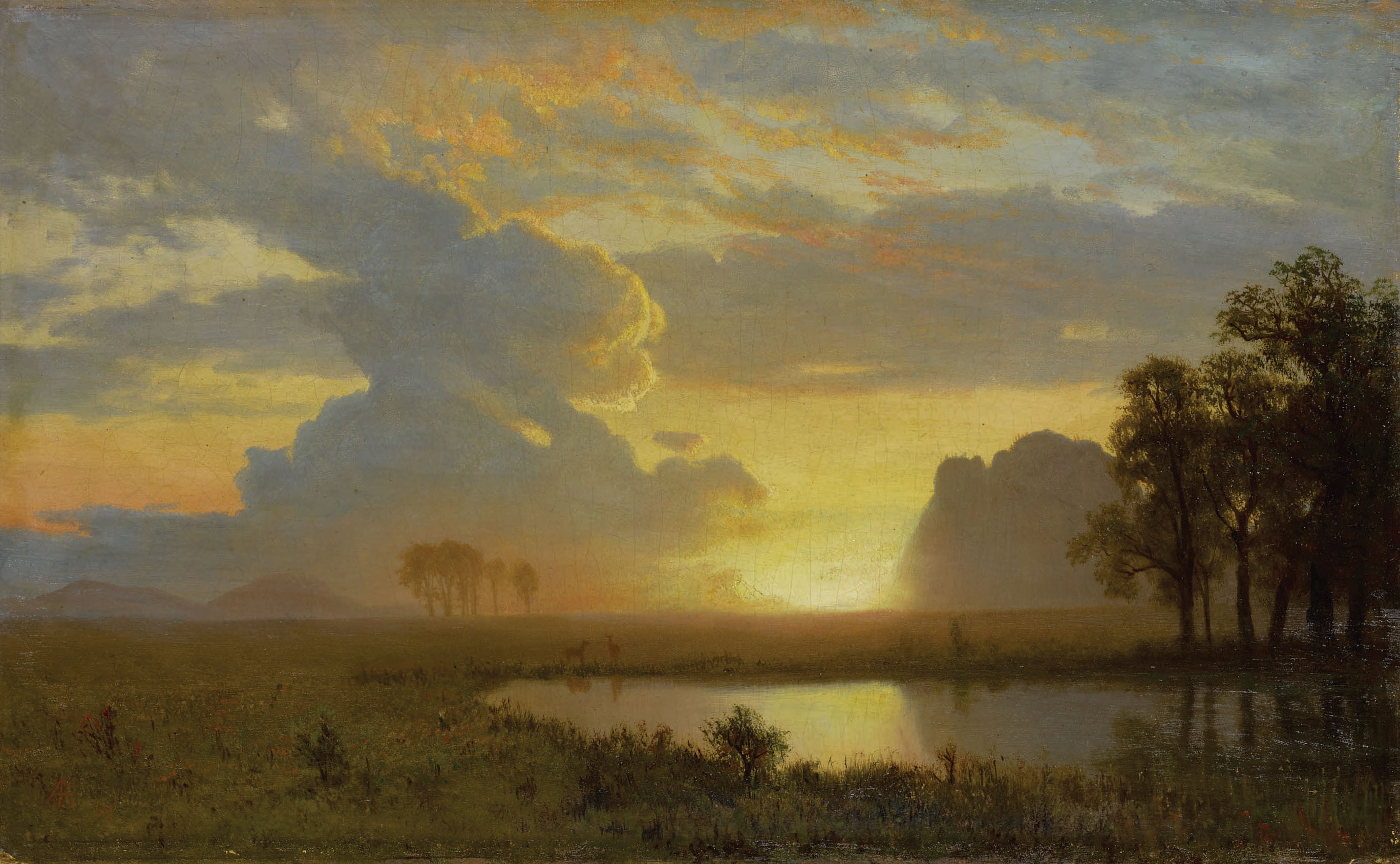 Albert Bierstadt, Estes Park, Colorado | Oil on Board | 11.875 x 19.25 inches | Sold: $548,000 Image courtesy of Sotheby's
17 Jan

Auction Block: A Refreshed West

Collectors of Western artworks showed signs of selectivity at auctions staged in the waning weeks of 2019. A battle of wills among bidders saw a gem by Georgia O'Keeffe, My Backyard, a small painting of the cliffs that framed her New Mexico ranch, go for more than twice its high estimate at Sotheby's November sale of American art. Also of note during the auction was a Frederic Remington painting of a cattle round-up that achieved six figures.

Remington also attracted attention at Christie's American Art Sale, with the ultimate price for one of his recognizable bronzes, The Broncho Buster, climbing far higher than expected. The sales are evidence of the perennial popularity of the figure who is considered a father of Western American art.

World auction records were set for two female artists at the Santa Fe Art Auction in December, where a powerful animal spirit painting by the late Native American artist Fritz Scholder also hit a high mark. A pair of Scholder's lithographs also captured the imagination of collectors at the Larsen Art Auction in Scottsdale, Arizona, at the end of October, where bids for a stylized owl and Zuni dancers respectively far outstripped pre-sale estimates.

Bonhams' late November sale of works collected over 40 years by grocery chain owner and Western art aficionado Eddie Basha saw a Howard Terpning painting attract attention, with Crows in the Yellowstone achieving the top slot.

Small-sized, affordable artworks were the theme in play at the National Cowboy & Western Heritage Museum's early November sale, where collectors snapped up modestly priced pieces by such artists as Curt Walters and R. Tom Gilleon.
Santa Fe Art Auction
December 8, 2019
Total: N/A
A world auction record was set for a work by artist Janet Lippincott at the Santa Fe Art Auction in New Mexico's state capital, with New Mexico Landscape going for $30,000 without fees, compared to pre-sale estimates ranging from $15,000 to $25,000. Senior auction coordinator Rachel Daley says that auction officials were especially gratified to see the artist's work, the sale's cover lot, exceed pricing expectations. "Lippincott is reaching new recognition for her importance as a mid-20th-century female Abstract Expressionist, and we look forward to representing more of her work in the future," Daley says. An additional Lippincott, Summer, climbed to $20,000, more than twice its low estimate, in yet another sign of the artist's growing appeal.
The sale also featured Fritz Scholder's Untitled (Buffalo Spirit), which realized $125,000 without fees, with pre-sale values of $80,000 to $120,000. And, in a coup for another female artist, Realm of Arroyo Hondo achieved $18,000 and set a world auction record for artist Alyce Frank.
Bonhams' Art Auctions
The Eddie Basha Collection: A Selection of Western American Art
November 25, 2019
Total: $3,851,138
California and Western Art
November 25, 2019
Total: $2,371,473
A painting by acclaimed artist Howard Terpning led to Bonhams' dedicated sale of premier artworks from one of the world's largest collections of contemporary Western American art. Works in the Los Angeles sale were acquired for a collection built over four decades, and it reflected the friendships cultivated with artists by the late Eddie Basha, a strong supporter of the Cowboy Artists of America (CAA) and the head of Bashas, a family-owned chain of grocery stores, according to Bonhams.
Terpning's Crows in the Yellowstone, a 1990 oil that pairs Native Americans and rushing waters, realized $500,075 with fees. A painting by illustrator-turned-Western-artist John Ford Clymer, The Booshway, went for $375,075 to claim the second-highest slot, and a stark winter landscape centered on two Native Americans, Listening for the Drums by Tom Lovell, brought $200,075 to become the third-highest-selling piece in the sale.
"We are thrilled with the success of this extensive collection; it was a tribute to Eddie that reflected the strong bonds of friendship he developed with artists during his lifetime," says Scot Levitt, Bonhams' director of fine art. "The sale will curatorially strengthen and support the existing permanent collection and further the legacy of the CAA and Eddie Basha abroad."
Bonhams' California and Western Art auction, also at the end of November, saw a Selden Connor Gile painting, Fall's Beginning, a veritable symphony of autumnal notes, go for the highest amount at $187,575 with fees, followed closely by Edgar Payne's Mountain Vista, which sold for $162,575, compared to pre-sale estimates of $100,000 to $150,000.
Two pieces by California Impressionist William Wendt sold for more than expected during the auction in Los Angeles, with The Soil — a title that may not do justice to Wendt's mastery of clouds, color, and landscape — realizing $106,325, or nearly twice its low estimate. Wendt's End of the Road, a landscape in the style of Paul Cézanne, garnered $68,825, compared to estimates ranging from $40,000 to $60,000.
Christie's American Art Auction
November 20, 2019
Total: $21,895,250
Artists whose lives or oeuvres were strongly tied to the American West and Southwest gained traction and brought tidy sums at Christie's American Art Sale in New York City in late November. An iconic flower painting by Georgia O'Keeffe, Pink Spotted Lilies, realized $1.935 million, taking the third slot in a transaction that exceeded pre-sale estimates of $1.2 to $1.8 million.
In a welcomed sign that the beautifully rendered portraits of Native Americans by Eanger Irving Couse, a founder of the Taos Society of Artists, still cast a potent spell on collectors, Flute Player at the Spring achieved $435,000 with fees, outperforming expectations that ranged from $250,000 to $350,000. The painting of the flute player crouched beside still waters while a fellow tribal member stands in profile omits musicality, and it's a song of tranquility, setting, and spirit.
A scene depicting trappers standing near a campfire set against the bulk of the Wind River Range by 19th-century artist and documentarian Alfred Jacob Miller rose dizzyingly above its estimates of $200,000 to $300,000 to fetch $423,000. Trappers around a Campfire with the Wind River Mountains of the Rockies in the Background is all but a virtual re-enactment of the brief period in Wyoming when so-called mountain men roamed its rugged peaks in search of fur-bearing animals and adventure.
The lasting appeal of Remington's bronze works was also confirmed at the auction, with one of the artist's most recognizable sculptures, The Broncho Buster, going for $399,000 with fees, compared to estimates of $150,000 to $250,000. The scene of a cowboy atop a rearing horse masterfully depicts action, but not action alone.The Broncho Buster also captures the indomitable drive of the animal matched by the steely will of its rider.
No human figures are present in Western landscape painter Albert Bierstadt's Pass into the Rockies, which brought $131,000, or nearly twice its low estimate, and that was by design. The moody mountain scene is attended solely by a bighorn sheep in a painting that displays wildlands as the domain of wild creatures.
Sotheby's American Art
November 19, 2019
Total: $20,867,000
Sotheby's fall sale of American art in New York City saw Maxfield Parrish in high demand, with his signature luminescent landscape, Mill Pond, leading the sale by achieving more than $2.4 million, or more than twice its high estimate of $800,000. Another work by the famed American illustrator rose to fill the second-highest position, with Cleopatra, Parrish's rendition of the ruthless Egyptian ruler praised for her charisma by everyone from Plutarch to Shakespeare, selling for $2.3 million compared to pre-sale estimates that ranged from $800,000 to $1.2 million. The work was commissioned by a candy manufacturer to decorate a box of Christmas chocolates in 1917, according to Sotheby's.
Works by Western and Southwestern artists were led by a pair of paintings by Georgia O'Keeffe, with Anthurium fetching $1.364 million and becoming the fifth highest-selling piece, closely followed by the artist's My Backyard, which realized $1.34 million compared to pre-sale expectations ranging from $400,000 to $600,000.
My Backyard, painted in 1945, is one of several paintings representing the red and yellow cliffs near O'Keeffe's home, known as Ghost Ranch, in New Mexico, according to Sotheby's. The painting measures just 10 by 8 inches, yet possesses that mystical power that only a painter of O'Keeffe's stature can achieve.
An oil by Remington, The Round-Up, went for $740,000 to take the eighth slot in Sotheby's top 10 bestsellers, a list that finished with an Albert Bierstadt landscape, Estes Park, Colorado, selling for $548,000. The Round-Up depicts a cowboy shooting a gun amid a herd of longhorns, and the painting was unknown to Remington scholars before 1997, according to Sotheby's. Still, its style strongly evokes a cattle drive painting Remington produced for an 1888 edition of Century Magazine.
Frank Tenney Johnson's Girl and Cowboy, which went for $106,250, is yet another example of how certain artists successfully illustrated both action and emotion in that fabled realm that was the late 19th-century American West.
Small Works, Great Wonders Art Sale
National Cowboy & Western Heritage Museum
November 8, 2019
Total: $404,040
Arizona artist Curt Walters saw his oil depicting sunlit canyonlands take the top slot at the National Cowboy & Western Heritage Museum's Small Works, Great Wonders sale, with Lux Citrea going for $12,500. The event, which featured smaller-sized paintings and sculpture at affordable prices, saw works by 22 artists who are tied to the Oklahoma City museum's annual exhibit and sale — the Prix de West — as well as 21 new artists. A sum of 225 artworks, in a range of styles, were offered for sale.
A 14- by 18-inch oil by Arizona artist Cyrus Afsary was the second-highest seller, with Visit to San Juan Capistrano fetching $8,500. And in what was perhaps one of the best bargains of the event, a color-soaked tipi scene by Montana artist R. Tom Gilleon achieved $7,500. At 12 by 9 inches, Sunset Clause is small by any standard, but it's also packed with presence through the use of horizontal blocks of orange in the sky and structure.
Gina Anderson, a spokesperson for the museum, says prices ranged from $395 to $12,500 per piece, but what was beyond price was the quality exhibited in the works. "It truly provided many excellent choices for buyers, both established collectors and those just starting their collections," she says.
Larsen Art Auction
October 26, 2019
Total: $1.5 million
The Larsen Art Gallery in Scottsdale, Arizona, saw its largest annual auction to date with 453 lots offered, roughly double the number of consignments compared to 2018, officials say. The sale in late October saw would-be collectors from every U.S. state and 20 other countries, and set two auction records for works by artists Earl Biss and Milt Kobayashi.
The outsized oil by Biss, Autumn on Whistling Water, climbed steeply above its estimated price of $12,000 to $18,000 to bring $42,500 with fees. The strikingly horizontal painting sets a tranquil tone with blues and greens, but it contains an edgy contemporary appeal by fashioning abstract stands of trees and Native American riders with outlines splashed with red.
Kobayashi's record-setter, Quiet Corner, a reflective scene of two women seated on a sofa in varying postures of repose, went for $10,625, or more than twice its high pre-sale estimate of $4,000.
The top seller at the auction was a quiet, countryside landscape in the style of early Impressionists. Les Toits Rouges, by French painter Gustave Loiseau, went for $112,500, compared to expectations of $50,000 to $80,000. A spare oil by John Register, View from the Institution, tied for second-highest place with Alexander Calder's gouache and ink circus scene, titled Chapiteau. Both works brought $78,000. Bernar Venet's sculpture of steel circles, Five Indeterminate Lines, brought $48,000, to become the auction's third-highest price.
Western works that sold well included several lithographs by the late Native American artist Fritz Scholder, with his grisaille, Anpao (Owl), going for $2,040, or four times its low estimate, and Dancers at Zuni, a series depicting stylized Indian dancers, selling for $3,125, or more than twice its high estimate.
A tidy sum likewise attended Bill Schenck's Fly American, a large oil depicting a bull rider. It realized $9,000 compared to estimates of $3,000 to $5,000.