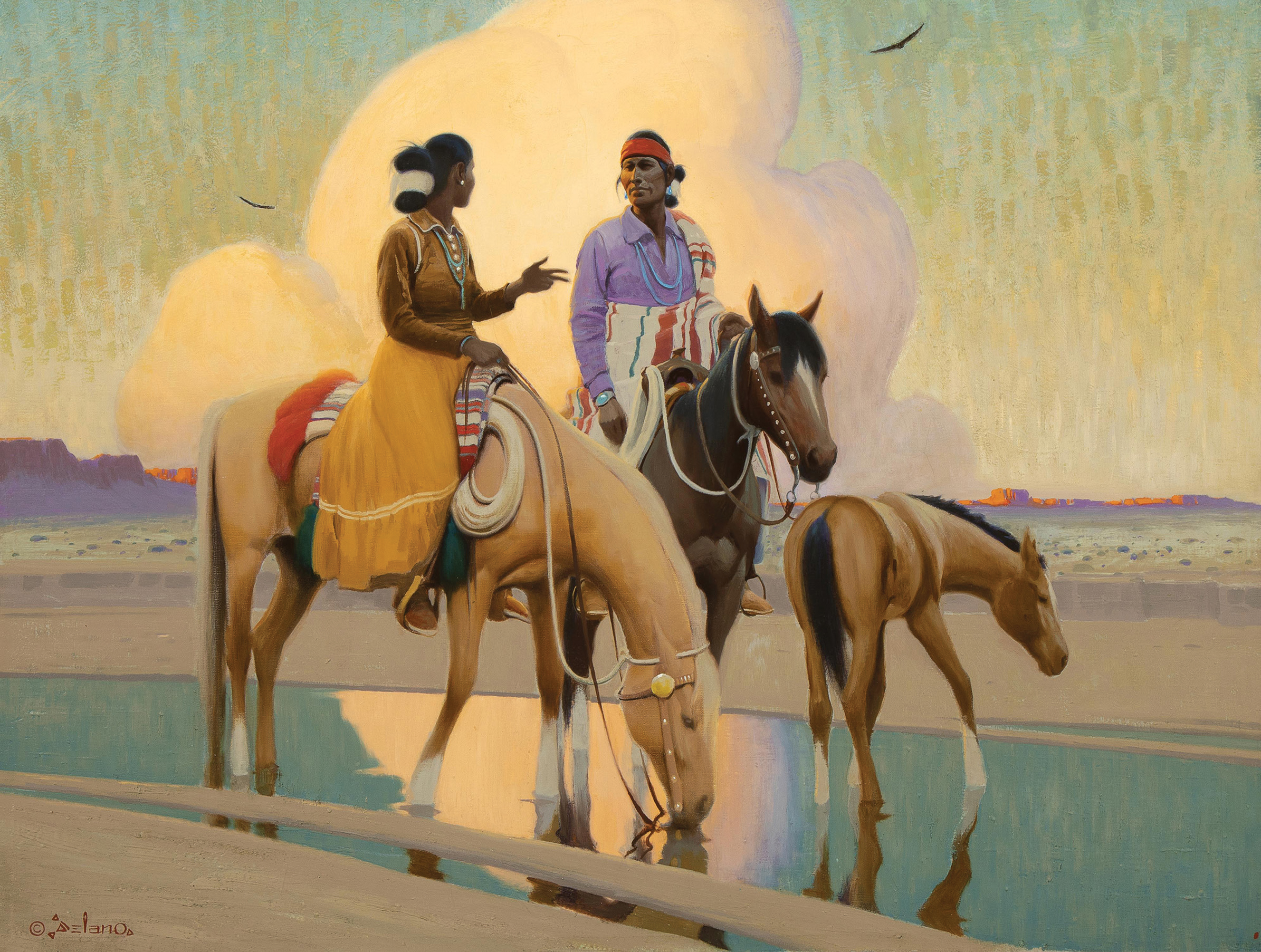 Gerard Curtis Delano, The Orange Cloud | Oil on Canvas | 32.25 x 42.25 inches | Sold: $526,500
11 Jan

Auction Block: Of Past and Present

Sales that wrapped up during the last quarter of 2020 demonstrated that buyers maintain their affinities for established artists whose reputations — and pricing — are ascending. In signs that deceased masters still hold sway, works by Gerard Curtis Delano took four of the top 10 bestselling slots at the Santa Fe Art Auction in mid-November. The sale also showcased a colorful work that brought a tidy sum by E.I. Couse.

Paintings by living master G. Harvey exceeded expectations at Christie's auction from the T. Boone Pickens Collection, with one of the works setting a new world auction record. There, too, leading artists of another era gained favor, with pieces by such painters as Thomas Moran selling for solid prices.

California Impressionists, including Guy Rose and William Wendt, ruled Bonhams' 40th-anniversary auction in October, while contemporary Western artists were showcased at the National Museum of Wildlife Art during their annual Western Visions Show and Sale; at the National Cowboy and Western Heritage Museum during their Small Works, Great Wonders Sale; and in Scottsdale, Arizona, during the Larsen Art Auction.
Santa Fe Art Auction
November 14, 2020
Total: $2.5 million
Leading illustrators-turned-painters and artists of the American Southwest led pricing during the two sessions that made up the Santa Fe Art Auction this November.
Works by Gerard Curtis Delano earned four of the 10 best-selling lots, with The Orange Cloud rising above the other contenders to sell for $526,500. The painting shows Delano's antecedents as an illustrator in its graphic lines, but the towering curvilinear clouds and depiction of a Native American couple on horseback, deep in conversation, further entice the viewer. Pre-sale estimates for the painting ranged from $500,000 to $700,000.
Pieces by Delano, whose life stretched from the late 19th century well into the 20th century, filled the second, sixth, and ninth slots in the sale. Wilderness Silence, the sixth-highest seller, ignited enthusiastic bidding, driving the price to $64,350, or nearly three times its top estimate.
Nell, a somber watercolor by Andrew Wyeth that shows the artist's command of tonal values, sold for $84,825 to become the auction's fourth-top selling item; while Karl Horst Hödicke's Odysseus and Siren soared past its high estimate of $20,000, selling for $81,900. The artist's expressionistic treatment of the perilous encounter of Homer's hero is an acrylic awash with movement and drama.
E.I. Couse's Indian Brave Kneeling Before Firelight — a painting that shows the artist at his colorful best — climbed to $52,650, well above estimates. A spare but compelling figurative painting by Agnes Martin — who was born in Canada but chose to live in New Mexico — Portrait of Daphne Vaughn, also exceeded expectations, realizing $50,310, compared to estimates of $20,000 to $30,000.
National Cowboy & Western Heritage Museum Small Works, Great Wonders Art Sale
November 13 – December 1, 2020
Total: $390,800
The National Cowboy & Western Heritage Museum in Oklahoma City, Oklahoma annually opens an avenue for both first-time and veteran collectors to purchase, at affordable prices, small artworks created by big-name artists.
The 2020 version of the Small Works, Great Wonders Art Sale, featuring traditional and contemporary art, was led by a pair of bestsellers by a single artist. Taos, New Mexico, artist Walt Gonske saw his impressionistic landscapes, Lower Hondo and Taos Pueblo Land go for $7,000 each, with the 16-by-20-inch works serving as a painterly celebration of the hues of the American Southwest.
Curt Walters' Pharaonic Parabola gained the third-top slot at $6,800. At first glance, the painting appears to focus on the landscape, but a closer inspection of the 14-by-14-inch image shows a beautifully executed examination of light falling on solid surfaces and shaping shadows.
A clever depiction of a horseback rider and his challenging mount, He Considered Not Riding that Day but the Temptation was too Great, and in the End All that Remained was the Quirt, realized $6,000. The painting by William Acheff nearly confounds the eye by presenting a three-dimensional element that is barely there.
P.A. Nisbet's Zoroaster, Lord of the Inner Gorge followed closely at $5,900, with the vertical painting exploring the nature of opposites.
Misty — Girl from Lodge Grass brought Carrie L. Ballantyne into the top-six bestsellers, with the painting selling for $5,500.
The sole award of the event, the Cynthia Post Buyers' Choice Award, went to Adam Smith for Dominant, an up-close-and-personal portrait of a bison, which brought $2,650.
Christie's The Legend of the West: Iconic Works from the T. Boone Pickens Collection
October 28, 2020
Total: $20.4 million
The late T. Boone Pickens is credited with countless accomplishments for everything from energy entrepreneurship to philanthropy, and his legacy in the U.S. and around the globe is a lasting one. An auction at Christie's in late October cemented Pickens' reputation as a savvy collector and devoted admirer of Western art, with works by deceased masters, such as Frederic Remington, and contemporary standouts, including Howard Terpning.
In a sign of the strength of the roughly 75 lots, the total exceeded its $15 million expectation by several million dollars. Indian Love Call by N.C. Wyeth led the sale, going for $3.5 million, compared to estimates ranging from $2 to $3 million.
Remington's Buffalo Signal (If Skulls Could Speak) brought more than $2.9 million to serve as the second-highest seller, while Thomas Moran's Index Peak, Yellowstone, Wyoming achieved more than $1.3 million, against estimates of $700,000 to $1 million, to round out the auction's top three lots.
A work by G. Harvey set a world record with Boomtown Drifters climbing far above expectations of $300,000 to $500,000 to sell for more than $1.2 million. And Terpning's Flags on the Frontier followed at $990,000, just shy of its high estimate. Another work by Harvey, Rawhide and Thunder, defied estimates of $250,000 to $350,000, achieving $750,000. And bids for yet another Harvey painting, Cowboy's Dream, drove its price to $500,000.
Overall the offered lots provided evidence for what Tylee Abbott, head of the sale, calls Pickens' "connoisseurship and his continued legacy as an American icon."
Larsen Art Auction
October 24, 2020
Total: N/A
A group of collectors decided that the pandemic-related challenges of 2020 would not exhaust their creativity or their enthusiasm for art. Together in Tucson, Arizona, they live-streamed the fall auction hosted by the Larsen Art Gallery in Scottsdale, Arizona, and ultimately acquired 10 works of art.
The initiative for buyers to stream the sale at an alternate site was just one facet of an hours-long auction that marked robust amounts for works by Andy Warhol and Allan Houser, among others.
Houser's Mountain Echoes, a limited edition bronze created in 1986, elicited a winning bid of $57,000, compared to pre-sale estimates of $20,000 to $40,000. The ultimate sale price was modest for the 225-pound sculpture depicting a trio of Native American women, each wearing a cloak of patinaed metal so intricate that it approximates hand-spun textiles.
By contrast, Warhol's screenprint, General Custer, is a colorful commentary that relies heavily on splashes of red — here on a hat, there on a neck scarf — to further draw the viewer into the portrait. The piece sold for $50,400 with fees, topping expectations ranging from $30,000 to $45,000.
Logan Maxwell Hagege's Sun to the West sold for $26,400, compared to estimates of $15,000 to $25,000. The painting is as much a portrait of a Native American man as it is of the clouds and mesas of the American Southwest.
Cactus, a striking, angular oil by Ed Mell, went for $11,875, nearly two times the high estimate. The artist used hard edges and geometric shapes to create an abstract imprint of the title plant's flower.
Western Visions Show & Sale at the National Museum of Wildlife Art
September 12 – October 17, 2020
Total: $343,000
Western Visions, the annual centerpiece fundraiser for the National Museum of Wildlife Art in Jackson Hole, Wyoming, successfully navigated obstacles posed by the pandemic by shifting its emphasis to virtual viewings and purchases.
Carl Brenders' portrait of two mountain lion cubs — the bestseller for Western Visions 2020 — evokes European masters in its line-work and artistic exactitude. Lend an Ear, a 7-by-14-inch gouache and watercolor on illustration board, brought $22,000.
Zebra Company by Francois Koch garnered the second-top selling slot, with the charmingly rendered oil on linen fetching $18,000. Julie Jeppsen's mesmerizing painting of a pair of wolves, Honeymooners, an oil whose backdrop is a misty mountain landscape, followed at $16,400, and Mark Eberhard's Mountain Majesty, a painting that's reminiscent of Japanese woodblock prints, sold for $16,000. Morning Fog, Ewoud de Groot's mystical landscape with waterfowl, was the fifth-highest selling item at $12,800.
The show's Trustee Purchase Award went to John Banovich for Among the Giants, a small painting of one of the world's largest land animals. The 12-by-12-inch oil of elephants was added to the museum's permanent collection for $8,400.
Other honors went to: Lindsay Scott for Leap of Faith, Bob Kuhn Sketch Award; Lennart Sand for Fighting Bison, People's Choice Award; and T. Allen Lawson for Winter Solitude, Red Smith Award (artists' choice).
Bonhams' California and Western Art: 40th Anniversary Auction
October 13, 2020
Total: $2,656,798
Guy Rose's View of Wood's Cove, Rockledge topped Bonhams' 40th-anniversary sale of California and Western art in an auction that featured several stellar examples of such Western U.S.-centered art movements as California Impressionism. View of Wood's Cove, a restful seascape in greens and blues, realized $560,075, compared to pre-sale estimates of $400,000 to $600,000.
Bonhams' art experts say it's "no wonder that Arthur Mathews carries the mantle of one of California's greatest painters," and Monterey, an oil that achieved $500,000 and marked a world auction record, bolsters that claim. The landscape was expected to bring between $300,000 and $500,000.
Hunters in the Canyon by Ernest Martin Hennings, best known for his association with the Taos Society of Artists, took the third position among top-selling items. Hennings' work brought $425,075, solidly within its range of estimates. The same can be said of The Pool at Sundown, a light-saturated landscape by John Frost that sold for $275,075, and Franz Arthur Bischoff's Trimming the Wisteria, which went for $250,075.
Works by William Wendt brought excitement, pushing up prices during Bonhams' sales. Flickering Sunlight swept past estimates to achieve $137,575. The oil shows an autumn tree painted in a mosaic pattern. Expectations for the piece ranged from $60,000 to $80,000.
A new world auction record was set for a painting by David Ligare, with Landscape with Three Figures climbing to $52,575, more than three times its high estimate. What's striking about Ligare's large-scale oil is that it was painted in the 1990s but evokes antiquity. That is intentional — Ligare's website refers to him as a post-modern, neo-classical American artist, and Landscape is proof.