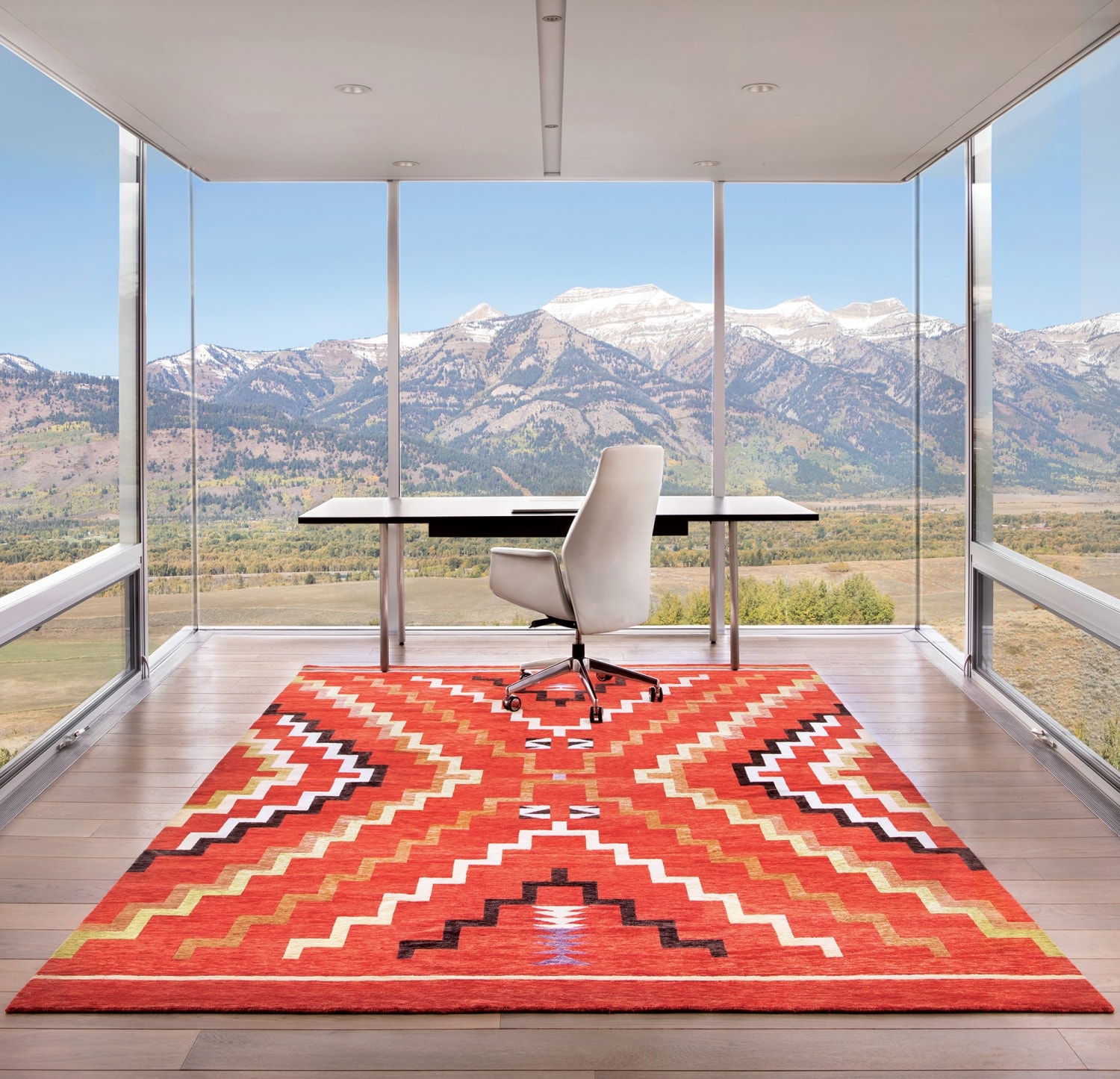 The bold patterns of The Perlman Project N-2 rug complement a sleek chair from Poltrona Frau and a modern desk by architect Peter Bohlin of Bohlin Cywinski Jackson.
17 Dec

Designing the West: Making Modern Heirlooms

Designer Linda Perlman first fell in love with Native American textiles when she served as a trustee at the Minneapolis Institute of Art. "The museum has an incredible collection, and spending time among those beautiful, historic pieces stirred my passion for the original patterns and colors," Linda says.

When she and her husband, Larry, bought a home in Jackson Hole, Wyoming, 20 years ago, they started collecting vintage Native American rugs from the 1840s to the 1900s. "These tapestries are different from the more commonly known rugs produced after 1900; they're a little more raw and primitive," Linda says. "Those beautiful one-of-a-kind, hand-woven rugs that we looked at and enjoyed every day eventually inspired us to start our new company."

Larry Perlman is a semiretired Harvard-educated lawyer, former CEO, art collector and novelist who currently serves on several nonprofit boards. "Some of the great artists like Jackson Pollock and Georgia O'Keeffe were influenced by Native American design," he says. "I initially approached our new company from my interest in contemporary art. The idea of merging the traditional patterns and modernist expression really attracted my attention."

The couple founded The Perlman Project to reinterpret the old Native American designs as one-of-a-kind, high-end floor coverings. The rugs are handmade in Nepal using generations-old methods, and the yarn is produced from the wool of Tibetan sheep grazing at 14,000 feet. "We use the best wool in the world, and its high lanolin content really holds the color," Larry says. "Because of the quality in construction and material, these rugs can last for generations."

Linda was inspired to reproduce the hues of the pigments used in the early rugs and has developed 120 different custom colors. "We work with the master dyers in Nepal to custom dye the wool in proprietary colors as close as possible to the original designs," she says. "Our yarns are not available anywhere else."

Nepalese artisans create the rugs, meticulously hand-tying the yarns in 70 to 100 knots per inch, depending on the complexity of the design. Pile heights can also vary from 4 to 10 millimeters. "We can do custom sizes for just about any space," Linda says. "Because of the relationship we have with our manufacturers, we're able to get a custom rug in about three to four months."

An interior designer for the past 30 years, Linda especially enjoys working with architects, other designers and individuals at the company's Jackson Hole showroom. "Whether they're doing a new build or renovating, our customers can specify the exact designs and dimensions before construction even commences," she says. Clients can customize and modify the rug patterns in the company's portfolio or create their own designs.

Linda suggests making the rug a focal point of a room. "Many designers will anchor a space with the floor covering and let the design inform the palette," she says. "Our colors and patterns go with almost anything, and they're artful without being overpowering."

"Linda's very passionate about design," says Andy Ankeny, principal of Carney Logan Burke Architects, who worked with the couple on their Jackson home. "We do our best work with engaged clients who care about the big picture and the details. When we collaborated on their home, Linda and I used each other as sounding boards. She really understands scale and comes up with great ideas. Their log home ties everything together with edgy, contemporary Western art, clean-lined furnishings, bold colors and, of course, their beautiful rugs. The Perlman Project is the perfect embodiment of Linda and Larry's interests and talents."

The couple wants to educate the public about incorporating the rugs in contemporary homes. "The designs of the Native Americans had a modern feel, even though the work they did goes back a long time," Larry says. "While our patterns have a historical influence, the rugs are surprisingly cohesive with transitional and modern architecture and interiors. They reflect a sense of place in Western homes, and can help merge contemporary architecture with tradition."

The Perlmans road test their rugs at home, assisted by their English springer spaniel rescue dog, Theo. "The wool's high lanolin content makes the fiber incredibly durable." Linda says. "Our rugs are beautiful works of art that are also meant to be lived with."
---
WA&A wants to know…
---
Linda and Larry Perlman, of The Perlman Project, discuss their favorite artists, galleries, restaurants and their go-to source for the best pickled herring…
Q: Being based in Jackson Hole, you have such a wonderful diversity of galleries to source great art. Can you share a few of your favorites?
A: Heather James Fine Art is a contemporary gallery that we love. Astoria Fine Art on the Town Square has Western art and sculpture and a few modern pieces. We frequent Fighting Bear Antiques for Native American artifacts and furniture, and we love Altamira for Western contemporary artworks.
Q: What's a favorite object in your own home?
A: Twenty years ago when we were in Paris, we came across the most wonderful puppet store called Clair de Reve on the Ile Saint Louis. Larry bought me a charming chef marionette puppet that's 3 feet tall. He hangs in our kitchen where he oversees our cookbook collection.
Q: Who are a few of your favorite artists?
A: We have so many artists we like! Some of our current favorites include Mark Rothko, Frank Stella, Norman Bluhm, Man Ray, Luis González Palma and Ori Gersht. Palma's and Gersht's works are part of our personal photography collection.
Q: Where do you enjoy dining in Jackson Hole?
A: Snake River Grill has a beef tartare pizza that we enjoy often. At the other end of the spectrum, the Stagecoach Bar in Wilson, Wyoming, has fabulous Mexican food and hamburgers.
Q: Do you enjoy entertaining at home?
A: We love to cook and have people over, typically in smaller gatherings of four to eight. Even for casual affairs, we like to put out beautiful linens, china and crystal. We have a 17th-century Chinese black lacquer dining table in our open living area that faces views of the mountains and creek. We'll dim the lights and start a fire in the fireplace and serve something special like slow-braised lamb shanks or coq au vin.
Q: What do you always stock in your refrigerator and pantry?
A: Linda is Swedish, and whenever we visit our former home town of Minneapolis, Minnesota, we always visit Ingebretsen's Scandinavian market and stock up on rye bread, Brunost cheese, pickled herring and head cheese. In addition to those treats, we always have yogurt and blueberries in our refrigerator.