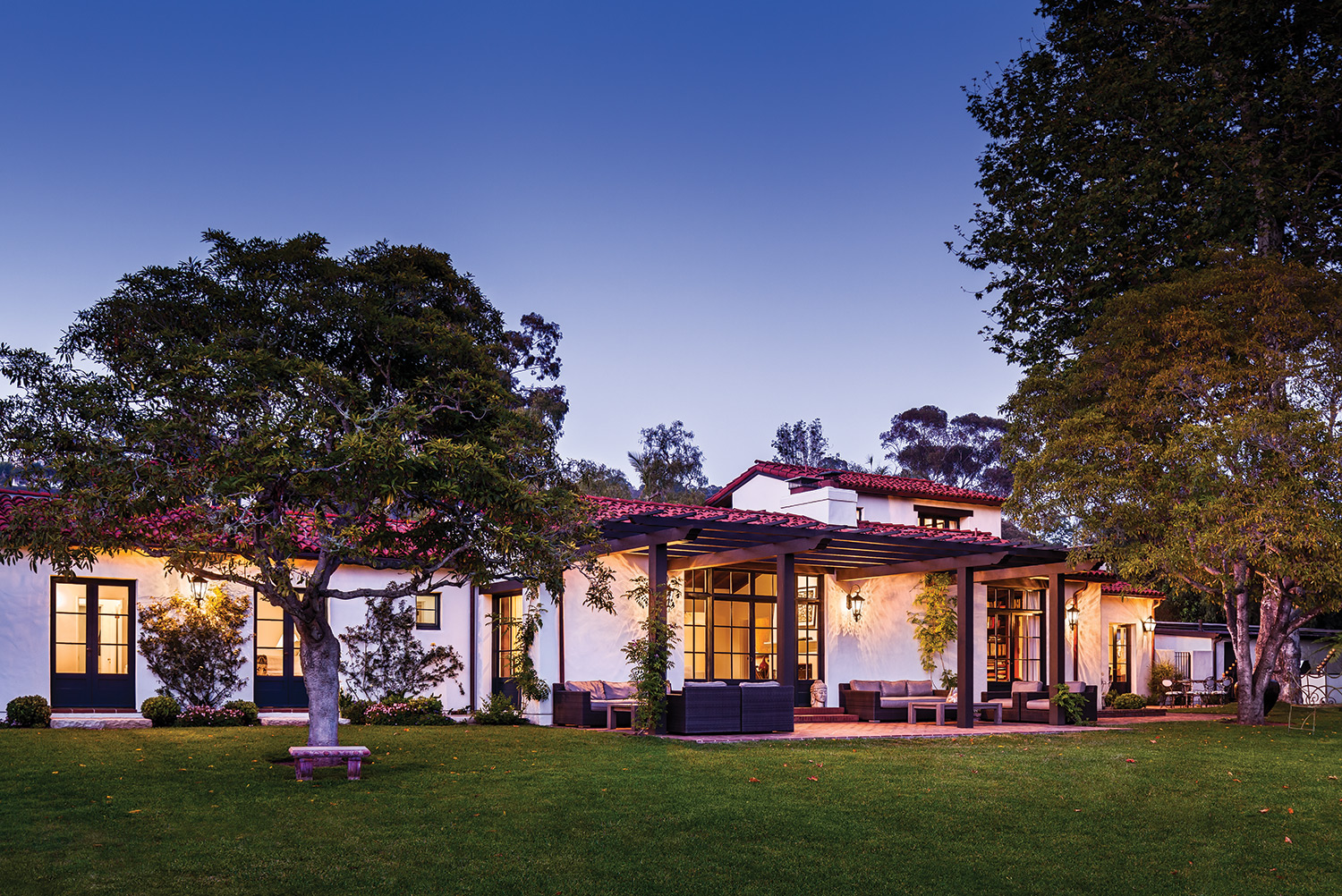 The remodel preserved significant attributes of Spanish Colonial Revival architecture: exterior stucco walls; square posts and beams supporting the porch roof; arched openings to recessed porches; large, multi-paned rectangular windows; and French doors.
19 Jan

Classic and Current

WHEN PETER SMILLIE STUMBLED UPON a Spanish Colonial Revival home designed by Bert Harmer (of Alexander Bertrand Harmer) it wasn't the structure itself that struck him. Instead, it was his clear vision for what the home could be — how to bring it back to what it once was while also adding personalized touches.

"I remember him saying, 'I love the bones, but I want a whole new soul,'" recalls architect Tom Henson a partner with Becker Henson Niksto Architects. "When we first saw it, it was cluttered and dark, with knick-knacks all around."

The home was designed in 1927 as one of the original 13 houses in the Hope Ranch neighborhood just west of Santa Barbara, California. A couple of poorly done remodels had taken place since the house was originally built in the 1920s — most likely in the 1970s and '80s — so it still needed a lot of updating to suit the needs of Smillie, his wife, and their two children, who were living abroad in New Zealand at the time.

After meeting Smillie, Henson's partner, Peter Becker, who has since passed away, recommended the custom builder Ian Cronshaw of Allen Construction. Learning that Smillie had a passion for sailing, surfing and many other outdoor adventures, he thought that he and Cronshaw, also an avid surfer, would be well aligned. Coincidentally, Cronshaw also has a second home in New Zealand.
The architect wanted to reclaim and incorporate existing doors, windows and hardware. When he needed additional design elements, they were custom made to match. It's virtually impossible to tell the old from the new.
"We had this common bond right away," Cronshaw recalls. "We did the whole job with them living in Auckland, and Peter only came out one or two times in the year-and-two-months it took to complete. I would go check on my property in New Zealand, and we'd meet there, I'd show him design elements, tile samples."
Working from afar was somewhat of a challenge, but the fact that Smillie had a distinct design style made all the difference. "His design style is light, bright, simple and authentic, and he really wanted to maintain the Spanish-Revival character," Cronshaw says. "Peter was very much into light, color and texture, so things like that were very important to him. He was not your average client."
The home was also designed around the art he had collected on his travels. "He has beautiful, rustic things from all over the world," Henson says, "that had to blend into this simple, clean backdrop."
The plans called for a 650-square-foot addition, creating a small office off the kitchen and a second-story office space with an external stairway; switching the master bedroom to the other side of the house, which offered more light; and opening up other areas to create open spaces. "We had to strip out all the clutter and everything that was not pure, and we were left with a very clean, fresh, pared-down feel," Henson says.
The architects also designed towerlike structures in the entry area and in the hallway leading toward the bedrooms to let in more light. "The hallway was like a dungeon — depressing," Cronshaw says. "We put a smaller tower in with windows up above, and it made all the difference in the world."
To preserve the original Spanish style of the home, they were able to reuse most all of the windows and doors that had been handcrafted in the 1920s. The ones that couldn't be salvaged, they recreated with help from a local company. The architects and build team also helped choose all the permanent fixtures, including the fireplace, door and window hardware, kitchen cabinets, plumbing fixtures, light fixtures, and floor and beam finishes. They also fixed some foundation issues, replaced all of the plumbing, electrical, heating and the exterior siding. New tile was used throughout, setting it to make it look as if it had been there since the 1920s.
"There were so many decisions to be made, and Peter wanted to be a part of that," Cronshaw says. "A lot of stuff we ended up sending by FedEx: samples, paint colors. When he would show up, we'd send him on a shopping spree with a huge list."
When the remodel was complete, Smillie took over, placing the furniture and hanging the art on his own, getting it ready for the family to move in. And by the time he was done, it was hard to tell that the original spaces were once dark and cluttered.
"People know when they love a house and what feels right, but they don't know how to get there," Henson says. "In this case, it really was the owner's vision."
The kitchen remodel blended traditional elements — wide-plank, dark oak flooring and an open-beam ceiling — with contemporary ones, including granite countertops, stainless steel cabinets and energy efficient appliances, resulting in an elegant, yet functional transitional design.