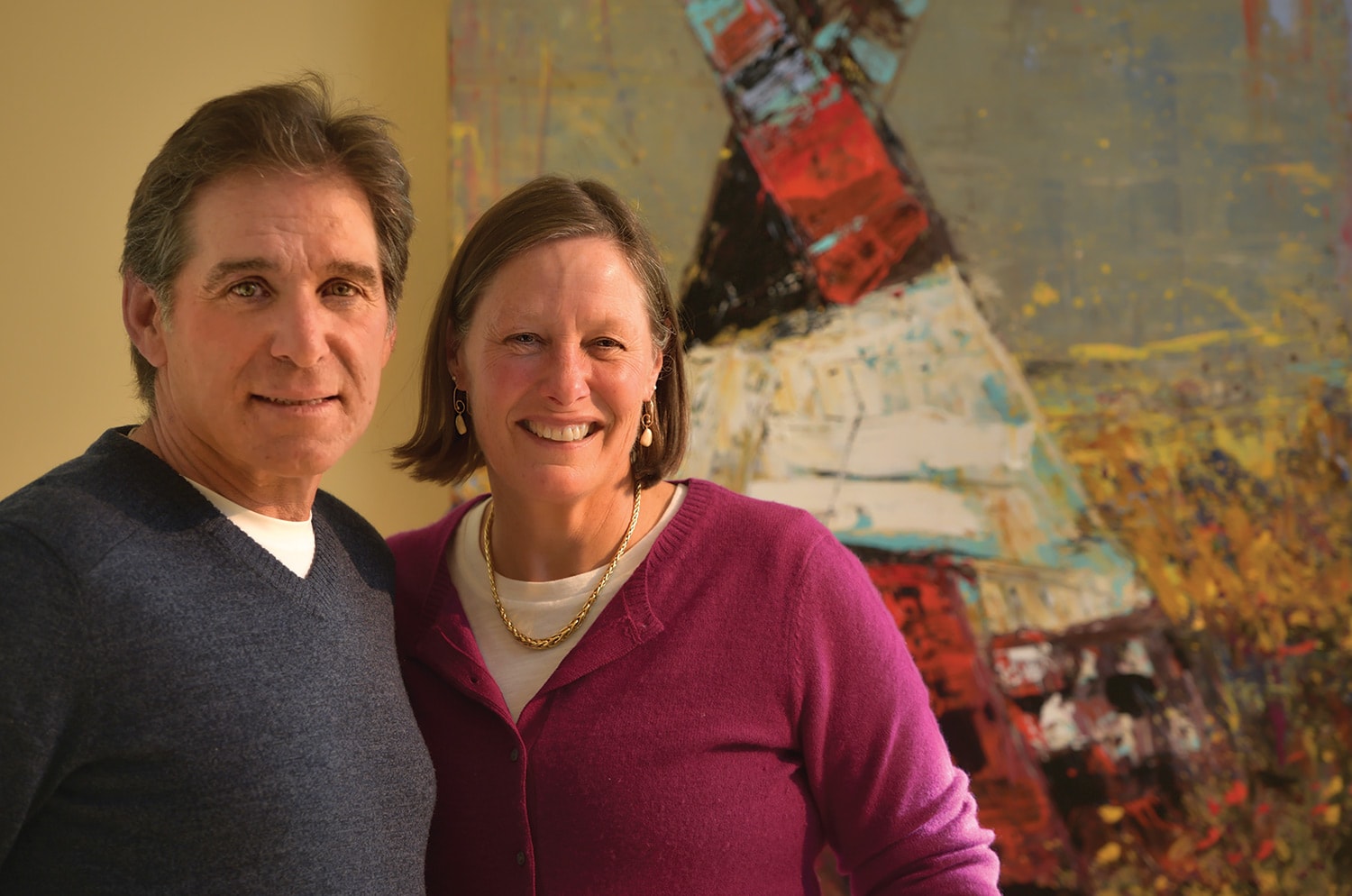 19 Jan

Collector's Eye: Deboarah and Tony Porcarelli

You could say it is familial, this gene that Deboarah Porcarelli inherited to collect art. It began when she was a small child and was allowed to touch a bronze sculpture in her grandparent's home. Situated in the foyer, the sight of the bronze seal was always welcoming to Deb. She treasured it as she would a keepsake, for she was allowed not only to touch it, but also to turn it around on its lazy Susan pedestal.

Today, she treasures a bronze sculpture of a bear, playful on its back, placed just inside the entryway to the couple's living room. She and her husband, Tony, delight in talking about the Joe Halko sculpture; and Tony built a table with its own lazy Susan turntable for it, just like the one in Deb's grandparents' home. "We think the best way to introduce or share sculpture with others is when it is on a lazy Susan so they can not only touch the piece, but they can turn it and connect with it," she says.

Fast forward from her childhood to inheriting a lithograph by George Catlin [1796–1872]. It could be said that was the beginning of the couple's foray into collecting art. Alongside the Catlin, they now have Native American portraiture by Winold Reiss [1886–1953], a German immigrant who spent time with the Blackfeet tribe. Describing their collection, Deb says, "I would say it's an eclectic mix of Western art; a few contemporary pieces, including works by Kira Fercho and Holly Manning; some traditional art — we love our Ann Hanson oil painting and our Russell Chatham piece; and our Native American art."

Living in Great Falls, Montana, home to Western Art Week, held every March, and the C.M. Russell Museum, it was natural, you might say, for them to attend auctions and art shows. "Twenty-one years ago, when we lived on a ranch 50 miles west of Great Falls, we started coming in to go to the shows," Tony says. "With the exposure to so much great art, we started picking up pieces." Now, with more than 16 different shows in town, the opportunities are "overwhelming, but amazing," says Deb.

They met Halko at one of the shows. And at the Gibson Square Art Museum, they met ledger artist Monte Yellow Bird Sr. — another artist in their collection — who recently returned from an internship in Paris, France. Connections such as these enhance the experience and joy of collecting for the Porcarellis.

WA&A: What inspires you to collect art?

Tony Porcarelli: Being able to live on a ranch in Montana and be a part of the lifestyle, and then to have it in your home as art, that speaks to me.

Deboarah Porcarelli: We live in Great Falls now, but still, it's the connection with Montana and that feeling of surrounding yourself with the art of the region.

WA&A: What was the first work you purchased and what made you choose it?

T.P.: It was the bronze bear by Halko. Deb saw it first.

D.P.: It's one of those things — I wanted to have a bronze as an adult. Now, people gravitate to that bronze and touch it and discover it as it turns. Some are a little bit scared because it is right at eye level.

WA&A: Was there ever one that got away?

D.P.: In my mind, not yet. We are fairly realistic.

T.P.: It's great to see a piece you love and to appreciate it, but you understand that at this time, your home is not its home.

WA&A: At what point did you realize you were collectors?

D.P.: When I am around town, people say to me, 'I hear you have a beautiful home that is full of art.

T.P.: It happens over time. It sneaks up on you, that you have been able to do all of this.

WA&A: How do you balance your collection between paintings and sculptures? Or do you?

T.P.: I think it's coming across a piece that speaks to you whether it's a bronze or a painting. It just happens. Space also has a bearing. Some of the bronzes we have are Ace Powell's that are smaller because the big spaces are taken up.

D.P.: It's the pieces that speak to us that we want. One such piece is an abstract by Billings, Montana, artist Lowell Swendseid. He is normally a realist painter, but when he had a tragedy in his family, he couldn't paint. His expression at that time — our abstract piece — is what brought him back into painting.

WA&A: What is your favorite piece and why?

D.P.: The bronze ghost rider that sits on our mantle by Greg Woodard. Tony and I actually talked about it and we both agreed on this piece.

T.P.: It changes throughout the day as the sun comes in and the shadows cross it. It's unique, done in patchwork bronze, so the light really hits it differently at various times. It's kind of a different ride. There's a real spirit to it — it's uplifting.

WA&A: If you could have dinner with any artist in history, who would it be?

D.P.: I personally don't think it would be just one, but it would be a group of contemporary artists. I'd like to know what inspires them to put a brush to canvas or start their next bronze. I would love to meet Ann Hanson; I think her work is phenomenal.

T.P.: I enjoy talking with Monte Yellow Bird about his oil paintings but also to hear what adventures he's having in his educational endeavors.

WA&A: If you could enter a time machine and chat with any artists in history, who would they be?

D.P.: I would love to talk to Charlie Russell because he lived in Great Falls.

T.P.: That would be the same for me, too. He came to Montana in the late 1800s.

WA&A: Where will your collection be in 100 years?

D.P.: I have never thought about it because it is a fairly young collection. I hope family members will have the pieces and enjoy them as we have.

T.P.: I hope to pass on the enjoyment to family. It has never come to mind, but family is first.