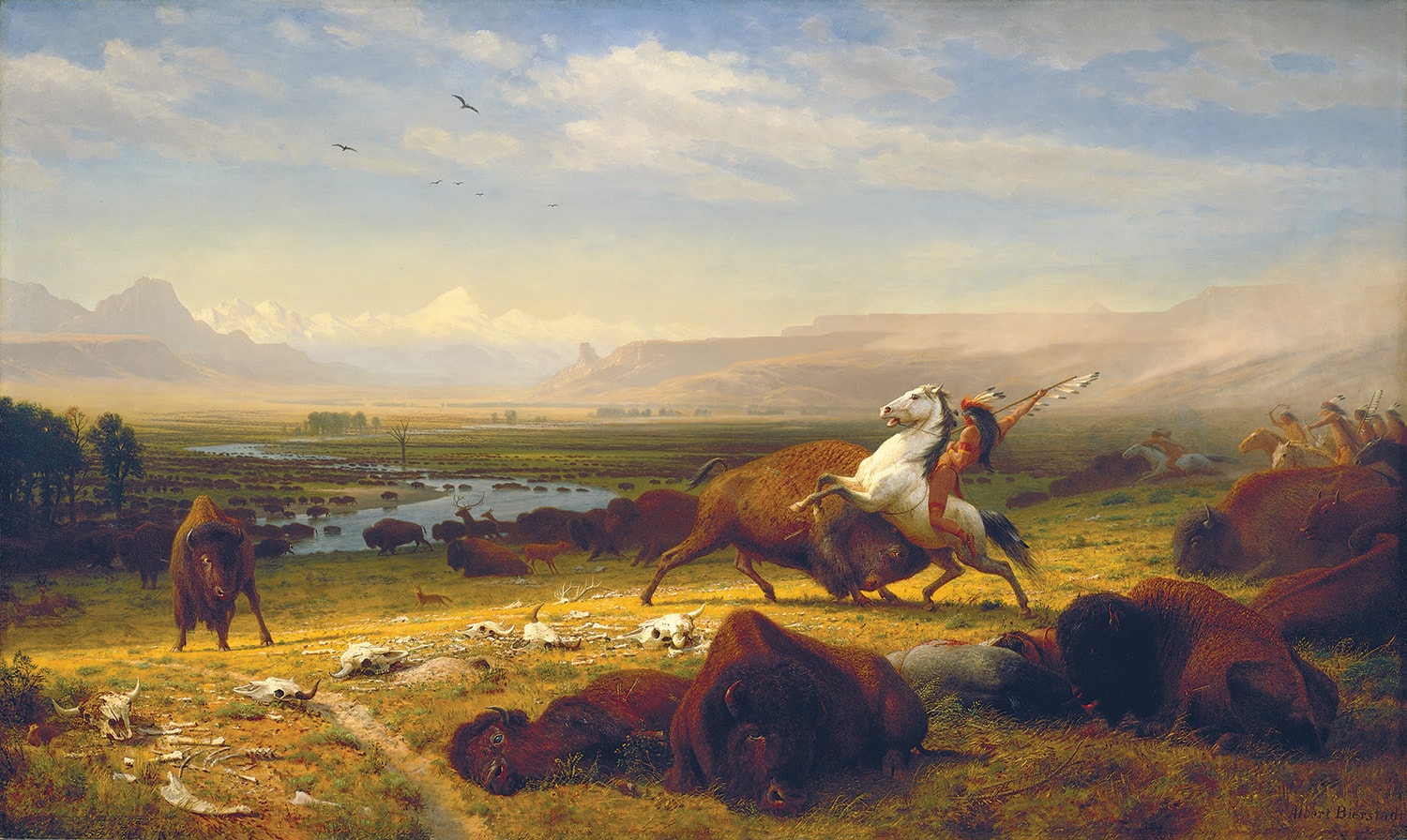 Albert Bierstadt, "The Last of the Buffalo" | Oil on Canvas | 60.25 x 96.5 inches | 1888 | Gertrude Vanderbilt Whitney Trust Fund Purchase | Buffalo Bill Center of the West, Cody, Wyoming
19 Jan

Collector's Notebook: Artistic Records

To stand in front of a prodigious piece of art and let its visual storytelling unfold history. To marvel at the intricacies of an artistic expression. To ponder an intended narrative of another's mind. To escape into a place that challenges understanding and evokes reaction. These are the possibilities when visiting a museum, and they do not require expensive trips to Europe. The Western U.S. provides a plethora of impressive, educational and historical museums, perfect for a day trip or extended weekend.
---
Autry Museum of the American West — Los Angeles, California
The Autry is comprised of two locations — Griffith Park and the Historic Southwest Museum Mt. Washington Campus. Its exciting Hollywood memorabilia depicts a time when Westerns were the entertainment giants of the movie industry. But film artifacts are only one aspect of the museum's vast offerings. Its ongoing exhibits enrich knowledge of the historical and contemporary American West as well as the diversity of its indigenous cultures. Collections include art from masters such as Harry Fonseca, Rick Bartow, Virgil Ortiz, Luis Tapia and David Levinthal.
Notable Exhibit | Masters of the American West 2018 | February 10 through March 25, 2018 | An exhibit and sale featuring nationally recognized Western artists | theautry.org
---
Black American West Museum & Heritage Center — Denver, Colorado
The Black American West Museum & Heritage Center, founded by historian and Denver legend, Paul Stewart, displays artifacts and collections that educate the public on the role black Americans played in the settlement of the West. Despite early film portrayals in Western genres, black cowboys, ranchers, farmers, miners, lawmen, homesteaders and buffalo soldiers were an integral part of the Western heritage. The museum presents these important contributions in its modest two-story historical home. Hours are limited, so call ahead.
Notable Exhibit | A Tribute to Dr. Justina Ford | A permanent exhibit dedicated to the first licensed, female, black doctor in Colorado | bawmhc.org
---
Buffalo Bill Center of the West — Cody, Wyoming
The Buffalo Bill Center is perhaps the granddaddy of the American Western museums with five facilities to tour, its flagship being the Buffalo Bill Museum. In 2017, it celebrated its centennial and honored its founder, William F. "Buffalo Bill" Cody and his mission to "teach people by seeing history." The center also houses the art of Frederic Remington at the Whitney Western Art Museum. A reconstruction of his studio offers insight into his dramatic works of conflicting cultures. Other exciting attributes of the center include a sculpture garden, the Plains Indian Museum, the Cody Firearms Museum and the Draper Natural History Museum. A two-day visit is recommended.
Notable Exhibit | Albert Bierstadt: Witness to a Changing West | June 8 – September 30, 2018 | centerofthewest.org
---
C.M. Russell Museum — Great Falls, Montana
The collection of the C.M. Russell Museum encompasses the artist's lifespan and captures the true spirit of the West through an immersion experience of his life and art. In honoring his appreciation of cultural diversity and the natural beauty of Western living, the museum also includes great works from his contemporaries that focus on the region's unique aspects. Russell is said to be one of America's most important and influential artists. His self-taught works, done with integrity and curiosity, encapsulate a pivotal time in America's history.
Notable Exhibit | The Bison: American Icon, Heart of Plains Indian Culture | Permanent exhibit | cmrussell.org
---
Heard Museum — Phoenix, Arizona
The Heard Museum offers extensive art collections that advance both traditional and contemporary works from some of the finest American Indian artists. Its 130,000-square-foot facility houses 12 exhibition galleries — two long-term exhibits and 10 rotating — that present a distinct perspective on Southwest Native culture. Key collections include Hopi katsina dolls, Navajo and Zuni jewelry, Navajo textiles and Southwestern ceramics from prehistory to the present.
Notable Exhibit | Of God and Mortal Men: Masterworks by T.C. Cannon from the Nancy and Richard Bloch Collection | Ongoing through April 15, 2018 | heard.org
---
National Cowgirl Museum and Hall of Fame — Fort Worth, Texas
The National Cowgirl Museum and Hall of Fame, the only one of its kind in the world, showcases more than 4,000 artifacts and honors more than 750 women who have made contributions to the pioneering spirit of the American West. Collections acknowledge the lives of courageous and resilient women. Diverse presentations from the highly recognizable work of Georgia O'Keeffe to iconic musicians such as Patsy Cline and esteemed ranchers such as Fern Sawyer make up the museum's exhibits.
Notable Exhibit | Hitting the Mark: Cowgirls and Wild West Shows | A permanent exhibit paying tribute to Annie Oakley | cowgirl.net
---
Stark Museum of Art — Orange, Texas
Unique to the Stark Museum of Art is its rare books and manuscript collection, including a personal, five-volume set of The Birds of America by John James Audubon. The museum also houses some of the most prolific 19th and 20th century Western American art in the country. Collections focus on land, wildlife and the region's people, from New Mexican artists such as W.H. Dunton and E.L. Blumenschein to explorer-artists such as George Catlin and Alfred Jacob Miller, plus major works from the area's American Indian cultural groups.
Notable Exhibit | Paul Kane: Intrepid Artist and Adventurer | Ongoing through June 2, 2018 | starkculturalvenues.org
---
Western Spirit: Scottsdale's Museum of the West — Scottsdale, Arizona
Western Spirit: Scottsdale's Museum of the West celebrates the history, art and culture of the 19 states of the American West and bordering areas. Ongoing and rotating exhibitions at the Smithsonian affiliate feature paintings and sculptures by artists such as Thomas Moran, Alfred Jacob Miller, Joe Beeler, John Coleman and Lindsay Scott. Permanent exhibits include historic and contemporary Hopi pottery masterworks, including 18 ceramics by Nampeyo of Hano, the most famous of the Hopi-Tewa potters, and 1,400 authentic Old West artifacts including badges, saddles, cowboy gear and an impressive collection of spurs.
Notable Exhibit | The Rennard Strickland Collection of Western Film History | Ongoing through September 30, 2018 | scottsdalemuseumwest.org