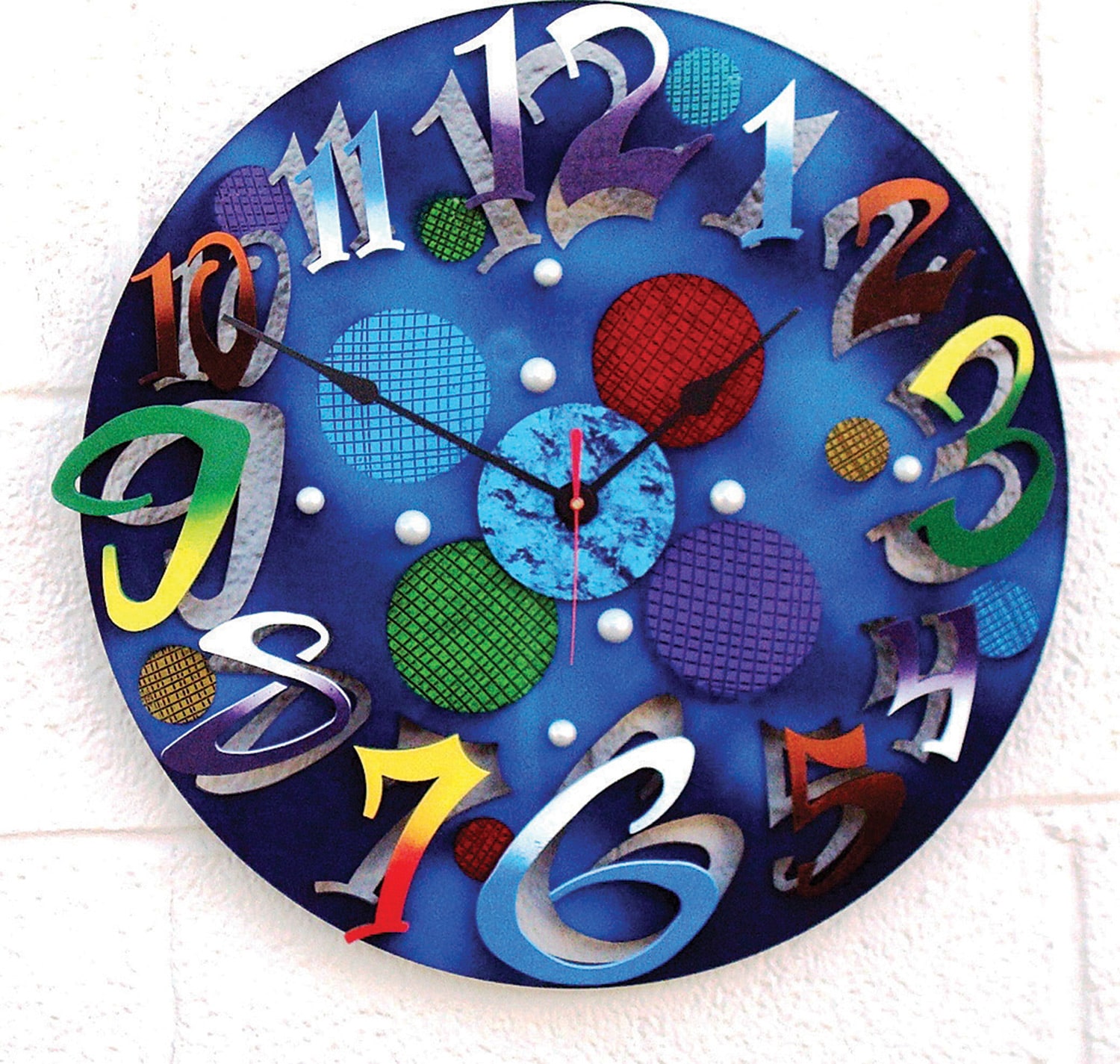 19 Jan

Details: Things We Love
---
Big Time Modern Blue Clock by David Scherer
"Time flies when you're having fun," and even when "time stands still," you can still have fun if you're looking at one of David Scherer's clocks. As an artist for more than 37 years, Scherer is known for his 3-D paintings as well as his unique clocks. With a 24-inch diameter, the artful Big Time Modern Blue Clock is made through a series of secret techniques, found objects and paint. This colorful 21st-century expression of time is sure to please (even for those who don't remember the 1960s).
$280 | 9 x 24 x 2 inches | 248.398.4661 | firenet.tv
---
Woven Leather and Metal Bench by Mark Albrecht Studio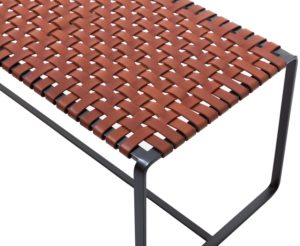 As an artist and designer, Mark Albrecht says he is also a pragmatist. With a master's degree in sculpture and photography from le célèbre École des Beaux-Arts in Paris, France, he worked in the same studio as artist Alexander Calder when the artist was creating his grand-scale sculptures. Today, Albrecht works from his studio in New York City creating not only benches but also desks, shelves, tables and more. All are designed in his trademark minimalist style, which Albrecht describes as "integrating rigor and refinement, modern and classic, minimalism and warmth." He uses materials sourced with consideration of their lasting qualities, integrity and impact on the environment. We love this woven leather and metal bench that could fill a gap almost anywhere in the home. At the end of a bed? In an entryway? As extra seating in an airy sala?
Starting at $3,950 | 60 x 20.5 x 18 inches | 718.786.9860 | markalbrechtstudio.com
---
'Naked' Louise Vases by Hawkins New York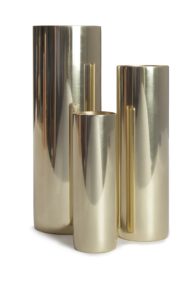 Looking for a new way to add a bit of shine to a shelf or countertop without the bling? Consider these 'Naked' vases from the Louise Collection by Hawkins New York. The company, founded in 2013 by designers Nicholas Blaine and Paul Denoly, seeks to add "quality, accessible home goods to the lifestyle market in the way of artisanal production." We love these radiant, sleek vases that would look great in an arrangement (with matching trays) or solo. They are available in brass or copper and with their affordable prices, you might choose to make all three sizes a part of your eye-catching aesthetic.
Large: $95; 4 x 10.75 inches | Medium: $65; 3 x 9 inches  | Small: $35; 1.75 x 6.75 inches | 844.469.3344 | hawkinsnewyork.com
---
Retro Fridge by Big Chill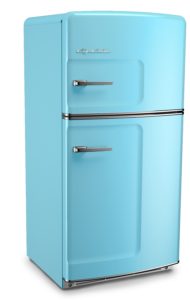 Meet Big Chill, a Boulder, Colorado, appliance company that blends "a vintage vibe with modern performance." Its Retro Fridge, complete with chrome trim, is an excellent example of American craftsmanship, featuring 20.6 cubic feet of storage space and energy-efficient ratings. This era-inspired appliance is available in nine standard colors, from this Beach Blue to Cherry Red, and in more than 200 custom colors. If retro is in your repertoire, consider completing your kitchen with Big Chill's whole line of ranges, cooktops, dishwashers and microwaves, all in your favorite color with charismatic charm.
$3,395 | 68.5 x 33.125 | 877.842.3269 | bigchill.com
---
Genoa Bar Cabinet by Bruno Moinard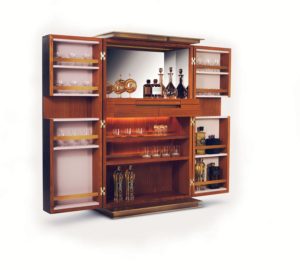 French architect Bruno Moinard is noted for his architectural designs around the world, including The Dorchester hotel in London, England, and the Veuve Clicquot's Hôtel du Marc in Reims, France. Also noted for his abilities at scenography, Moinard's furniture designs are as special as his architectural works; they are uniquely elegant and refined, incorporating aspects of French culture. Take this Genoa Bar Cabinet crafted of Assamela wood from West Africa, mainly found in Ghana and the Ivory Coast. A tightly controlled species of wood, its straight grain and satin luster are perfect for this cabinet. The French touch, which we think you'll love, is its oiled-wood interior and leather-lined shelves, a desirable luxury.
$54,000 | 37 x 16 x 57 inches | 212.453.9880 | avenue-road.com
---
Wooden Bowls by Ena Dubnoff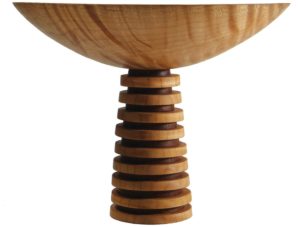 Architect Ena Dubnoff has received many awards, including two from the American Institute of Architects and the Los Angeles Conservancy. Now, she is channeling her design skills into a new form of creativity: turning bowls on a lathe. Sometimes she combines these expertly turned bowls with architectural bases made from cast-and-colored concrete or engineered wood. We love the simple elegance in her pieces. "Each piece is one-of-a-kind. No two pieces are alike," she emphasizes. "The material's hues, texture and grain combine in different ways depending on the characteristics revealed as the wood is turned and as layers are cut away." The wooden bowls and vases are small and delicate, perfect for that niche that is begging for something organic and eye catching.
Prices available upon request | enadubnoff.com
---
Metropolitan by PlanterSpeakers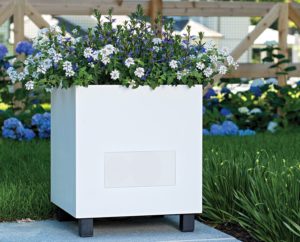 While watching flowers blooming in this smart planter, one might not guess its dual purpose. That's because its speaker components are cleverly concealed from view. But don't let that fool you; its sound is full and balanced. We love the modern design of this Metropolitan speaker made from marine-grade materials with plenty of room for planting. No worries about water entering the speaker set-up; it is constructed with a special drainage system. And more good news, it comes in many custom colors, three sizes and multiple configurations for the speakers (sound emanating from the front, the sides or a combination of the two). It's a sure-fire way to add ambience to your outdoor areas.
$4,250 per pair | 18.5 x 18.5 x 18.5 inches | 914.939.9155 | planterspeakers.com
---
Golden Buffalo Knife by McKenzie Knife Company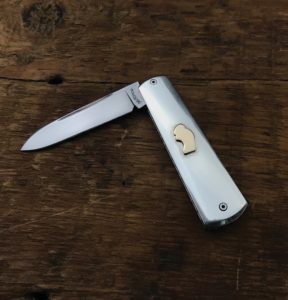 Should you find yourself searching for that perfect gift for the man who has everything, may we suggest a one-of-a-kind, handmade knife? Working from his Texas studio, in a process that requires "a lot of patience," Jonathan McKenzie designs and builds each knife by hand from materials that last a lifetime, including stainless-steel blades. Piece by piece each knife slowly comes together. We believe any man would be pleased to have this classic gentleman's pocket knife. The knives can also be personalized with Western engravings, initials and other icons. It's an ideal gift for a special man in your life, be it your father, brother or perhaps as an award for someone deserving.
$600 to $1,200 | 713.882.5255 | mckenzieknifeco.com
---
Cape Cod Onion Post Light by Lanternland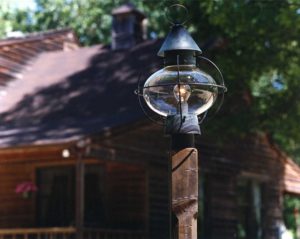 There's nothing quite like the glow of a lantern on a cold night to let you know you've arrived home. We love the sculptural quality of this artisan lantern-on-a-post that's handcrafted from copper in Mesa, Arizona. Its maker, Lanternland, creates each and every lantern to order and will happily modify its designs for you; choose to create your ideal lantern or reproduce an antique.
Need something other than a lantern? The American manufacturer offers barn lighting, wall sconces, outdoor pendants and more. Lanternland's motto for manufacturing is a quote from the great art critic of the Victorian era, John Ruskin: "When love and skill work together, expect a masterpiece."
$425 | 19 x 10.5 x 10.5 inches | 855.454.5200 | lanternland.com