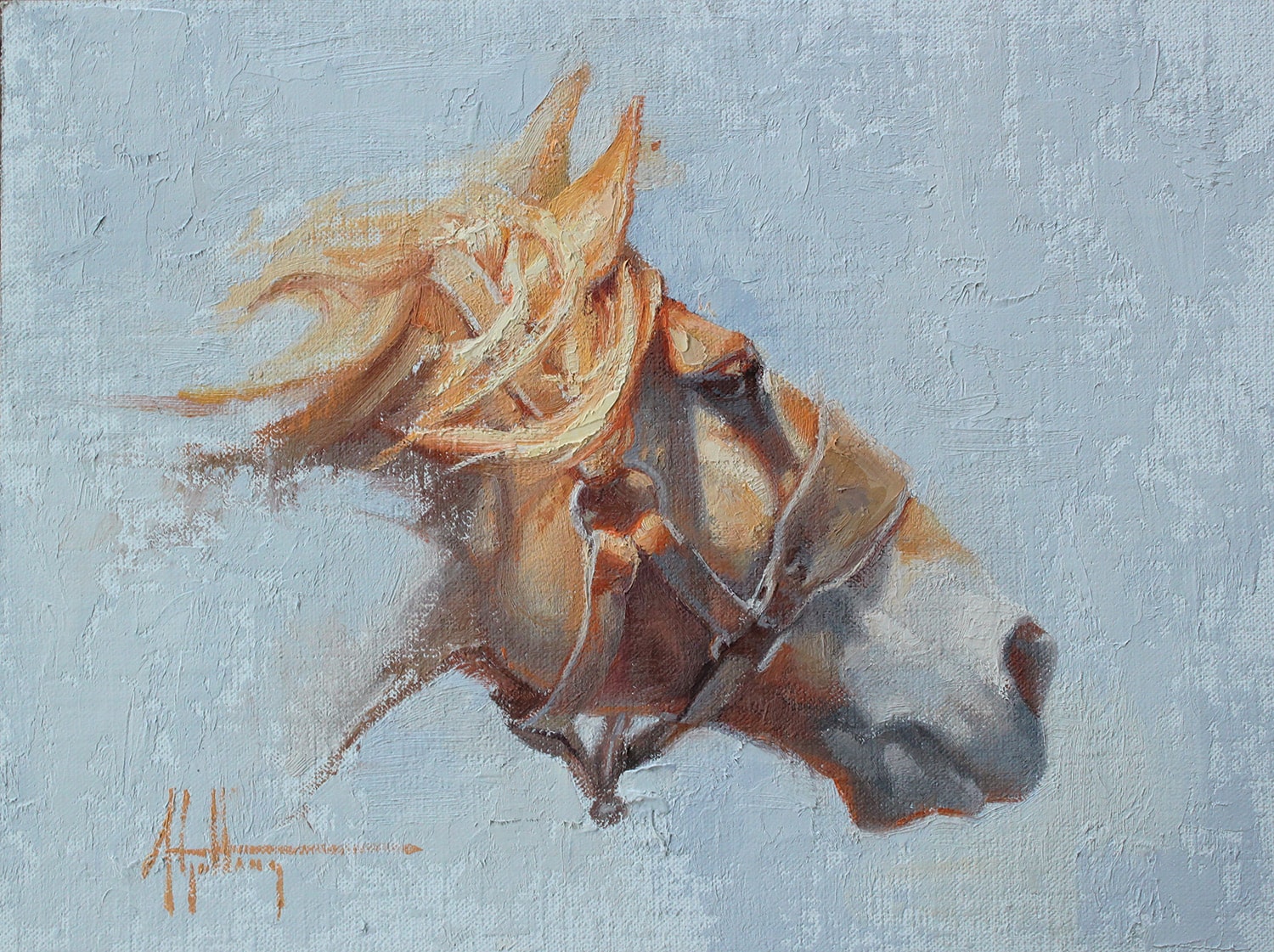 "In the Sunlight" | Oil on Linen | 9 x 12 inches
19 Jan

Illuminations: Highlighting the work of painter Abigail Gutting

The exhilaration of speed, of competition, of the long shadows flying behind: These are the fleeting seconds captured in the paintings of Abigail Gutting. Her work keeps you in the moment, whether it's that of a rodeo or the wild pastures of Idaho. Carrying the tradition of the American West into the 21st century, her paintings spark insight and intimacy.

"I want people to feel the grit on their teeth, the hoofbeats of the horses as they run by, it's exciting and adventuresome and I want these images to resonate with people in this way," she says. "These are horses I've photographed, horses I've seen in action."
"Nowhere to Go" | Oil on Linen | 24 x 30 inches
Both her parents have a history with horses, so it's always been in her blood. She worked her way through painting landscapes, portraits and still life until she settled on the West, "because it was irresistible," she says. "The American West has been well-loved in our home, with its fiction and lifestyle, so it seemed right for me to focus on that, and specifically on horses, since I've loved them since I was child."
But it's not the Black Beauty kind of horses that make their way into her paintings. It's the working horses, the pick-up horses and the broncs.
"For me, the attitude of the horse communicates the feel of the piece and determines the materials I use when I'm working," she says. "Especially the saddle broncs that are so full of attitude."
The adventure, the orneriness, the beauty as well as the magnificence of the animals combined in a single action or movement epitomize the Western spirit.
"The pick-up horses are amazing to watch work. They're steady, hardworking and they're reliable," she says of the horses used to "pick up" the bronc riders after they're thrown. "In the middle of all the action they're as steady as can be, and it's wonderful to see," Gutting says, adding that rodeo is a celebration of the West.
The artist shares a studio with her mother, the well-known landscape painter Susan Gutting, and her father is a veterinarian, which may have made her life choice as a painter of horses and other animals (buffalo, deer and antelope) inevitable. "It's fabulous because there's a give-and-take, an honesty, that we share," Gutting says. "When I start a piece, I start with an anatomically correct pencil drawing, and my dad's expertise as a vet is my go-to for accuracy. Once that's set I get going with the oil painting, and then I can share ideas with my mom."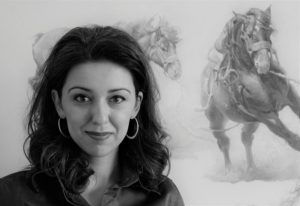 Gutting starts with the shadows, creating dimension and form. "I learned that from a Greg Beecham workshop years ago," she says. "From there I work out into the lighter aspects of the piece, and then build on it as I go. Greg taught me to transition from shadow to light by using color, that's something I've been doing over the last few years."
Gutting's work is represented by the Coeur d'Alene Gallery in Coeur d'Alene, Idaho; Dick Idol Gallery in Whitefish, Montana; and the Bozeman Trail Gallery in Sheridan, Wyoming. In March, Gutting will participate in The Night of Artists exhibition at the Briscoe Art Museum in San Antonio, Texas, and during the Out West Art Show and First Strike Auction during Western Art Week in Great Falls, Montana.