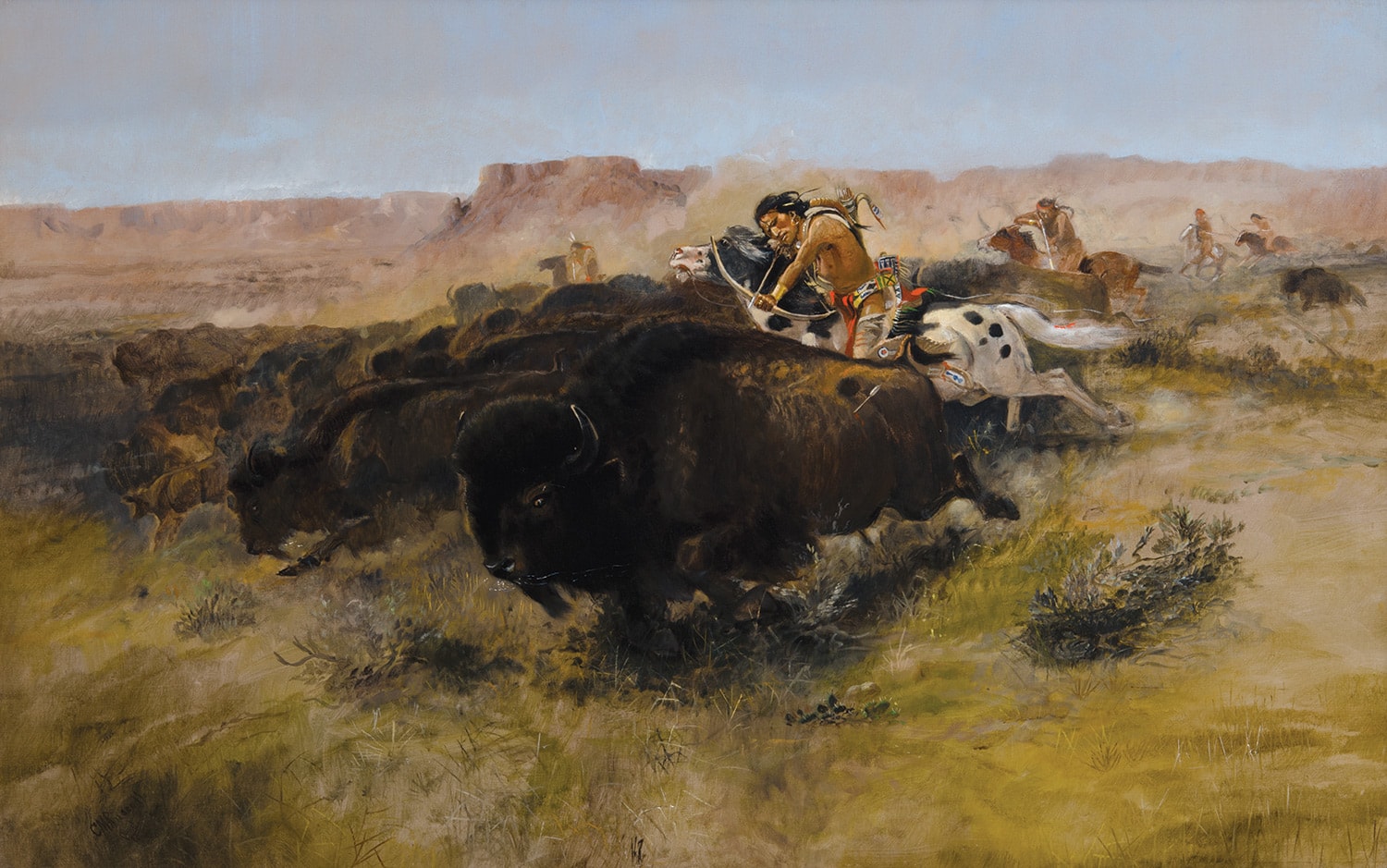 Charles Russell, "Buffalo Hunt #7" | Oil | 21.375 x 34.375 inches | 1895 | Estimate: $1,250,000 – $1,750,000 | Sold: $1,425,000
09 May

Auction Block: Art as Inspiration

The charming tale that emerged from the C.M. Russell Museum's celebration of its 50th annual auction was tied to a bull rider who was so inspired by artworks offered at the event that he chose to sell his truck to bolster his buying power. The account of bull rider-turned-bidder Graham Moore, related by Thomas Figarelle, the museum's executive director, is an object lesson for Western art admirers, a strong reminder of the love that ultimately compels collectors at every level to attend auctions and, if the occasion and the item warrants, be swept away.

Spring sales brought honored artists to the fore, with a rare — and understated — self-portrait by Taos Society of Artists co-founder Joseph Henry Sharp eliciting a princely sum at the Scottsdale Art Auction and a painting of American Indians by Martin Grelle casting a spell on buyers at the Briscoe Western Art Museum's Night of Artists. This year's event, which benefits the San Antonio, Texas-based institution, brought a record $2.4 million.

Two smaller sized paintings by landscape virtuoso Albert Bierstadt elicited higher-than-expected amounts at Sotheby's auction of American art at the end of March and, earlier that month, sales at March in Montana proved it is unwise to underestimate the draw of such talents as Birger Sandzén and Philip R. Goodwin, whose paintings gained the number one and two slots, respectively, at the two-day auction in Great Falls.
Bonhams California & Western Paintings & Sculpture | April 24, 2018
California impressionist William Wendt's enchantment by his adopted state's coastal landscapes, light and — in the early years of the last century — spare signs of human development are in high relief in Houses Along the Coast, which fetched $250,000 with fees to top sales at the April 24 auction of California and Western art by Bonhams.
A fishing village scene by E. Charlton Fortune, widely recognized for her 20th-century California paintings, brought a strong second with $212,500 compared to estimates of $120,000 to $160,000. And Salinas Rodeo by Armin Hansen stoked enthusiasm for its powerful rendering of movement and muscularity, garnering $187,500.
The surprise of the sale was the large-scale bird study, Egrets, by Jessie Arms Botke, an artist affiliated with California plein air painters, which soared to $81,250, defying estimates ranging from $10,000 to $15,000.
Other high achievers were Evening Light, Laguna, by Joseph Kleitsch, which sold for $106,250, and Tiburon, Selden Gile's paean to expressive brushwork, which brought $83,750.
Scottsdale Art Auction | April 7, 2018
The Scottsdale Art Auction expects to attract serious collectors and that's exactly who engaged in a bidding battle that erupted over John Ford Clymer's Spotted Buffalo during the April 7 sale put on by Legacy Gallery and named after the Arizona city where it takes place. The oil, depicting a Native American hunting party chasing a herd of Texas longhorns, arced above estimates ranging from $200,000 to $300,000 to achieve $468,000, with fees, and rank as top seller. "Two collectors decided that was the Clymer they wanted to buy, the scenario craved by every consigner," said auction partner Brad Richardson.
Thomas Moran's Solitude. The Coconino Forest, Arizona, a painting posing as a concerto through use of saturated color, shadowy woodlands and the fiery light of sunset, fetched $438,750, even as Taos Society founders fared well in the event which rang up a total of roughly $11 million and saw 91 percent of some 400 lots sold.
A self-portrait by Joseph Henry Sharp, The Artist in the Studio Mirror, noted for the rarity of its subject as well as the subtlety of a composition in which the title's subject is a secondary figure, brought $204,750 or twice its high estimate. Richardson said the cleverly executed piece, which centers on a seated Native American yet provides a mirrored glimpse of the artist preparing to paint the unnamed subject, was snapped up by a noted patron who intended to add it to his preeminent collection.
The Victors, Gerard Curtis Delano's colorful and dynamic painting of a Plains war party, with riders on horseback seeming to gallop from the canvas straight into the eye of the beholder, went for $444,600 including buyer's premium. The sale cemented the appeal of works by the 20th century artist whose acclaim initially was tied to his illustrations.
Works by G. Harvey gave heft to the sale of contemporary Western art, with a street scene, Old London, going for $163,800 or double its top estimate. It was one of seven G. Harvey oils that sold for a total of $972,855. Over the years, the late Texas artist has gained a loyal following and auction offerings of his paintings invariably yield solid results, Richardson said.
Paintings by Bob Kuhn, celebrated for his depictions of wildlife at work and at play, sold briskly and well, with Red Fox Contemplating a Snack climbing to $163,800, compared to pre-sale expectations that ranged from $75,000 to $125,000. And Kuhn's Seal Hunter, an acrylic portraying a polar bear — unmatched for its verisimilitude in capturing the carnivore's behavior and for a masterly layering of color — garnered $152,100, or nearly two times its low estimate.
The Scottsdale Art Auction's sale in January of the Leanin' Tree Museum collection totaled about $8 million with all 548 lots sold.
American Women Artists | Spring Online Juried Show | April 2018
Shana Levenson garnered the grand prize of $1,000 with her painting Liberated Dreams in the online juried show put on every spring by American Women Artists, the nonprofit that seeks to showcase women in the visual fine arts and broaden their professional opportunities through exhibits, competitions and educational events. The oil by the Albuquerque, New Mexico, artist depicts a girl wearing a richly embroidered dress gently releasing a swimming goldfish from her hand. Second place went to Stanka Kordic for her painting Bridges Turn #1, and Ellen Woodbury took third place with the marble sculpture Pretty-Girl.
Sotheby's American Art | March 28, 2018
A small-sized landscape by Albert Bierstadt brought nearly twice its high estimate at Sotheby's late March sale of American Art, an auction that realized a total of nearly $4 million. Sunset Near Conway, New Hampshire (an oil on paper affixed to board, measuring 9.25 inches by 13.5 inches) went for $137,500 compared to pre-sale estimates of $50,000 to $70,000. Best known for sizable landscapes that sought to contain the vast expanses and mountain majesties of the American West, Sunset represents not so much a departure as a pleasant detour, speaking to that restful interlude, that thought-forming pause, which only great artists can evoke.
It was one of two miniatures by Bierstadt that surpassed their predicted prices. California Coast, a tribute to oceanside calm, went for $43,750 or more than two times its low estimate, topping the high estimate by more than $10,000.
A nostalgic seasonal tableau by Anna Mary Robertson (aka Grandma Moses), Hurrah for Christmas, was among the auction's top sellers, fetching $206,250 compared to pre-sale predictions that ranged from $100,000 to $150,000. The price for Hurrah has steadily mounted since it was sold in 2009 by Bonhams for $42,700 including fees.
Moses was among the seven pioneering American women artists showcased by Sotheby's, noting that she began painting at age 75 after rearing five children. The self-taught artist's depictions of rural American life were inspired by a childhood spent on an upstate New York farm, according to the auction house.
Night of Artists Sale & Exhibition | March 23–24, 2018
The opening weekend of the Briscoe Western Art Museum's Night of Artists Sale and Exhibition marked a new high with $2.4 million raised to benefit the programs, exhibits and collections of the San Antonio institution. The money and good will generated amid the sale of hundreds of paintings, sculptures and mixed-media art by 74 of the nation's leading contemporary Western artists was beyond expectations, according to Briscoe board member Jack Guenther, who predicted the overflow crowds and proceeds of 2018 would have the salubrious effect of placing this Texas city on the map when it comes to the Western art world.
The signature art sale and reception on March 24 was preceded by a live auction and artist award dinner the evening before. Headliners at the live sale included a Martin Grelle painting, Warriors on the Greasy Grass, a dynamic oil depicting a trio of American Indians crossing a river on horseback, which fetched $150,000, and Z.S. Liang's Grizzly Bear Man, which went for $70,000.
Lang's arresting, full-length portrait of a Native American warrior garnered the Sam Houston Award for Painting. Greg Beecham received the David Crockett Award for Artists' Choice with Lord of the Dustbowl, featuring a bull bison, while the Briscoe Purchase Award went to Jan Mapes for the bronze Tools of the Trade. Other artists honored included John Coleman, who received the James Bowie Award for Sculpture with The Healer, and Kim Wiggins, whose painting, The Texians, gained the William B. Travis Award for Patrons' Choice.
March in Montana  | March 16–17, 2018
Birger Sandzén may stand as one of the under-sung American landscape artists of the 20th century, and this could in part be attributed to his workman-like approach — he produced 2,600-plus pieces in his lifetime. Prices for his works, a generous share of which celebrated the low-lying hills, expansive prairies and river valleys of the Swedish artist's adopted state of Kansas, vary, but it is the unwary collector who hesitates when a stellar example of Sandzén's oeuvre is in the offing.
Happily, such was not the case at March in Montana, the two-day auction in Great Falls that occurs at the height of a citywide celebration of its historic and honored resident, Charlie Russell, and events at his namesake museum. Autumn, Sandzén's rendering of a north central Kansas river bordered by multi-colored boulders and shaded by fall foliage, went for $60,500 with fees, leading sales at an auction that brought $1.8 million, or hundreds of thousands of dollars more than last year's event.
Andy Thomas, "Blackfeet Phantoms" | Oil on Canvas | 24 x 36 inches | Estimate: $30,000–$40,000 | Sold: $39,325
Duck Hunters, an oil by Philip Goodwin, easily slipped into the number-two slot at $54,450, or on the higher end of estimates that ranged from $40,000 to $60,000. Goodwin, like Sandzén, gained a formal art education and, similarly, can occasionally be overlooked amid accolades for name brand American artists. But the fault, if there is one, is that both men made what they did look easy. Gaining early recognition for his prodigious skills as an illustrator, Goodwin went on to gain fame for wildlife, Western and sporting art paintings. Duck Hunters demonstrates the artist's ability to capture sportsmen and birds in motion, even as no detail in the riparian setting is neglected.
Auction partner Mike Overby said Andy Thomas, a favorite at the event and in contemporary Western art circles, once again triumphed with Blackfeet Phantoms, an oil created for March in Montana and which depicts Native Americans on horseback galloping through a forest. The painting brought $39,325 including buyer's premium. "Andy is just a wonderful artist," said Overby. "His real strength is conveying high action in paintings like nobody out there who's painting today."
A piece featuring American Indians and white settlers by W.H.D. Koerner, famous for his illustrations, went for $42,350, surpassing its estimates. Overby said renewed interest in illustrators and their works has been influenced by filmmaker George Lucas' plans to open a museum in Los Angeles that is to showcase that genre among visual art forms.
March in Montana saw an increase in internet bidding, a trend that has surged in recent years and which shows no signs of ebbing.
The Russell Exhibition and Sale | March 15–17, 2018
Charles Russell's works appropriately climbed the heights at the Russell Live Auction, the annual sale that caps activities each March, celebrating and benefitting the popular museum named after the acclaimed Western artist who made his home in Great Falls, Montana.
Buffalo Hunt #7 hammered for $1.4 million during the evening event at the Mansfield Convention Center in downtown Great Falls, where a sold-out crowd gathered on March 17. And the artist didn't stop there, with his sculptures Spirit of Winter and A Bronc Twister fetching the second and third highest amounts at $380,000 and $321,000 respectively. For an artist known for his portrayal of action, Buffalo Hunt #7 is considered a tour de force, heralding Russell's mastery of the subject, and the admiration and amount it excited were fitting ways to mark the auction's 50th anniversary.
The three-day event brought a trio of sales totaling $5.1 million, mostly tied to Saturday's live auction, which generated $4.6 million, including fees. The so-called First Strike Friday Night sale saw 95 percent of 92 lots sold, including the number one bestseller, Female Pintail, a wood carving of a duck by Tom Dean that went for $8,400. Andy Thomas, always an event favorite, led sales at Art in Action with a paired sketch and oil painting that went for $10,000.
Thomas Figarelle, the museum's executive director, said the annual art sales, summits and social gatherings represent a celebration of the American West, and he credits Russell for creating a lens through which the region and its history can be invoked through the power of observation. The artist, dedicated to capturing a Western frontier that already was fading, left a legacy of works that serve as interlocutors — among cultures, customs, peoples and places. At his core, Russell provided perspective and that form of discernment is as relevant today as it was during his lifetime, Figarelle said. "It's an empowering prospect: looking to the American West as a source of inspiration," he said. "We're still exploring a frontier, not just of geography but of ideas and of individual and collective understanding of how to solve problems. And we can unite around events like this auction, where we explore what it means to be a Westerner."
A standard-bearer — unknowingly — stepped forward at First Strike Friday Night in the figure of Graham Moore. The 27-year-old bull rider had sold his truck, a crucial tool of his trade, to gain funds in hopes of purchasing artworks.
"He bought three pieces, the first art he'd ever purchased. And he embodies that spirit of the West: He made a sacrifice in order to personally invest in the culture that he values," Figarelle said. "He felt another truck would be possible in the future, but he might not have another opportunity to buy art that inspired him, which is what art should do."
Leslie Hindman Auctioneers | Estate of Philip and Mary Hulitar, February 22, 2018 | Property from Villa Massei, February 28, 2018
A 20th century collection of crystal stemware sparked a fierce bidding war and drove amounts from hundreds of dollars to tens of thousands of dollars during the February 22 sale by Leslie Hindman Auctioneers of 446 lots from the estate of Palm Beach, Florida-based art collectors and philanthropists Philip and Mary Hulitar.
It sometimes happens that the desire to acquire certain cherished items at auction will not be held back by considerations of monetary value. And while the thrill is ultimately allotted to the victor, there is an excitement among observers that, though vicarious, is nevertheless unforgettable. Such were the emotions in play as sums offered by two telephone bidders climbed ever higher. The auction house, headquartered in Chicago, had expected the 86 ornately etched items, including 26 wine glasses and two decanters, to go for amounts ranging from $500 to $700, but instead saw the price of the collection climb to the lofty height of $68,750.
The sale, which brought a total of $665,000, was notable for upending other pre-sale estimates. Cat on the Island, a charming watercolor by American artist Stephen Scott Young, fetched $35,000, or nearly three times its high estimate, while a companion waterfront neighborhood scene, Chatting, went for $30,000 compared to pre-sale estimates of $8,000 to $12,000.
The auction proved the point that age can neither dim nor damage the allure of beautifully appointed objects. Four Italian silver candlesticks in the form of palm trees showed to advantage the artistry of Tiffany & Co. designers as collectors pushed the price to $23,700, or more than 10 times the amount predicted. Similarly, an 18-karat gold vanity set, stamped by Tiffany & Co. and which included brushes and a mirror, rose from a top estimate of $12,000 to bring an impressive $21,250.
Less than a week later, the auction house closed the distance between the upscale, beachside resort in Florida and an ancient village in central Italy in an offering of paintings, furniture and other objects that adorned an historic hunting lodge. The lodge was restored and, until 2015, owned by novelist Paul Gervais and Gil Cohen. Conducted February 27 at the auction house's Chicago salesroom, top sellers tied to the Tuscan estate, known as Villa Massei, included a 16th century oil featuring John the Baptist. The artwork sold for $27,500, more than double its high estimate.