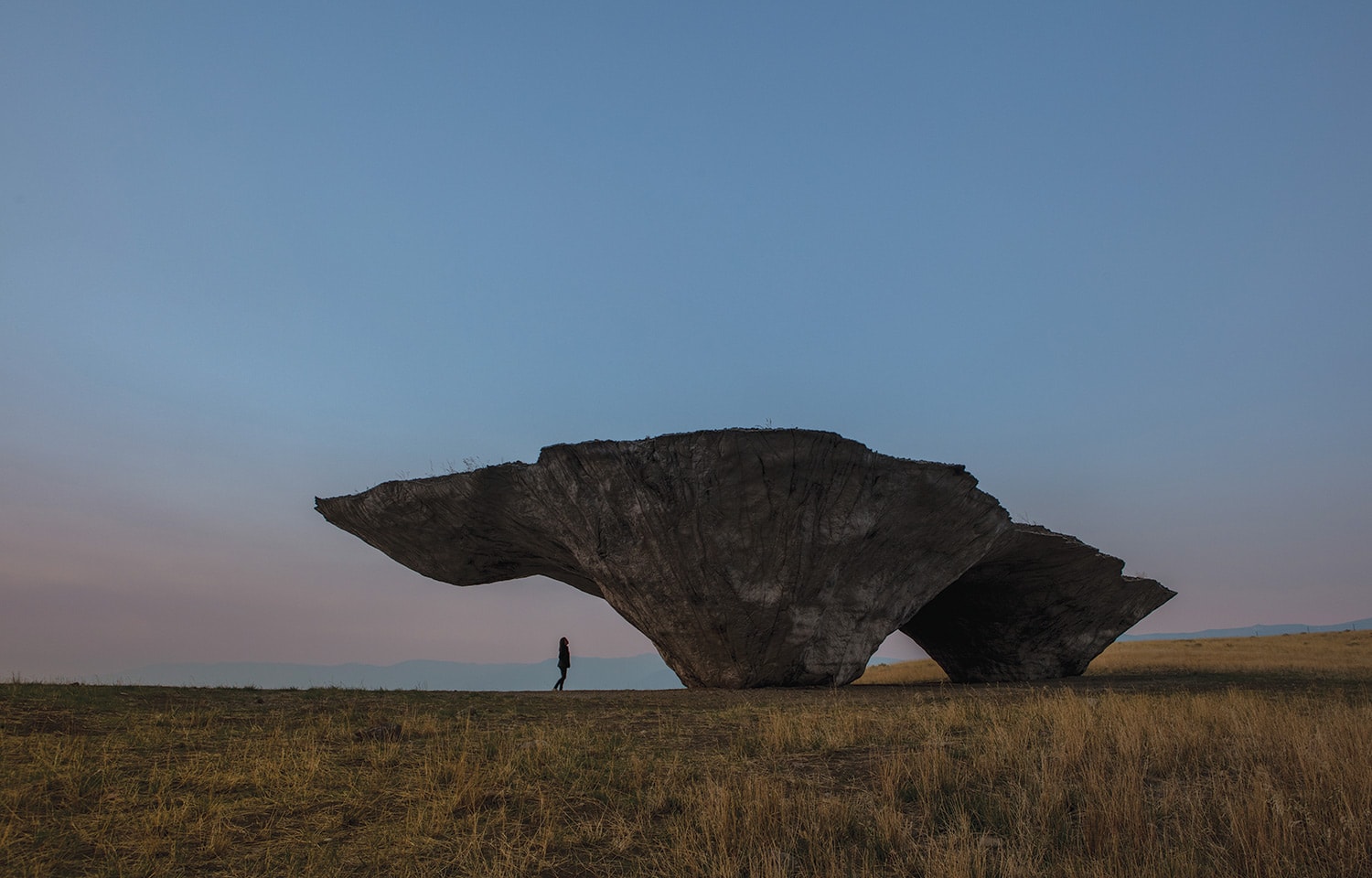 "The Domo" by Ensamble Studio, Tippet Rise Art Center in Fishtail, Montana. Photo: James Florio
09 May

Collector's Notebook: Complementing Nature's Rhythms

The environmental or earth art movement in the U.S. took shape in the late 1960s when painters, sculptors and mixed-media artists demanded to breach the confines of galleries and museums. These freethinkers adopted the natural landscape as their palette, trading paint brushes and drawing pads for cranes and excavators. Some erected sculptures to be discovered through serendipity; others crafted installations designed to decompose or dissolve through the seasons.

Here we highlight five environmental art sites, each worthy of a pilgrimage, places to gain a fresh perspective on art as you spark an encounter with all of your senses.
Confluence Project by Maya Lin | Oregon and Washington
In 2001, the organizers behind the Confluence Project tapped artist Maya Lin (of Washington, D.C.'s Vietnam Veterans Memorial fame) to create artworks near the Columbia River and its tributaries. These pieces were to provide context in sharing stories of Northwest Native Americans and explorers Lewis and Clark. Lin agreed, provided that she could also use the opportunity to address environmental concerns. She began the monuments in 2002, and the sixth and final project, a walkway at Celilo Park, Oregon, will be completed in 2019.
The Confluence Project spans a length of 438 miles, ending at the gateway to Hells Canyon in Eastern Washington. At Cape Disappointment State Park, near Ilwaco, Washington, installations include a basalt fish cleaning table. Then at Chief Timothy Park, in Clarkston, Washington, Lin erected Listening Circle, an amphitheater inspired by the Nez Perce Tribe.
Sacajawea State Park in Pasco, Washington, features seven "story circles," each made of stone and etched with text from Lewis and Clark's journals and Native American stories. At Sandy River Delta in Troutdale, Oregon, an elliptical bird blind is made of wooden vertical posts inscribed with the names of 120 bird, animal and fish species. Last, the Vancouver Land Bridge, designed by architect Johnpaul Jones, arches over the State Route 14 highway. The pedestrian path blooms with native flowers and grasses; confluenceproject.org.
di Rosa Center for Contemporary Art | Napa, California
di Rosa Center for Contemporary Art, Napa Valley, California Photo: Israel Valencia
When no one else believed in the validity of Bay Area artists, Rene di Rosa did. The collector and his wife, Veronica, spent 40 years amassing what is known as the world's largest collection of modern art by Northern California artists. In 1997, the couple decided to open their personal galleries and all 217 acres to the public. In 2000, it became a non-profit public trust.
Today, visitors can explore more than 1,500 pieces from more than 700 artists, with works stemming from the mid-20th century to early 21st century. Rene di Rosa often poked around working studios to see what creative types were up to. If something struck his fancy, he acquired it. Now that the founders have passed away, the organization is focused on maintaining the collection and reaching out to more art lovers with traveling exhibits, off-site art programs, and hands-on activities for all ages.
Meanwhile, the wildfires in the fall of 2017 that swept wine country affected outdoor sculptures at the center but did not destroy them. In May 2018, the outdoor sculpture meadow reopened, with more than 100 pieces undergoing professional cleaning of the fire's residual toxins and contaminants. Tourists will continue to gape at the spinning angel statue, the upside down Volkswagen hanging from a tree, and the world's largest file cabinet, standing 65 feet high. Visitors can book a sculpture meadow walk and be treated to works by Viola Frey, Robert Arneson and di Rosa himself; dirosaart.org.
Spiral Jetty by Robert Smithson | Great Salt Lake, Utah
In 1970, Robert Smithson laid out a giant coil pattern made of 6,000 tons of basalt lava rocks and dirt connected to the northeastern shore of Great Salt Lake. Employing a team using tractors, a front loader and dump trucks, the American artist fulfilled his vision. This avid fan of science chose the site on account of the unusual reddish water caused by a high concentration of microbes. For Smithson, the coil shape hearkened to the molecular lattice of salt-crystal deposits found in the lake.
He built the 15-by-1,500-foot art form during a low water table. However, his masterpiece became fully submerged after two years. Three decades later it reappeared when the waters dried up. The spiral beckons sojourners to traverse the curvature and be awestruck by Utah's trees and mountains.
The site is a 2.5-hour drive from Salt Lake City and located on Rozel Point. After Smithson died in 1973, his wife, artist Nancy Holt, donated the Spiral Jetty to the Dia Art Foundation, which regularly takes aerial photos to record changes; diaart.org.
Tippet Rise Art Center | Fishtail, Montana
"The Inverted Portal" by Ensamble Studio, Tippet Rise Art Center, Montana, Photo: Erik Petersen
Two-and-a-half hours north of Yellowstone National Park, the Tippet Rise Art Center is a creativity vortex. The vision of married philanthropists Cathy and Peter Halstead, it's a combination of working ranch, art haven, concert venue and more with the Beartooth Mountains as the backdrop. On 10,260 grassy acres, grazing cows and sheep mingle with towering artworks from revered artists such as Patrick Dougherty, Stephen Talasnik and Mark di Suvero.
Sculptures, strewn across the property and site-specific to the Montana landscape, are formed of various materials including wood, metal and cement. One pair of 26-foot-high faux stones, named the Inverted Portal, lean on one another. They appear as primitive, rocky slabs (think Stonehenge, but twice as tall) ready to tip over at any moment. The artists and architects at Ensamble Studio painstakingly erected the pieces so visitors can walk around the pillars.
To examine the structures closely, visitors can bike using their own wheels, hike on their own or sign up for a van tour. The distance from one artwork to another is anywhere between .5 miles and 3 miles. Remember: Any trip to the property must be reserved in advance. Drop-ins are a no-go.
The center also offers art workshops and classical concerts. These take place in the music barn or outside under the 16-foot Domo sculpture, which resembles two upside-down mountain peaks with a primitive tabletop. Launched in June 2016, Tippet Rise will reopen for its third season starting June 29; tippetrise.org.
Wood Line by Andy Goldsworthy | San Francisco, California
Curvy and mysterious, it resembles an enormous snake abandoned in a forest. At 1,200 feet long, it would be a perfect jump rope for a giant. This is Wood Line, Andy Goldsworthy's 2011 statement piece at the Presidio national park site. Goldsworthy's signature process in the world of environmental art is to take existing materials found on the premises of his creations. Made up of discarded eucalyptus branches, the sinuous Wood Line will eventually decompose, but for now it engages thousands of visitors annually.
The piece is the second of four commissioned Goldsworthy works stationed at the 1,491-acre park which holds the largest collection in North America. Spire, at 100 feet tall, invites all to gaze skywards at the 37 Monterey cypress trunks fastened together to form a single man-made tree. His 6-foot-wide Earth Wall, a half-sphere inserted in a wall, is a mixture of eucalyptus branches and clay. Tree Fall, the only indoor installation, consists of a hulking eucalyptus branch layered with clay and human hair, placed on the ceiling of a small Army munitions house.
All four pieces can be explored on a 3-mile trail. Docents also lead complementary art hikes to help visitors understand more of Goldsworthy's philosophy; presidio.gov.